Blog
Web AR
How To Increase Customer Engagement On Website Beyond Standard Marketing
Augmented reality opens new possibilities for brands helping them to improve customer engagement. Explore how your brand can build an effective customer engagement strategy by integrating emerging AR tools and trends into your website.

Banuba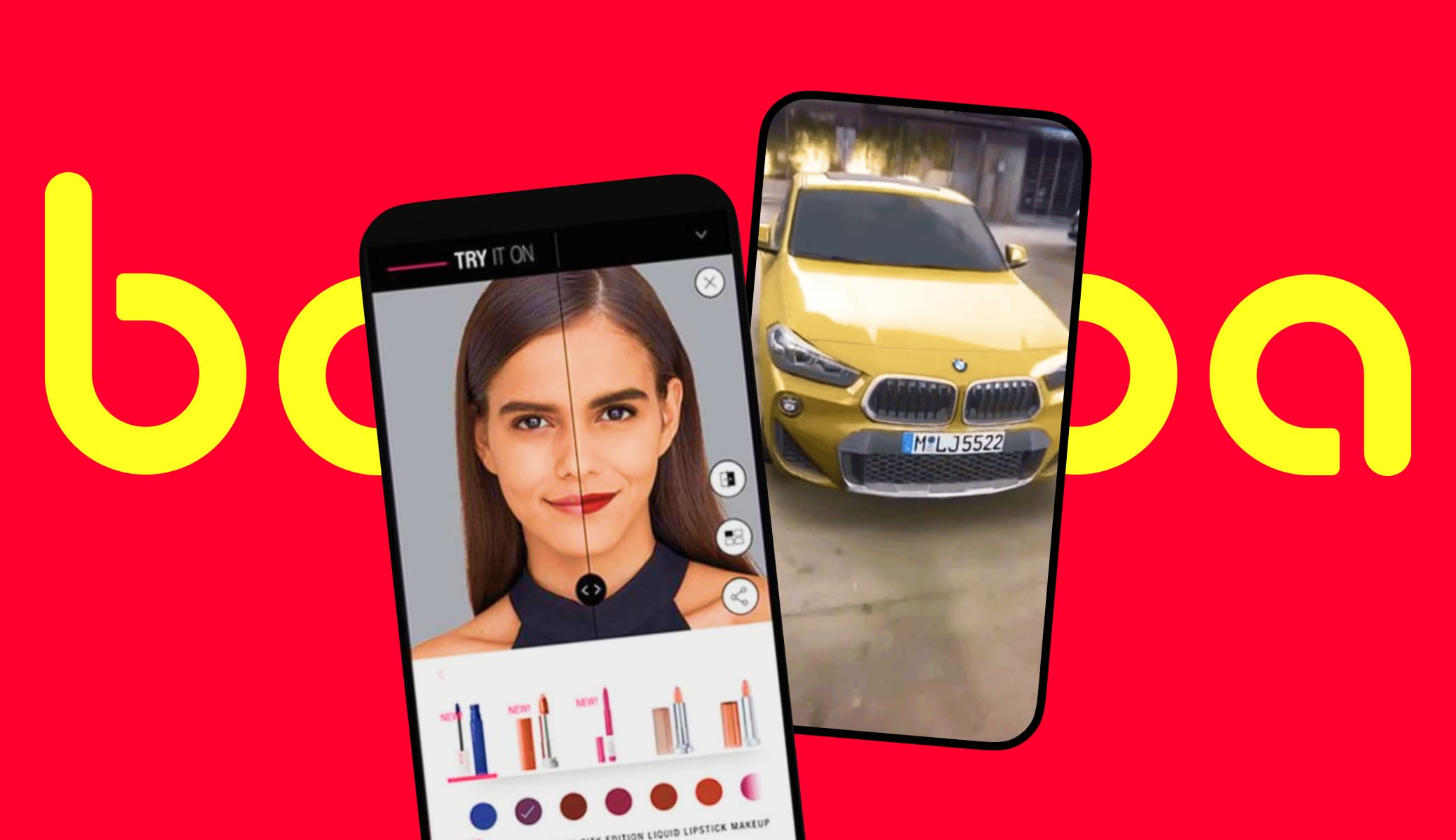 Old-fashioned advertising techniques — like those aimed at bombarding consumers with messages about product advantages over competitors — are a thing of the past. In the digital age, your brand has to be more customer-centric to enable long-term relationships with your audience. The spread of Web AR experiences, video tools, gamification, co-browsing and live assistance can take brand-customer relationships to a new level and here's how.
AR Video Communication to Engage Customers on Your Website or App
Ernst&Young accounting giant has recently started to communicate with their customers through deepfakes, using them in presentations and e-mail correspondence. Even though it's an effective way to liven up routine interactions, some believe that virtual avatars devalue the "human" element in their work. Augmented reality for video communication can help to solve that.
Augmented reality for video communication. Synthesia, a London startup, has developed tools that make it easy to create synthetic videos of real people. Source: Wired.com
Virtual backgrounds, face touch up filters, or 3D animation added to video calling software lets your brand engage online customers on a deeper level, right on your website. And the presenters - sales manager, accountant or any - will feel comfortable not having to worry about their appearance or surroundings.
Our Web AR SDK ticks all the boxes allowing you to embed those features into your website, app or desktop video calling service. Here are business scenarios where you can use it.
Better live assistance to consumers
Engaging online consultations and customer presentations
AR video chats on your website or app
Corporate video conferencing
Test its features in your browser and get in touch for a free SDK trial.
Let Customers Try Products Before Purchasing with AR
Augmented reality is one of the most efficient ways to boost customer engagement and purchases too. Recent studies show that
71% of consumers would shop more often with AR
61% report that they prefer retailers that offer AR experiences
only

about 1%

of retail companies have integrated the technology into their marketing efforts as of 2019.
The technology could be used by brands to attract customers by adding AR lenses and face filters for product try-on through their websites. For example, Lenskart introduced such functionality on their website to assist visitors with choosing glasses and frames that would fit them better, while L'Oreal allows their customers to try on makeup before the purchase.
Makeup try-on app. Source: L'Oreal
Features like these can be easily integrated by brands with ready-to-use toolkits, such as Virtual Try-On SDK, which allows applying a variety of filters to try on make-up, hairstyles, glasses and more. This kind of feature is useful for those who want to help consumers make an informed decision before they actually buy an item which eliminates the risks for product returns. Strategy and risk management plays a big role here, using metrics to measure product success helps to find the right solution and deliver better results on a scale.
Take Brand-Customer Relationships to a New Level with Live Streaming
Live streaming has been growing fast in recent years. Since 2016, the market has increased in value from $30 billion to approximately $70 billion in 2021. Embarking on this trend, marketers started to invest in this customer engagement tool, with 28% of brands allocating more in their budgets for live streaming.
It is reported that 82% of customers would prefer video from a brand to a blog post, while 64% of customers are more likely to buy a product online after watching a video.
The main benefit of live streaming is that it does not require serious investment on the technical side. Brands can use their existing social media platforms, such as Facebook, Instagram, LinkedIn, YouTube, Twitter and others to set up a live streaming activity.
Currently, 52% of all streams happen on social media, with live videos generating 10x more comments and 3x longer watch times than regular videos. The key benefit of live streams is interactivity, as brands can add questions and use surveys/polls to collect audience feedback, facilitating further engagement. Case studies show that live streams help to drastically improve product management metrics and conversion rate. Moreover, live messaging and chats that accompany video streams have proven to be efficient engagement tools in different industries, such as eSports and e-commerce.
For example, Nexon increased user session time by 150%, and boosted the number of viewers for each event by enabling an in-app chat option. Live chat created a sense of an eSports community, with up to 60,000 users viewing and chatting per single room.
Similarly, TMON was able to reach a 21% conversion rate and 130x increase in sales revenue by integrating a live commerce service. Live commerce is a combination of live streaming with the ability to interact with sellers and make immediate purchases. AliExpress Live is another example of live commerce. After launching this service, AliExpress registered as many as 320,000 goods being added to the cart per 1 million viewers.
Sell More with Gamification
People naturally have a desire for reward, status, achievement and altruism. And gamification is efficient in addressing these desires helping your brand to engage customers in various kinds of interactions with your brand.
Scenarios vary from an online flashmob on a company website and ending with a full-scale AR-powered game app where consumers can interact with a brand.
For example, in 2018, Audi created the Quattro Coaster app to interact with their TV commercial. Each user was able to point their smartphones at TV screens during the Quattro commercial to get a digital 3D car model right in their living room. In addition, each user could select a personalized test track that imitates the four seasons so that they could drive a miniature Audi Quattro with their smartphones.
Quattro Coaster app by Audi. Source: Digiday
According to the study by Gigyia, gamified websites have the following benefits:
they increase comments by 13%
social sharing is increased by 22%
content discovery is increased by 68%
website engagement metrics are increased by 100% to 150%
A good example of a gamified campaign was Moosejaw's use of Quickly to drive sales. Moosejaw is a company that sells clothes and Quickly is a start-up that gamifies e-commerce through urgency marketing, which is based on psychology. In this case, Quickly used real-time pricing that was constantly increasing in order to drive demand for Moosejaw gift cards.
The price for a $10 gift card started with $1 and then increased to $5. As a result, 76% of those who bought a gift card shared as much on their social media, which led to 240K social media expressions. Moosejaw reported a 560% ROI from the initial marketing expenses for this campaign, and the average basket size reached $66 for each $10 gift card.
Nike Run Club uses a gamified approach to fitness training by combining the features of a running app with an online store. On one hand, the app offers guided running workouts with GPS tracking, customized coaching plans, competitions and community building around the brand. On the other hand, the app allows users to purchase sportswear and various personalized discounted items without leaving the app.
Empower Clients with Co-Browsing
Co-browsing takes customer support and shopping experiences to a new level. With this feature, both customers and support specialists are able to track each other's activity and assist in real-time by accessing the same screen. Shoppers now can browse products together and interact with each other when visiting e-commerce platforms. Support specialists can show clients exactly how to navigate the app or website, how to resolve issues with user accounts and more.
Co-browsing. Source: Revechat
Forrester reports that co-browsing features added to a website or app lead to customer satisfaction rates of 78% above other interaction and support channels, such as phone help (74%), and live chat (69%). According to Upscope, companies that use co-browsing achieve an average of 7.8% annual revenue growth and a 2.4% reduction in support costs, because both clients and businesses spend less time and effort to reach their goals during each session.
One of the challenges that e-commerce platforms encounter is cart abandonment. With co-browsing, online retailers can increase website conversion rates by 45%, especially if it is powered by a video chat that adds an extra layer of interactivity.
With the development of artificial intelligence (AI), the use of conversational marketing tools, such as chatbots, will most likely increase significantly. AI-powered chatbots combined with co-browsing tools are a likely scenario for boosting consumer engagement in near future.
Follow the Likes of Audi, IKEA & Gucci in Applying Customer Engagement Tools
Understanding that engaged users are more likely to turn into actual customers has motivated brands to explore new approaches to successful marketing. Some companies, like L'Oreal and Lenskart, add augmented reality to let their customers try and compare products before purchase. Others, like Audi, support TV commercials with AR and game apps to trigger more interest in customers.
Many eSports and e-commerce providers introduce live video streaming enhanced by live chats, surveys and polls to boost consumer engagement and create a sense of community around the brand activities. In addition, co-browsing and live assistance let customers immerse themselves in collective website activities, while saving companies money, time and effort on customer support. As a result, the technologies and approaches described here empower marketers with efficient tools for increasing user engagement and customer satisfaction, which, in turn, boost sales and lead to long-term brand-consumer relationships.
Top