Face Filters SDK
Real-time 3D masks and AR face filters in your mobile app or website. Powered by the industry's best face-tracking technology.
Face Tracking Animation Software
Immerse your users with Snapchat-like filters, AR lenses, and real-time facial animation. Our Face Filters SDK brings the most captivating video effects that engage and inspire people.
We have multiple neural networks working together. Face tracking (FRX) detects the presence of a human face. Then the rest of them do their job: eye segmentation lips segmentation, skin segmentation, etc. As a result, each element of the face gets the appropriate AR filter, perfectly mimicking a cosmetic product.
This is what the users can try:
Foundation, Eyelashes, Eyeliner, Lipstick, Eyeshadow, Blusher, Highlighter, Contouring.
Realistic, high-definition hair coloring that works on both natural shades and wild, outlandish ones. A neural network segments the image into face, hair, and background and other algorithms allow distinguishing strands. A user can check out both single-color schemes and the ones that have strand highlights or multiple shades.
The system creates a 3D model of the user's face. Then, making changes is as simple as moving the model's vertices.
This is what can get morphed:
Face shape, Nose, Eyes, Lips, Chin, etc.
A multifaceted feature that helps users look their best at any time. Several neural networks, trained to segment and retouch certain parts of the face, ensure the quality of picture, similar to that of a celebrity photoshoot.
This feature includes the following filters:
Skin smoothing, Neck smoothing, Acne removal, Teeth whitening, Eye bag removal, "Expressive eyes".
Preprogrammed or interactive AR scenarios (filters) that users can launch with facial expressions. The system detects landmarks (points on the face) and triggers the appropriate actions once once these landmarks take certain positions (e.g. mouth opens).
The following triggers are available:
Mouth open, Smile, Eye brows, Eyes (open/close).
Banuba Face AR SDK lets you add stickers, filters, celebrity likenesses, animal faces, and other effects while filming a clip or in post-production. This is done by placing effect files (snowflakes, flames, etc.) on top of the video.
Let the users hide the background for privacy or replace it with something wild and cool for entertainment. This is done by a neural network that separates the user in the foreground from the rest of the frame. Then the background can be changed. Such filters are popular in the video conferencing apps, Snapchat competitors, online streaming apps, etc.
Animated 3D avatars that copy the users' facial expressions. To do so, the system tracks certain points on the user's face and calculates their position on the avatar accordingly.
The following things can be tracked:
Eyebrow position (incl. tracking separate eyebrows), Mouth position, Cheek puffing, Jaw movement, Nose position.
Decrease returns and increase customer satisfaction by letting people try your products on their smartphones. The technology allows designing custom effects that perfectly replicate real-world items.
These objects can be virtually tried on:
Glasses, Jewelry (necklaces, earrings), Piercings, Hats.
Give players an option to put on their "game faces" with cool 3D masks, or use facial expressions for game controls. You can use JavaScript to make effects trigger by opening mouth, moving eyebrows, tapping the smartphone screen, etc. This allows creating fun casual games where users can literally eat virtual objects or control their character with their face.
Dynamic, transforming AR objects that make any video look magical, impressive, and very shareable. The system recognizes the user's face and makes the effects stick to it.
Color correction for entire videos, similar to what Instagram and TikTok offer. This includes both simple filters (black-and-white, sepia, etc.) and more outlandish color schemes.
What's Included
Multi-Face Tracker
SFX & Voice Changer
Beautification
3D Renderer
Filter Editor + Scripting
Sample Filters & Documentation
Support & Consultancy
Technical Features
Face Filters SDK supports HTML5, iOS, Android, Windows, macOS, and Unity. It runs on devices starting from iOS 10.0+ / Android 6.0 or higher with a 1280x720 camera (recommended) and min 30 FPS.
Mobile
OpenGL ES 3.0+
Android 6.0, API level 23+
iOS 10.0+, iPhone 5s+, Metal API
Desktop
OpenGL 4.3+ (4.1+ for MacOS)
Windows 8.1+
MacOS 10.13+, Metal API
VC++ 15+ runtime available
Web
WebGL 1.0+ (for SDK 0.x versions: WebGL 2.0+)
Mobile: Chrome, FireFox, Samsung Browser, Safari.
Desktop: Chrome, FireFox, Safari.
MNFST App
Face AR features in a social lifestyle app to help influencers create eye-catching professional content, promote brands and get rewarded for it.
Face Filter SDK for iOS and Android
Licencing AR face filters from Banuba catalog
Beautification filter
Virtual background changer
Hair recolor and eye recolor
Sloy App
Inspiring self-expression with AR Video Editor & Face Filters
Full-fledged AR video editor with intuitive video editing tools, masks and effects
Unique AR masks designed specifically for the young audience
Face beautification option to auto-enhance user appearance
TJ Smart Song List
Increasing user satisfaction in karaoke app with face filters and beautification for iOS and Android
Licencing face filters from Banuba catalog
Beautification with skin smoothing, skin tone correction, eyes and teeth whitening, face morphing
Users can browse AR masks (Game faces) to play and unlock them for game bonuses
Marketing Campaign
Providing a Multi-Platform Production Agency with face filters integrated into AR photo booths that foster video & photo marketing & ad campaigns.
Face Filter SDK for Android
Background segmentation for green screen virtual background changer
Custom filter design services and filter licencing from Banuba catalog
Chamoji App
Enabling face filters, beautification and live emojis in Chamoji selfie app that expands the language of expression and creative communication.
Background segmentation to bring animated backgrounds in filters
Beautification with skin smoothing, skin tone correction, eyes and teeth whitening, face morphing
Eyes and hair segmentation for virtual lens and hair color changer
Why Banuba
Make custom AR filters quickly and decrease the time-to-market;
Covers 97% of Apple smartphones and 80% of Android ones;
High quality of filters, on par or better than TikTok, Snapchat, or Instagram;
Minimal battery power consumption even on low-end devices;
Over 1000 AR face filters that you can license from the asset store and save the development time;
The SDK works offline just as well as with an Internet connection.
Brands that trust Banuba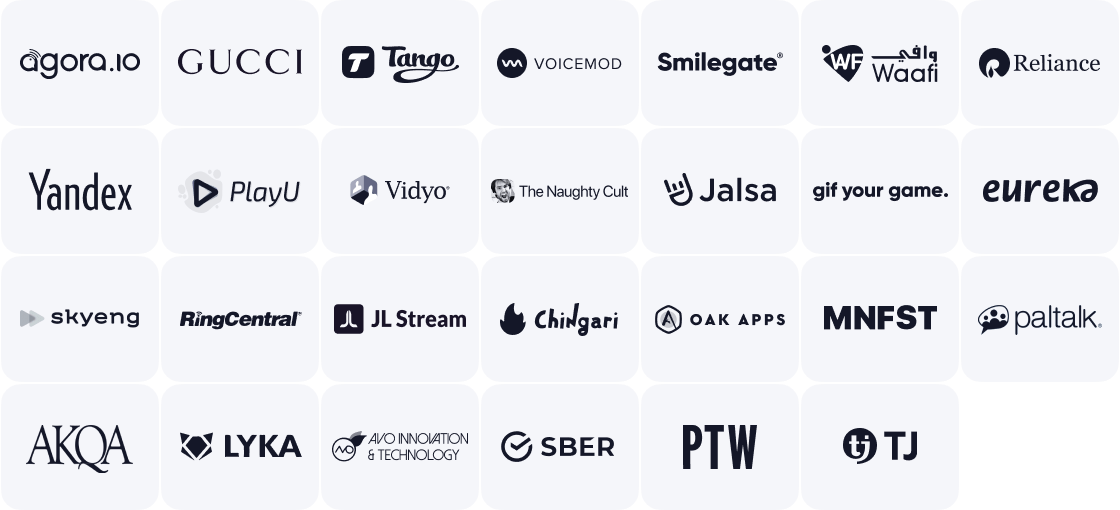 The SDK cost is calculated based on its features, the number of apps and platforms for which you're developing your face filter app. Please, see more details here. Or get in touch with us to discuss your pricing.

Yes, before purchasing a license you have a 14-days free trial period to validate the performance of our SDK.

You can create your own face filters using any 3D graphical editor and then convert them into the SDK supported formats with our Filter Editor and Viewer tools. Please, refer to the effect construction section for more details.

Yes, we have a collection of ready face filter assets which you can licence in your app. Please, read more information about face filter licencing in our whitepaper.

Our Face Filter SDK is supplied with a 3D rendering engine. It allows bringing the most diverse and realistic face filters, animation effects and 3D lens. The following graphical technologies are supported:

3d modeling and animation

Image-based lighting

Physics-based rendering

Animation billboards

Morphing

Physics

High dynamic range imaging

Video textures

Multisample anti-aliasing

Sprite animation

LUT post-processing

Yes. Our Unity Face AR extension brings Banuba's 3D face tracking technology across multiple platforms and allows developers to create realistic and complex face filters, augmented reality effects, and 3D masks in Unity.