AI Video
Editor SDK
Bring AI-powered video editor into your app and let your users create short videos like in TikTok. Our video effects API includes the best collection of filters, animated backgrounds and AR overlay features.
The Most Powerful Augmented Reality Video Editor SDK for Mobile
Allow your users to create stunning social videos with our short video SDK and API. Powerful features, easy video editing, engaging effects, TikTok-like UI and cross-platform support to grow your app and user base.
Beauty effects

Make users feel more comfortable about their selfies and inspire content creation.

Video face beautification is a must-have feature in video capturing apps. Users can auto-enhance their appearance with a beauty filter. It smoothes skin, whitens teeth, morphs face and improves colors.

Face AR masks

Users can overlay face filters as a post-processing effect or record videos with filters in real-time.

Realistic try-on
Morphing effects
Animal and famous character filters
Animated backgrounds
2D/3D stickers applied to the face
3D animation
Trigger-effects enabled with facial expressions

Video effects

Video filters are special visual and color transformation effects applied on the camera.

Our video processing API includes effects like in TikTok, e.g. Rave, Cathode, Flash, Soul, Zoom and others. Multiple filters are allowed within one video.

Slideshow

Our iOS and Android SDKs empower users to create videos from images or merge videos into a single animated video clip (Story).

Additionally, users can add text, GIFs or music. Multiple pictures are opened from phones' memory or cloud and converted into a video clip.

Color filters (LUT)

Users can apply the color correction to the entire screen, choosing from a predefined set of Instagram-like filters. You can use our collection of LUT filters or upload custom.

Time effects

Time filters include Slowmo and Rapid post-processing effects. The user can increase the video recording speed 2x or 3x by tapping the control on Camera UI Screen or decrease the video recording speed 0.5x of the normal speed (slowmo).

Text & GIFs

Users can add GIF images and Text to videos or slideshow.

Add multiple objects.
Scale and rotate them.
Adjust their duration using the timeline.
Adjust their position on the screen by simple dragging.

Audio editor

Audio Editor module offers powerful functionality for audio processing. Users can:

record video with audio
add multiple audio tracks
mix the video with a music track selected from the list
arranges the relative position, beginning of the tracks and effect by dragging them against the thumbnail timeline

Trimmer

Choose the length of your video. Crop good shots and adjust the duration of the movie to make it shorter or longer.

Picture in picture

Shoot video reactions, duets with picture in picture, using a variety of layouts and video positions.
Sloy: AR social video app dedicated to fashion
Users can take 90-second videos about fashion, with automatically recognized tagging for items.
Intuitive video editing tools available on mobile.
Unique AR masks designed for young fashion fans.
Custom video effects to enhance colors and style.
Face beautification option to auto-enhance user appearance.
Chingari: Indian short-video sharing platform
Video and audio editing tools similar to TikTok.
Users create and share entertaining content using video editing features and effects.
Awards based on how viral the video becomes.
Uniquely Indianised AR filters.
550,000 downloads in just ten days, over 2.5 million downloads total.
Jalsa: Short video social app
Helping young audiences express their talents with video creation.
Record 15-second video clips using a built-in mobile video editor.
Easy and intuitive video editing features.
Most popular and trendy video processing effects.
Fun AR filters to apply in live mode or after recording.
Platforms & Technical Requirments
AI Video Editor SDK supports React Native and Flutter. It runs on devices starting from iOS 10.0+ / Android 6.0 or higher.
iOS

iOS 10.0+
iPhone 5s and later
Open GL ES 3.0
Objective C, Swift

Android

Android 6.0+
Camera 2 API
Open GL ES 3.0 (3.1 for Neural networks on GPU)
Why Banuba Video Editing API & SDK
Feature-rich
Our video editing library includes all your users need for the next-generation social video making, all in one SDK.
Customizable
Pick your scope of features and wrap them up into a UI design to fit in your app concept.
Powerful
Users can use beautification, color filter and 3D masks to make professional-looking videos.
Mobile-first
Our face tracking is optimized for mobile to deliver quality performance on low-end devices, with different lighting conditions.
Intuitive
Record, stop and play videos by tapping. Browse and pick filters by swiping the icon feed. All video editing features are intuitive, so anyone can instantly become a creator.
Scalable
We're constantly adding new features to keep your users engaged and give them more freedom with video making.
Brands that trust Banuba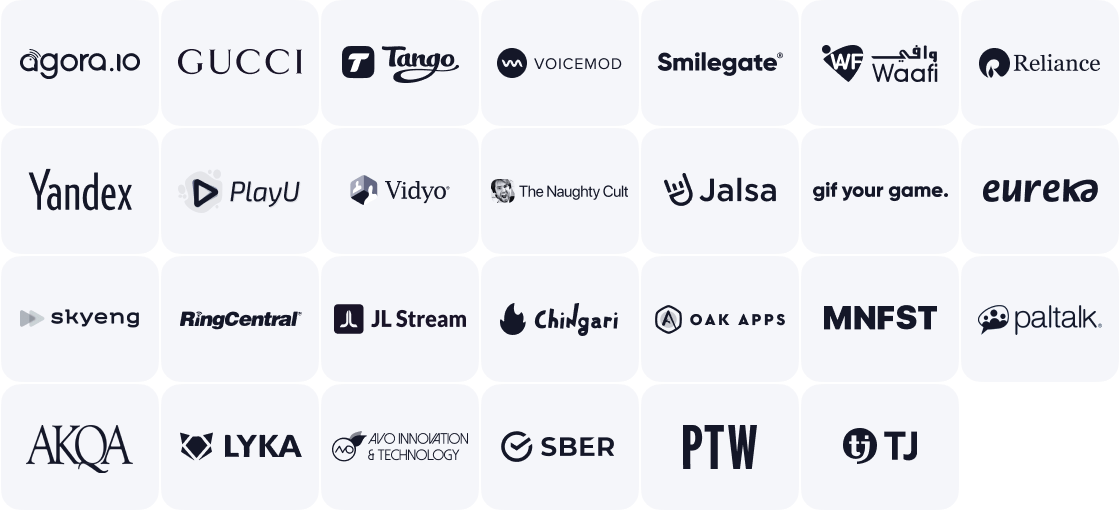 The SDK cost is calculated based on its features, the number of apps and platforms for which you're developing your face filter app. Please, see more details here.

We provide a 14-day free trial of all SDK features for you to assess its performance in your app.

You can also check our video editor demo app. The demo app contains all the Video SDK features and showcases the real-time user experience.

Native Platforms

Video Editor SDK supports Android and iOS native platforms. Please, refer to the technical system requirements and versions.

Frameworks

Our SDK is compatible with some popular cross-platform frameworks, like React Native, Flutter and Native Script.

Yes, we ensure that our video editor SDK works on specific devices. We provide the list of devices under SLA (Service Level Agreement).

No, we do not collect any user data. Our algorithms work offline, and video processing occurs on a user device. It means no user content or data are sent to our servers, therefore we have no access to it.

Please, check our SDK data collection and processing policy.

You can find the Video Editor SDK documentation and integration samples on our GitHub pages:

Yes, we have a collection of ready face filter assets which you can licence together with the video editor. You can store them in the AR cloud to save the app size. Please, read more information about face filter licencing in our whitepaper.

Yes, the video editor SDK includes voice changing effects too. Users can change their voice to sound like an Elf, Robot, Squirrel, Giant, Echo or Baritone.