Blog
News
Samsung Electronics Research Team Visits Banuba

Alena Arsenova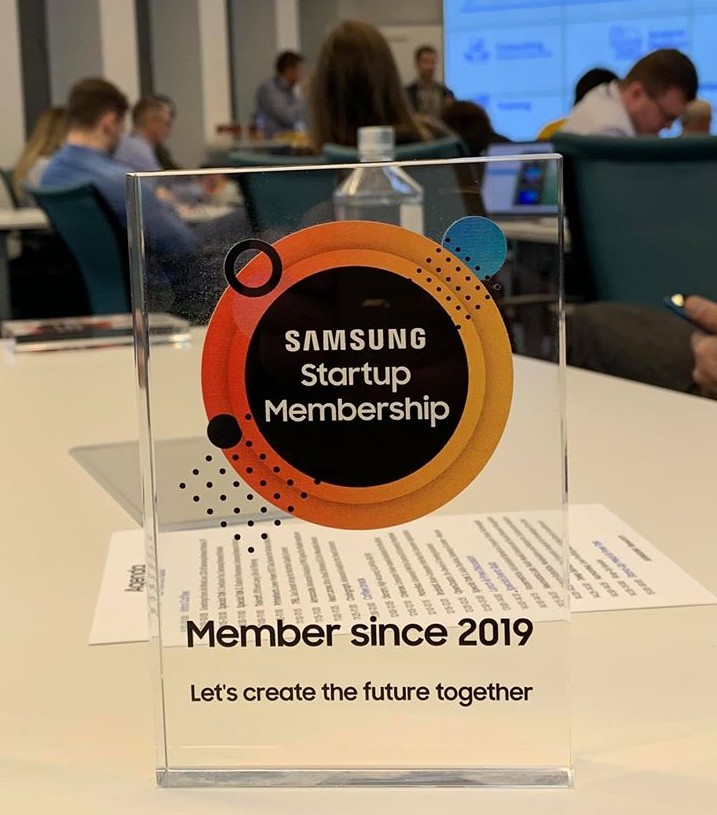 Samsung has recently set up the Samsung Startup Membership program to drive innovation and support technology startups from all over the world. Banuba honors to be among the few Belorussian companies that were accepted for the program and invited to the Samsung Connection Day 2019 in Moscow followed by the Samsung leading experts' visit to our offices.

The program can help the manufacturer to find new partners for collaboration among the pioneering companies as well as it's an amazing opportunity for a startup to gain knowledge, make a name for itself and its solutions at the local and international levels.
Why to enroll in the Samsung Startup Membership program:
Samsung representatives study your product and provide recommendations on how you can improve. They outline how your solution fits in the future development of the Samsung product ecosystem.

You can take part in Samsung closed and open events which is a valuable networking with leading experts and engineers of the Samsung Research Russia center and an opportunity to be introduced to Samsung top executives.

You get knowledge on technology development, current trends, and perspectives.
Samsung Connection Day and Visit to Banuba
At the Samsung Connection Day, Banuba team along with 12 other participants got acquainted with global and local research by Samsung, structural units and research laboratories of the company. The company's experts shared their forecasts regarding the main trends and directions for the future development of the technology market. All participants presented their projects and received recommendations on further development.
From right to left: Aleh Arel, Project Lead at Facemetrics; Vadim Nekhai, Managing Director at Banuba
Further on, the Samsung team represented by Jaehwi Jang, Director at Samsung R&D Institute and AI Center Russia, Jin Wook Lee, CEO of Samsung R&D Institute and AI Center Russia, Vladimir Pichugin, Head of Open Innovations at Samsung R&D Institute and AI Center Russia visited our offices to take a deeper look at what we've accomplished.
From right to left: Vadim Nekhai, Managing Director at Banuba; Jaehwi Jang, Director at Samsung R&D Institute and AI Ce

nter Russia; Mikhail Boiko, CEO of Facemetrics; Jin Wook Lee, CEO of Samsung R&D Institute and AI Center Russia; Vladimir Pichugin, Head of Open Innovations at Samsung R&D Institute and AI Center Russia; Dmitry Ogievich, CEO of Banuba; Alexei Sokolsky, CTO of Banuba
We took a walk on our major departments, including product development, where we demoed our Banuba Face Filters and Easy Snap apps along with other cool stuff we've created recently. Next, we headed to the R&D department, a secret laboratory where our scientists create the most advanced computer vision technologies used in our products. We showcased:
Face tracking and face filtering technology
Face tracking is not new on the computer vision market, however, achieving its quality performance on low-end devices is still a challenge for many companies. Our face tracking technology builds a 3D model of the face by recognizing 37 face characteristics represented as morphs for the default face mesh skipping the point of landmark detection. It allows achieving faster speed and better accuracy without compromising on the performance on a broad range of devices.
The Samsung team tested our face filtering technology on foldable devices and we were happy to know it works well.
Contactless heart rate measurement
We showed the heart rate measurement demo based on our face detection and tracking technologies. The algorithm analyses fine patterns of the facial areas and their variations within time to detect pulse frequency which allows the user to measure the heart rate remotely, by showing the face to the camera.
Hand tracking
The hand tracking technology seems to interest the Samsung representatives with the potential to be applied in AR glasses allowing the user to enable the virtual keyboard and enter text. They asked about the number of points, network size and performance.
Background separation
The technology allows to hide background behind the user in real-time and is promising for video calls, video conferencing and private real-time communication. To impress the Samsung team with its quality performance and broadest device support, we demoed it on Android Go, "a dinosaur" among the phones.
Among other interesting topics discussed, Mr Lee told about his trip to Armenia and shared his impressions on a startup ecosystem actively developing there. He noted that the startups join together quickly around a specific task and show a high degree of collaboration towards achieving an opportunity.
He also talked about the Koreans culture and their native desire to improve everything. Seoul is changing every year becoming a more efficient city.
Overall, the meeting with the Samsung Research Team was an amazing experience and an important step towards building potential future relationships. Time will tell if Banuba finds its path into the future projects of Samsung (with fingers crossed). Now, inspired and filled with enthusiasm, we continue working on other cool things and our doors are opened to everyone.
In case you want to get to know us and see Banuba from the inside, drop us a line and we'll be happy to meet with your company for a coffee.
Cheers!
Banuba Team
Top