Blog
Augmented Reality
Smart Beauty Mirrors: AR & AI to Replace Makeup Testers
Makeup testers are becoming a thing of the past. In a post-pandemic era, augmented reality technology helps cosmetics brands engage consumers in-store, allowing them to virtually test makeup products with cutting-edge technologies.
AR-based smart beauty mirror and virtual makeup apps allow customers to try products wherever they are - on mobile, web, or even in-store. This helps brands increase product coverage, boost engagement, and drive sales so that the benefits outweigh the risks.
If you consider launching AR/AI makeup mirror software, this post is what you need. You'll learn the pros and cons of a smart beauty mirror, core use cases, 5 stunning examples, and reasons to invest in virtual makeup try on solutions.

Alena Arsenova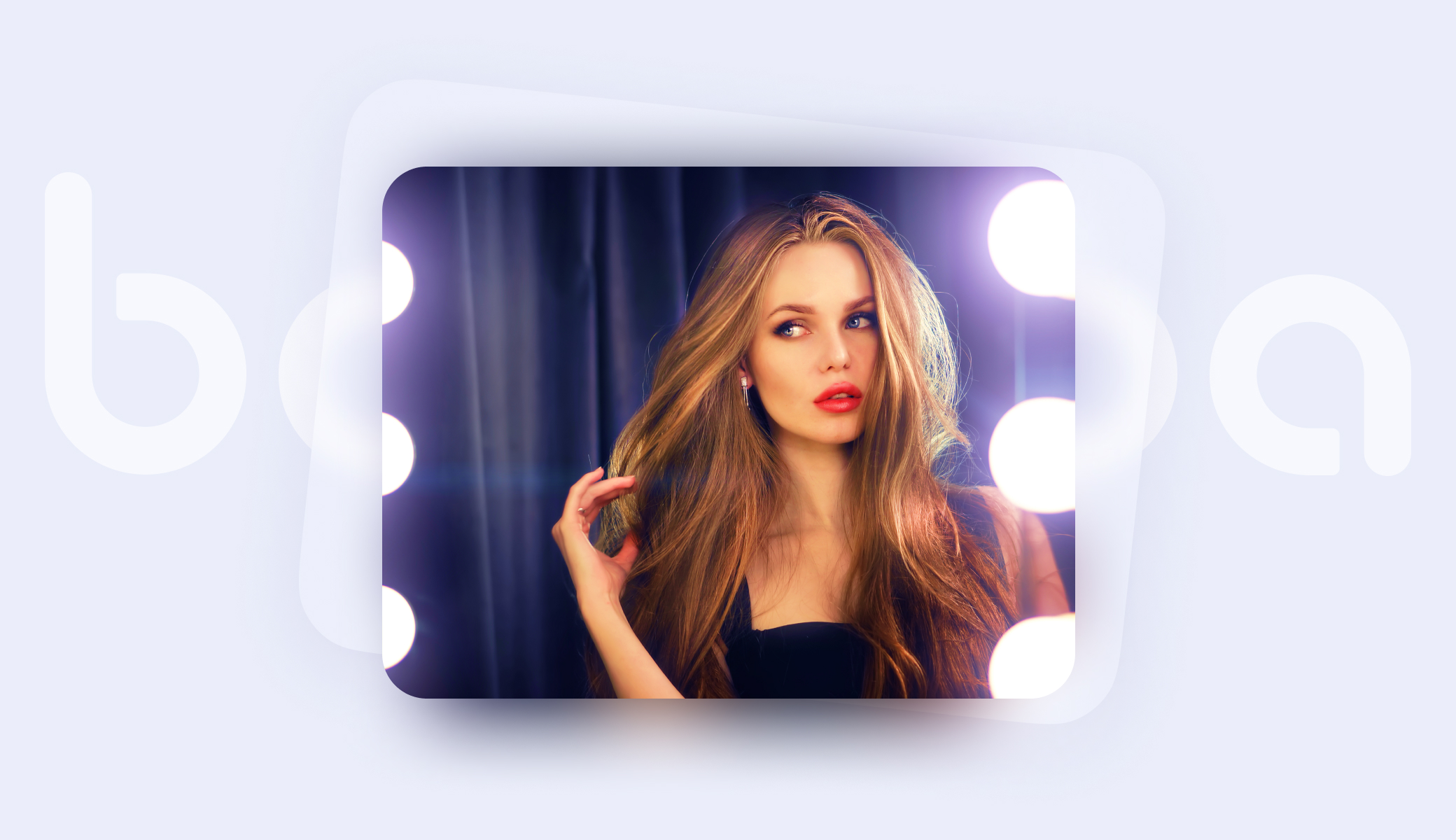 Smart Beauty Mirror: AR or AI?
Thanks to the significant advances in artificial intelligence (AI) and augmented reality (AR), consumers can try our beauty products virtually wherever they are — on mobile, web, or in-store. Leading brands are successfully using virtual makeup apps and smart beauty mirrors to give consumers innovative ways to experience makeup products using cameras. However, as the industry evolves, the difference between AI and AR makeup mirrors becomes more palpable.
With AR product experience the technology is capable of detecting the face and overlaying virtual makeup that looks as realistic as its physical copy. Using the camera, consumers can try on beauty products and find their perfect color match. An AI smart beauty mirror goes further by combining machine learning algorithms that analyze consumer facial characteristics like skin color, type, or age and can recommend the best-fit products based on the individual data.
How Virtual Makeup Mirror Works: Nuts & Bolts
Any AR-powered smart beauty mirror (also known as virtual makeup mirror) is made of the hardware part, i.e. the physical device or kiosk itself and makeup try on software that overlays beauty products virtually in real-time. Let's take a closer look at each component.
---
Professional Makeup Software
An essential part of smart beauty mirrors ("magic mirrors") is the Makeup Try On Software. But what exactly makes it magic? Or "smart"? Let's get a closer look "under the hood" of AR mirrors and how they are implemented.
Realistic makeup visualization. The lifelike presentation of virtual makeup is crucial - products need to look and behave as in real life. The lip gloss should shine in the light and the hair color must be as intense as the real hair dye. Thanks to the powerful rendering technology, all makeup colors, textures, and shades can be perfectly digitalized and brought to consumers.
Real-time try on. Initially the makeup try on idea was realized via photo editing, however now, with robust face tracking optimized for mobile, consumers can enjoy the real-time virtual beauty experience via a virtual makeup mirror.
Makeup advisor. By analyzing facial characteristics, a smart beauty mirror can find makeup items that are the best fit for a customer's age, skin, or eye color and showcase them in real-time. Brands can create preset makeup looks to recommend items that go together.
Beauty care personal assistance. The most advanced solutions use not only augmented reality to visualize beauty items but also AI algorithms that can provide skin analysis in terms of health and advice regimens, serving your personal digital assistants.
Banuba makeup try-on
---
User experience features
Recording. A smart beauty mirror can be equipped with video or photo-taking features so consumers can save, share and review their try-on sessions.
Engagement analytics helps brands to gain some marketing insights by tracking how consumers interact with a certain product and their level of engagement e.g. returning customers, the lengths of the session, the number of items tried and etc.
Interactive controls. The touch screen enables interactive makeup mirror controls, e.g. swipe to browse products, and tap to choose items. However, because of the recently increased demand for hygiene protection in public places, our company has been working on the idea of touchless UI. It uses hand tracking and gesture recognition technologies to allow consumers to control the screens using hands, without touching any surfaces.
---
Also Read: How Hand Gesture Recognition Benefits Different Industries
---
AI Mirror Hardware
On the hardware part, AI makeup mirrors can be implemented with several options. The fastest and easiest way is to place a couple of iPads or Android tablets which are a good substitute to mirrors. The pricing is very flexible starting from $150 for 10-inch Amazon Fire HD or $250 for Apple iPad (2019). Most tablets have a high-resolution screen and a powerful processor which ensures a quality AR user experience. However, the battery life may be a weak point when using tables as a smart beauty mirror with an average of 4 to 6 hours duration.
Pros
Fully portable
Fast launch
Fully compatible with makeup SDK
Cost-effective
Take no space.
Cons
Touch screen displays combine almost the same cost accessibility and ease of implementation with better visibility and battery life. Professional virtual mirror kiosks attract an audience too and provide a quality user experience with virtual makeup. On the software part, our virtual makeup SDK is compatible with touch screen displays and custom hardware. However, some additional level of testing might be needed to make sure the technology works fine.
Pros
Quick and easy launch
Compatible with makeup SDK
Cost-effective.
Cons
Less portable and take some space
It may require additional technology testing.
7 Use Cases of an Makeup Smart Mirror
Try before you buy. Virtually try-on experience to help visualize beauty products before purchase.
How to. Tips that guide users on applying products, e.g. creating makeup looks or self-care.
AR ad campaigns. Advertise new products before they go live with true-to-life AR filters.
Photo booths. Place your store to other public places with interactive photo booths that bring AR ad and try-on experiences. Allow selfie-taking and sharing to increase brand awareness.
Digital makeup testers. Allow hygienic try on in your store replacing physical makeup testers with virtual. Advertise products that are in other stores.
AI recommendation engine. Analyse users' facial characteristics like skin analysis including color, hair color, age, and gender to recommend the best products and fit.
Style assistant. Help your consumers to find the perfect outlook or most suitable products with a pre-set look.
Banuba makeup try-on
Smart Beauty Try-On: Mobile vs Web vs In-store
Considering that beauty stores will continue to avoid makeup testers in a post-coronavirus era, AR makeup try-ons are becoming more important than ever. The technology can be well extended to any customer touchpoint — a smart beauty mirror in-store, on brands' websites, or standalone mobile apps.
---
Mobile Beauty Camera
Smartphones have become the go-to channel for online shopping. Some 49 percent of consumers use mobile phones for shopping online and in-store. Digi-Capital estimates mobile augmented reality to top 2.5 billion installed base and $70 billion to $75 billion revenue by 2023.
So brands have an amazing opportunity to build positive brand sentiment by reaching consumers with unique, compelling, and targeted AR try on experiences on mobile. The branded app allows for building a long-lasting relationship with the consumer, engaging with the audience offering targeted promo campaigns, or notifying them about special offers.
---
Web AR Try On
Most mobile AR try on experiences require smartphone applications. For consumers, this involves downloading an app and allowing access to personal data. This creates a barrier to distribution and raises concerns over privacy.
The Try On for the web lets AR content be viewed and shared through mobile and desktop web browsers, allowing for a frictionless shopping experience.
Instead of downloading a new app, users can simply click on a link to open a page in their browser or press the "Try On" button on the product page, activate their web camera and try on items virtually.
Many AR solution companies recognize these benefits and offer a Web AR try-on experience.
---
Virtual Mirrors In-store
In cosmetics and beauty care, AR mirrors can increase sales by taking an omnichannel approach. The technology not only saves the time customers spend finding the right product but lets them browse many more items when in the store.
Using analytics, a smart beauty mirror can become non-intrusive consultants, advising on the most suitable cosmetics, skincare products or hair color. Digital makeup testing keeps shoppers engaged, adding fun, novelty and convenience, so retailers stand out from their competitors.
5 Smart Makeup Mirror Examples To Inspire
Leading retailers are successfully using Face AR technology to allow consumers try on makeup virtually.
---
Makeup advisor and Virtual Try On
At Viva Technology Paris 2018 L'Oreal presented a smart beauty mirror with one-to-one live step-by-step tutorials and coaching with a make-up advisor, virtually try on personalized make-up looks, and shop online.
---
Virtual Artist Mobile App
Sephora presented its first Virtual artist that made a revolution in 2016. It features over 200 million shades tried on, over 8.5 million visits, and virtual tutorials on how to contour, apply highlighter and create eyeliner looks on your face.
---
AR Hair Color Mirror
Wella Professionals Smart Mirror enables AR hair color try on and can retrieve past styles for each customer providing truly personalized customer services.
---
AI Skin Analysis Advisor
Olay noticed that a third of women couldn't find what they needed when browsing the shelves and did not make a purchase. They rolled out an AI-powered skin analysis advisor to help women understand their skin type and choose the right products.
Reduced the bounce rate for online visitors by one-third and increased average basket size
2x increase in conversion rate
5-min session length
Improved involvement of younger demographic
Used over 1.2 million times
5,000 to 7,000 users every day.
---
AR Smart Beauty Mirror
MAC Cosmetics launched Virtual Try-On Mirrors in its physical stores across the country. The company expects a 31 percent sales increase due to the AR-powered in-store experience.
Guided Virtual Try-On
Makeup mirrors typically use a "classic" virtual try-on approach. However, there is a new one - a so-called Guided Virtual Try-On (GVTO). The "guided" part is the main difference - the software includes smart makeup analysis that gives personalized recommendations based on the user's skin tone, hair and eye color, facial features, etc. Thanks to this, the sales are higher and returns are lower.
As an additional feature, GVTO typically contains a "buy now" button right on the try-on screen, which allows people to buy makeup products and complete looks easier. This raises the average order value.
Why Invest in Makeup Mirror Try-On Solutions
With too many products to choose from, consumers often feel at loss navigating a retailer's site or store. They can't find products that would match them best. At the peak of their frustration, they are likely to give up and leave without a purchase.
With virtual makeup try on, consumers can browse hundreds of options on the mobile, web, or via in-store interactive beauty mirrors. The 'try before you buy' approach helps to reduce returns, avoid unnecessary or dissatisfying purchases and increase the overall interaction experience with a brand. Besides, it's second to none when it comes to Gen Z engagement.
The novelty of AR technology, its accessibility on mobile and in-store and the selfie-focused camera experience lets brands hold the attention of "digitally native" consumers longer and convert them at a higher rate.

Top