Blog
Augmented Reality
8 Top AR Solution Companies that Lead in 2023
An augmented reality solution company is a development provider that can help you build immersive AR solutions that rock.
But what augmented reality technology solution companies are there and how to choose the right one?
Our list of the top 8 AR solution companies will help you choose the right provider that has already secured a foothold in the market.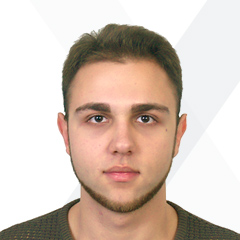 Daniil Torkut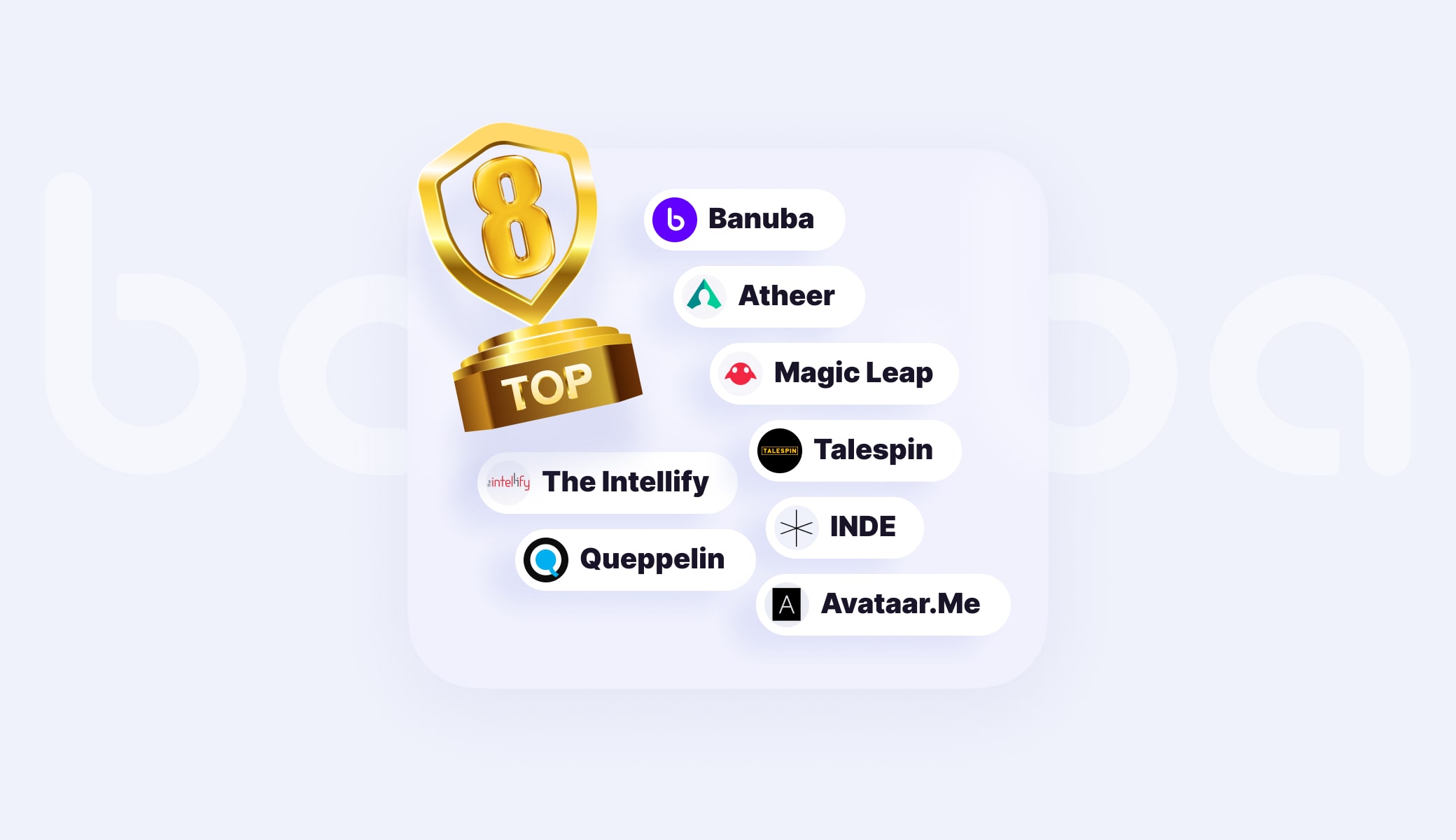 8 Best AR Solution Companies in 2023
---
Banuba
Founded: 2016
Expertise: Face Filters, Video Editing, Web AR
Employees: >150
Clients: Gucci, Meta, Samsung
Banuba is an AR solutions company and AI lab specializing in face augmented reality and video editing technologies for video communication startups, social networks, beauty brands, and other customers.
Since 2016, we've been following the mission to create the most innovative AR-powered platform.
To date, Banuba has released multiple software products that include:
Face AR SDK
Banuba Face AR SDK
Face AR SDK allows your business to integrate ready-made features right into your app. It means you can leverage off-the-shelf real-time 3D masks & AR face filters.
When do you need them?
Banuba Face AR SDK is a perfect choice for businesses that want to drive user engagement, beauty brands looking to decrease returns, mobile startups that need to boost in-app sessions, and increase sales with engaging AR experiences.
What are the key features?
The SDK includes, but is not limited to:
Facewear try-on
Hair & eye color
AR-powered beautification
Background removal
SFX & Voice Changer
3D Renderer
Filter Editor + Scripting
Sample Filters & Documentation
Support & Consultancy.
What companies use it?
Gucci, Meta, Samsung, and Looké have already integrated Face AR SDK features into their products to offer immersive AR experiences to their customers.
How much does Face AR SDK cost?
We offer a 14-day free trial so you can try it before you buy and test the functionality beyond the limits. Once you're all set with the trial, you can use all premium features beyond the limits and then get flexible pricing.
Video Editor SDK
Banuba Video Editor SDK
Banuba Video Editor SDK is a ready-made AI-powered video editor for mobile devices. It allows your users to unleash creativity & skyrocket TikTok-like short video creation.
Same to Face AR, it's an off-the-shelf software you can integrate into your current application without any struggles.
When do you need Video Editor SDK?
It's a perfect match if you want to power your video mobile app with an AI-based video editor, cutting-edge effects, and filters. This way, you increase user-generated content and drive user engagement, in-app purchases, and sales.
What are the key features?
Overlay Face AR effects on videos
Video filters
Live beauty filter
Gif and Text layovers
Time filters (Slowmo & Rapid)
Audio editor
Trim and merge
Slideshows and Stories
Video export
Mobile web app compatibility.
What companies use it?
Yandex, Chingari, Jalsa, and PlayU are using Video Editor SDK's features.
WebAR Kit
Banuba WebAR SDK
Banuba WebAR kit is an augmented reality solution for your web-based application to display AR-powered face effects via a webcam.
When do you need WebAR?
In case you're looking for a no-app cross-platform AR experience with AI face tracking capabilities to drive your product's growth. Web AR enables users to unleash augmented reality in real-time or via post-processing.
What are the key features?
---
Atheer
Founded: 2012
Expertise: Automotive and Front Line AR
Employees: >60
Clients: Audi, Volkswagen, Porsche, IAG
Atheer is among the top augmented reality technology solution companies.
It specializes in producing AR solutions for automotive, aviation, manufacturing, mining and metals, oil gas, and energy.
The company has launched its own AR-powered interactive platform for front-line teams and workers.
Front Line Worker Platform includes 3 key modules: Self, Remote, and Work Assist.
The Self module is designed to help frontline workers with an in-depth assistance system.
The Work Assist functionality allows users to digitize, augment, and automate front-line processes to make employees work smarter.
The award-winning AR-enabled Remote module helps workers get assistance remotely in a hardware-agnostic, smooth, and timely fashion.
Atheer | Top AR Solution Companies
What are the key features?
Real-time collaboration
Device agnostic approach
Centralized asset management
Performance & predictive analytics
AR video assistance
AR workflows for front line operations
Encrypted & robust messaging
Augmented remote assistance.
What brands use Atheer AR-powered software?
Volkswagen, Porsche, AIG, Clorox, Iberia, and other companies daily use Atheer products.
---
Magic Leap
Founded: 2010
Expertise: Health, Manufacturing, Defense AR
Employees: >1,000
Clients: Vuforia, VMWare, CNBC, BrainLab
Magic Leap is one of the top US-based augmented reality development companies and startups with over $3.5B in funding.
The company produces innovative AR-powered hardware and software products to revolutionize the way people visualize data and access screens.
The startup utilizes mobile computing and dynamic dimming technology to produce industry-leading optics for top-in-class image quality.
The AR solutions company creates visual objects identical to real objects and positions those elements smoothly in the real world.
Magic Leap | Top AR Solution Companies
What are the common use cases?
Magic Leap helped Taqtile by Manifest, an AR-enabled platform, supply their front-line workers with expert training.
AR-powered headsets allow employees to interact with 2D and 3D content and get new knowledge on the go.
This way, experts can create interactive virtual content and navigate trainees through it on the same equipment.
Recorded videos, informative notes, dropped arrows, and other content speeds up the training process and saves hundreds of thousands of US dollars for Manifest.
What Companies Leverage Magic Leap Headsets?
VMWare, CNBC, Manifest, and Unity are using wearable technologies by Magic Leap daily.
How much does it cost?
The prices for innovative AR- and AI-powered products start from $2.295 / pcs. Currently, the AR solutions company offers its product to consumers, developers, and enterprises.
---
Talespin
Founded: 2015

Expertise: Leadership, Healthcare, Insurance

Employees: 100

Clients: Meta, HTC, Deloitte, Salesforce
Talespin is a promising XR (augmented, virtual, and mixed reality) agency that deals in immersive software development.
The augmented reality company has launched the Talespin Platform which includes 3 modules:
CoPilot Designer
Dashboard
Propel.
CoPilot Designer is a content development tool for creating virtual human avatar-based experiences that engage users in genuine simulation scenarios.
It offers learners project configuration, flow, and performance editor.
The Dashboard functionality offers user and content management, skills analytics, and integrations.
Simply put, it's an AR-powered ecosystem to train, analyze, and assess the performance of employees in a smooth and interactive way.
The Propel component is where augmented reality comes into play.
It's a training platform with Virtual Reality and Augmented Reality (AR) experience which helps simulate complex real-life learning scenarios in a virtual environment.
Talespin | Top AR Solution Companies
What Companies Trust Talespin?
USAA, Accenture, PWC, and Nestle are using Talespin platforms daily.
---
The Intellify
Founded: 2018
Expertise: AR Filters, WebAR, 3D Modelling
Employees: ~30
Clients: IBM, Bayer, Discovery Channel
The Intellify is among the leading augmented reality development companies in India specializing in AR filters, 3D modeling, and Augmented Reality-powered animations.
The agency utilizes multiple Augmented Reality technologies to bring immersive augmented reality to industry-leading apps.
The Intellify uses the next technologies:
Face Tracking AR Solution
Markerless Plane Tracking
Marker Based AR
AR Way Finding
Object Detection Based AR
Location-Based AR
Besides the mobile experience, the company also helps businesses empower their web-based applications.
For example, Intellify helped AR TV Store build an immersive web augmented reality experience.
It allows users to search for devices and try them in real-time, matching the preferred interior locations.
The Intellify | Top AR Solution Companies
Also, the company offers 3D modeling services which include:
3D character design
Rigging & animation
3D product modeling & architecture
Photogrammetry & simulation
Motion graphics & video animations.
What Brands Trust The Intellify?
The AR solutions company has built AR-powered solutions for Discovery Channel, Columbus Metropolitan Library, SenseCity, and other companies in Entertainment, Beauty Industry, Pharmaceuticals, etc.
---
INDE
Founded: 2010

Expertise: Screen-based AR, WebAR, MobileAR

Employees: ~30

Clients: Visa, Coca-Cola, Adidas, Disney, Pizza Hut
Inde is one of the world-leading augmented reality companies with solid expertise in edutainment, screen-based experience, MobileAR, and WebAR.
The company has launched 5 key products:
HeroMirror
BroadcastAR
MobileAR
LiveAvatar
Face Filters.
HeroMirror is an Augmented Reality-powered way to connect with your favorite movie characters, actors, and world-known celebrities.
The company uses animated, green-screen, or volumetric AR content to bring virtual reality content into the real world.
Businesses can integrate HeroMirror with any kiosk-size device and avoid app downloads.
BroadcastAR is AR-enabled way to explore and interact with immersive environments and 3D objects in real-time from dinosaurs to killer whales.
The AR solutions company has released 13 cinema-quality content packages for multiple experiences from the Jurassic period to the Moon landing.
AR Face Filters are the way to bring branded Snapchat lens, Instagram- or Facebook-like effects to your application.
The company has released 6 ready-made AR-powered effects that you can try in real-time.
What Companies Trust INDE?
National Geographic, Red Bull, Adidas, Pizza Hut, and many other food, clothes, entertainment, and beauty brands leverage AR technologies by INDE.
---
Queppelin
Founded: 2010

Expertise: WebAR, AR Filters, 3D Modelling

Employees: ~70

Clients: Google, Unilever, BMW
Queppelin is an India-based AR solutions company specializing in delivering WebAR, Try-On, 3D modeling, and other Augmented Reality-powered solutions.
The agency has released its flight simulation software with AR and VR technologies inside.
It helps aviation schools, airlines, beauty brands, makeup companies, and military forces perform immersive training and certification experiences to upgrade trainee pilots.
The product includes:
Full Flight Simulators
Virtual Flight & Line Flight Training
Fixed Base Simulator
Flight Training Devices
Flight Mission Simulators
Flight Training Simulator.
Quepellin states their AR-powered flight simulator has reduced the training and certification period from 12 months to only 4 for 13 pilots.
What Brands Trust Queppelin?
Emirates NBD, LiveOrbis, and Hindustan Unilever (HUL) have contacted the AR solutions company to help deliver immersive AR experiences.
---
Avataar.Me
Founded: 2016
Expertise: 3D Modelling, E-Commerce & Retail AR
Employees: ~300
Avataar.me is a flourishing augmented reality company revolutionizing the worldwide shopping experience with AR technologies.
The startup has released 4 major AR-powered solutions:
PDP Visualization with Interactive AR
AR Product Mix n' Match
In-Store Visualization
In-House Visualization.
PDP Visualization is about making retail product page details interactive with 3D visualizations, a real-time virtual configurator, and feature discovery.
AR Product Mix-n-Match is a way to generate and interact with 3D models in the real world.
For example, you can match a virtual refrigerator with your real interior in-house through an in-frame AR experience.
The In-Store Visualization solution allows in-store customers to scan custom QR codes and dive into an AR-powered try-on visualization world.
For instance, customers can scan QR codes with mobile devices and start configuring their new home interiors with SKUs from the store catalog.
In-House Visualization is similar to the previous solutions but works remotely.
Buyers can try on multiple products right at their homes comparing different models and configuring their features.
Why Banuba As an Augmented Reality Company
Banuba is an artificial intelligence lab specializing in augmented reality SDK development.
With $12M+ acquired funding and 31 technology patents, we can power your business with immersive AR experiences to:
Reduce returns and increase user engagement with the 'try-before-buy' approach
Bring unrivaled personalization to customers through intuitive, selfie-focused AR experiences
Keep Gen Z engaged with visual and easy-to-perceive content easily accessible on mobile
Advertise organically inspiring users to generate and share content with your brand
Grow in-app purchases through a streamlined shopping experience
Stay competitive with virtual product testing and creative brand storytelling.
Our Face AR and AI Video Editor SDKs are a perfect match for your:
Photo and video apps
Video conferencing products
Virtual try-on for beauty startups and brands
Dating apps
Music and karaoke apps
Retail and commerce business.
We helped such brands as Gucci, Meta, Samsung, MNFST, Teatime, Paltalk, and many others.
Top