Blog
Virtual Try-on
Top Beauty Startups in 2023
The beauty and self-care market is blooming with $534 billion in revenue in 2022. It is expected to grow by 5.86% annually. The pandemic and market trends pushed the beauty industry towards digital transformation resulting in an online-oriented customer approach and emerging beauty unicorns.
We at Banuba have always focused on self-care and beauty startups that disrupt the market and supplant old-fashioned companies. We've selected the top-notch and game-changing beauty startups becoming trendsetters among the
305 million
annual newcomers.

Banuba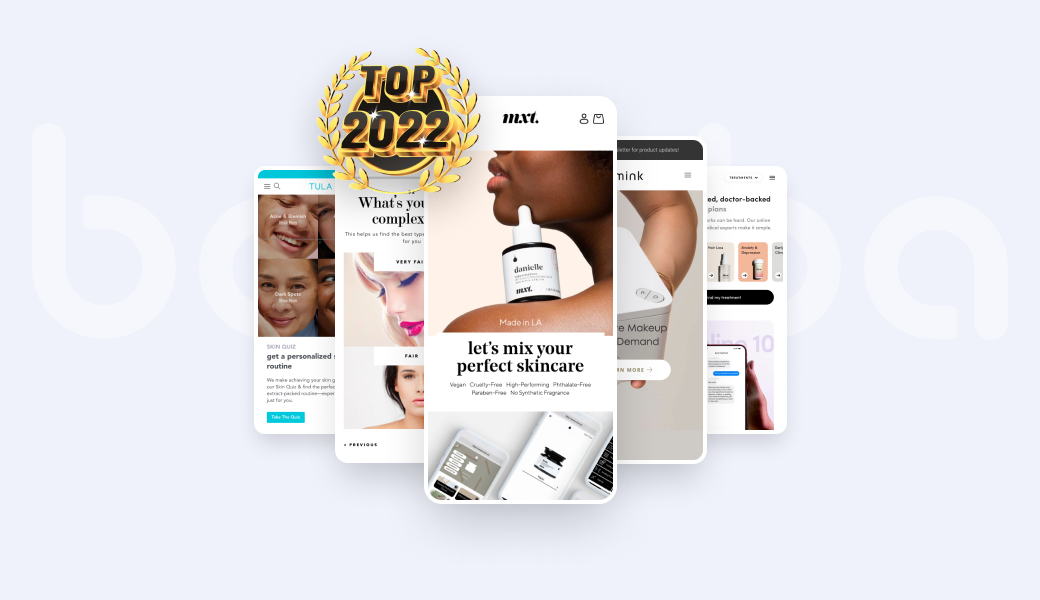 [navigation]
Beauty Startup Types and Tendencies
The beauty industry is tricky — its face might be covered with sparkling makeup and funny anti-aging mask, but its ingredients are a hardcore combination of scientific discoveries, smart marketing features, and the best the technology has to offer.
From mind-blowing smart beauty devices to personalized professional services and custom makeup – startup founders' imagination and ambitions can astonish you. Let's navigate through the most typical beauty startups and tendencies.
E-commerce
Covid-19 skyrocketed e-commerce development and transformation. In 2020, online beauty product sales grew by 47%. Brands had to switch sales online and develop new ideas for virtual shopping and product interaction. Challenging as it was, it kickstarted a new tendency and trend for traditional e-commerce.
Beauty startups like Renude and My Beauty Matches appeared, reinventing the virtual customer experience. They adopted AR and AI technology, transferring consultations and product selection into the metaverse. Renowned brands didn't stand aside, and virtual try-on features and smart assistance emerged throughout retail.
Salon Software
Company owners leverage business management tools to help them automate their processes. The beauty industry requires tailored solutions to meet all their needs — booking appointments, payment processing, product delivery, promotions, inventory, reporting, POS, and analytics. Beauty startups like Fresha and GlossGenius appeared, offering businesses all-in-one place software solutions.
IoT
Consumers want quality and personalized beauty treatments from the comfort of their own homes. The result is a surge in smart beauty devices replacing a visit to a cosmetologist or a professional makeup artist. Leveraging technology advancement, companies invest in IoT. From Mink, a 3D makeup printer, to HiMirror and AI-powered Perso creating custom skin care — better beauty basics and a medicine cabinet become available in every home. Analytics expect the smart beauty device industry to reach $144.2 billion by 2028.
Mink | Top beauty startups 2023
Makeup Brands
Cruelty-free, vegan, and eco makeup became a beauty industry trend among consumers, with 35% of them looking for these characteristics while shopping. Emerging beauty startups search for new natural ingredients and production techniques to help reduce allergies, skin problems, and inflammation. Make-up users expect brands to be environmentally-friendly and raise awareness. The trend for reusable or biodegradable packaging took over both existing and appearing cosmetics companies.
Looke, a vegan and cruelty-free brand from Indonesia
Skincare Products
The pandemic switched consumers' focus from make-up to skincare. People became more concerned about their skincare products and invested in clean ingredients and high-quality items. Companies concentrate on personalized products, leveraging beauty tech to analyze consumer skin type via AI or smart surveys, and scientific research to invent innovative formulae and benefit natural ingredients. Needless to say, the beauty brand must be cruelty-free and actually improve soundness and skin condition in the long-term run.
Hair Care
Hair care products also concentrate on clean beauty combined with eco-friendly yet innovative solutions. About 65% of beauty brands and retailers offer their consumers a survey to offer personalized items to reach their hair goals. Organic shampoo bars replace plastic bottles, and universal hair care products sound insane. Beauty products focus on individuality, self-expression, and well-being in every customer experience possible — from choosing a color to a curly hair-washing routine.
Oral Health
Smiles were not left behind. The dental industry adopted new challenges and combined everything — IoT in the form of smart toothbrushes and irrigators, personalized virtual consultations about brushing habits, and even natural gums! Quip is a great example of an innovative approach to oral health.
Quip | Top beauty startups in 2023
Wellness
The pandemic pushed everyone to be health-conscious. It is the golden hour for the wellness industry. Businesses focus on mental and physical well-being, self-awareness, and customized vitamin and supplement packages. Flore creates personalized probiotics, while Meditopia deals with anxiety and stress.
Innovative Marketplaces — Beauty Products & Services
Before we proceed to two astonishing e-commerce startups, let's review the worldwide tendencies in the beauty industry, bringing these innovations.
Trends for Online Shopping and Services Booking
Personalized Beauty Options
Consumers value hyper-personalization in everything regarding shopping and beauty — from individual recommendations (which increase AOV) to custom-made products.
Easy and Time-Efficient Online Booking
Customers value their time more than ever. With nearly 50% of them booking beauty appointments out of business hours, they expect to have convenient tools for that.
Virtual Try-On
The AR-powered virtual try-on feature enables customers to simplify the agony of choice, increase engagement and conversion, and reduce returns. And the GVTO from Banuba is also AI-powered, making the consumer journey more personalized.
Personal Assistance and AI
In-store consultants are replaced by AI, analyzing buyers' behavior and finding the perfect match for them. Besides, artificial intelligence impacts personalization and price optimization.
Voice-Enabled Beauty Shopping
Smart voice assistances like Alexa and Siri win people's hearts. Nowadays, 51% of online buyers use voice search to find proper items, and beauty brands adopt it.
E-Commerce Beauty Startups to Keep an Eye On
My Beauty Matches
This beauty startup utilizes AI for its search algorithms to the max. The company offers a wide selection of make-up, hair, skin, and body care products. A new consumer can dive right into shopping or use the personalized option. After a short survey, the AI analyzes the data and collects the best cosmetics to match the needs.
Il Makiage
An Israeli and New York-based beauty tech company acquired two AI startups in 2021. The brand is an online retailer selling cosmetics, offering looks IRL and smart quizzes to find the perfect beauty match. Buyers can just cover the delivery cost to try the product at home and pay the rest if it matches.
Brands Revolutionizing the Beauty Industry in 2023
Let's dive into the world of innovative products and services changing the lifestyle of people around the globe.
The company offers custom-made cosmetics based on surveys. It tailors its skincare, body, and hair products to a consumer profile and desired results. Their personalized cosmetics are cruelty-free and vegan, packed in recycled bottles. Buyers can subscribe to the services and receive more perks or purchase them directly.
Dieux brand created reusable eye patches that activate the ingredients of customers' under-eye personal skincare. They solve the problem of wasteful skincare by offering a customizable treatment plan.
IGK hair products company simplifies the process of selecting the perfect color hue. It offers a virtual try-on, a survey, or a consultation with a pro to enable personalized at-home hair coloring. In addition to tech perks, the brand boasts natural ingredients that color and nourish hair.
You might think it's another beauty startup that personalizes skincare via technology. However, its advantage is that it doesn't merely use your data and skin goals. This Danish brand combines the insights and experiences of other 150k people with similar problems and goals. Their customers experience up to 85% skin condition improvement.
Developers of Droplette believe that effective skincare should be painless. That's how the idea of a micro-mist smart infuser appeared. Initially, the company focused on solving the problem of rare skin diseases and biotechnology. They quickly realized their smart device could solve beauty problems too.
In combination with an app, the appliance lets the skincare products infuse 20 times deeper, reaching the molecular level. The company claims the ingredients are 90% more effective. Both the device and products are dermatologically-tested and approved.
Droplette | Top beauty startups 2023
Natural Beauty Startups
Clean beauty is trending, and so are the startups providing it. Let's review two brands that exploit the power and wonders of nature to the fullest.
A love story of a Dutch tulip farmer and an inspired New Yorker turned out into a beauty company. Having discovered the magical properties of tulips, Bloomeffects created skincare cosmetics, poured them into recycled containers, and developed its philosophy. It is now helping the environment and delighting customers all over the world.
The brand uses the powers of nature to keep hair healthy from the inside out. Nutrafol has developed hair supplements based on herbs, minerals, and vitamins that give visible results within three months. The service is customizable for men and women, and a subscription allows them access to consultations with naturopathic doctors and an online community of people with common hair problems.
New Beauty Brands Worldwide
From New York to Berlin — let's travel across the world and meet the most innovative beauty startups.
NYC-based Beauty Startups
New York welcomes us with personalized and clean skincare. Curology creates custom skin care formulas prone to acne and aging. It's a subscription-based cosmetics and service provider with a thriving community and devoted pros ready to answer skin-related questions.
TULA is another cosmetics company focusing on clean skincare, founded by a gastroenterologist. Its formula is superfoods and probiotic extracts based, with no sign of toxins or harmful ingredients.
Billie is a New York startup and a true women's manifestation. It understands the difference in the shaving process for women and men and creates a unique razor aimed exclusively at females. Considering the physical particularities, it offers its customers better products at affordable prices. It doesn't apply the Pink Tax and offers a monthly subscription.
Tula | Top beauty startups 2023
San Francisco
Sunny San Francisco treats us to some beauty tech and telehealth. Hims & Hers is actually one brand targeting different audiences. The startup helps connect users to certified service providers and offers treatment without leaving the comfort of their homes. Problems under discussion can be quite intimate, so it's a perfect solution for those being shy.
Naked Poppy helps save money on trying infinite skincare brands in search of a perfect match. Its three-minute-long test identifies clients' pains, needs, and goals, offering ultimate products for skincare routine. Besides, buyers can send back items they didn't like.
London
London introduces us to the world of custom-made press-on gel nails. Glaize brand re-invents traditional mani and suggests an easy-to-apply, personalized, and long-lasting solution. Clients take a picture of their hand and send it to get a custom design fitting their fingernails.
Fresha is another English beauty startup serving both service providers and clients. It's a booking platform and business management software in one. The solution is both web and mobile-based.
Los Angeles
Skylar Clean Beauty decided to prove to the world that it is possible to create hypoallergenic and eco-friendly perfumes without causing irritation to sensitive skin. And they succeeded. It was not without a personalized approach, where clients can choose their ideal fragrance by taking a questionnaire, or create it themselves by mixing the existing ones.
MxT allows users to feel like chemists and create their own beauty products from the ingredients offered. Less adventurous shoppers can use the help of an online consultant who guides them through the process of creating a jar with the perfect formula.
Chicago
Chicago has gone beyond redefining beauty shopping. Sofie is a solution for video content creators featuring cosmetics. AI-based applications generate affiliate links for beauty items used in a video with the best pricing options.
Berlin
The German capital offers a startup that improves well-being and nutrition. Baze has developed an in-home nutrient blood test to determine if a person has nutrient deficiencies. Based on test results, clients are offered supplements and food guides that can resolve their issues in three months.
Berlin also offers a rich serum and smart atomized spray. Kozhya's touch-free application enhances absorption and boosts better results. The serum formula is botanically inspired and includes 99% natural ingredients.
Beauty startups definitely alter typical self-care routine and lifestyle. They have all chances of becoming trendsetters and unicorns, adopting the best nature, technology, and science have to offer.
Top