Blog
Virtual Try-on
How Beauty Brands Profit With Virtual Makeup Try-On [Case Study]
The year 2020 hit the cosmetics industry hard, with revenues falling across all markets. But some brands resisted the negative impact and even managed to improve their bottom line. Generally, these were the companies that quickly adjusted and invested in digital transformation: virtual makeup try-on, online product launches, and AR advertising. In this article we will give an overview of the beauty industry conditions in 2020 and its leading AR-related trends, as well as show how a niche cosmetics brand used new technologies to succeed.

Alex Krasko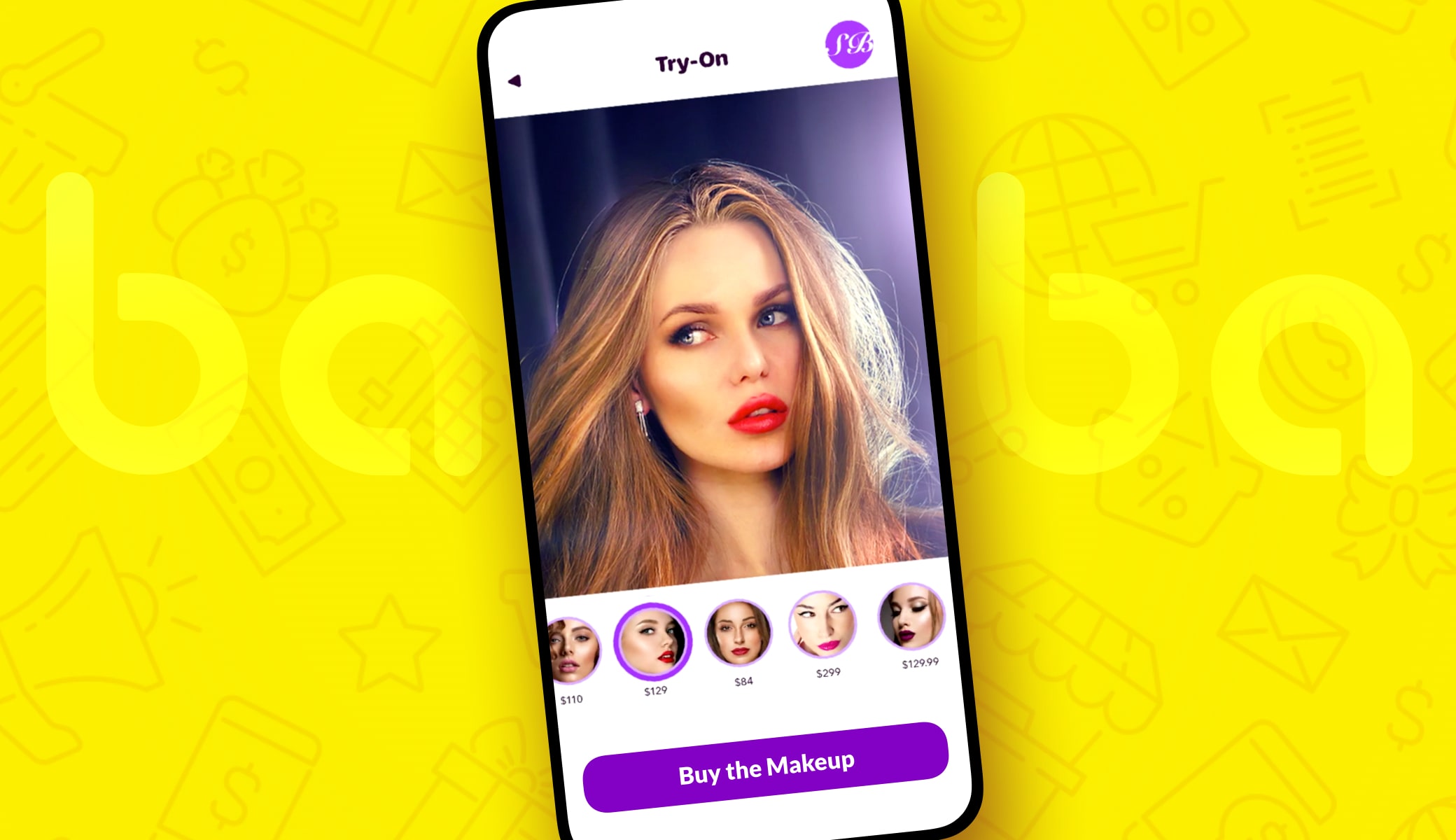 The beauty industry in pandemic
With lockdowns and people preferring to stay at home, people were less likely to spend on beauty products. In the United States, for example, expenses on cosmetics fell by almost 10%.
Source: CNBS
The overall revenues for the industry in 2020 were expected to fall by up to 30%. This affected both small companies and international giants like Ulta, Sephora, and Benefit, which had to temporarily close thousands of stores to stop the spread of the virus.
Where the sales of some products fell, the demand for others rose. The soap and body wash market grew by 194%. And sanitizers sold almost seven times as well, as in 2019.
How beauty companies adapted
Despite the worsening market conditions, certain brands managed to keep and even increase their earnings. This was largely due to the use of new technologies: retailers, for example, spent three years' worth of digital transformation in just six months. Here's what the successful companies did.
---
Virtual makeup try-on
Modern technologies let people test hundreds of products on their smartphone screens. This is especially prominent in the fashion and beauty industries: people were reluctant to try products that touched someone else's body even before the pandemic. Now with the modern advancement in AR, both international giants and niche brands ramped up their efforts to develop virtual makeup try-on apps. Testing and ordering products remotely proved to be an effective way to increase sales.
One of the biggest users of AR in the beauty industry was Ulta. They launched their app and raised brand engagement sevenfold.
---
Virtual product launches
Another major trend of 2020 is releasing physical products through online presentations. This lets beauty companies use videos to reach customers even during the lockdowns.
The Estee Lauder conglomerate used this to great effect. Several brands of the family used virtual makeup try-on and live streaming for launching their new products. As a result, the conversion rate was up to 10 times the average, the median order value has increased, and over a million people watched the streams. The total sales of the conglomerate grew by 60%.
---
AR in the beauty industry for personalization
Virtual makeup try-ons can include myriads of customization options, letting customers choose any combination of color and model. In addition, this feature can be combined with artificial intelligence to recommend specific products that would fit the customers best.
Looké, a niche cosmetics company from Indonesia, made good use of it. Their app uses the user's profile to automatically suggest the powders and foundations that would benefit them most. These products are then available to test in the same app.
By the way, if you are interested in learning more about AR in the beauty industry, take a look at our newest white paper. It describes other important trends, explains how Face AR technology works, and shows other applications (like nail polish try-on or hair color simulation).
What virtual makeup try-on brings
There is a reason this technology is so hot right now. Several of them, actually.
Increased sales. Virtual makeup try-ons are very realistic, and it shows. Customers using it are three times more likely to buy and their order size is 20% larger, on average.
Decreased returns. The users can choose the right product right away which saves a ton of money on repackaging the unneeded goods. In some cases, AR try-on decreased returns by up to 36%.
Increased brand engagement and loyalty. When brands make shopping more convenient, buyers appreciate that. As we mentioned before, Ulta increased engagement by 700% through their

mobile

app.
What is a virtual makeover?
A virtual makeover is a technology allowing people to change their appearance on screen by using augmented reality clothing, makeup, hairstyles, and other elements. Apps using it have become a popular and convenient way to try new looks without spending money (or spending very little). Alternatively, they can be a form of entertainment or a tool to create social media content.
From a business standpoint, it is a great form of advertising. Renowned brands like Mary Kay or Clairol have their own virtual makeover apps containing most or even all of their products. Their potential customers can see exactly how they will look after applying the new makeup and buy products straight from the app.
Can you virtually try on lipstick?
The answer is "yes". Thanks to the lips segmentation technology, people can check out virtual counterparts to physical lipsticks, balms, and glosses.
The shades can be either realistic (simulating an actual product, for example) or something neon-bright or outlandish.
The technology behind it (at least, in the case of Banuba's beauty AR solution) relies on a neural network that gets trained on a huge dataset of over 200.000 photos taken in different conditions. The system then "sees" lips just like a human would and can recognize them in different facial expressions. This means realistic lipstick try on even if the person is talking, making faces, or otherwise moving.
Case study: Looké
How a beauty brand succeeded with their virtual makeup try-on app.
---
Company and challenge
Looké is a niche beauty brand, specializing in halal, vegan, and cruelty-free cosmetics. It is a part of AVO - a technology and beauty company based in Indonesia.
To acquire new customers, stay ahead of the competition, and capitalize on the latest trend of using AR in the beauty industry, the management team decided to launch a virtual makeup try-on app.
---
"As the world evolves with digital natives, we realize that the future of beauty is in our hands, in our mobile devices." - Nurtaqi Irzalia, Brand Director, Looké Cosmetics.
---
---
Beauty AR SDK
They had their own mobile developers. However, there were several reasons why they decided to go for a premade beauty AR SDK instead of building everything from scratch:
Time. AR in the beauty industry remains a complex technology. Building everything from the ground up would have taken months or even years. With a premade SDK, Looké was able to add the

AR

try-on functionality in a few weeks.
Costs. Directly related to the previous point, developing advanced features on their own would've cost too much. Buying an existing product was a cheaper option.
Feature set. The SDK that Looké could buy would be far richer in features and better optimized than any comparable solution they could build themselves.
They chose Banuba.
---
"FaceAR SDK simplifies the development of our Try-On feature big time. This feature keeps us just 10 cm apart from our customers at all times." - Puja Wardani, Associate Vice President.
---
Solution
The Looké app allows potential customers to virtually test anything in the brand's product line. The try-on happens in real-time but the user can take pictures and easily share them on social media or messengers.
Overall, the application ended up with the following features:
Virtual makeup try-on. The brand's entire product line is available to be tried in-app. This includes foundations, powders, mascaras, lip glosses, and more.
Where to buy. A user could get info on where to buy the product that they liked.
Gamification. Increasing engagement by rewarding certain actions (inviting friends, completely filling out the profile, etc.).
Reviews. Letting users share their opinion about specific cosmetics or read the testimonials of other people.
Recommendations. Suggesting the most fitting products, according to the user profile.
---
Results
The app was a success, gaining over 55.000 installs, with most users giving it a 5-star rating on Google Play.
If you want to build an app like that, take a look at our Beauty SDK. Two weeks of the free trial will convince you that it's the best choice.
Сonclusion
Virtual makeup try-on gained prominence because of its efficiency. Fortunately, with the latest advancements in augmented reality, it can be added to any app quickly and at a reasonable price. Feel free to check out the Beauty AR - it might be just what you need to kickstart your business.
Top