Blog
Face AR
Face AR: Ultimate Guide To Face Augmented Reality
Our extensive guide to Face AR explains everything about facial augmented reality development, its use cases, possibilities and future trends. Discover how you can leverage Face AR SDK and Platform tools for user engagement, audience outreach and creative digital interaction in your app.

Alena Arsenova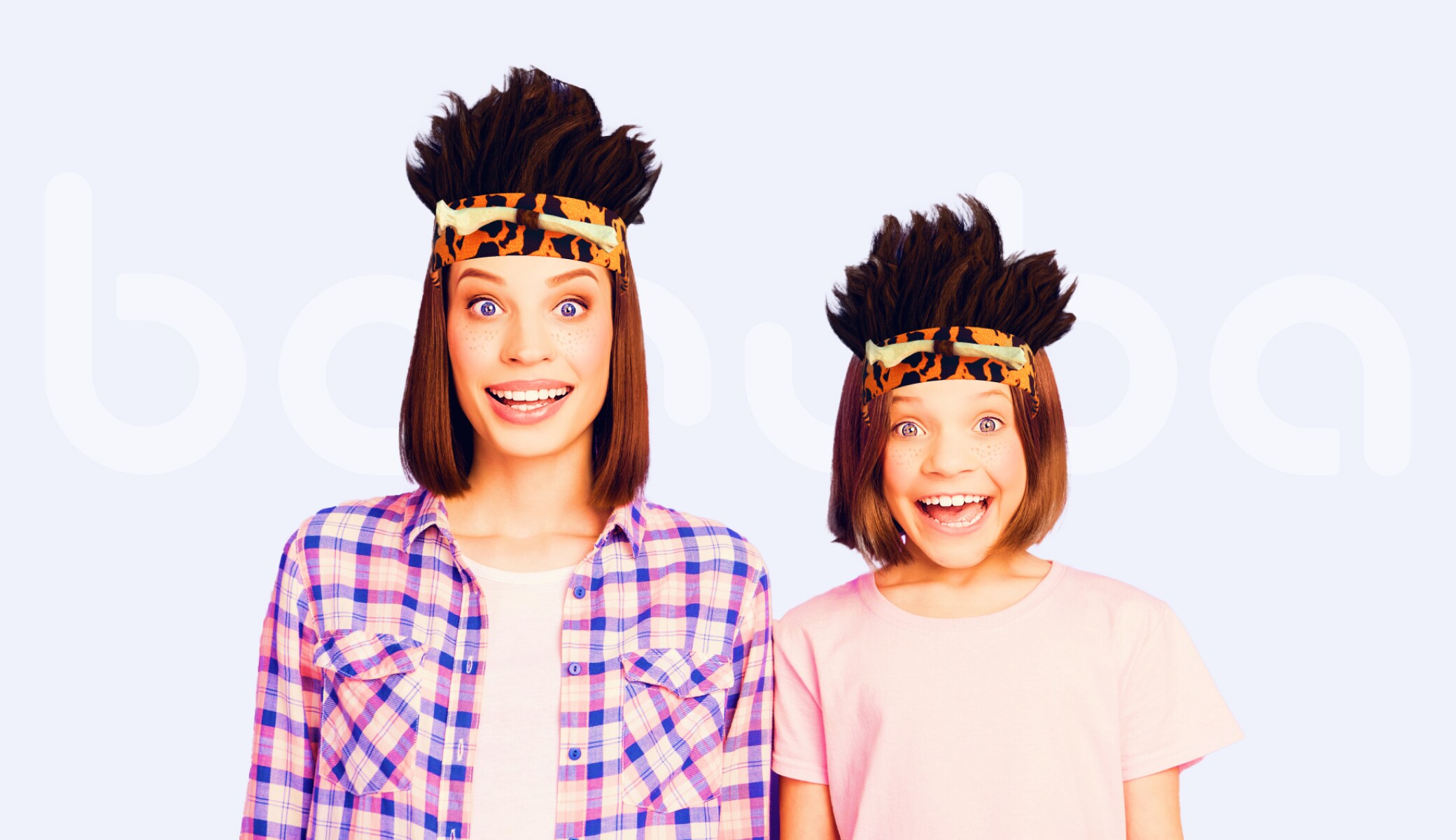 [navigation]
What's Face AR
Face augmented reality – known as Face AR – uses the front-facing camera to add filters, masks and digital overlays to the human face and surroundings. Rooting down from social networks, Face AR has expanded into other industries and apps.
Face AR example: Real-time 3D filters
Today, the possibilities of augmented reality for the face have developed so far that it can be divided into many types and featured in a variety of use cases.
---
Face AR examples
Snapchat-like filters and AR masks

used in social apps for entertainment.

Animated backgrounds

that you can place instead of real one during a video call.

Portrait

tools that allow you to tweak your images in photo and video editing apps.

Makeup and beauty try on

lets us safely and conveniently test cosmetic products in AR.

Face modifications

that change a part of the face while keeping the rest unchanged, like recolor hair or add volume to lips.

Face transformations

like ageing, race and gender swaps or makeup transfers created with deep learning algorithms trained to perform a specific task and learn over time to deliver more accurate results.

Virtual try on

that realistically visualize real products in augmented reality to help consumers find what fits them best (glasses, jewelry, hats, etc).
All these examples are built around the face using face tracking, computer vision and deep learning technologies. Together, they create a new layer in today's augmented reality– Face AR. It's already here on your device, among your peers, in your life. And it's bigger than you might think.

Where Face AR is used today
By purpose, Face AR serves two main sectors: AR Communication and AR Commerce.
In communication, augmented reality improves a particular aspect of the user experience, making it more engaging and feature-rich. Communication here is a broad term meaning the way we talk with one another and interact with the world. The examples of such interactions cover:
Social networking apps

where AR filters already come de-facto.

Video chat apps

add Face AR to animate day-to-day communication with masks, avatars and live emoji.

Video conferencing

improves the quality of video calls with face touch up filters and adds privacy to virtual meetings with background removers.

In live streaming

, it lets streamers generate creative content to drive audience and donations.

Dating apps

add Face AR to inspire live conversation. Users can go on 1:1 AR video dates, record creative videos and add them to their profiles.
Face AR technology can also empower education, customer service, digital marketing and AR ads campaigns. All these examples can be joined into one category, i.e camera apps. If you turn on the camera – mobile, web or digital photo booth– it all comes to Face AR that brings in an immersive experience and enables more possibilities.
In E-commerce, augmented reality improves the way brands communicate with their customers. It transfers the offline try-on experience to online, letting consumers sense the product without leaving their homes. As a result, brands can increase sales, reduce returns and enhance customer service, all with the help of Face AR. In practice, it goes to:
Virtual try on for mobile and websites

In-store magic mirrors and AR photo booths
How Face AR transformed within the recent decade
Face AR first appeared in late 2015, with Snapchat masks becoming a fun entertainment for millions. At that time, even basic AR filters created a wow effect with everyone eager to try them and share a funny selfie on social networks.
As the technology improved, bringing more powerful ways to augment your face, its concept was changing too. Today, Face AR is no longer just a face and AR. From fun, it has become something meaningful.
As a social awareness tool, Face AR can help us draw attention to problems like domestic violence, the environment or the spread of AIDS. By putting on an AR mask, we can make a statement on social networks and express our attitude. As an example, Snapchat in collaboration with (RED) and the Bill Gates Foundation, launched photo filters to show support for people with HIV. For its usage, the Bill Gates Foundation donated $ 3 to Work (RED). In just a day, they managed to collect about $ 3 million.
Snapchat in collaboration with (RED) and the Bill Gates Foundation
Face AR helps us express our creativity. There's even a new trade emerging– AR creators– when people partner with brands to design unique filters that literally stand as a piece of art. Face AR has become a valuable promotional tool that can skyrocket subscribers in days.
AR Artist ines.alpha for ImPulsTanz festival
As a marketing tool, augmented reality face filters help brands to deliver their messaging in a powerful, eye-catching way, nurture loyalty and audience engagement. AR brand campaigns are getting more popular and show positive results.
Banuba Face Filter designed for GoT
As a socializing tool, Face AR can help people connect with friends and strangers in a new way. It rethinks our before-the-pandemic activities and recreates them in a new way.
For example, in virtual bars, users can place thematic backgrounds and fun animation to chill out. In social games with AR video chats, players can socialize with others. In dating apps, Face AR combined with video serves as an excellent ice-breaker and motivates users to go on video dating without any concerns about their look in the camera.
With that being said, Face AR is no longer a gimmick. It changes how we communicate, giving us far more freedom to express ourselves in the digital world. And why it's so popular among people, brands and developers alike. The latter two deserve a closer look.
How developers benefit from Face AR
You can integrate Face AR functionality in your app to improve important indicators – user involvement, content generation ratio, user session length and retention. Based on its type, Face AR functionality can introduce new monetization options.
AR effects are inherently visual and easy to perceive. They keep users engaged and inspire them to generate and share content. In turn, it brings more organic users to your app.
What it can make for brands
Brands can reach and engage the younger generation of consumers, build an online presence and increase revenue with virtual try-on apps. Augmented reality reduces returns and boosts satisfaction bringing unrivalled personalisation for customers.
Augmented reality statistics in e-commerce show that
61% of online shoppers prefer making purchases on sites that offer AR. 35% claim that AR would increase how much they shop online. In addition, 49% say that they are willing to pay more for a product as long as they are allowed to preview in AR. 45% think that AR features save time spent on decision making.
Moreover, it helps you stay competitive through innovative virtual product experiences and creative brand storytelling.
Face AR Development: Platform, SDK, Content
For many developers who want to empower their apps with Face AR, developing such an experience requires expertise they may not have and software they may spend years creating on their own.
Our Face AR Platform solves their challenge, providing ready-coded features within one ecosystem. Its goal is simple: supply you with everything needed, so you build apps with face tracking and augmentation functionality for the desired platform - iOS, Android, HTML5, Unity, React Native, Flutter.
The SDK combines:
Basic Kit

includes a face tracker, rendering engine, video + photo recording and scripting components.

Extensions

- added value features enabled with neural networks, e.g. background subtraction, hair segmentation.
The SDK features are powerful and let you achieve any task for facial augmentation. It's absolutely flexible, so you can use them solely or combine:
No app is complete without the content. In fact, AR content like 3D masks, effects, facial stickers, lenses, virtual backpacks is your major asset as no matter how powerful SDK features are, users assess the visual implementation.
A safe route that saves your time and costs on AR content development - you can licence production-ready effects from our Asset Store. For those who want to create custom effects, the Face AR platform includes a Filter Editor and Viewer tools.
To manage your content efficiently, you can use AR Cloud. It lets you store and load effects from the cloud instead of bundling them in your app which reduces the app size and eases effect curation. AR Cloud comes with a sample for iOS and Android that loads and displays effects in a Snapchat-like feed.
Future Trends and Expert Opinions
If you'd like to keep up with the trends and plan the Face AR development for the future, we asked our Product Leads 3 conversational questions about where the technology is going.
What is the future for Face AR?
Video semantic analysis for smarter online interviews, gathering customer insights and user experience improvement.

The narrow focus of Face AR development will unlock new use cases and improve existing ones.

Easy, no-coding Face AR creation will become accessible to everyone, everywhere.
Face AR will be an integral part of future digital communication. We've already learned how to improve the quality of video calls. In future, we will be able to carry out its semantic analysis. Computer vision technologies allow you to see what is invisible to the human eye. The movement of the pupil, the frequency of blood flow by which the pulse can be estimated, micro-movements of the muscles on the face, and much more. The potential is great, so are the areas of its application, for example, online interviews, gathering customer insights, or user experience analytics.

Vadim Nekhai, Managing Director
Most likely, the Face AR development will go towards working with individual parts of the human face: ears, eyebrows, eyelashes, eyelids, etc. The directions to a narrower specialization will open up more use cases and improve the known ones.

Ihar Tumašyk, SDK developer Lead
The Face AR development is heading towards ease of use and broader adoption. It'll become accessible not just for premium brands on one platform (which is mobile now) but everywhere for anyone, in all kinds of fittings at large venues. We'll see more powerful and smarter algorithms for generating entertaining content. Face AR creation will be easy and not limited to Spark AR when the user can make masks intuitively, with no coding or designer skills needed.

Andrey Krivoshey, SDK QA Lead
What's in demand today, and what will wear off?
Most likely, basic AR masks will fade away, as it often happens with entertainment content. People are getting lots of it, so no one really gets surprised with it anymore, except for the kids. Photorealistic AR effects, on the contrary, are growing in popularity as it's a cool way to blend AR into reality and get another reality in the outcome.

Ihar Tumašyk, SDK developer Lead
Now creativity wins, and content is something that people are willing to do, not just consume. So, photo and video editing tools and AR video overlays will grow in demand. Now, it's the age of TikTok and Instagram, and there's much room for Face AR and video augmentation working together.

Andrey Krivoshey, SDK QA Lead
What industries will adopt Face AR next?
Social networks with avatars

Video making

Medicine and health, virtual yoga

AR games

Video calls
I believe soon we will see 3D Facebook, where people can communicate as live avatars. They'll represent many meta-versions of the user - realistic, Disney-like, anime - which further diversifies the way we communicate in the digital space. Also, the live streaming sector may be the next massive adopter of AR and Face AR specifically. This year video streaming app installs jumped by 85% meaning higher competition and price wars in this market. Video streaming apps will focus on their social aspect so that people could not only watch but also communicate, interact, create and influence content. Face AR unlocks interesting possibilities there. And of course, video semantic analysis and smarter video calls have great potential.

Vadim Nekhai, Managing Director
Face AR may be interesting for professional video makers as it can help them create cool arts at a more accessible cost. It can also scale up in medicine and cosmetic surgery where patients can preview effects from procedures as there are no quality apps available in the market for now.

Ihar Tumašyk, SDK developer Lead
Games may look into Face AR as nothing really interesting is happening in augmented reality gaming right now, and our technology has matured enough to make that boost. AR beauty and health will show more cases like virtual yoga with full-body background separation. And, of course, video calls, as people are just learning to communicate virtually, and the full potential of Face AR is yet to be seen.

Andrey Krivoshey, SDK QA Lead
Ready to make a difference for your app?
Try our Augmented Reality SDK for free.
Top