Blog
Augmented Reality
How Banuba Augmented Reality Immerses Students Into E-learning
Learn how teachers use Banuba to create augmented reality videos and how Face AR technology can contribute to distance learning. Our team shares the idea of immersive education with Banuba, and the psychologist comments on the advantages of creative approaches to e-learning.

Alena Arsenova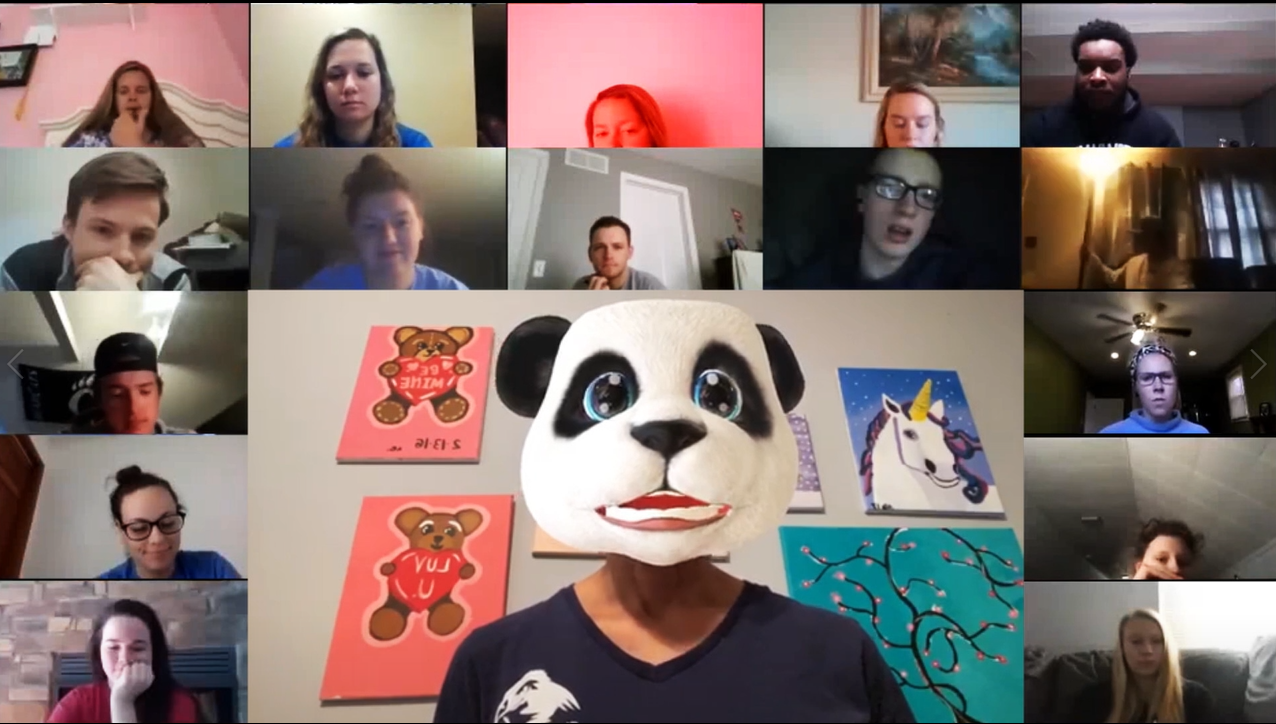 Augmented reality opens up amazing opportunities for a new, engaging e-learning experience. It can superimpose digital objects on real-world students' surroundings and faces to improve distance learning, make classes more immersive and connect teachers and students.
Want to integrate augmented reality in your e-learning platform? Discover our AR Video Conferencing tools.
Face AR: augmented reality for virtual learning
Banuba provides Face AR SDK which enables face filters, 3D lens and animated avatars in any mobile, web or desktop app. E-learning platforms can integrate these AR video conferencing features into their software products to create their own AR lessons.
Students and teachers can try on the face of a famous character or animal, change their voice, replace backgrounds or add interactivity to video materials and distance lessons. They need just the camera to experience AR.
We also have a consumer face filters app for iOS and Android built with our SDK where people can try on a variety of live face filters, take videos and share with friends. And we recently got an email from a school teacher in the USA who told us how she used our filters for recording video lessons and what impact it had on her kids. We'd like to share her story to inspire other teachers and learning platforms to use AR in their educational process.
AR lessons started like a fun experiment
Katerina Edwards (nickname - Aki), a school teacher, USA: Because of COVID-19 children learn remotely. Their school attendance is an issue during normal times, but now it has become even more difficult to engage them in distance learning. They may not enter the system, register, nor do their homework. One does not have the Internet or gadgets, and another one is bored.
I wanted the children not to miss classes. I wanted my lessons to be similar to the kids' world - dynamic, innovative and fun. And I thought, why not experiment with the video? This is exactly the environment where kids communicate and learn something new. Besides, studies prove that video helps to quickly understand any topic. Using the Banuba app, I recorded several video lessons with face filters. The children were excited, and their involvement has significantly grown.
Banuba has amazing filters. New lenses come out daily, and the feed is constantly updated, so I can find something for any lesson. When I contacted the Banuba support, and they found out that I use filters for lessons, they gave me a year of subscription to the application.
Immersive learning with face filters
Nikita Lomianski, Product Manager: Face filters have been considered as "for fun" mainly, but Aki use case inspired us on a new vector of Face AR development. It introduces a meaningful face filter application like virtual learning. AR filters helped to increase the attendance at online classes, make children have fun, and most importantly, learn. It provides tools for immersive learning where augmented reality brings lessons to life and helps learners better understand the topic.
Anton Liskevich, CPO: Our mission is to help people tell their stories and make them brighter - with AR filters, 3D lens and animated avatars. The power of digital stories is that we can feel everyday moments unique and magical, with just a camera.
E-learning platforms can integrate our Face AR SDK to allow teachers and students to experience augmented reality while studying. We have a huge collection of AR filters. Einstein's mask is great for physics. Travel masks with virtual backgrounds can teleport kids to new countries in geography classes. Animal masks are good for biology or foreign languages. Our clients can licence our masks or develop custom filters that fit into their educational program.
Aki: AR videos were quite simple, but with a wow effect. I was hoping the kids would appreciate my creativity and it worked. So, teachers can experiment and have fun - without it, the learning process becomes boring and ineffective.
How Face AR increases attention and involvement
Kids have a notably short attention span. Studying past events, historical figures or places is often boring - kids feel disconnected. But imagine teleporting to such places, seeing these figures alive right in front of you or even turning yourself into one of them. This is exactly what Face AR technology helps to implement for e-learning systems, online schools or distance learning programs.
Elena Okrug, Psychologist: The world is filled with information, entertainment and emotions, and the school needs to catch up. It's challenging to motivate children with traditional lessons, however, dynamic and creative elements do the job. Augmented reality is second to none when it comes to catching attention, gamification and engagement.
Gamification works well for all ages. When it comes to learning, there are no restrictions with games to free up creativity and increase motivation. Ask any kindergarten teacher or team leader about this - you'll hear a ton of examples on how the game elements help to achieve greater results.
Studies explain why the symbiosis of technology, gamification and learning is so effective. Besides, video filters in teaching can complement the idea of a flipped classroom where space is transformed into a dynamic, interactive learning environment. The educator guides students as they apply concepts and engage creatively in the subject matter. Everyone will look at the teacher in the image of an old woman with a squeaky voice. And imagine how this old woman answers children's questions in the same funny voice. Kids won't want to miss this.
Augmented reality introduces new opportunities for interactive remote lessons that do not replace the basic principle of education, but rather complement it. Besides, let's not forget that the Z generation is all about games, technologies and creative thinking. Funny videos add elements of the game into everyday learning and can make complex things more simple to perceive.
AR filters to improve video calling experience
Face AR is not just about "teaching and learning" but also real-time communication.
Our client SkyEng, an English language online school which has its own training platform and a mobile application, targets not only kids but grown-up students too. Face filters integrated into their products help to improve video calling experience, make it more fun and engaging. Face AR captivates students regardless of their age, but kids especially. They feel more relaxed, eager to talk and even discuss the masks with a teacher.
Image Source: https://skyeng.ru/
Video calls replace the classrooms. But we're seeing not only one other but ourselves too. If we're unhappy with the way we look, we can't relax and experience online education to the fullest. And while face filters add fun, face beautification brings more comfort by retouching skin imperfections, and virtual backgrounds add privacy allowing users to hide everything behind them. These features appeal to the older audience making the educational experience more user friendly.
Also Read: Virtual Background For Video Conferencing To Improve Privacy and Add Fun
AR communication: the future is here
Augmented reality communication can truly immerse learners in a lesson, bring in an element of gamification and help to gain knowledge on a particular subject. Digital education has allowed us to use best practices and creative approaches, and in future, we can expect many more of them.
Nikita: The epidemic suddenly moved us forward in time. As if we are testing the future and rehearsing a life to which we should have come smoothly in ten or twenty years. With distance learning, along with technical issues, involvement and motivation appear to be other challenges teachers look to resolve. Our Face AR technology helps to remove the barriers. It gains a new practical application, and we can see its socially positive impact already today. And this is amazing.
Anton: Banuba is one of the technological pioneers in the field of computer vision. With AR and VR, video communication will become even closer to real life. Perhaps in twenty years or so, funny avatars of children in the form of holograms will study in virtual classes. In the future, video effects will be part of learning and will become commonplace. We work to make it happen today.
If you're a learning platform and want to integrate Face AR features into your mobile, web, or desktop app, fill in a form on our website and we'll discuss how we can take virtual learning to a new level.
If you're a teacher and want to gamify your lessons, we will give an annual subscription to our Banuba application, just email us at hello@banuba.com.
Top