Blog
Face AR
Virtual Background For Video Conferencing: Full Guide [2024]
A virtual background for video conferencing is a way to boost users' privacy, remove noise, increase brand awareness, and even support sales activities.
Video background eraser software is the core software tool that helps change backgrounds in video calls and streamline the experience.
However, many brands still wonder if virtual backgrounds are a beneficial and mature feature for their product.
In this post, we share a definitive guide on video background erasers, their benefits, types, and use cases.

Alena Arsenova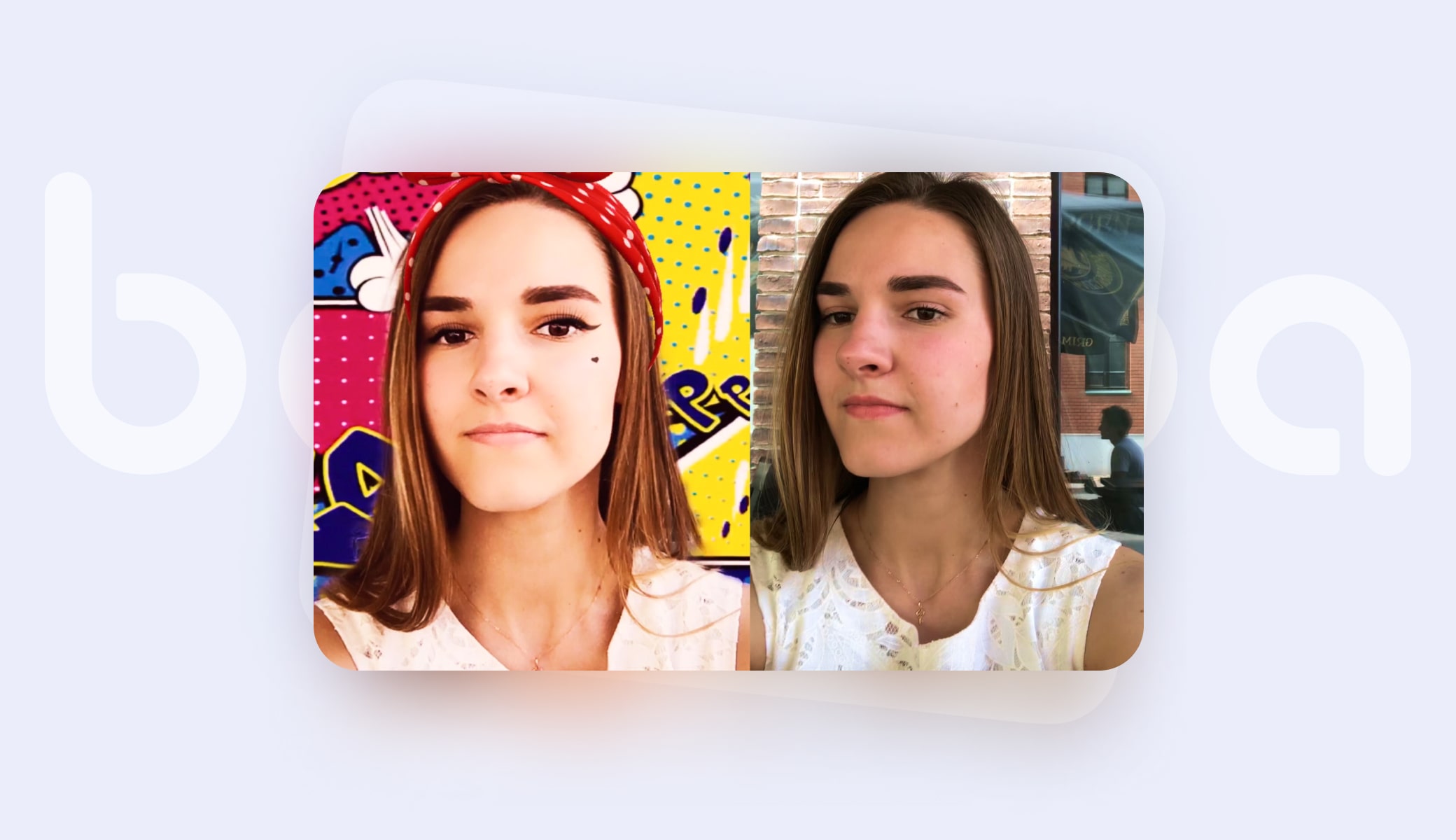 Video Background Eraser: Definition and Use Cases
Chroma key virtual background feature, also known as 'green screen', allows you to change your background during a video call or video streaming in real-time.
Video background changer software can be used for the real-time replacement of backgrounds with both static images, animated 3D virtual backgrounds or other videos to hide whatever is behind the person.
The most well-known example now is probably Zoom virtual background, however other video conferencing services offer a similar feature.
Here are the core use cases of adopting a virtual background for video conferencing:
Streamline a business call or remote interview experiences with custom backgrounds
Editing "boring" backgrounds in video processing software to create immersive content
Virtual background for a webcam to remove noise, add entertainment and enhance the camera experience
Animation effects in the background that are changed by the user as part of interactivity
Boost users' privacy in video calls, conferences, meetings, and even live streaming
360-degree background in 2D or 3D for educational or marketing purposes, e.g. let consumers virtually enter your shop.
Removing unwanted objects or people from videos.
---
Also Read: How To Enable Video Background Changer In Your App
How a Virtual Background for Video Conferencing Works
The core of the video background eraser software is a separation neural network that returns a binary output, tagging the image parts either to the human or the background.
It allows us to blur it, animate it, or cut out completely and replace it with a custom user image or professionally designed 3D virtual background.
Banuba background segmentation
Our virtual background technology can be integrated with video conferencing and streaming services like Agora, our official partner, third-party live streaming or video chat applications, or used to build video background eraser software from scratch.
Agora.io provides a flexible and easy-to-implement interactive video and voice SDK. Developers can embed live streaming, and messaging features into any mobile, web, or desktop application to boost real-time engagement.
Virtual 3D backgrounds integrated with Agora, allow you to transport the user into another world, and add fun or entertainment – the sky's the limit to your imagination.
How Video Background Remover Improves Conferencing
Although video conferencing software like Zoom was quite mainstream in the past, in recent weeks it has broken all records of popularity hitting top spots in App Store and Play Market. People use it to host webinars, hang up on remote parties, organize meetings with colleagues and video chat with friends. In a new age of work-from-home (WFH) and social distancing, we still want to be connected, communicate and collaborate efficiently.
Before the COVID-19 pandemic, video meetings took place in an office room where the background was not more than a wall or a whiteboard. Today, the new realities take our video conferencing to our homes. For privacy purposes or to maintain a professional look, we want to hide our room background or entire surroundings. Prof. Robert Kelly's background during a BBC interview is among the most well-known examples of why people need to be able to control the scene around them during a video call.
Virtual background for video conferencing addresses this demand enabling private and comfortable video calls. It makes our video conferencing much more engaging and creative, let us add a bit of personality or make it impersonal when talking to strangers. As for the background of your room – using video background eraser technology you can easily hide it for privacy purposes or change it for entertainment.
---
Also Read: How To Add a Background to A Video Editing App
8 Types of Backgrounds for Video Conference
Whether your video conferencing software is made for the enterprise sector or it's a video chat for friends, our video background eraser software allows for a variety of types.
Virtual background for video conferencing with filters
---
Static or animated images
Users can use custom images downloaded from the Internet or created in graphical editors similar to Zoom virtual backgrounds. The simplicity and ease of implementation make it a perfect tool for self-expression and personalization.
Animated background by Banuba
---
Virtual 3D backgrounds
If you want something more sophisticated, you can add emotion-related backgrounds or professionally-looking neutral virtual backgrounds with 3D features. Users can teleport to other places such as offices, co-working spaces or cafes. Such virtual backgrounds add realism and immersion into video conferencing experience creating the effect of real presence.
Virtual 3D background by Banuba
---
Instagram-like color backgrounds (LUT)
You can play with colors and apply Instagram-like filters to backgrounds adding animation effect.
Instagram-like color backgrounds (LUT) by Banuba
---
Full-body background separation
Our technology allows for separating the user body in full length on a video which is great for those who need to make live stand-up presentations.
---
Animated effects on real backgrounds
Users can enhance the real background adding animated effects or objects which is awesome in terms of fun and creativity.
---
Blur background
Virtual background for video conferencing with a blur effect
The blur feature or 'bokeh effect' works similar as in photos, only in a video giving your users a true selfie-focused experience. The objects blur in a stylish background and other faces don't interfere.
---
Videos
Users can broadcast video files which is another creative background use case. The joke going viral now is how people use Zoom virtual background to create the effect of presence and engagement while being away from the screen.
---
Chroma key virtual background
To save traffic and for better call quality, you can use the classic chroma key green screen virtual background.
How Face Beautification Enhances Video Conferencing Even More
Apart from the virtual background, another must-have augmented reality feature for video conferencing is a face touch-up. The cameras present us in harsh, bright light, at unusual angles, blown up on a PC screen. The desk lamp or windows often fail to ensure good lighting conditions too, throwing shadows that make faces look distorted, older, and unhealthy.
The face beautification filter integrated into web or mobile cameras helps to solve that allowing anyone to look good at morning video conferences. Above basic face touch up, users can virtually wear makeup.
---
Also Read: How To Create Face Beauty Filter With Effect Constructor Tool
---
Teenagers are increasingly using video chat systems to communicate with the world. However, ResearchGate's study on "How and Why Teenagers Use Video Chat" reports that their background and appearance are two main concerns for them, the same as for adults. Participants were more likely to 'beautify themselves' before having a video chat since looking nice on camera made them feel better about themselves and gave them more confidence.
With this in mind, face touch up and virtual backgrounds for video conferencing is becoming even more important as these features allow video chat apps to target broader audiences and use cases.
Summing Up
For most people, the key issue is control. If they can present themselves digitally in the way they want to be perceived, rather than be a slave to the idiosyncrasies of the camera, they will be relaxed and engaging.
Augmented reality video conferencing with features like virtual background, face beautification, or AR face filters improves our video conferencing experience, limiting distractions while helping us maintain a bit of fun and privacy in this new WFH reality.
Top