Blog
Virtual Try-on
Ultimate Guide to Beauty Tech in 2024
From charcoal and berries to AI, AR, innovative scientific discoveries, and personalized moisturizer selection, the beauty industry has made mind-blowing breakthroughs and pushed technology to the max. Hydrogel masks and foundations adjusting to any skin tone won't impress beauty consumers. Indeed, machine learning, virtual try-on technology, artificial intelligence, and overall digital transformation of the beauty industry took the customers' journeys to the next level, and created the term "beauty tech". But what is it, really? And most importantly, how can cosmetic companies implement it in consumer marketing and become, if not unicorns, then leaders in their niches? Keep reading our article to find out.

Banuba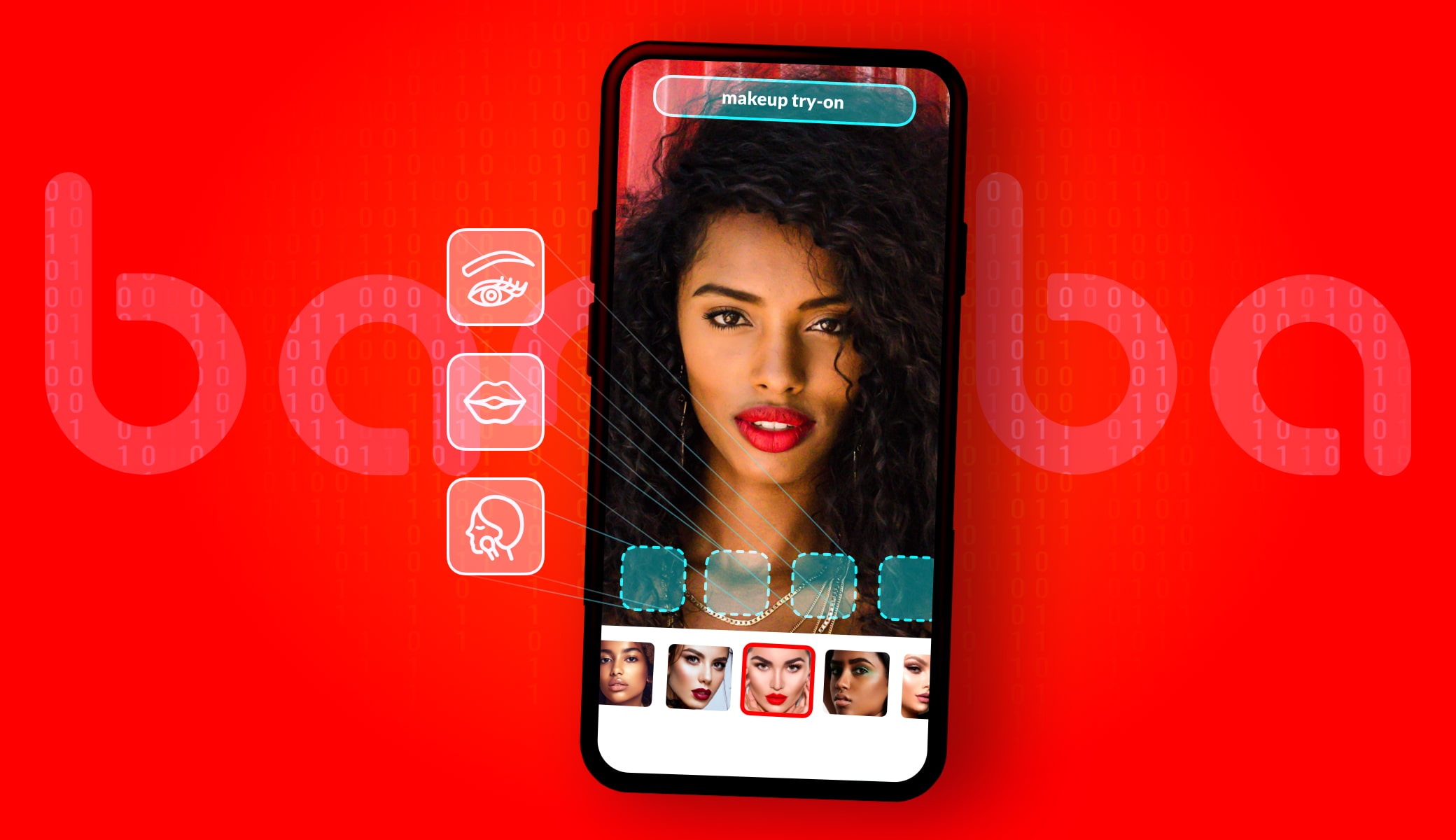 Introduction to Beauty Technology
The beauty industry began its digital transformation in the late 1990s. For $40-50, anyone could buy the IStyle Personal Makeover from Sierra Home or the Virtual Makeover from Cosmopolitan Magazine to experiment with hairstyles and makeup via boxed computer programs. Beauty tech brands have long used big data in R&D to study customer behavior patterns to identify their needs, create products in demand, and build an effective marketing strategy.
Today, beauty technology encompasses much more than virtual makeover software and smart analytics. Global cosmetics corporations are investing in artificial intelligence, machine learning, and augmented reality to create products and personalized customer offers to leverage smartphone technology and IoT. True, the pandemic hurt even the most luxurious beauty brands, cutting their sales by up to 75%! But those who were ready to adopt technology and innovation are now shining above others.
Altering Reality — How Beauty Tech Re-imagines the Cosmetics Industry
Nowadays, with augmented reality (AR) and artificial intelligence (AI) taking the center stage, big brands target to adapt these technologies to their needs and invest in them. According to research by Google and Ipsos, 43% of smartphone users expect brands to use AR to promote their products, and 40% have used or would use AR to try on and buy beauty products. Companies that have already implemented this technology are seeing a 90% increase in conversions.
The beauty technology boom depends on the potential customers' demands and expectations. As smartphones became an integral part of our lives, big beauty brands grabbed this chance and offered consumers personalized services and products to cover their individual needs.
Another reason for increased involvement in augmented reality and artificial intelligence adoption involves the mushrooming of independent cosmetic companies with values and visions resonating with Generations Z and Alpha. They began to take a significant market share, becoming a threat to global beauty brands. They needed both to conform and divert from old-school to trendy.
The pursuit of hyper-personalization and individuality has become, if not the ultimate goal, but one of the main objectives. Digital transformation of consumer marketing and adoption of AI technology combined with AR and big data opened a new consumer interaction and communication channel for big brands. In addition to broadcasting their message and promoting through beauty influencers on Instagram and YouTube, companies received direct contact with consumers.
How to Beautytech?
Any cosmetics brand can offer customers a beauty innovation within one touch or click. Beauty tech spares consumers from useless trips to the store for an out-of-stock tester or a consultant who is busy with other buyers.
Web- or phone-based virtual try-ons let customers select the perfect shade of lipstick during a traffic jam and order it in just a few taps. AI technology provides the ability to conduct a deep skin analysis, detect any skin conditions, and recommend personalized services or skincare goods. Beauty tech reinvents the traditional approach to the makeup and skin care products purchasing process.
How Does Beauty Tech Benefit Brands?
The benefits of beauty tech for consumers are obvious. What about businesses?
Personalized Experiences and AR Tech Boost Conversions
Consumers want to be treated as individuals, not email addresses in a marketing database. The brand's customer care and interactions should be infused with hyper-personalization. Why? Because 80% of customers pay more to a brand that treats them as individuals rather than numbers. Offering personalized products in a shopping cart influenced 92% of consumers and led to a purchase. Add to that augmented reality with the ability to try on any makeup, and conversion soars to 93%.
Virtual Try-On and AI Consultant Increase Average Order Value and Basket Size
Every business in the cosmetics industry wants to increase these metrics. Beauty tech allows consumers to give a virtual try to any makeup. Many do it for fun, something they would have never done it in a physical store, and admit preferring virtual testers to offline ones.
AI technology acting as a personal assistant offers users personalized products, complete looks, or skin care items they might like to try based on their preferences, skin concerns, and other personal data. This helps brands upsell and increase their revenue.
Fewer Refunds and Higher Consumer Satisfaction
Consumers return about 30% of items purchased online. In the cosmetics industry, this figure reaches 22%. Shipping costs hit the company's budget and the gas emissions of the delivery truck harm the environment.
Virtual try-on solves the problem of choosing the perfect makeup that matches consumers' skin tone or eye color, and AI suggests the product to replace the wrong one. A brand receives a happy buyer with increased loyalty.
Discover and Reach New Audiences
Up to 50% of makeup users had no idea they could try makeup on their own faces virtually. Beauty tech enables creating services and communication channels to reach new age and ethnic groups and genders.
Beauty Tech Top Companies – The Best Players in the Field
Beauty trends go far beyond common makeup promotions. Let's move on to the striking models of beauty tech giants and the ultimate trendsetters in the tech and cosmetics industry.
Beauty Technology Worldwide Leaders
Banuba
Banuba is an international leader in AR and AI technology with over 30 patents. Its R&D team has been creating groundbreaking beauty tech solutions since 2016. Banuba offers brands Face AR SDK, Video Editor SDK, and Guided Virtual Try-On, capable of digitalizing entire new collections within 48 hours. The GVTO solution includes over 22,000 ready-to-use uploaded beauty products. It collaborated with brands like Gucci, FaceYoga, Samsung, Looke Cosmetics, and other renowned market players. The company made a move forward and offers its customers AI-powered gesture recognition technology allowing convenient and hygienic no-touch interaction with beauty brands.
Perfect Corp
Perfect Corp is a global beauty technology solutions provider that has been around since 2015. The company has worked with Benefit Cosmetics, Estée Lauder, e.l.f., and other beauty and fashion companies. Its products for enterprises are mainly based on AI and AR tech, reshaping the way brands collaborate with consumers in a virtual environment. The leading segments it covers are makeup, skincare, nail and hair coloring, and fashion accessories. Their solutions are available in the e-commerce web module and YouCam SDK for smartphones.
K-Beauty — Korean Cosmetics Startups to Follow
The Korean 10-step facial care system has created a buzz in the cosmetics industry, and every beauty influencer has tried it. However, Korean beauty companies have added a drop of innovation and decided to leverage a combination of IoT, AI, AR, and the best ingredients that can be used to create beauty products.
Young&Be created a line of skin care products, the smart device Young&Be Pro, offering homecare beauty, accompanied by an application with AI-powered skin analysis, which replaces a visit to a cosmetologist and selects a personalized treatment for each user.
Lumini is another AI-based home dermatologist from the Korean brand Lululab. The device performs an in-depth analysis to detect any skin problems — wrinkles, acne, clogged pores, or dryness — and offers personalized essential skin care products to fight them.
Swedish Brands — The Best Face Mask and Cleansing Device
It is impossible to ignore FOREO and their LUNA fofo device, equipped with sensors that analyze the user's skin and customize care. Amazingly, this smart cleansing brush can self-learn and make the skin of its users even better, thanks to machine learning algorithms and artificial intelligence. FOREO also has an app that unites all of its appliances and offers personalized guidelines for massage and cleansing.
International Companies Investing in Beauty Tech
L'Oréal is one of the beauty tech leaders who not only actively implement technologies to improve the customer experience but also launch startup accelerators, active buy companies offering solutions they are interested in, and invent smart devices. The French business openly admits that it aims to become an absolute tech beauty leader in the market.
Estée Lauder leverages AR and big data to create ultimate customer experience and engagement. It created Clinique Clinical Reality to help customers pick individual skincare and experimented with WeChat in MAC China Store. Besides, it arranges the annual ELC Hackathon to gather the best minds and create innovative solutions.
Shiseido is not as ambitious in winning the beauty tech leadership title. They see technology as an opportunity to become a leader in personalization. This Japanese company also acquired tech businesses to create their own smart devices in innovation labs.
Beauty Tech Products & Innovations
Science in Beauty Industry
The beauty industry has always been directly linked to scientific research. Today, science is at the forefront of the development of beauty care, makeup, and cosmetic appliances. Covid-19 made people use less makeup and switch to quality skincare instead. Consumers pay more attention to the active ingredients in products, not trusting brands that simply put "cruelty-free" and eco-labels on their products.
Brand R&D centers develop products based on big data analytics that demonstrate the requirements and needs of their target audiences. Product development has switched from mass-produced all-in-one solutions to personalized offerings for limited groups of customers.
Cosmetics — More than Artificial Intelligence
YSL's Rouge Sur Mesure has changed the approach to choosing the perfect lipstick color. The device powered by Perso includes a set of three color cartridges that can generate the ideal shade of lipstick of the desired color for each consumer. To use the device, users need to download an app to help them create the perfect lipstick to match their skin, eyes, hair, or accessories.
Beauty Tech Products
It is difficult to single out a beauty tech product that can be considered the most innovative or technologically advanced. It seems that you can personalize and try any kind of cosmetics. What about perfume?
Ninu stunned everyone at CES 2022. The Slovak company has created a real revolution in the world of fragrances — an AI-powered device featuring reusable cartridges filled with concentrated fragrance oils producing personalized perfumes based on individuals' body chemistry and mood. Over 100 fragrances in one device to control and mix via smartphone.
Beauty tech is definitely the future of the cosmetics and the self-care world. Companies moving at a slow pace and not leveraging innovative technologies risk never getting even a tiny market share.
Top