Blog
Web AR
8 Best AR Webcam Face Filters Software for Business
Webcam face filters software brings entertainment and increased sales.

Whether you have an e-commerce, education, video conferencing, or live streaming platform, it can help you boost revenue.

So, this guide will help you choose the best webcam effects software you need.

Banuba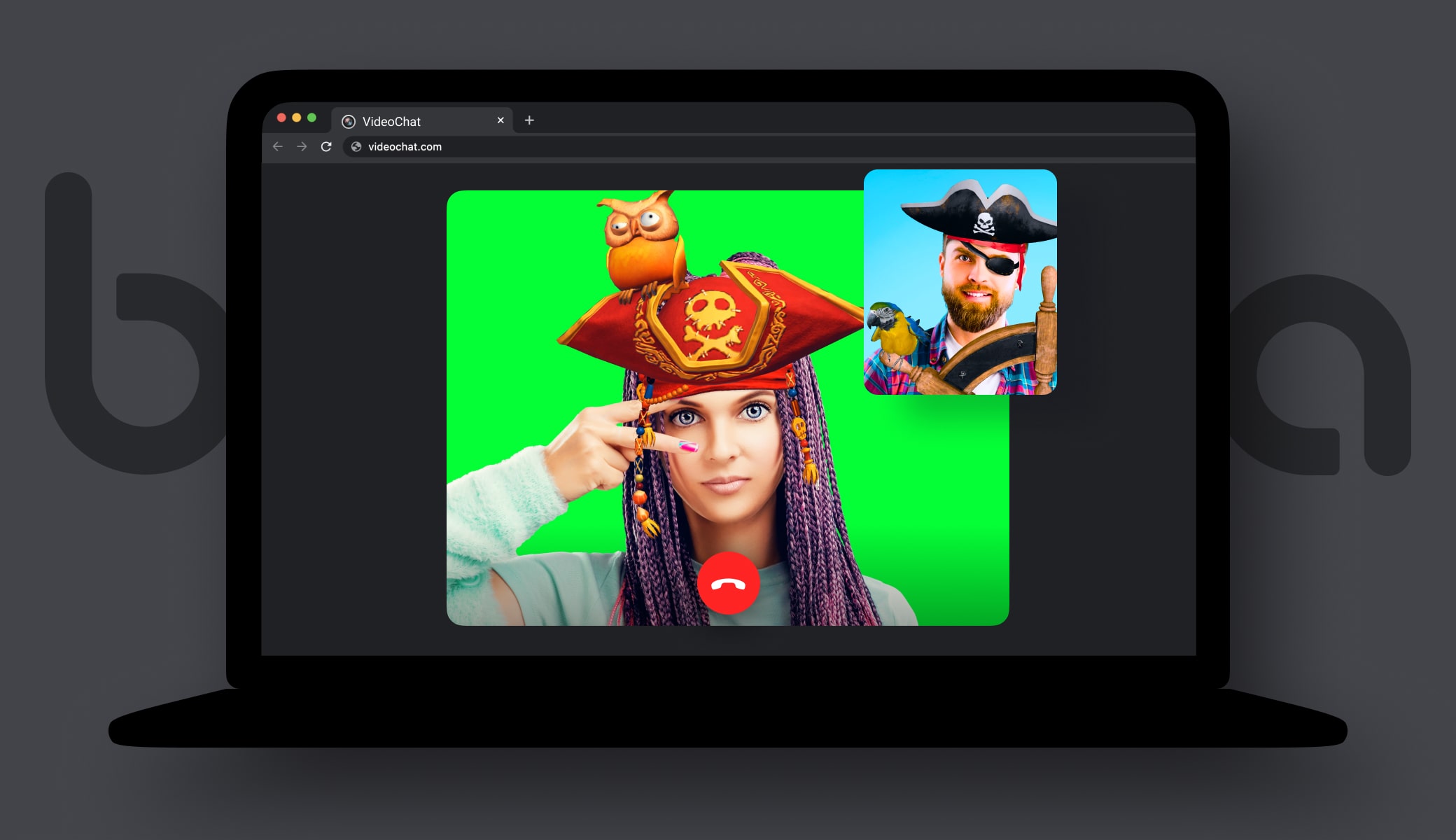 8 Top WebCam Face Filters Software in 2023
Banuba Face AR SDK
Founded: 2016

Pricing: Free Trial + Paid

Platforms: HTML5, iOS, Android, Windows, macOS, Unity

Webcam face filters software was released back in 2016.

Banuba Face AR SDK is a set of tools that allows you to add >1,000 face filters, virtual makeup try-on, animated avatars, and other face augmenting features to your app or website.

Simply put, it's your guide to the world of entertainment and increased user engagement powered by augmented reality.
What are the core features of Face AR SDK?
Create your custom filters or get >1,000 of ready-made effects

Integrate a real-time virtual makeup try on with your business app

Utilize animated avatars for conferencing, chatting, gaming, lecturing, etc.

Build your Face AR apps with Unity 3D AR tracking

Add SFX & voice changing features

And many others.

Does Banuba's webcam face filters software match my business?
Here are the core domains we cover:
E-commerce

Education

Videoconferencing

Advertising

Photo & video editors.
Are there any famous brands using Face AR SDK now?

Gucci, Smilegate, Tango, PlayU, and others are already utilizing webcam filters software by Banuba.

Is Face AR SDK free?

We offer a 14-day free trial so you can try and test our AR features. Next, the pricing depends on the features you choose for your business or personal use.
Snap Camera
Founded: 2011

Pricing: Free

Platforms: Windows and macOS
Snap Camera is among the top webcam software to make you look better with beauty filter for video calls and live streaming.

Snapchat's product was released back in 2011 and has raised over $4.9B with over 265M of users.

The software is free and desktop-based available for Mac and Windows platforms.

Also, you can utilize Snap Camera integration in Zoom, Skype, Google Hangout, Google Meet, and Twitch.

Here are the core webcam filter software features:
Deep customizations of graphics and shaders

Audio effects and listeners

Integration of your own lenses

Collision and overlap

Raycast physics functionality

Wide interactivity features.

And many others.

Simply put, Snap Camera is your desktop version of Snapchat.

You can add fun and interactive web cam filters to your video content. The product offers the so-called Lenses - AR face filter software effects that change your appearance and face in real-time.

Over thousands of lenses are free and available to overlay your input video content. It may include chats, streams, recordings, and others.
ManyCam
Founded: 2006

Pricing: Free & Paid

Platforms: Desktop & Mobile
An AR solutions company in 2006, ManyCam is one of the best virtual camera software for chats and streams.

For 16 years, over 100 million users have tried ManyCam for professional and entertainment purposes.

The product is available for MacOS, Windows, iOS, and Android platforms.
The core feature of the platform is its >12,000 3D masks and effects. They tune your face and appearance on video offering fun and interactive engagement.

What's more, ManyCam allows adding animated GIFs, emoticons, face accessories, borders, filters, and much other stuff to your videos.

Here are the core features:
Invite Guests (Beta)

Virtual Backgrounds.

Whiteboard.

Export & Import Presets or Projects.

Virtual webcam.

Stream to Facebook & YouTube Live.

Green Screen (Chroma Key)

Multiple Video Sources.
The product has 3 pricing plans along with a free version. The core differences between them are the number of devices, video sources, and live streaming quality.

Also, the company states that over 12,000 effects are available within a free version. It means you should get an unlimited number of masks after purchasing a license.
FineCam
FineCam is a feature-rich app that allows you to use iPhone as webcam, change backgrounds, enhance videos with cool filters and more. It works with both still and moving images, has over 100 effects in its catalog, and can operate in tandem with various video conferencing software like Zoom or Google Meet.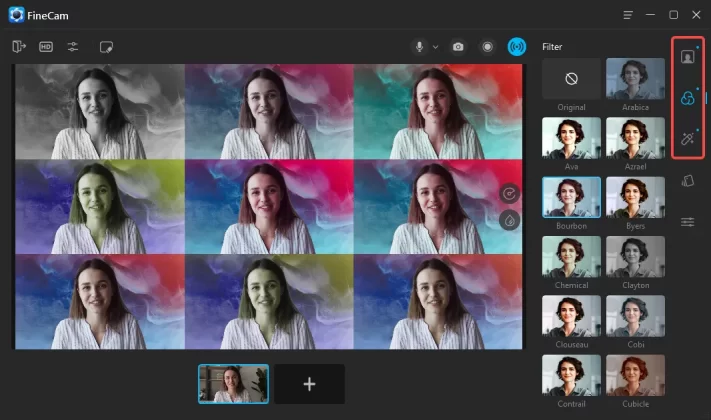 Logitech Capture
Founded: 2020

Pricing: Free

Platforms: MacOS and Windows
Released in 2020, Logitech Capture is among the top webcam effects software for streaming and video recording.
The product is an advanced version of Logitech Webcam Software (LWS) that gained high popularity among streamers.
You can utilize webcam filter software by having one of the Logitech-supported cameras.
In simple terms, it's an all-in-one video content creation tool offering the next features:
Record from multiple devices
Switch between 6 available scenes
Vertical video (9:16) support for social media
Broadcast your experience in one place
Add live text overlays
Studio-style controls to customize your video
Camera customization to tune your appearance
And many others.
Creating your own broadcaster platform? Logi Capture is at your service.
The product is already integrated with Open Broadcaster Software (OBS), XSplit Broadcaster, XSplit VCam, Restream, Twitch, and many others.
The beauty filters webcam software is currently free and available for MacOS and Windows 10 platforms. Note that the live streaming functionality is Windows-based only.
AlterCam
Founded: 2014

Pricing: Free and Paid

Platforms: Windows
AlterCam is a webcam filter software released back in 2014.
Despite its outdated interface, the product offers over fifty video filters, effects, and animations that tune your video content.
Simply put, AlterCam gives a solid video editor package with multiple default effects like blur, mirror, mosaic, combine, underlay, etc.
Also, you can add overlays of text, images, animated GIFs, logos, and many others to your video.
Broadcast recorded, live, or any other content through your webcam with filters and web effects.
The free product version includes a must-have AlterCam.com logo on your videos. If you want to remove it, simply proceed to any paid license starting from a $40 one-time fee.
YouCam 9 Deluxe
Founded: 2014
Pricing: Free and Paid
Platforms: Windows
YouCam 9 Deluxe is among the dominating beauty webcam effects software for Windows.
The product was released by CyberLink - a well-known Taiwanese entertainment software provider. It offers multiple videos, photo, audio editing, media playback, and other popular platforms.
YouCam makes upgrades your video content with over 200 interactive add-ons that include:
Web cam filters
Effects
Particles
Animated emojis
And others.
Also, the product offers DirectorZone - a cloud base of thousands of additional free effects for your content.
Here are the key features of YouCam 9 Deluxe:
AR webcam beauty filters for live makeup
Skin smoothing, lighting, sharpening
AR-based face log-in and faceout
Multiple frames and scenes
Real-time video effects, animojis, and gadgets
Many others.
Looking for a filters webcam software for your business?
YouCam9 Deluxe is worth your attention.
The product is integrated with multiple video conferencing platforms like Skype, Google Hangouts.
You can professionally sharpen video quality and get a healthy face with real-time skin enhancement tools and virtual makeup for video conferences.
The product is currently free to install and you can proceed with a 30-day trial with YouCam 9 Essential. So, why not filling your web camera with filters?
In case you want to upgrade and access unlimited webcam face filters, pick the Deluxe version. It requires a one-time subscription fee for $50 ($35 at a discount at the moment of writing).
NCH Debut Video Capture Software
Founded: 2020

Pricing: Free and Paid

Platforms: Windows and MacOS
With a stable release in 2020, NCH Debut Video Capture has become one the leading effects software.
You can use the product for meetings, classes, lectures, conferences, webinars, and gaming streams in terms of recordings.
Despite its record-oriented model, you can also use funny and interactive beauty filters and effects for your videos.
Here are its main features:
Screen Recorder with Webcam Overlay
Add Captions to your Captured Videos
Handy Video Color Adjustments
Flexible Video Output Settings
Many others.
NCH Debut Video Capture is available for free for non-commercial use. Also, the product includes two paid packages - Pro and Home Edition.

They both enable unlimited access to pro features, but the latter doesn't include business purposes.
SplitCam
Founded: 2019

Pricing: Free

Platforms: Windows and MacOS
SplitCam is one of the best webcam software for live streaming released in 2019.
Initially, the product was built for streaming and video conferencing activities, but now provides tons of effects and beauty filters to tune your appearance.
SplitCam is integrated with Google, Facebook, YouTube, Twitch, LiveStream, Skype, Periscope, and many others.
Here are its core features:
HD video broadcast
Video splitting
Realistic 3D masks and filters
Zoom video feature
Automatic audio mixer
Many others.
The web cam filter software is free to use.
Why Use AR for Webcam Face Filters
Compatibility
Webcam filters built into a website can run on almost any device that has a browser and a camera. It means you get access to a large audience.
Lower costs
Building and maintaining a single web browser application is cheaper than two mobile apps. Even though using frameworks like Flutter or React Native can decrease the development time and expenses, Web AR wins overall.
Freedom from app stores
If you need webcam filters but your business is connected with tobacco or alcohol products, you won't be able to get listed on AppStore or Google Play. With your own website, there are no such issues.
Cheaper user acquisition
There are fewer steps a person should take to interact with your web app compared to a mobile app. No download is required - everything works from the get-go. This means that every dollar invested in promotion brings higher returns in Web AR.
However, this technology also has its drawbacks.
The main one is lower performance. Mobile apps can access more resources of the device, so they run faster and provide better image quality. Web AR is inherently slower due to working within the limitations of the browser.
The second major disadvantage is that an internet connection is a must. Mobile apps can work offline after downloading the necessary filters and effects. Web apps can't do that.
If you want to learn about Web AR in detail, feel free to check out our dedicated article: Web AR: A Complete Guide To App-less Augmented Reality.
How to Add Filters to Your Webcam
Let's go through the specific steps.
How Banuba WebAR works
1. Get Banuba Face AR SDK
Banuba Face AR SDK is a ready-made module that can be quickly integrated into a mobile, web, or desktop app and handle the webcam face filters functionality.
The Web AR version includes three components:
BanubaSDK.wasm - a low-level high-performance module compiled to WebAssembly;
BanubaSDK.data - face detection neural networks and auxiliary AR data;
BanubaSDK.js - a JavaScript wrapper for consuming the WebAssembly module with browser-specific things like WebCamera usage and DOM rendering.
You can check out the details, including input/output options and code samples in the instruction.
The SDK works in browsers that support WebGL 1.0 and higher: Chrome, Safari, Firefox, etc. The full list can be found here. To run the demo app, you will also need to install Node.js and git client. However, these two are optional.
It also contains a separate .simd.wasm file for SIMD-enabled browsers (e.g. Chrome 91+ and Firefox 90+).
This is what features the SDK includes:
Face tracking. Detecting multiple faces on the camera feed to apply effects to them later.
Rendering engine. The core element is responsible for drawing all the effects.
Face filters. This is the functionality responsible for applying masks, avatars, text/gif overlays, etc. The filters themselves are downloaded/created separately.
Interactive triggers. This feature allows launching dynamic effects by using facial expressions or hand gestures.
Background replacement. Capability to detect a person in the picture and replace everything else with a static image, gif, or video.
Hair/lips/eyes segmentation. Locating a facial feature and changing it in the picture. This could be used to recolor hair, apply virtual makeup, or test contact lenses.

2. Installation
First, you need to download the SDK itself and the token necessary for the whole system to work
To get them, send us a message via a contact form on our website.



You can find the sample of the installation code here and a test webcam face filter here.
3. Launch a demo app
This is a simple process.
Clone the Web AR demo app git repository
Place the latest release of Banuba SDK Web AR inside the cloned folder
Place Banuba client token into BanubaClientToken.js inside the cloned folder
Run a local server inside the folder
Open localhost:8080 and get to work.
For ease of use, check out the API reference.
Wrapping Up
Web AR is flexible, provides access to a large audience, and is simple and straightforward to integrate.

Follow the steps in this guide to see how webcam face filters would work on your website and play around with them.

Don't forget: you can get a 14-day free trial of Face AR SDK. Just contact us, get your token, and start testing!


Top