Blog
Video Editing
Video Editor With Animation Effects For Chingari App [Case Study]
Learn how the client Chingari uses our SDK to streamline the video creation process. The app leverages AR and AI camera technologies to help people express their creativity in the most unique and engaging way.

Alena Arsenova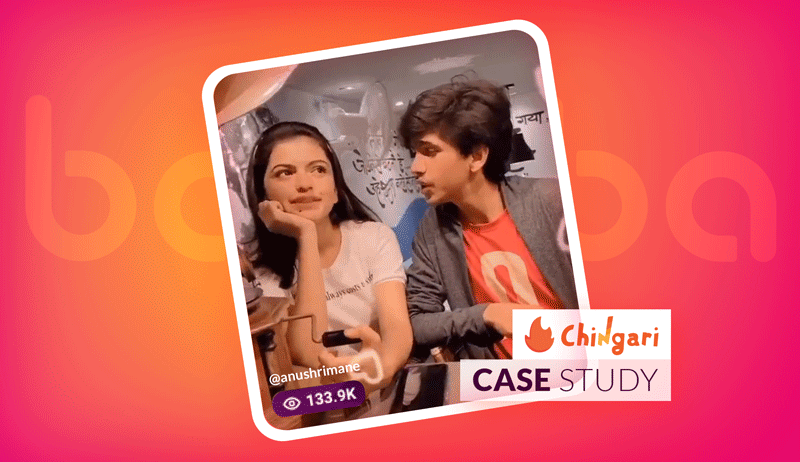 Want to build a successful short video app with AR camera tools? Explore our SDK!
About Chingari
Initially started as an entertainment platform, today Chingari is the most popular video-sharing social networking app in India. The Chingari team turned to us intending to bring a TikTok analogue to the Indian market after the government banned the original app back in June 2020.
They integrated our AI Video Editing SDK for Android and iOS to empower creators to record and share short video clips. Their video editor with animation effects includes AR masks and camera filters along with processing features that drastically facilitate and inspire video creation.
---
Video Editor With Animation Effects
To empower users to capture amazing videos, Chingari used our AI Video Editing SDK with animation and Face AR effects. Anyone can capture or upload videos, overlay the music or turn it on and record a lips sync clip and apply visual filters to enhance the results. Augmented reality and artificial intelligence technologies paired with video creation make the process a breeze.
Video Editor demo: the original video and one, processed with Chingari
---
Video Editor features include:
Face AR masks. Users can browse through a collection of Indianized filters, apply them in live camera when taking a clip or overlay on a video at an editing stage. The face detection and tracking automatically recognizes the presence of the face in a feed and sticks the AR animation.
Beautification. Users can enhance their appearance by turning on a beautification filter. The filter retouches the skin, adds morphing and slight makeup to make users feel comfortable about their selfie camera when recording videos.
Video effects.

The video editor employs animation effects, LUT filters and 3D lens to engage users in the creative process and let them self-express themselves.

Camera UI and Video Capture features.

Users can edit specific parts of the video, upload several clips and images and use all standard video processing features to achieve a compelling result.
---
"The rise of Chingari App has a direct correlation with the advanced tools that we offer and the seamless creation experience that Chingari App provides. We provide excellent video and audio editing tools to our content creators and empower them with the best Indianised filters for visual effect," — Sumit Ghosh, CEO of Chingari App at IndiaTVnews.
---
Why Banuba Video Editor
Aiming to bring people the best TikTok alternative after its ban in India equal in ease, convenience and features, the client chose Banuba AI Video Editor SDK due to:
All-in-one tools for video makers

. Users can easily trim, merge and edit videos right in the app. They can make animated Stories using not only videos but photos too.

Video effects. Our SDK comes with a built-in collection of most popular video animation filters and effects helping creators tweak their content by a tap.

Unparalleled engagement

. We can license our best AR assets so businesses can quickly launch their apps and delight users changing filters regularly.

Accurate face tracking

. Our technology detects and tracks several faces simultaneously, allowing people to have fun with AR filters together.

Data safety

. Banuba Video Editor SDK runs offline

,

on a device, so it doesn't access or store personal data, ensuring a safe and private user experience.
Chingari has no plans to stop there with what has already been achieved.
---
"While our current focus is to make a great product, in the near future to make sure that our content creators get paid, we will have advertising and focus more on marketing. Feature addition is always a part of the roadmap, as we move forward," — Sumit Ghosh, CEO of Chingari App at FinancialExpress.
---
Providing a seamless video creation experience on mobile
After release, Chingari got 550,000 downloads in just ten days, and more than 30 million downloads in just three months. The top 20 per cent of its most active users are spending 1.5 hours daily on the app and the average daily engagement time for its users is 7.5 minutes.
The video editor with animation effects is widely praised among users who are 18-35 years old mainly. The average app ratings is 4.5* both on iOS and Andoid. It's still gaining popularity as people keep on sharing videos.
Chingari app screens
Additionally, the app allows creators to monetize their videos based on how viral they go. The more popular they become, the more points are awarded which later can be redeemed for money. This way, anyone can become an influencer and earn money by making and sharing videos. The video editor tools enhanced with AR and AI ensure the videos will look professional and high quality.
---
Also Read: How to Build an App Like TikTok With Video Editing Effects
---
Want to build a successful short video app with AR camera tools? Explore our SDK!
Top