Blog
Video Editing
7 Best Mobile Video Editing SDKs: Feature-by-Feature Comparison
Mobile video editing SDKs are a great way to launch your product faster, especially if it is a short video app.
But choosing the right one is a daunting task as you need to analyze video editing features, camera functionality, effects, pricing, and more.
We decided to make your life easier by featuring:
- 7 best mobile video editing SDKs
- 5 key criteria you should consider
- Feature-by-feature comparison of top video editor SDKs.

Alex Krasko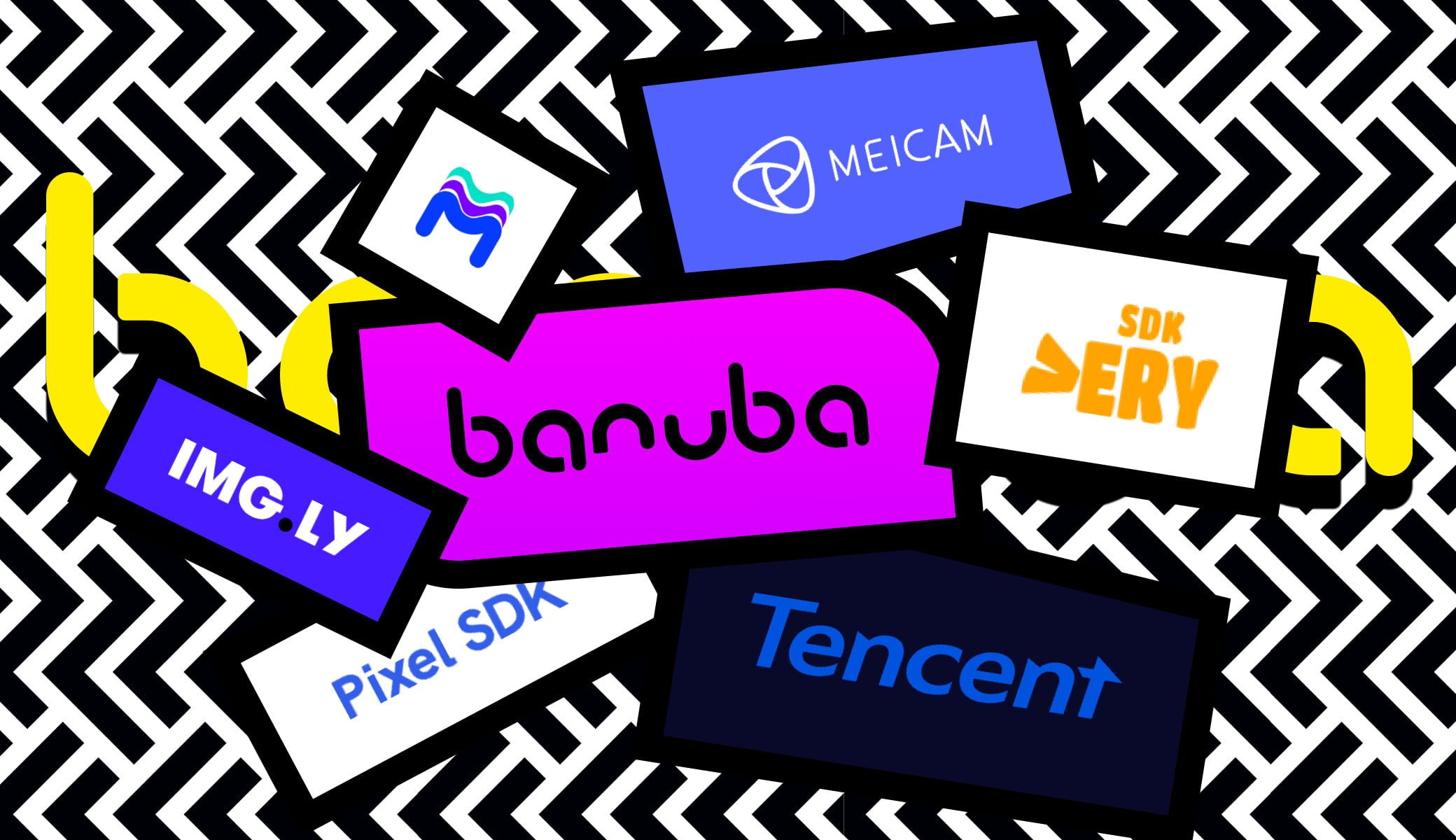 7 Best Mobile Video Editing SDKs
Banuba AI Video Editor SDK
Banuba Video Editing SDK s a powerful and feature-rich AI-driven software focusing on Artificial Intelligence and Augmented Reality.
One of its biggest selling points is a wide variety of AR face filters on the level of TikTok, Instagram, and Snapchat or better.
The core features include:
Trimming. Cutting the video down to a more manageable size, removing bad takes, etc.
Merging. Combining several clips into one.
Recording. Picking up footage from the camera.
Timeline. A frame-by-frame representation of a video.
Audio editing. A waveform that allows cutting and repositioning sounds.
Overlays. Basic text, pictures, and GIFs that can be placed in the foreground.
Hands-free mode. A timer that allows a user to record without having to keep the phone in their hands.
Additional, Banuba's Video Editing SDK offers:
Beautification. Correcting facial imperfections and making people look their best in a couple of clicks.
Music provider integration. Gives your users more creative options and protects them from copyright strikes.
Slideshows. Combining pictures taken in the moment or from the gallery into a video.
Picture-in-picture. Running 2 or more videos on the same screen. Also known as "duets" in TikTok.
Custom backgrounds. Segmenting out a person and replacing everything else with a picture, video, 3D environment, etc. Could be useful as a built-in green screen.
Voice effects. Making the speaker sound like Darth Vader, a robot, a Disney princess, etc.
AR cloud. Online storage for various effects (face masks, AR makeup, etc.). Decreases the app size by allowing users to download the needed effects on-demand.
Companies using Banuba AI Video Editor SDK include Chingari, Jalsa, and many others. You can join them and reap the same benefits.
For example, Chingari has reached 30M installs in 3 months, $88.4M funding, and a 4.5 / 5 App Store rating.
---
Meishe SDK
This is a Beijing-based software company focusing on video and audio editing technologies. They offer a video editing SDK for TikTok/Likee competitors and video communication apps.
---
PixelSDK
The developers of this SDK decided to focus on convenience. It has good documentation and is easy to work with but is limited in its feature set. Like many other SDKs for iOS and Android, it can work with photos and videos.
---
Img.ly
This company started out with a photo retouching tool for Twitter and then moved into more complicated AI-based products. Their SDK is notable for supporting mobile web frameworks (Cordova and Ionic) which aren't commonly used for building apps with video editing capabilities.
---
Very SDK
The company behind Very SDK has been working with video and photo processing for about 20 years. Their product demonstrates this experience with a wide range of mobile video editing features, filters, and effects.
---
Tencent UGSV
This SDK is developed by the Chinese software giant Tencent. The name UGSV stands for "user-generated short videos" and straightforwardly states what this software is for - brief clips that mostly target social media users.
This SDK is still in beta - this affects its stability, performance, and related business processes. However, it can be purchased and used in third-party applications.
---
Movieous
Another Chinese video editing SDK with a wide array of useful features.
They include:
Support video recording/editing
Segment recording
Delete video
Auto focus
Manual focus
Support microphone mute
Support flash operation
Support camera dynamic switching
Support watermark
Video stitching
5 Criteria to Consider When Choosing a Video Editor SDK
We are going to compare mobile video editor SDKs by 5 major aspects:
Video editing functionality: trimming, subtitles, templates, etc.
Camera features: zoom, flash, hands-free mode, etc.
Effects. AR masks, background replacement, etc.
Technical parameters: support for cross-platform frameworks, AR cloud, etc.
Commercial parameters: price and pricing options, support response speed, trial period availability, and the like.
They are going to be further expanded with specific characteristics and features so that the comparison becomes more precise and in-depth.
We have gathered this information by studying the products, contacting the companies developing them, and getting information from publicly available sources.
Video Editor SDKs: Feature-by-Feature Comparison
Banuba Video Editor
---
Video editing functionality
These features are at the core of any self-respecting mobile video editor SDK. The important thing here is to strike a balance between the number of features and ease of use.
In the case of short video apps, we are talking about casual content creators, not professional editors. Adding too much complex functionality can turn the users away.
Video Trimming. Removing the beginning and end portions of the clip or increasing their length. This is the basic editing option that makes it possible to crop clips to the necessary length. A must for any short video sdk.
Timelines. A frame-by-frame representation of the video, allowing users to place effects at specific points. Without it, editing becomes nigh-impossible.
Music. Adding a sound track from the phone storage to the clip. Without it, the clips will be much less engaging.
Picture-in-picture. Overlaying one video onto another. This is especially useful for reaction

s

, one of the most popular and lucrative formats.
GIFs. Adding GIF images to clips. Another feature that lets users easily modify their creations for better shareability.
Text. Placing text over videos. A simple function that is good for captioning, adding comments, etc.
Video editing functionality comparison
---
Camera features
These features govern the use of the camera and everything related to it. All SDKs that we cover can record videos but there are extra functions that differ between products. These extras either save time or add more self-expression opportunities that attract users.
Hands-free mode. Set a timer and start recording once it ends. A must-have feature for solo creators (e.g. dancers who want to record themselves performing).
Voice recording. Picking up sounds from the inbuilt microphone. Saves time on recording.
Slideshow. Making a video out of pictures from the gallery or taken at the moment. A good alternative to the common videos and another option for self-expression.
Camera features comparison
---
Effects
All kinds of video effects that make ordinary clips fun and crazy. This is where an SDK can really show off the modern advancements in augmented reality. Banuba AI Video Effects SDK, for example, boasts filters and AR masks on par with or better than those of TikTok or Snapchat. They will make clips much more shareable and attract new users to your app by sheer virality.
Another thing to note is that effects are not created equal. Similar AR masks from different vendors can differ in their look and reaction to lighting and gravity.
Moreover, some SDKs (like our own) are optimized to show effects well even on older and low-end devices. Banuba AI Video Editor SDK covers 80% of the smartphones on the market.
Finally, there is a service component to this. Sometimes, you might need custom filters (e.g. country-specific, branded, or otherwise unique). Unlike some of our competitors, we at Banuba can make those for you quickly and for a reasonable price.
Voice effects. Making users sound like robots, Disney princesses, opera singers, etc. Always fun for memes, pranks, and the like.
LUTs. Color settings to give the video a different look and feel (e.g. black and white or sepia). It is simple to use but can really add style to the clip.
Visual effects. Overlays changing the look of the video (VHS, rave, etc.) a solid boost in shareability and creative potential of the

clip

.
AR masks. Augmented reality overlays that are placed on people's faces for comical effect. See apps like Chingari for examples of high-quality masks tailored to the region.
Beautification. Automatically correcting the user's face to make them look more attractive. This saves the creators' time as they don't have to apply makeup before filming. Moreover, beautification makes clips more shareable, as people are always willing to show off their good looks on social media.
Background segmentation. Separating the background from the foreground and adding an image there. This can act as a "green screen" replacement or element of style, making the video look as if it was filmed in another country or even in space. Finally, it can also be a time-saver, especially if the creator's flat isn't very tidy.
Effects comparison | Video Editing SDKs
---
Technical features
The parameters that the users don't know about but that are important to the developers.
Android SDK. Android holds a much larger market share, so integrating a short video SDK for Android is a way to gain a larger audience.
iOS SDK. iOS has a lower market share than Android but iPhone users tend to spend more. Making an iOS app is a way to gain an audience with disposable income.
Cross-platform framework support. Ability to integrate the mobile video editor SDK in apps built with React Native, Flutter, Xamarin, and other cross-platform frameworks. Such frameworks can significantly decrease the development time but not all of them are a good fit for short video apps. Ionic or PhoneGap, for example, don't perform well enough for this purpose.
AR cloud. Ability to download AR effects from the cloud servers, thus decreasing the app size. A single AR mask can take 1-3 MB of space, and including a lot of them in the app package will make it unwieldy and inconvenient. AR cloud lets users download the effects they like whenever they need them.
User interface. Default UI that is included in the short video editing SDK for iOS and Android. If there isn't one you will have to create it yourself, which costs time and money.
Music provider integration. Connection to a service that provides royalty-free music for users' creations. This makes the people on your app and by extension the app itself safe from copyright claims. The music itself is generated by AI and separated into genres and moods so that the users can always find something that fits their videos. In the case of Meishe SDK and other products without this feature, you have to set up the integration yourself, spending valuable time finding the right one. Banuba AI Video Editor SDK can be connected to Mubert, while VerySDK uses Audionautix.
Technical features comparison | Video Editing SDKs
---
Commercial aspects
These are the business matters that pertain to each SDK.
UI convenience. How user-friendly is the interface, on a scale of 1-5. The better your app looks, the better it will retain customers. Pick the SDKs with the most convenient UI for lower churn and quicker growth.
Documentation. Publicly available instructions from the developers for the users. A well-documented SDK is easy to integrate and customize for your purposes. As the main point of using a third-party solution is to decrease time-to-market, having detailed developer notes is extremely helpful.
Trial version. Ability to test the video editing SDK before fully committing to purchasing.
---
Different companies have different approaches to trial.
Banuba AI Video Editor SDK can be tried for free for 14 days.
Meishe SDK doesn't limit the time of trial but places a watermark on all videos made during the testing period.
PixelSDK is priced per exported photo/video. As long as you don't export anything, the SDK is free.
Img.ly offers 30 days of free trial for their product.
Very SDK lets the users test it for 7 days.
Tencent UGSV trial period lasts for 30 days.
---
DIY integration. The client can integrate the SDK without help from the vendor.
Support response speed. The time it takes for the company's technical support to answer an inquiry.
Commercial aspects | Video Editing SDKs
Why Banuba AI Video Editor SDK
There are reasons why this product is used in applications having millions of users, especially in the short video apps category.
Performance. This mobile video editor SDK is optimized to run smoothly on both top-notch and cheap iOS/Android devices. Thanks to it, companies can bring advanced video editing and AR features to more than 80% of all smartphone users.
Immersive AR Content. Banuba offers an amazing variety of filters: AR masks, color effects (LUTs), and visual effects. All of them are available to be downloaded on demand using Banuba's AR Cloud service to decrease the app size. Moreover, you can order custom filters and get them ASAP.
Data safety. Banuba's AI Video Editor SDK doesn't store or collect any personal information so there is no risk of losing sensitive user data.
All-in-one. The short video SDK is enough for all the features a user needs to create cool and engaging clips.
Customizability. We can add new video editing features on-demand and ship them to your app.
Maturity. We have been in the AR and video editing market for more than five years. This means our product was well-tested in real apps and has shown its reliability.
Easy integration. Thanks to the use of Maven packages and CocoaPods, installing Banuba Video Editor SDK is super-fast.
Flutter and React Native compatibility. Using cross-platform frameworks can significantly speed up development. Combining them with a video editing SDK helps cut the time-to-market even more.
Conclusion
We hope our comparison matrix of the 7 best video editing SDKs will help you choose the right provider.
If you want to start with powerful software, feel free to try Banuba's Video Editor SDK and get a 14-day free trial.
Top