Blog
Augmented Reality
How Augmented Reality Marketing Boosts Sales
Branded apps, public AR experiences, and user-oriented ads help raise brand engagement, attract new customers, improve the shopping experience, and decrease product returns.
In this guide, you will learn how AR technology in marketing helps businesses, featuring:
5 benefits of using augmented reality in marketing
7 industry-leading AR campaigns
How Banuba AR technology helps in marketing.

Alex Krasko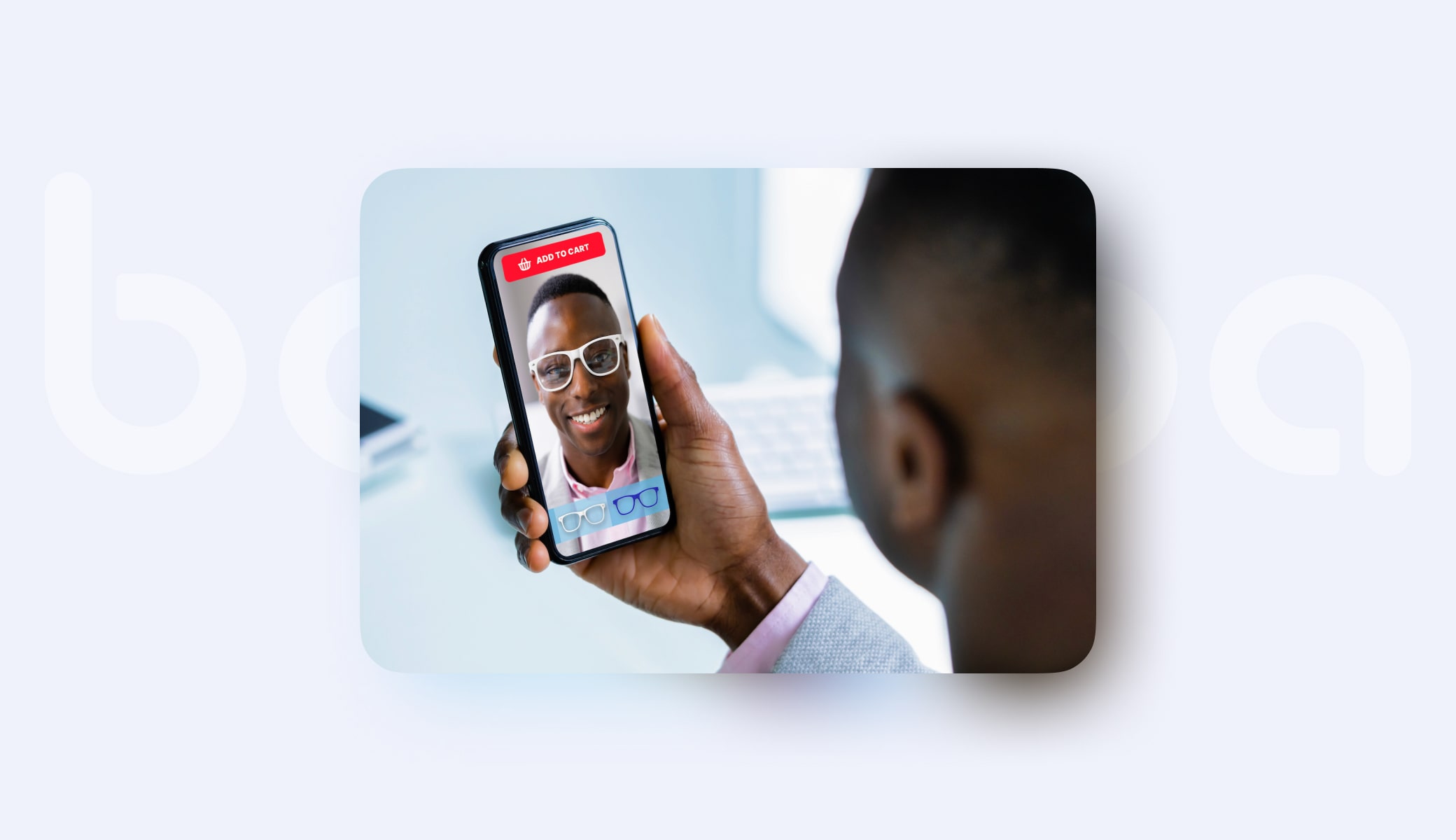 Augmented Reality Marketing: Meaning
According to scientists, AR Marketing is the "strategic integration of AR experiences, alone or in combination with other media or brand-related cues. In short, it means using augmented reality for promotional purposes.
Today, it is a mature technology that increases sales by up to 200% when used correctly (Forbes). It is accessible to both major brands (IKEA, Ulta, Amazon) and SMEs. Research shows that using AR marketing reliably boosts revenue for retail companies (Singapore Management University).
Apparently, the real AR marketing meaning is profit.
If you want to see great results and need the technology to make it happen, let's get in touch.
Benefits of Augmented Reality in Marketing
AR technologies bring a host of advantages to the companies that use them.
---
1. Increased sales
There are many cases where the use of augmented reality led to better sales figures. For example, customers that interacted with virtual try-on were three times more likely to buy and their orders were 20% larger.
---
2. Brand Awareness
Companies that incorporate augmented reality into their promotional materials present themselves as user-friendly and modern.
They can interact with customers in ways their less advanced counterparts can't, which raises brand awareness and improves its perception in the public eye. AR-powered ads attract more attention and curiosity than traditional ones.
One of the most prominent examples of this is Ulta. It launched a virtual try-on tool for its cosmetics products, letting people check them out remotely. As a result, Ulta increased brand engagement by 700%.
---
3. Decreased Returns
Another major benefit for retailers is a lower number of returns. Processing each one takes time and money, not to mention the decrease in the price of the returned item.
Companies like Adidas and Macy's reported a whopping 36% decrease in returns after they had begun using augmented reality in marketing: launched virtual try-on, live shopping streams, and online consultations.
---
4. Competitive advantage
There are still many companies that don't include AR in their marketing strategy. This means if you do so, you will gain an edge over the competition. You will distinguish yourself and become more visible to consumers while gaining all the other benefits as well.
Augmented Reality Examples: Best AR Campaigns
Let's take a look at some of the most prominent and effective promotional campaigns that showcase the effectiveness of AR technology in marketing.
---
1. Netflix - Stranger Things
To advertise Season 2 of their hugely successful Stranger Things show, Netflix created a branded World Lens on Snapchat - an immersive 3D room with memorable features of the show (e.g. Demogorgon coming through the wall and lights that Will's mother used to communicate with him).
They also used branded AR filters, background replacement, and triggers on Snapchat and Facebook to complement the world lens and let people with less powerful mobile devices join the fun.
---
2. Manifest - Everyone's an influencer
Manifest (MNFST) disrupted influencer marketing by letting anyone with an Instagram account monetize their content and allowing any company to gain the benefits of augmented reality in marketing.
MNFST - an app for AR campaigns
Here's how it works: a brand starts a campaign with MNFST and creates special AR masks or effects. The app users can then apply these effects to their pictures, publish them on Instagram, and get paid depending on the attention they managed to attract.
The app got over 1M downloads, raised $2.5M in investment, and attracted brands like Nestle, Bolt, and Revolut. You can read more about MNFST in a detailed case study.
---
3. IKEA Place
Swedish furniture giant saw how the technology advances and created its own AR app. It makes purchasing easier by letting people see whether a table, a couch, or an armchair fits the apartment physically and aesthetically.
It enjoys a 4.6/5 rating on AppStore and is currently available only on Apple devices.
---
4. National Geographic - Rotterdam Train Station
The famous educational channel showed people that they can get great AR experiences in the real world. They have placed a digital screen on the Rotterdam train station and allowed users to transport themselves to wonderful places without a VR headset.
From the jungle to the ocean to space, there were great scenes for people of all ages to enjoy. Only fitting that a science channel launches one of the most impressive AR campaigns.
---
5. Sephora - Virtual Artist
Sephora was one of the brands that embraced AR/VR marketing and benefitted from it. Its app is a quintessential example of virtual makeup try-on, allowing customers to remotely check whether a product (lipstick, foundation, mascara, etc.) fits them.
Sephora used AR to let users try their products
The app keeps being developed and expanded. So far it has got over 2 million downloads on Android and iOS.
---
6. Looké - Virtual Try-on for SMEs
This campaign is proof that augmented reality experience is something mid-sized businesses can afford. Looké is a niche beauty brand from Indonesia.
It focuses on vegan, halal, and cruelty-free products and is so far limited to its home country. To promote itself, Looke launched the first virtual try-on app in Indonesia.
Looké proves that virtual try-on is affordable to medium businesses
The app represents the entire product line of Looke, allows realistically trying it on, and shows the locations of the nearest stores. If you want to read about this app, as well as how Looke used a Beauty AR SDK to save money on the development, see our article.
---
7. Burger King - Burn That Ad
Burger King is known for its provocative advertising strategies. In 2019 it launched another campaign called Burn That Ad, which utilized mixed reality to attract people to its restaurants.
People could virtually "burn" the ads of BK's competitors and get free whoppers for their effort. Not to mention that the act surely brought the company's fans some satisfaction.
AR Technology in Marketing: How Banuba SDK Helps
Banuba creates industry-best AR technologies that have been finding widespread use in many niches, including digital marketing. This is how they can benefit your AR campaign:
Conclusion
Augmented reality marketing is a proven way to increase sales and product performance metrics, decrease returns, and attract attention to your brand. Both major corporations and SMEs have made use of it and achieved significant gains. With Banuba's AR technology you too can benefit from AR marketing. So don't hesitate to contact us and start a free trial of the SDK.
FAQ
---
How to use augmented reality for marketing?
The typical uses of augmented reality for marketing include:
Branded AR filters
AR try-on
Experiential marketing (e.g. AR photo booths)
Influencer marketing apps
Paper-based AR (printed ads that can be recognized by an app)
---
What is augmented reality advertising?
Augmented reality advertising is using AR technology to promote products or services. Live paper-based ads, branded filters, public AR experiences are just a few examples of what AR can do.
---
Is augmented reality the solution for marketing?
AR advertising in all its forms has demonstrated increases in sales, decreases in returns, more brand awareness, and better engagement. While it is not a silver bullet, it is an effective means of attracting customers.
Top