Blog
Beauty AR SDK
Digital Face Beautification: Trends, Insights And Predictions
In the era of Instagram and selfie obsession, face beautification software is on top of trends. What is digital face beautification? Another selfie-help gimmick? Or a game-changer for the camera experience?

Alena Arsenova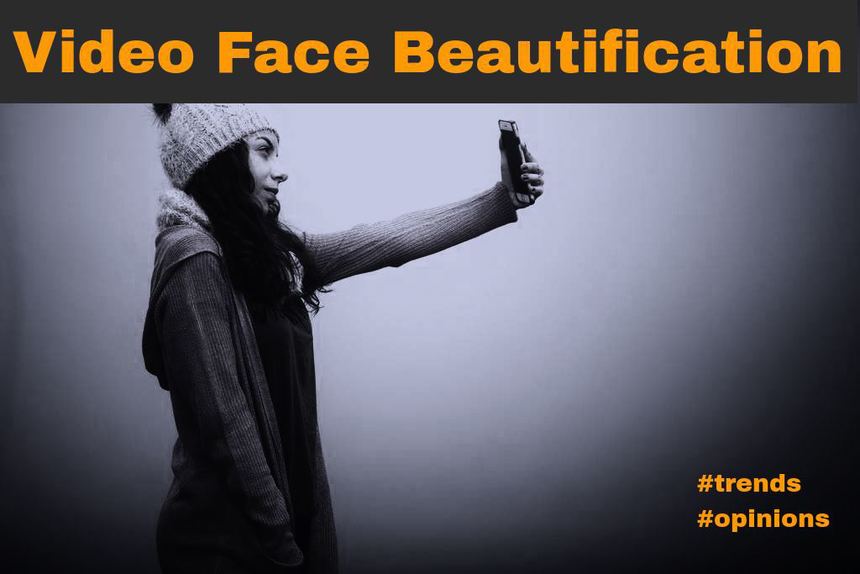 Our experts – Alexey Cherkes, Head of Banuba Beauty AR SDK, and Maria Okolovich, Product Manager, – shed light on these questions.
Learn about the landscape of digital face beautification today, and the way businesses can use it to enhance customer service.
The demand for digital face beautification software

While virtual makeovers allow you to try on cosmetics products via your mobile camera, the digital face beautification software can hide your imperfections and enhance skin. You can retouch your face slimming down cheeks, nose or enlarging lips.
Statistically, 87% of U.S. adults aged 18 to 34 years took a selfie and shared on social networks in 2017. More than a half of selfies are about appearance rather than family, travelling, health & fitness and other.
'Perfect selfies' are now accessible to everyone, either in selfie editors, or photo enhancement filters like Snapchat but… there's the other side of the coin.
Face beautification vs #nofacetune
Flawless photos have flooded Instagram and people sought ways to stand out. While some fearless creatives climbed the roofs for a wow photo, others switched to the simple alternative – #nofilter.
Pics and selfies without editing came as a gulp of fresh air for all-seen-it instagrammers. Such trends as #nofacetune and #nofilter aim to break the illusionary world of fake beauty.
Natural beauty – AI beauty
It appears face beautify software introduced in Snapchat disappoints people – the results in photos drastically differ from real life. Dollish faces stamped with artificial beauty make us... well, not who we are.
But is it all about beauty and facial attractiveness? Alexey Cherkes, Head of Banuba's face beautification SDK, says it's not.
"Our face modification software is built with the cutting-edge computer vision algorithms aimed to eliminate camera distortions in the first place."
The studies published in JAMA Facial Plastic Surgery journal state that camera increases your nose by 30% if you take a selfie photo from 12 inches (30 cm). The fish-eye effect and front-facing camera lens distortion spoil the image making our face proportions incorrect.
"We create face modification software powered with beautification features. It enables the creation of visually beautified images of users based on real-time analysis of their anthropometric data. Face segmentation and AI algorithms enable the enhancement of human faces in real time," – Alexey tells.
Cameras with AI take selfie photography to a whole new level. It allows to fix camera drawbacks and achieve the perfect balance between retouching and a natural look.
What's more, it works in real time, so you look beautiful both in your photos and videos.
Video face beautification
The technology of real-time face beautification can be implemented in a range of augmented reality apps, i.e. video and photo editors, virtual makeovers, live-streaming solutions and video chats.
Our technology not only retouches all the facial flaws that bother so many women. It also takes into account the individual features to match the best parameters. And unlike other editors, it focuses on natural beauty.
"For us, it's important to achieve a natural look on photos. The trend has changed. Severe beautification often evokes criticism and is associated with non-authenticity. People do feel the natural desire for looking good in photos. But they don't want to admit the usage of photo editors." – Marina, the Product Manager of Beautification, explains.
For now, the editing software capabilities include:
Skin smoothing. Enhance skin and hide defects like eye wrinkles, pimples.

Skin tone correction. Make your skin whiter or tanner.

Eyes whitening. Emphasize the eyes by making the eye whites clearer.

Teeth whitening. Get an ideal smile.

Face morphing. Make it slimmer, wider, increase/decrease eye size, change the shape of the nose and head proportions.

Improve face symmetry. Correct the shape of the face based on the golden ratio.
---
READ MORE: How To Create Face Beautification Filter With Banuba Effect Constructor
---
"We plan to develop our video face beautification technology further as we definitely see the demand. AI helps to achieve the unmistakable similarity with the original image. You open the camera and don't see right away what exactly has changed in your face. But you like the image quality and yourself." – Marina tells.
Digital face beautification trends of the future
Gartner predicts that by 2022, 80% of smartphones will have on-device AI capabilities, up from 10% in 2017. Among AI-powered cameras are iPhone X, OPPO F5 ("selfie expert"), Vivo V7, Samsung Galaxy J7+ and Huawei Nova 2i. More to follow in the near future.
Businesses are actively exploring and implementing augmented reality to improve client-facing interactions and drive more sales. With real-time face beautification, camera-based customer experience can not only be enjoyable but personalized too.
An experiment by journalist Esther Honig excellently shows that "ideal beauty' is not a set of capital truths and calculations. Esther asked 28 photoshop artists from different countries to make her beautiful by retouching her photo.
The results were interesting.
@ personalexcellence.co
Chinese people prefer a pale complexion while European and Latino consumers learn toward the tan skin. Female facial features are expected to be delicate whereas morphing is fully justified. A masculine face is often associated with a wide jaw, broader nose, and more prominent chin.
AI beautification will take into account all those features and empower people with the freedom to look beautiful on their own terms.
Domains to adopt digital face beautification
---
Skincare
Skincare is the leading category in the global cosmetic market. It accounts for 36% and is forecasted to remain the most profitable one. With the real-time skin type, age and gender detection, brands selling skincare products can make personalized product recommendations. Face modification technology allows demoing the expected results right on customers.
---
Cosmetics
Cosmetic brands like L'Oreal, Covergirl, Sephora, and others have embraced the power of AI beauty technology. By incorporating augmented reality (AR) in their products and services, customers can now experience virtual try-ons and makeovers. This innovative approach enables them to experiment with various makeup looks and find their ideal match effortlessly. While virtual try-on assistants may seem like a novelty today, they are set to become an integral part of the beauty industry in the near future.
---
READ MORE: 15 Best Virtual Try On Apps Of 2019
---

E-commerce
Empowered with digital face beautification technology, the try on product experience will not only visualize the product itself. It will make customers look good when trying it on and thus, enjoy the process.
---
Plastic surgery
Face modification software can enable the preview of plastic surgery and cosmetic operations at home. It's a great way to enhance the surgical and patient experience. Not only can it save doctors' and patients' time, but also help to avoid spontaneous decisions and unneeded operations.
---
Smart beauty camera experience
Banuba's beautification technology is available as a face modification SDK and can be integrated into any app – web and mobile.
It comprises a set of algorithms and technologies which allows for more personalized and 'unobtrusive' beautification. For example, by detecting ethnicity, age, and gender you can set beautification parameters accordingly for children wouldn't receive enhancements that make them look adult.
Summing up
Digital face beautification software has lots of potential applications. And it's not about beautiful images only.
Cameras are becoming the central part of the phone. A bridging gap that will connect business and customers allowing for face-to-face interaction even if you are miles away.
With facial recognition, machine learning and beautification algorithms, this interaction becomes enjoyable and personalized.
Top