Blog
Video Editing
AI Video Editing: the Ultimate Guide To Smart Cutting & Effects
Everything you need to know about AI video editing. This includes core features, major use cases, and the benefits you can expect from them. Whether you are working with social media, video editing apps, or other relevant products, you will find something useful here.

Alex Krasko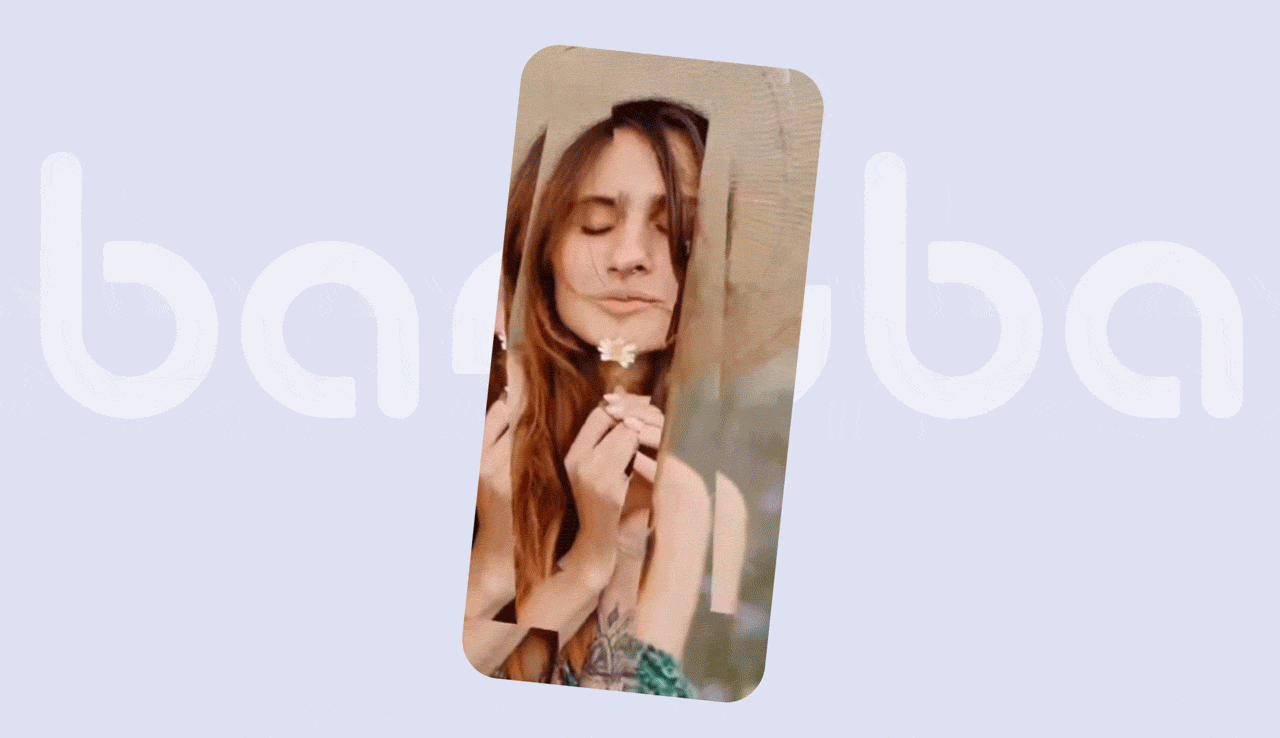 [navigation]
What is AI Video editing today
The term "AI video editing" refers to using artificial intelligence to modify audiovisual content.
In practice, this can mean:
Text-to-speech. Users can type the words and

see the characters speak them

out loud.
Automatic trimming. Frames with bad lighting or too much shaking can be automatically removed.
Color correction. Automatic adjustment of the palette for the entire video based on the selected frame. Not to be confused with LUTs (color filters).
Changing aspect ratios. E.g. turning a video in 4:3 into 16:9
Anti-jitter. Making shaky video smooth.
Filters and effects. From deepfakes to turning real people into anime-style characters.
Etc.
So while AI can't yet turn a bunch of frames into a viral clip at a push of a button, it can decrease the time it takes to edit a video and make the result more attractive, especially at the first steps.
Banuba video effects examples
Where AI video editing is used today
AI video editing has the most traction with two industries: AR Communications and AR Commerce. In the former it supports messaging: protects users' privacy, decreases the time it takes to prepare a message and adds cool visual effects. In the latter, it helps make product-related videos more efficiently and adds more options for reviews.
Typical use cases of AI video editing include:
Social networks. TikTok

has surpassed Google

as the most popular domain name, and this includes not just the search engine, but docs, email, and other services. Instagram, Reddit, even LinkedIn are trying to catch up. So if you wish to gain a piece of the market you have to have video editing functionality.
Mobile video editors. Purpose-built applications to capture and modify footage. They are universal tools that can be applied to any domain.
eCommerce. In the online shopping business, using videos

has become the new norm

. Explainers, user training videos, reviews - there are many potential uses for eCommerce video editors.
eLearning. Educators have been especially

interested in audiovisual content

in recent years. This is why modern authoring tools tend to include a video editing tool.
Dating. Video messaging has

gained popularity

since the beginning of the pandemic. As people want to show their best to potential partners, giving them some video editing options is beneficial to the user experience.
How AI video editing changed in recent years
Audiovisual content is the undisputed king of the Internet. Since 2017, its consumption has grown by 15 times, and it is expected to account for 82% of all the traffic worldwide. This can largely be attributed to the proliferation of smartphones, higher connection speeds, and the rise of short video social networks.
TikTok is currently at the top of the heap - overtaking the entire Google ecosystem is no small feat. The other social media are trying to catch up:
Microsoft, the owner of LinkedIn, has also acquired Clipchamp, another startup that focuses on the topic. And all short video apps experienced unprecedented growth: up to 90% increase in monthly active users.
Video content has also proven to be a major game-changer in eCommerce. Whether in a form of live shopping or as reviews, explainers, and user training clips.
So the industry is booming, and companies joining it have a good chance to turn a profit or get acquired by a large corporation.
Banuba background replacement and AR face mask examples
How brands benefit
This is how companies can benefit from AI video editing:
Draw users from the competitors. For example, Chingari, an Indian social media company, built a special tool that helped people import their TikTok videos to Chingari's platform.
Incentivize content creation. TikTok lets users earn money by making content. Chingari took it a step further by giving people in-app currency for watching videos.
Gain competitive advantage. The more features you offer, the more opportunities for self-expression your users gain. Platforms like Likee actively advertise their advanced editing as a way to gain an edge over other short video apps.
How app developers benefit
This is how app developers can benefit:
Improved metrics. The use of AI video editing is linked to higher engagement, longer sessions, and better LTV.
Promote user-generated content. By making it easy to create videos, you motivate users to create them. This, in turn, attracts new users.
Video editing SDKs in a nutshell
A video editing SDK is a ready-made module that performs a set of functions, self-evident from the name. It usually can be integrated with an app within a couple of days and is compatible with both finished products and ones still in development.
They are commonly used because developing similar functionality from scratch is prohibitively expensive, takes too long, or both.
These are the main reasons companies go for SDKs:
Decreased time-to-market. This is the primary selling point of such products. Instead of spending months on building everything from the ground up, the developers can quickly integrate an SDK and launch the app sooner.
Lower initial investment. Video editing SDKs are typically subscription-based or have a similar monetization model. A monthly or even yearly installment is much lower than the salary and overhead expenses needed to sustain a large development team.
More features. The products that have been on the market for some time tend to accumulate useful additional features. New arrivals will need more time to catch up to them.
Feature set
Here we will list the most common functionalities that can be found in a video editing SDK.
---
Core
Trimming

. Cutting the video down to a more manageable size, removing bad takes, etc.
Merging. Combining several clips into one.
Recording. Picking up footage from the camera.
Timeline. A frame-by-frame representation of a video.

Audio editing

. A waveform that allows cutting and repositioning sounds.

Overlays

. Basic text, pictures, and GIFs that can be placed in the foreground.

Hands-free mode

. A timer that allows a user to record without having to keep the phone in their hands.
Banuba Video Editor. Trimming mode
---
Extras
Beautification

. Correcting facial imperfections and making people look their best in a couple of clicks.
Music provider integration. Gives your users more creative options and protects them from copyright strikes.
Slideshows. Combining pictures taken in the moment or from the gallery into a video.

Picture-in-picture.

Running 2 or more videos on the same screen. Also known as "duets" in TikTok.

Custom backgrounds

. Segmenting out a person and replacing everything else with a picture, video, 3D environment, etc. Could be useful as a built-in green screen.
Voice effects. Making the speaker sound like Darth Vader, robot, Disney princess, etc.
AR cloud. Online storage for various effects (face masks, AR makeup, etc.). Decreases the app size by allowing users to download the needed effects on-demand.
Banuba Video Editor. Picture-in-picture mode
What matters in video editing SDKs
Given that the market for them is big and growing, it is important to have a set of criteria to compare different products. While it would take an obscene amount of space to describe each in detail, we can give you some reliable pointers.
This is what you should pay attention to when choosing a video editing SDK:
Feature set. Some products contain only the basic functionality, others have various add-ons and improvements: background replacement, face filters, virtual makeup, beautification, and more. In addition,

the exact implementation and quality of the features

can differ from one SDK to another.
Compatibility. This includes support for various platforms (iOS, Android, Web, PC, Mac), devices (low, mid, and top-tier), and development technologies. For example, Banuba Video Editor SDK is compatible with Flutter and React Native.
Performance. The industry standard is running 30 frames per second. However, it can differ depending on the hardware, enables features, and other simultaneously running applications. In addition, heating and battery power consumption also factor in here, especially in the cases of prolonged use.
Price and pricing. This is the criterion that is meaningless without the rest. For example, a Rolls Royce is much more expensive than KIA but also gives a lot more. The pricing model can also differ (per user per year, per 1000 minutes of exported video, etc.).
Other commercial aspects. They include documentation and its quality, support response speed, free trial availability and conditions, etc.
For more details, as well as an example of a step-by-step comparison, check out our dedicated article: Best Mobile Video Editor SDKs for Short Video Apps: Detailed Comparison. Or just contact us and our experts will give you some personal advice.
Trends and prospects for AI video editing
This niche affects many other industries. As a result, the current trends largely represent the application of AI video editing in other domains.
One of the most prominent examples is blending with eCommerce and social networking. People can now watch their favorite influencers and buy various products from them without ever leaving the tab with the video. A social network (e.g. TikTok or Chingari) provides the platform and payment system, built-in image recognition highlights the products, and the influencers themselves add a bit of star power. This approach is already huge in China but has yet to gain similar popularity in the West.
Another trend is the wide application of augmented reality. This is a solid match, as shown by TikTok and its competitors. But there are applications besides AR masks for people and animals. For example, it can be used in videos for wellness apps and plastic surgery to show the planned results. However, augmented reality features might require installing a complementary SDK. For example, Banuba Video Editor SDK needs Banuba Face AR SDK for background replacement and face filters.
Automatic moderation is also a valuable use case for AI video editing. Looking through many hours of questionable content requires spending money on dedicated staff and takes a serious psychological toll on the workers. Software, on the other hand, can detect visual and audial cues about restricted topics (self-harm, nudity, terrorism, drugs, etc.) and remove them in real-time. Some of the best mobile video editors and streaming apps include this feature.
Banuba AR Face filters examples
Conclusion
With this guide, you will be able to confidently navigate the world of AI video editing and make informed decisions. The niche is only expected to grow, so feel free to get on the bandwagon now. And while you are already here, try Banuba Video Editor SDK: it's free for 14 days!
Top