Blog
Video Conferencing
15 Main Features of Video Conferencing Software to Stay Ahead in 2024
The pandemic has locked us up in our homes, but video conferencing apps have made us still feel connected. We've grown so accustomed to virtual meetings that even when the world seems to be returning to its pre-pandemic flow, video calling apps keep booming. So, if you're asking yourself whether building a video conferencing app is a good idea in 2024, the answer is yes. But remember that the market has changed, and now it's expecting more than just basic video calling functionality. Read on to learn about the 15 main video conferencing software features.

Banuba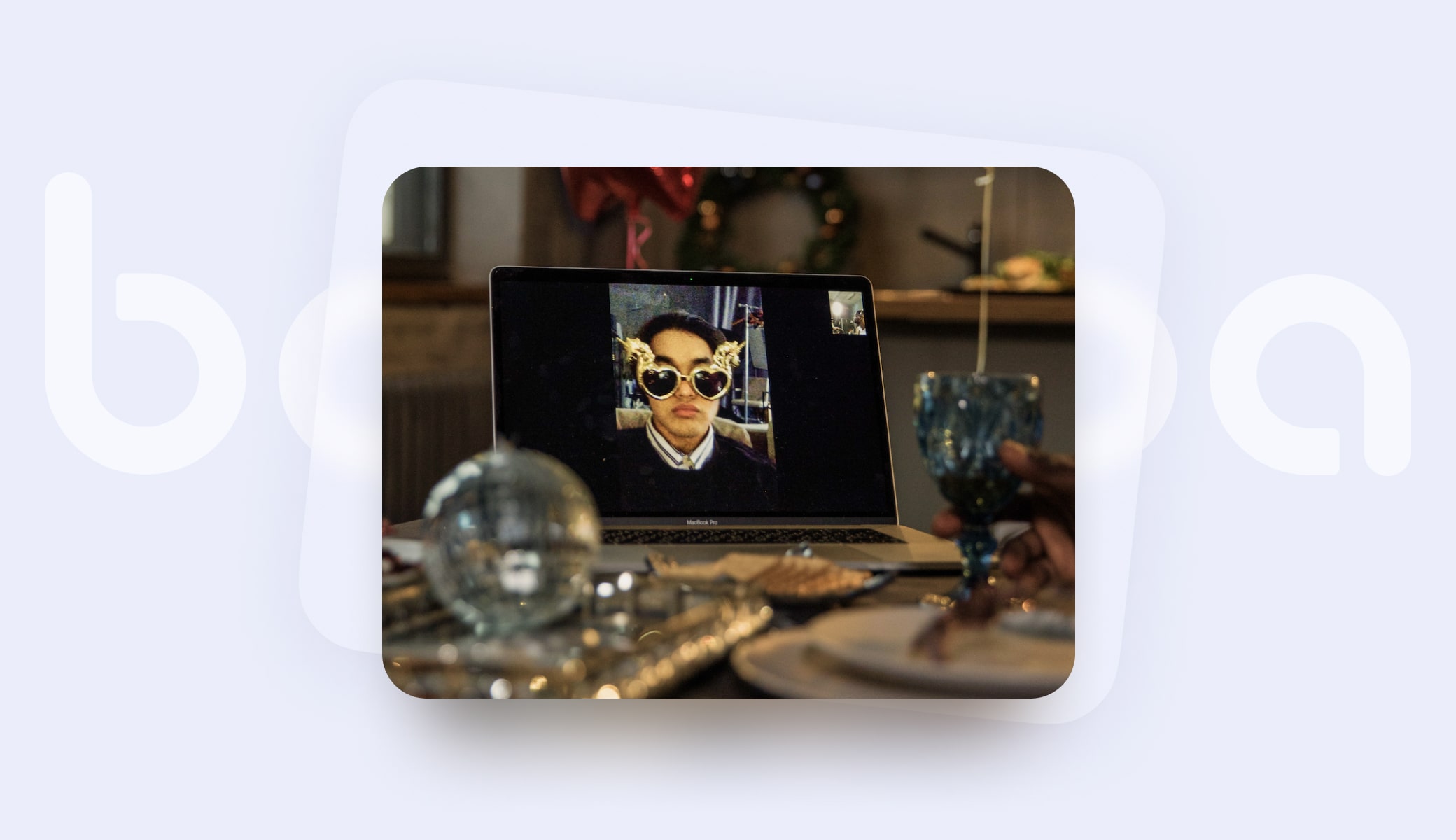 Group meetings
If you're going to build a solution that allows for one-to-one video calls only, you condemn it to failure from the start. A modern video calling app is a universal solution for gathering groups of people for a variety of purposes, such as parties, workouts, lessons, and business meetings. No wonder that apps like Cisco Webex, Skype, Zoom, Google Meet, and FreeConference allow for 100 participants and thousands of visitors. Currently, it's one of the main features of video conferencing software.
Besides, when launching your own product, be sure that it has adaptive layouts. They will enable your users to organize participants into patterns, such as Gallery view, Speaker view, and so on.
Video conferencing with Banuba's avatar
Messenger
Though video conferencing experience is very similar to face-to-face communication and has a lot of advantages over text messages, you won't find a video calling app without an in-built chat feature, enabling users to send messages, emojis, stickers, and files. It's simply a must-have.
The ability to exchange messages will save your users in multiple cases. It can help them reach out to everyone when their microphone is dead, ask a question without interrupting the speaker, share a file so everyone can give it a closer look after the call, and so on.
Messanger example
Background replacement
A rack with drying laundry can ruin the professional feel of a business e-meeting. Luckily, a virtual background will take the pressure of looking for a presentable wall off your users.
This feature uses AI to detect a user's face, distinguishing it from the surroundings. Then, everything behind the user is replaced with an image (or a video) or blurred. Apps like Skype, Zoom, Cisco Webex Meeting, RingCentral, and many others allow you to choose from various default backdrops or upload custom ones. You can also enhance your solution with the background replacement feature using our SDK for video calling app development.
Replacing backgrounds can be fun
Noise reduction
While it's mostly possible to make a part of your home look presentable enough for a video call, eliminating background noise can be extremely difficult. A barking dog, a noisy neighbor, or a kid fooling around will make the users manually mute and unmute the mic all the time. It might not be hard, but it's definitely irritating, so don't neglect the noise reduction function in your solution.
This feature comes in different forms. For example, while some solutions unmute the microphone only when the user speaks, others create a boundary around the meeting area, blocking any sounds outside it. Besides, many video conferencing app providers — Microsoft Teams, for example — offer different levels of noise suppression, such as low (sounds like a computer fan is filtered out), high (everything that isn't speech is blocked), and default (the system defines the optimal level of noise reduction automatically).
Speaker tracking
Gestures and body language sometimes convey thoughts and emotions more efficiently than words. But what about a video conference with, say, 30 active participants? In such e-meetings, it's hard to understand who's speaking, not to mention picking up their non-verbal cues. That's where a speaker tracking feature comes in useful.
As the name suggests, this functionality detects and spotlights the person who's currently speaking. You can find this feature in all major video conferencing solutions, including Zoom, FreeConference, Google Meet, and more.
Screen sharing
Gone are the days when we used to send files and links to the e-meeting participants to explain or point something out. With the screen sharing feature, users can demonstrate the contents of their screen in real-time without having to send anything. No wonder we're all used to this function, with "Can everyone see my screen?" being the second-most popular phrase during Zoom meetings in 2021.
Screen sharing is one of the basic features of video conferencing software and, quite often, is available for free. In most cases, it implies the ability to share one screen at a time, but some video calling app providers go even further. For one thing, Zoom users can share multiple windows at the same time without having to share the entire desktop, which leaves them a little bit extra privacy. On top of that, the app allows multiple e-meeting participants to share their screens simultaneously.
Screen sharing example
Video recording
Sometimes, we come to a meeting too late, or there's an insightful webinar we want to rewatch. Wouldn't it be great if we had a recording?
Most video conferencing solutions allow you to record events, save them in the cloud, and share them with the participants almost instantly. Besides, all prominent platforms — Zoom, Google Meet, Microsoft Teams, and Webex — make it possible to recover deleted meetings within a certain period. It's standard practice for video calling apps, so be prepared that your users will expect your product to provide video recording. Accessing to more features makes it engaging and valuable, tracking the product usage data helps to analyze and predict customers behavior.
VoIP
A decent video calling solution should offer various options and the ability to switch between these options easily, without logging into other apps or pausing the communication. Video calls, instant messaging, and phone calls are a must-have trio in this case.
To implement the phone calling feature into your app, enhance your product with Voice-over-Internet Protocol (VoIP) — a technology that allows users to make phone calls over the internet. Skype, Google Hangouts, WhatsApp, Facebook Messenger, Viber, and WeChat are just a few examples of products that support VoIP.
Real-time captioning
If you want to make your video calling service accessible to everyone, including people with hearing disabilities, make sure your product supports real-time captioning. This feature of video conferencing software uses natural language processing to convert speech into subtitles in real-time. All major providers — including Google Meet, Zoom, Microsoft Teams, RingCentral, and Webex — offer automatic captions. Some even allow event hosts to add manual subtitles beforehand.
Real-time captioning example
Interactive whiteboards
If your future app is intended for corporate or educational use (or both), consider enhancing it with a virtual whiteboard feature, and your users will thank you for that. A virtual whiteboard is very similar to a physical one: it allows multiple users to collaborate, illustrating their observations, thoughts, and ideas just like they do offline. The only difference is that it's all possible over the internet.
LiveWebinar, FreeConference, Zoom, Google Meet, Teams, and other apps for group e-meeting all offer in-built whiteboards. Other solutions have whiteboarding integrations. For instance, you can use a Miro board during a Dualpad video call without opening the Miro app.
AR face masks and avatars
Having fun is one of the ways to prevent a so-called "Zoom fatigue" — burnout associated with overusing virtual meeting platforms. So, why not integrate this "fun" into a video calling app? Adding AR masks and avatars is a great way to do that.
For example, in Zoom, users can choose from a large variety of Snapchat-like filters, including hats, sunglasses, eyebrows, mustaches, flowers, animal faces, and beyond. And the greatest thing here is that you don't have to spend hours coding to create something similar: our SDK gives app makers access to over 600 face filters and avatars — all tested in real apps.
Example of AR mask by Banuba
Beauty filters
An ordinary lipstick, blush, eyeliner, and concealer can have a transformative effect: they change the way we look and feel about ourselves. So no wonder the internet is brimming with makeup ideas for video meetings.
And video calling app providers sure know that makeup gives people confidence. Zoom and WhatsApp offer beautification filters, enabling users to smoothen out their skin, hide blemishes, or put on full-fledged makeup in a couple of clicks. Don't want to fall behind the competition? Embed the beautification functionality into your product using our SDK.
Beauty filters and face masks can be combined with custom backgrounds
Event performance and attendee attention reports
If you're building a solution for group meetings, consider enhancing it with a reporting feature. This will give your users insight into how well their events are received and what needs improvement.
A basic performance report contains information on how many people registered for the event and attended it. However, some providers go beyond these metrics. For example, Webex indicates whether an attendee has minimized the event window or brought another window in focus over the event one. Zoom allows users (CTOs, CEOs, or C-levels) to review how their organization uses the tool. RingCentral Meetings notifies the host if an attendee doesn't have the event window in focus while someone is sharing a screen.
Example report
Security features
If something is popular on the internet, there sure will be cybercriminals to exploit it, and the boom of video conferencing wasn't an exception. Their intentions typically range from disrupting a meeting to gaining access to sensitive data. That's why it's critical to take care of your app's security before launching it to the market.
With the rising number of "zoombombing" reports, video conferencing services have lifted their security bar. Zoom, for example, now protects its video meetings with meeting and chat encryption, waiting rooms for attendees, the lock-a-meeting feature, passcodes to protect a meeting, screen share watermarks, audio signatures, attendee activity restriction settings, and beyond. Other video conferencing app providers don't fall behind the giant and are regularly rolling out new security features, too.
Integrations and add-ons
Implementing an integration-friendly solution is not an option these days. It's a must. Just look at the market: Google Meet connects with over 90 apps, Microsoft Teams has listed over 600 solutions in App Store, whereas Zoom boasts over 1,000 integrations.
Integrations have two major benefits for developers and users. First of all, they enable app providers to offer rich functionality without coding everything from scratch. Second, your users will be able to integrate your app into their system of services and use it without interrupting their workflow. A win-win, isn't it?
The bottom line
Yes, you have to consider loads of different functions, requests, possibilities, and obstacles when developing a video calling solution in 2022. But you know better than anyone that hard work pays off. And if you want to make it a bit easier, check out our SDK to get many of these features. We believe in you!
Top