Blog
Video Conferencing
Latest Video Conferencing Technology To Watch In 2023
Video communication has become a new global norm, with billions of people interacting with each other every day. Its spread has triggered interest in new camera experiences, and a desire to go beyond simply being able to see and hear each other. Our virtual connections mean much more than they used to due to video conferencing being integrated into our everyday lives — our work, leisure and education. Learn how the latest trends in online communication are shaping the video conferencing software market.

Banuba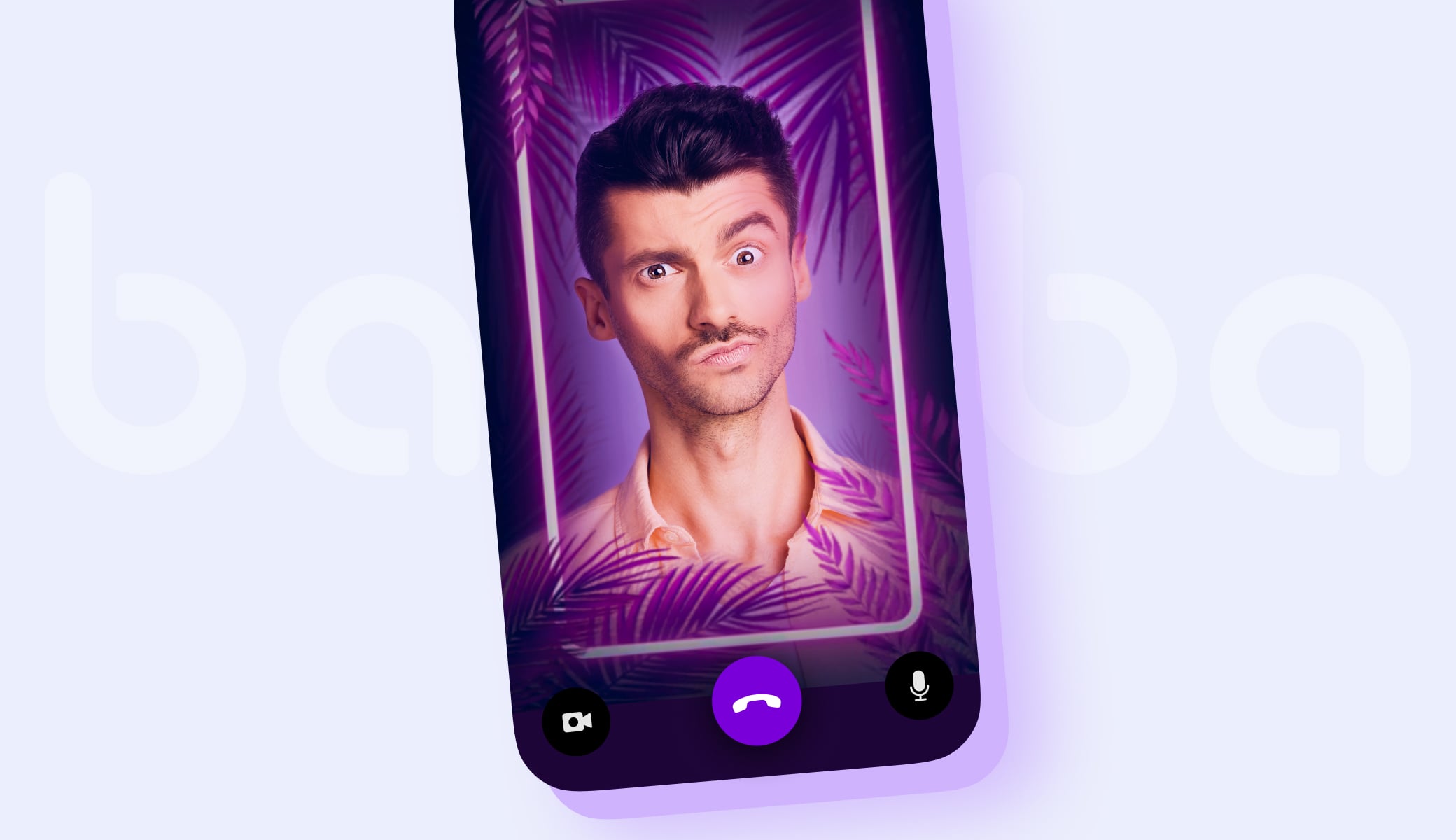 What are the key video communication challenges today?
Video conferencing technology eases our everyday communication. But it can also lead to serious problems for both users and businesses. Video conference solution providers need to consider them to address both market and user needs efficiently. So, what are they?
Zoom fatigue
The 2021 Webcam Survey showed that approximately 50% of users report Zoom fatigue from their everyday video calls.
Among the reasons that lead to this state Stanford researchers have identified:
excessive amounts of close-up eye contact

seeing oneself for prolonged periods in real-time during video chats

reduced mobility during video calls

increased cognitive load compared to regular face-to-face interactions.
Lack of engagement
The tiring effects of everyday video interactions contribute to the lack of engagement among participants. A study by Harvard Business Review suggests that most people who withdraw during video calls do so because it is hard to be fully immersed in long conversations.
There are five major reasons for such disengagement:
the participants do not fully feel the problem that is being discussed

they do not feel responsible for the problem, they do not get personal tasks during such long conversations

they keep getting lost in incessant PowerPoint slides

they find it hard to passively follow a speaker for longer than 5 minutes.
Lack of call acceptance intent
The researchers argue that the video call acceptance intent rate depends on the degree of enjoyment the participant expects from a video call as well as its expected usefulness. If users expect low enjoyment or assume the call will be unhelpful, the decline in call acceptance increases significantly.
These stats highlight why it's so important for video chat app developers to motivate users to accept more live calls, as well as monitor and improve the rate. Adding AR video conferencing features can be a way to increase these rates, as these features make video interactions more enjoyable.
Seeing our digital selves distracts us
Source: Wired
One of the problems associated with modern video calls is that people stare at themselves. As a result, the participants start feeling bad about their appearance, constantly monitoring the way they look. Seeing their digital twin is a distraction, and this negatively impacts team performance and individual satisfaction. This happens because of the increased self-awareness and cognitive overload, as the users must process more information compared to regular in-person communication.
In part, this can be addressed by AR beauty tech which removes blemishes and subtly negates camera distortions to make the person look better.
Privacy issues
While people are increasingly participating in online video interactions, the National Security Agency assessed the most popular video-chatting tools and reported that each of them had at least one security deficiency.
For example, at the moment of the assessment, Google G Suite and Microsoft Teams did not have end-to-end encryption and did not use an open-source code, while Cisco WebEx, Zoom, Slack and Skype for Business had issues with data deletion policies, which could potentially place the participants at risk.
In addition, there is a psychological aspect of user privacy to consider. As many people go on live calls from their homes or public places, there is a need for adjusting appearance and environments during video chats. Features like background remover, blurring effects, beautification filters, AR face masks and other similar tools allow users to feel more relaxed, as they can control what is shown to others during live calls.
How technology shapes the latest video conferencing trends
One of the most influential science fiction writers of the 20th century, Arthur C. Clarke, said 50 years ago: "The world won't commute — it'll communicate." His future has now become our reality. Amazingly, we can now talk face-to-face with anyone, instantly, no matter our physical location. But that's how life is — once we get something we want, we seek more. Now, we see communication as not just an ability to see and hear people at a distance, but as a creative process, completely different from our traditional face-to-face interactions.
While problems related to video communication exist, the video conferencing industry is adapting to this new reality, offering solutions to current challenges.
Sometimes users must attend video meetings that run on different communication platforms, which means switching between Zoom, Skype, Microsoft Teams and so on during the day. The good news is that Zoom, Cisco and Microsoft will soon become interoperable, allowing people to participate by logging into any of these platforms. This, at least, will partially reduce the everyday stress and anxiety associated with using multiple accounts for the same activity. With time, such interoperability may become a new norm for both existing and emerging video conferencing apps.
Another important trend in video communication is the integration with artificial intelligence (AI) and augmented reality (AR). These technologies help to streamline everyday communication setting up new trends and standards for video conferencing platforms and apps. Let's take a look at them in detail.
Latest video conferencing technology trends
1. Augmented reality is growing in demand
Source: TechNewsBoy
If you look back at video conferencing trends from 2018-2019, you'll hardly find anyone betting on augmented reality. It was meant to become a collaboration tool, not a communication one, but even then the technology had miles to go before large-scale acceptance.
The 2021 Google Trends report clearly shows accelerated interest in AR filters and virtual backgrounds for video conferencing. What's interesting is the after-pandemic levels are still outdoing the before-ones, which means the demand for engaging AR video call features will continue to grow.
Source: Google Trends
Today, after global shifts in people's digital behavior, the role of augmented reality in video calls has increased as never before. For example, Facebook executives argue that AR can solve the Zoom fatigue problem during video calls by making them more immersive and interactive.
Similarly, AR does not simply add features that make meetings more enjoyable but also lets users emulate the features of traditional face-to-face interaction during video calls by placing the participants into actual physical environments around them.
2. Avatars and face filters
Animated avatars that allow users to generate a 3D model of their face and turn it into different characters and objects may address the problem with staring at oneself during video calls. In addition, this is a great way of reducing anxiety associated with personally appearing in front of a camera. Just think of a Super Mario character representing you during a video call — it is both less stressful and fun, which could positively affect the video call acceptance intent.
AR filters Banuba demo
The same can be said for face AR filters that augment your appearance with natural beautification tools, changing background, putting on a virtual hat, sunglasses or switching your face with a celebrity. Such features are important for younger audiences who are actively using video communication apps in their daily lives, with 63% of GenZ users reporting AR filters are key to keeping them engaged.
3. AI will provide better sound and image quality
People use video conferencing for multiple purposes and in a variety of contexts today, which sets new requirements for sound and image quality. For example, collaborative design and video streams require high digitalization to create the same experiences on any type of device and screen. Since many people attend video conferences from their homes and public places, the role of AI in adjusting both video and audio grows significantly.
AI is used to reduce noises, highlight speakers, create transcripts and summaries to ease discussion, optimize images, lighting, textures and backgrounds, blur or conceal objects and even recognize the gestures and emotions of conference participants.
Users can now also change voices, add sound and video effects accompanied by AR filters to switch moods, bring attention to what they say, make the conversation more lively or do this just for entertainment and fun. All this makes video conferencing a completely different experience from what it used to be a couple of years ago.
4. Instant meetings with WebRTC
Smartphone applications and computer programs grow both in numbers and in size. In addition, new apps consume space on our devices and frequently require setting up accounts which means extra efforts on the user's end. These are just a few reasons why instant meetings are growing in popularity.
Instant meetings are fully web-based — users can join a call without downloading an app or setting up an account for the service. All you need is just the URL that leads you to a video meeting. In this case, any browser can act as a video conferencing endpoint.
All the video conferencing trends described above can be applied to WebRTC (Web Real-Time Communication): the use of AI for video and audio enhancement, echo and noise cancellation, AR filters, virtual collaboration tools and so on. Recent data show that the demand for instant meeting services will be growing with the global WebRTC market expected to reach $38.16 billion by 2027, compared to $24.15 billion in 2020.
This list of industry trends will continue to expand, as AR opens enormous opportunities for businesses, users and app developers globally.
5. Virtual collaboration
Think of 3D graphics that can be shared with other call participants and manipulated by all parties during a video conference. This can be used for collaborative image browsing, 3D design modelling, immersive storytelling, online lectures, business presentations, product showcases and more.
Another way of using video conferencing apps for virtual collaboration is troubleshooting, tech support and customer service. Gartner suggests that 75% of capital-equipment-intensive industries plan to introduce AR as a key component in reducing costs associated with frontline workers by 2026. Manufacturing, maintenance and service workers can now remotely display instructions, troubleshoot problems and help customers more efficiently with AR tools for self-service and real-time remote assistance.
The proliferation of Augmented Reality Remote Assistance platforms and virtual collaboration platforms, such as Spatial, MeetinVR, Glue or Spaces, suggests that this trend will persist.
In sum
While video conferencing apps have brought serious challenges that impact our everyday interactions, such as Zoom fatigue and privacy concerns, they are also a great way of connecting people across the globe. Moreover, recent trends suggest that technology is evolving and adapting to new environments. Features such as avatars and face filters, virtual collaboration tools and AI algorithms that enhance video conferencing experiences transform the ways we interact even further, helping fight the negative sides of video communication.
Want to empower your video conferencing app with AR? Get in touch!
Top