Blog
Video Conferencing
How Personalization, Gamification, and Security Are Shaping AR Video Chat Development
Augmented reality (AR) features in video chats foster creative engagement in users worldwide. The trend toward personalization and gamification is pervasive and has been changing the ways we interact. Businesses use AR to empower their marketing campaigns, while consumers create tons of user-generated content. However, security and data privacy issues associated with AR video chats are a concern for many.

Banuba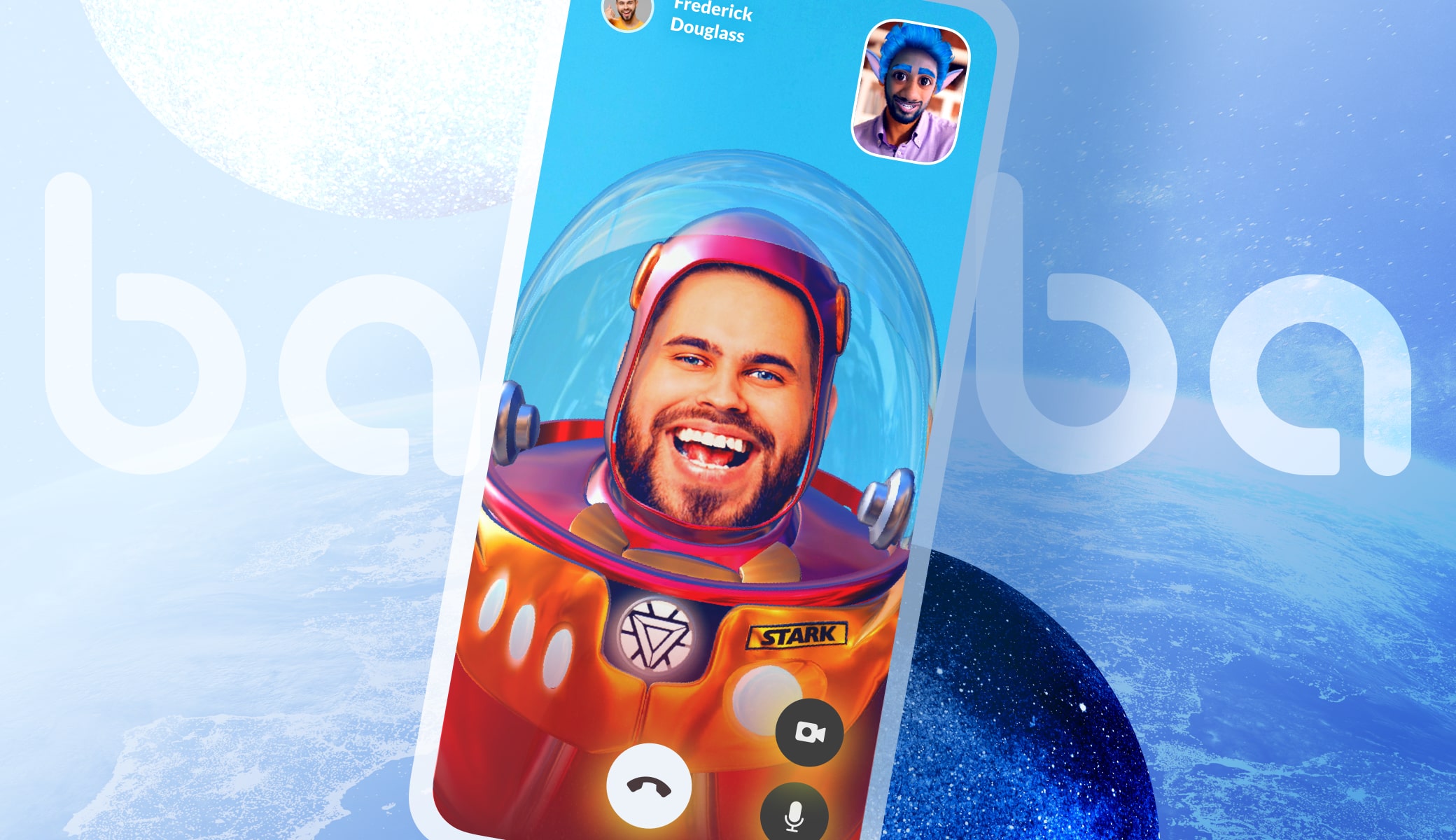 Video communication made a large step forward since the first-ever video call that occurred on April 7th, 1927 in New York. However, it was not until the early 2000s that commercial web cameras became vastly available to early Skype and instant messaging users. In the early 2010s, video chat apps with filters, such as FaceTime, WhatsApp, and Viber, became available to smartphone users and were massively adopted.
Many such apps combine social, entertainment, and collaboration features as the borders between these activities start to blur. A good example is WeChat, where users can connect, make payments, edit videos, and exchange multimedia messages. In 2020, 50% of global smartphone usage time was spent on social and communication apps.
Video chat apps today go beyond simply connecting people. With the introduction of augmented reality (AR), we can edit and customize ourselves and the world around us. Face filters, virtual backgrounds, and immersive collective experiences with 3D avatars in virtual working rooms are just a few examples of what AR video conferencing software could do.
This article is about the benefits and challenges associated with augmented reality in video chat apps.
Personalized video chat experiences can empower brands through user creativity
Augmented reality in video interactions makes every participant a creator. This means that AR video chat users are now empowered with a variety of tools that allow them to represent themselves and their environment in various ways. For example, with face filters, users can apply make-up without actually wearing it, add a tan, or otherwise enhance their appearance.
AR video features go beyond beautification. Apps such as TikTok, Chingari, or Instagram allow users to easily represent their lives as short video stories, where users can customize environments and create whole new virtual worlds in collaboration with others.
Thus, 83% of TikTok users have posted a video, while 43% have posted a duet video. TikTok micro-influencers had an average engagement rate of 17.96%, while 68% of engaged users reported watching videos posted by other users. User-generated content is a way of creative self-expression and collaboration through media, which makes it an efficient marketing tool for brands.
Source: Medium (TikTok usage statistics)
Forbes reports that more than 86% of companies include user-generated content in their marketing and get 28% higher engagement compared to standard corporate posts. Moreover, nine out of ten brands are currently considering using AR in their campaigns.
Source: BCG
All these trends suggest that AR-powered content creation tools will be in high demand for years to come. The ones with better effects will be more useful, as they would offer more self-expression opportunities. Banuba AI Video Editor SDK, for example, offers thousands of AR masks, virtual backgrounds, and other filters. New ones can be made quickly with 3D tools or ordered from the developer.
Gamification is instrumental for video chat user engagement
Gamification is another trend in mobile and desktop AR. In addition to games like Pokemon Go, virtual masks and immersive interactive experiences are also being introduced into conference calls and marketing campaigns.
For example, Sephora, a famous cosmetics and beauty brand, created an AR gamification experience in partnership with Snapchat. The filter was launched to attract primarily Muslim customers during the holy month of Ramadan. As a result, the brand reported that 5% of all website transactions during Ramadan came from this campaign.
Source: Forbusiness
Social gaming is a huge industry. According to Facebook's Chief Creative Officer Mark D'Arcy, in 2019 Facebook counted approximately 700 million gaming users. Overall, mobile gaming accounts for 26% of all media consumption hours, with 66% of gamers interested in using AR features in mobile games. It is expected that the VR/AR gaming market will grow to up to $2.4 billion in revenue by 2024.
Source: Statista (Virtual reality (VR) gaming revenue worldwide from 2017 to 2024 (in billion US dollars))
With many events and meetings being held remotely due to the pandemic, AR gamification is being introduced to video chat apps for both Android and iOS platforms. Brands are developing new AR video chat capabilities or adding gaming features to their existing video conferencing phone apps to increase user engagement.
For example, AT&T added AR gamification to their recruitment video calls with incoming college students. The participants were invited to play a game called AT&T's Culture Connector during the recruitment event.
To enter the game, students had to use their smartphone camera to scan the QR code shown on the screen. The participants then entered a mobile Web AR game that they could play in their browsers. The game features a runner character that the players control with their faces to collect items and jump over obstacles.
The participants were also able to share their scores with others to see which university performed best during the event. As a result, AT&T reported 85% user engagement with the game. This example shows that gamification can be efficient in engaging audiences during video conferences and virtual events. We will most likely see more gamified experiences like this in the future.
AR video chats raise security concerns, but these issues can be resolved
The boom in video conferencing apps has raised many questions about security. Users have reported instances of "Zoom-bombing" or screen highjacking among other potential problems. Similar concerns remain about augmented reality in video chats with filters and social platforms that use video AR features.
Many such issues might have to be resolved on the go. For example, early Zoom versions did not have end-to-end encryption, which put user privacy at risk. The app was also passing user device data to Facebook, which was subsequently patched.
If not fixed and accounted for on time, security issues may result in app abandonment. Zoom is a good illustration of this problem, as many companies and government bodies, such as Google, SpaceX, FBI, The US Senate, and Germany's Federal Foreign Office, have either restricted or abandoned the platform completely.
Video chats with filters and AR games also pose risks associated with location and movement data tracking. Pokemon Go, for example, was harshly criticized for collecting information on user movement. On the one hand, such data can be used to provide marketing offers to users, but it can also compromise privacy and even put users in danger.
For example, Pokemon Go was used by protesters in Hong Kong in order to legally assemble in certain locations. The app allowed users to organize without letting the police know about their plans, and with the excuse that they were simply playing the game. However, if such location and movement data were leaked, every participant could be tracked and consequently penalized.
The first Android and iPhone AR smartphone applications were offered in 2008, making AR video chat app development a relatively new industry. While security risks exist, current applications and tools for AR chat development are being constantly improved to resolve potential issues. Some, like Banuba AI Video Editor SDK, are secure by design: all the processing happens on the user's device and no private data is collected, processed, or stored. There is simply nothing that can be leaked through it.
Conclusion: The spread of AR opens new opportunities for brands, users, and developers
Video conferencing applications have been booming recently due to the pandemic and technological advances. Video chat apps with filters are moving toward more interactive ways of engagement, giving users the possibility to creatively represent themselves and their environment through augmented reality.
AR features in video chats provide new avenues for group collaboration and user-generated content. Brands and companies are taking advantage of the creative energy of augmented reality users to empower their marketing campaigns. The growing usage of mobile AR will most likely become a valuable asset for businesses worldwide.
Virtual events and meetings are being transformed with AR gamification. Companies such as Sephora and AT&T use such features in video chat to informally interact with their customers. Such interactivity has resulted in increased revenues and consumer engagement.
Security concerns still arise with the spread of augmented reality among smartphone users. Data privacy will most likely be among the central problems associated with video chats in the near future. However, developers are trying to deal with the possible risks by constantly enhancing their products and tools for building AR-powered applications.
So while you're at it, try our Video Editor SDK - an easy way to add AR capabilities to your future video chat app.
Top