Blog
Face Filters
SocialAR: How Augmented Reality Helps Social Media Brands Grow
SocialAR brands like Instagram, Facebook, TikTok, and Snapchat have revolutionized the social media landscape with never-seen-before immersive experiences since the Covid-19 pandemic. Users no longer need to leverage outdated and traditional post-processing image filters as augmented reality-powered capabilities now provide real-time 3D masks and effects.
Apart from high user engagement, why do more and more vendors turn to adopt socialAR technologies, and how do they facilitate the business growth from driving sales to growing revenue?
So, if you're in a social media space, sit back and keep reading to figure out the core benefits of augmented reality and social media fusion.

Banuba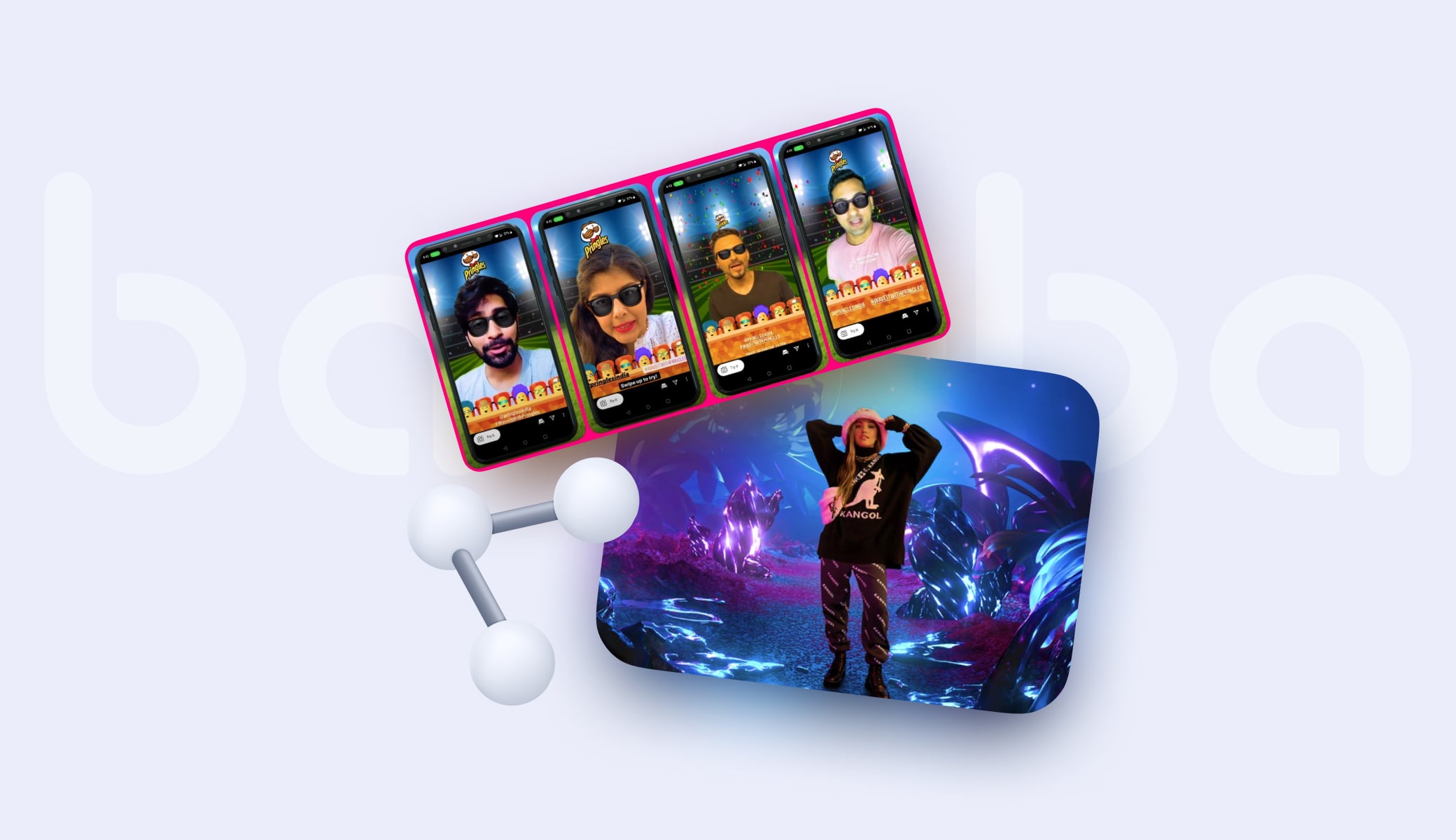 [navigation]
SocialAR: Augmented Reality and Social Media
Social media first showcased augmented reality filters in 2015. And yes, it was on good old Snapchat. The technology of face tracking was created by a Ukrainian startup called Looksery. Snapchat bought the company and introduced AR in the stories feature on social networks. Snapchat Lenses offered more than 3,000 AR camera filters and became a massive success with users. After all, that's what the app is known for.
Snapchat filters. Source
Instagram was next in line to incorporate AR features. Its filters are often used to make reality a bit more Instagram-like by adding virtual makeup, changing a story's background, or straight-up changing people's features to match modern "beauty standards." Users can even inhabit various characters — from Disney princesses to the Mask himself — in stories when updating their followers.
But TikTok truly gave AR camera filters a new wave of popularity. The app has created a social AR network that's a perfect environment for video capabilities and content to go viral. And going viral is exactly what brands want. One well-made and, more importantly, well-timed filter, and thousands of people learn about the product that launched it.
The metaverse might hold even more potential for AR development. While it remains a rather vague concept, it's pretty clear that social AR will be more applicable than VR for the next few years: no extra hardware, easy to develop, easy to use. And let's be honest, augmented reality AR is way closer to us than virtual reality.
So why are all these social AR networks focusing on adding face filters? Let's explore the top reasons why social networks love augmented reality so much.
6 Benefits of Social Augmented Reality
AR filters are not only for making users laugh at funny face modifications or allowing them to become their favorite movie character for a minute. Augmented reality for social AR network apps have more tangible benefits:
Increased engagement. Good social AR filters definitely draw attention to your app and motivate users to at least download it and have a peek. And trying filter after filter, they might become enamored with it and become active users.
Incentivized content creation. Make a set of good face filters, and users will spread them across social networks. We all love a good filter on Instagram or TikTok, and often enough, those filters have nothing to do with social network company's themselves. These companies simply provided a platform and a set of tools for their users to independently publish content. People making content for people.
Enhanced privacy. In these times, with so much communication happening online, people are more careful about what kind of information they share on the internet. If your communication or video-conferencing solution allows users to switch their real background to an AR one, they'll definitely feel more relaxed in the digital space.
User retention through extra-interesting features. The potential of face filters is virtually infinite. Creators develop new and unusual filters every day, even something as witty as playing ping-pong with your face. Immersive AR experiences like this are very attractive.
Virality. TikTok became such a popular social AR platform thanks to different filters going viral. Your app can do that too

—

just one viral filter or successful influencer campaign, and people everywhere will be talking about your product or brand due to its never-seen-before AR experiences.
Brand collaboration. Many AR filters are launched and popularized by brands; we'll discuss specific examples next. Having a big brand invite its customers to try a filter in your app can be a breakthrough for a startup's app.
Sounds good, doesn't it? If you feel like a bit more user engagement or virality would help your product, contact us. Banuba knows a thing or two about AR filters.
5 Must-Watch Augmented Reality Social Media Use Cases
From theory to practice. Now that we've told you the top reasons to try AR filters in your app, let's see how various companies and brands use AR to promote themselves and, of course, entertain people.
---
Felix Social AR filter
What's a creative way to advertise a cat food brand? How about placing an AR cat in users' homes?
In 2020, the UK cat food brand Felix launched their Instagram face filter: an animated cat appears on a smartphone's screen, walking around or asking users to scratch his belly. With people working from home because of the pandemic, Felix decided to provide a cat companion and some fun to newly adapted home workplaces and raise brand awareness. Were they successful? You bet. Millions of UK social network users wanted to play with their new digital black-and-white friend.
Felix AR filter. Source
---
Coca-Cola Social AR campaigns
Coca-Cola is a big fan of Facebook's Spark AR Studio and Instagram's AR filters. In recent years, they've run numerous AR filter campaigns, from letting social media users try on Santa's hat to the Coke Shuffle Challenge in collaboration with rapper Tyler, the Creator.
Mostly, Coca-Cola leads their AR campaigns from various regional accounts, but 2.7 million followers on their main Instagram profile says a lot. Pretty good for a soft drink company, isn't it?
---
H&M and Kangol AR filters
In a collaboration between H&M, a popular Swedish retail brand, and Kangol, an English company known for its streetwear hats and clothing, H&M sold a Kangol collection at H&M stores. To promote the collaboration, they chose quite an unusual approach. Instead of billboards and social network ads, they rolled out six social AR filters users could use to create and share music videos. Needless to say, word of mouth about the Instagram filters worked better than tons of money spent on ads.
H&M and Kangol effect. Source
---
Pringles AR filter
Food company Pringles also explored the social network world through immersive AR experiences. Their campaign, launched in India, provided an AR filter dedicated to cricket.
When users opened their mouths, they were greeted by six potato chip characters cheering and doing a wave at a virtual Indian Premier League (IPL) stadium.
The brand had over 200 influencers promote the filter. What's interesting is that the influencers were so-called nanoinfluencers: people with no more than 10,000 followers. The brand proved that you don't need bloggers with millions of followers to achieve great results with an AR collaboration.
Speaking of results, the filter received around 2.5 million impressions overall, all thanks to just one filter.
Pringles cricket filter. Source
---
Nike coloring book AR filter
Remember we told you that there's no limit to creativity when it comes to face filters? Nike proved that social network AR is more than just face masks and games. What about a coloring book where users can design their own pair of sneakers?
Nike Japan released a real-life coloring book containing black-and-white images of various sneakers. After users colored an image the way they liked, they could point their camera at it, and voila — a 3D modelling sneaker with their unique design appeared on their screen. Users could then share their creations on social AR media as short animated video capabilities.
Nike digital coloring book. Source
These examples show what just one AR-enabled filter can do when it comes to creating brand awareness and new user engagement. The trick is to make it fun and original while also keeping users' interests in mind. In other words, think about why a user would want to try the filter before developing it.
How to Create a Social AR App: DIY vs SDK
There are two major directions you can go if you want to add social AR features to your app: building everything from scratch or using an SDK - a finished piece of software that can be quickly integrated with whatever you're working on and perform the necessary functions. Both apply whether you already have a project on app stores or are just working on it.
---
1. DIY
Building everything from scratch is the way for those who prefer to have total control over everything. And we mean everything: from software architecture to user flow and every minor detail in between.
It is also an option that allows more room for maneuver. Whatever modifications you would like to make, it would be much easier to do so with your own software, rather than a third-party one. Moreover, you would be able to tailor the feature set to your goals. Suppose you don't want things like 3D modelling avatars or gesture recognition - just don't include them. While SDKs offer some customization options, they aren't as flexible.
However, if you want to develop your own AR system, you should have quite a lot of time and money budgeted for that. Augmented reality AR requires a specific skill set, and people with it don't come cheap. Even then you can expect to spend at least 6 months on an MVP. So the initial investment is rather high.
Although, in the long run, this option is cheaper, as over time the license payments will add up.
---
2. SocialAR SDK Solutions
The main advantage of using an SDK for all your AR needs is speed. A well-designed and documented one can be integrated with your app in a couple of days or a week. This allows you to go to market much faster than with a completely new system.
The lower upfront investment is also important. A yearly license is much cheaper than the development budget for a comparable feature set. Moreover, you will be getting a stable, tested product that has likely been implemented in many other similar applications and demonstrated its market worth.
Established SDKs also have expansive feature sets besides the core elements (AR-enabled filters, custom backgrounds, beautification, etc.). For example, Banuba Face AR SDK includes hand gesture recognition, hair recoloring with gradient and by strands, 3D avatars, and dozens of other functions. If you are looking to get an edge over the competition, using a well-developed SDK is a way to stand out with the array of creative tools you provide.
You can also use several SDKs for different purposes. Sometimes it can be hard to marry them but many companies acknowledge that and partner up with others to provide native support. For example, Agora focuses on audio and video capabilities. However, to add more options for their clients, they launched an extensions marketplace where you can get a bunch of compatible modules. And yes, it has AR extensions.
Summing up
Augmented reality and social media walk hand in hand. While AR can tap social networks for better user engagement and offer unusual ways to interact, social media is the main proving ground for new AR ideas.
If your startup has promising social network accounts or launches an app with social AR experiences, augmented reality-enabled filters are great to boost engagement. Just posting photos or sending messages might not be enough to make a product that stands out.
Not sure where to start? Banuba offers a ready-made AR SDK to introduce amazing face filters for your product. You can get a set of custom AR filters without spending weeks of precious time hiring a separate development team. Try our our free 14-day trial.
Top