Blog
Face Filters
Custom AR Filters or Standalone App: How to Create an AR Filter
Custom AR filters help brands save much time and investments on from-scratch app development. Software development kits offer tons of ready-made augmented reality effects out-of-the-box and let release an app faster.
In turn, still many companies consider custom face filter app development as it provides a unique and fully controllable infrastructure yet is a pricey and long-term initiative.
In this post, we'll guide you through the comparison of customized effects vs a standalone app and cover:
- Why augmented reality filters went viral
- 5 reasons brands create custom AR filters
- How to create an AR filter: 4 tools
- Why and when building your AR face filter app.

Banuba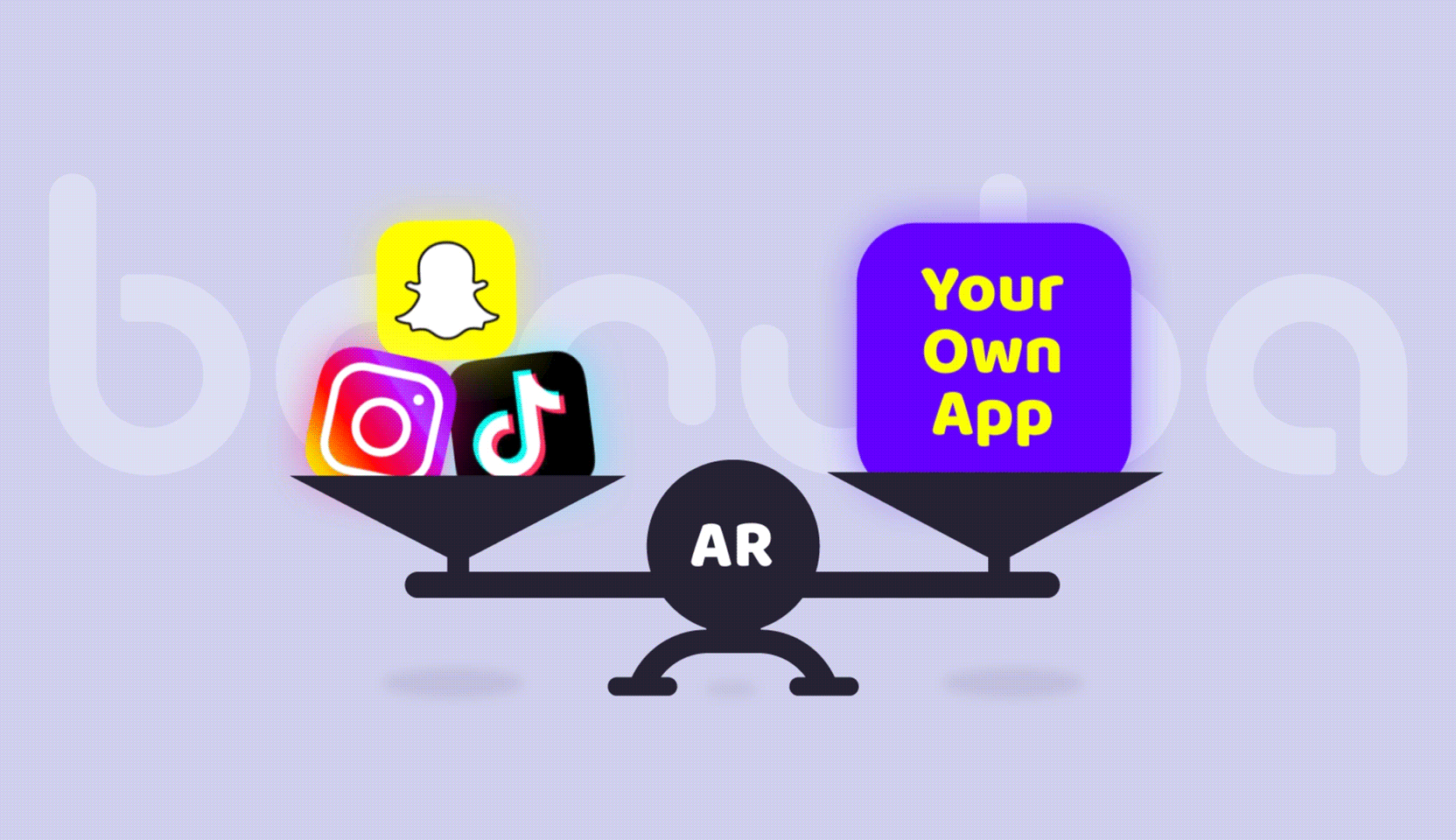 Custom AR Filters: Why They Did Go Viral
Like many successful technologies, filters have come a long way from a one-time novelty to a now widely-accepted tool helping people and brands to communicate and engage with one another on social media.
Major players, such as Netflix, Lego, Adidas, Gucci, and H&M, adopt AR filters as an integral part of their marketing strategy and see a real, measurable impact of AR on their business. They get access to hundreds of millions of users on Instagram, Snapchat, TikTok, and other apps.
Custom AR Filters
The common adoption of this tech, in turn, triggers more use cases and social contexts. Beyond social networks and mobile, AR filters are getting widespread in e-commerce (both web and outdoor), video communication and chat apps, education, and other spheres.
As a consequence of Covid-19 and social distancing, AR technology greatly contributes to the growing popularity of the "phygital" trend — something that is more real than trendy with each passing day.
Our everyday physical experiences, like walking through product aisles when buying groceries, are being placed in digital environments where all kinds of common interactions are augmented by technology. Now, we can try on products and walk through shopping malls without leaving our homes — all thanks to AR.
5 Reasons Brands Create Augmented Reality Filters
Augmented Reality Filters
---
1. Augmented reality sells
Beyond just being engaging and fun, one of the key selling points with AR is that it significantly reduces product uncertainty associated with online shopping. This, in turn, increases brand popularity and appeal among users. Not surprisingly, global revenue for mobile AR is expected to grow from $6.87 billion in 2020 to $26.05 billion in 2025, a 30.5% increase in five years.
---
2. Appeal to Gen Z
GenZ is considered to be one of the most active online audiences, with a buying power of over $143 billion. Being the first generation that literally grew up with gadgets at their fingertips, this user group spends more time with AR and other modern technology than anyone else. The researchers from CANVAS8 argue that self-expression is one of the most important things for GenZ.
AR filters empower GenZ users with essential tools for transforming their appearance, enacting different identities and immersing them into new experiences. These activities not just transform entertainment but also translate into additional spending, as brands are increasingly making use of this technology to facilitate interactions with their customers. Not surprisingly, these digital natives have increased their online spending by 125% when compared to pre-Covid levels in 2019.
---
3. Visual user-generated content converts better than ads
Banners, product placement and ad integrations contribute to the overall digital noise that frequently gets skipped and scrolled over resulting in lost revenue. In other words, wasted calories, so to speak. Modern digital environments are more about user-generated content (UGC), where audiences actively interact with brands and create viral social experiences.
Take this one stat: UGC photos are 5x more likely to convert customers than non-UGC pics, and this is even before you add AR experiences to promote your brand. In addition, 61% of consumers report they prefer retailers with AR experiences, while 40% of consumers say they would pay more if they could customize a product with AR. With more than 40 million people interacting with AR filters in the U.S. alone, your conversions could break another ceiling. To create augmented reality filters means to tap into all these benefits and more.
---
4. Custom AR filters drive traffic and engagement
According to AdAge, brands that facilitate user-generated content report a 25% higher ad performance, 29% increase in web conversions and 88% in brand engagement on social media. This means that branded AR filters and lenses are a great way to stimulate buying and user engagement through competitions and other online activities. Besides, there're many types of filters to try. You can find many AR filter games, they make any AR experience more fun and engaging.
---
5. AR filters enable great shareable experiences
The 2021 Snapchat report suggests that people are willing to share their AR experiences with brands and learn about such AR experiences from others. Thus, approximately 1/3 of users discover branded AR experiences through their friends and family. At the same time, more than half of Snapchat users find it important to share branded AR. These numbers show that shareable AR content triggers more views and helps brands reach out to new audiences.
How to Create an AR Filter: 4 tools
AR Development Kit
Okay, the benefits are clear, but how does a company or brand make one of these filters? One way to do that is to build them with social platform studios. However, in this case, your filters will only be limited to Snapchat or Instagram. Another way to make AR filters is with proprietary studios that come with SDK that not only lets you build custom filters but also allows you to build your own filter app.
It's important to note that this second option does not restrict your filters to a single platform, giving you more flexibility. Let's take a brief look at some of the most popular tools that make creating AR lenses and custom AR experiences for your audiences possible.
---
Proprietary Effects SDK and Studio
A proprietary Face AR SDK like Banuba includes studio tools for own effect creation. Proprietary software is not available to the public, but as a brand or developer, you can create custom face filters for commercial purposes. You can use them wherever you want - in your own mobile app, add them to the website or embed them in desktop software.
---
Lens Studio (Snapchat)
Snapchat launched Lens Studio in 2017 to enable users to create AR filters on their own. At first, regular users only had access to the so-called "world lenses" — effects enabled with the rear-facing Snapchat camera. The creation of "face lenses" was initially available to partnering ad agencies. Today, you can use Lens Studio to create customized Snapchat lens experiences for both rear- and front-facing cameras.
---
Spark AR (Instagram, Facebook)
Spark AR Studio is a Facebook-owned augmented reality platform that was opened to the public in 2019. Prior to that, the studio was launched as a beta version in 2018 and was available for a limited number of influencers, creators and brands. This software enables you to create custom AR filters for Instagram Stories, Facebook Stories, Messenger and Portal. Lens creators can use templates or start their AR filter project completely from scratch.
---
TikTok Effect Studio
Following Snapchat and Facebook, TikTok is planning to launch its own tool that will enable users to make AR filters for this app. TikTok launched beta testing of its Effect Studio in 2021. Those interested in testing the software can currently sign-up via the Effect House website.
According to TechCrunch, Effects Studio was characterized by TikTok as being in an "early experiment" stage as of August 2021. Currently, the tool is still in beta testing and is not yet available for full-scale use.
Key Use Cases of AR Filters
As mentioned earlier, there are two ways you can approach creating custom filters — proprietary Face AR Platforms, like Banuba, and Face AR Studios offered by popular apps, like Snapchat, Facebook, or TikTok.
Each way has its pros and cons. Choosing between these two types depends on your goals and expectations as a marketer, developer or business owner.
---
Your Own Face AR Application
If you want to build custom filters to use in your own app, then purchasing a proprietary SDK is the way to go. SDKs come with studio tools and ready-to-use content, such as filters and templates that you can fully customize. You can launch AR content you create in a proprietary studio on any app and platform you choose.
AR Filter by Banuba Face AR SDK
In this case, you have full ownership of the content and your custom AR filters can be launched outside Snapchat or Instagram. If needed, you can even turn the content you created into an NFT (non-fungible token). Another benefit is that you don't have to go through a review process. Filters in Snapchat and other social platforms must undergo moderation before they become available to the public.
---
On a social platform
If choosing this option, you must register on the platform as a creator or brand. The software you use to create your custom AR filters is owned by the platform and is restricted to a single app. For example, when you use Lens Studio you can only create content for Snapchat and its users — you cannot automatically use content created in Lens Studio on other social media. If you want to make your AR filters available on multiple platforms, eventually you will have to create them for each app separately.
4 Reasons to Create an AR Face Filter App
---
Growing loyalty among your audience
Launching filters on Snapchat can work just fine for a while, but they only allow you to reach the audience of Snapchat (or Instagram or TikTok). With your own app, you have better chances to make them stick with your service or brand.
---
More options to monetize and convert customers
When using social media platforms, such as Snapchat, you can only make AR filters that could get viral for a moment, but then they could get lost among the thousands of other filters created by other brands. In your own app, you do not need to compete with other brands for attention from your audience.
---
Increasing user engagement
Adding one filter in Snapchat limits the ways you can interact with your target audience. More than that, if the filter fails or is not popular among the users, there is no way to fix it once it is launched. In your own app, you can pull as many filters as you want, test different ideas for AR experiences to study your audience and revise the filters based on their preferences, which results in better user engagement and retention rates.
Support your sales and marketing activities
Mobile AR apps are great for supporting your sales and marketing activities. According to The Drum, engaging users with immersive tech, such as AR lenses, leads to a 50% brand recall rate. In addition, 47% of customers say they feel more connected with products that enable AR experiences. This means that adding AR experiences to your app can take your overall marketing efforts to a whole new level.
When to Launch a Filter on Social AR Platforms
Sometimes, building AR app is easy but not necessary and you can do just fine with the existing social media platforms. You can go with the existing platforms if you need the following:
---
Launch a quick ad campaign
With approximately 3.8 billion phones globally having the ability to launch web AR experience, launching an advertising campaign on popular social AR platforms, such as Snapchat or Instagram, could give you a great audience reach. Eventually, the more people you reach with your ads, the more possibilities to convert users into customers you get.
---
Test audience interest for a product
In 2021, there were approximately 700 million active mobile AR users worldwide across Snapchat, Facebook, and TikTok. If you are planning to launch a new product, you could definitely use these platforms to see how it appeals to your target audiences before you spend enormously on a full-scale marketing campaign.
---
Promote your brand on a new channel
The majority of consumers (72%) report that they prefer connecting with brands and businesses through multichannel marketing. This suggests that adding a new promotion channel could be instrumental in growing your customer base. Especially when using such channels as social AR platforms with the most active audiences that are willing to interact with brands and share branded AR experiences with others, as already mentioned previously.
---
Launch campaigns with seasonal offers
AR experiences drive user engagement and UGC creation, which means social AR platforms are perfect places for seasonal offers, promo codes, sales, discounts, and other ways of customer incentives. For example, you can start a Halloween costume sale with virtual try-on lenses on Snapchat to boost sales or start a virtual makeup contest and offer users a discount or free samples if they share their videos with branded masks. The possibilities for such promo campaigns are numerous.
Best AR Studios to Make AR Filters
When you choose to go with creating custom AR filters for the existing social media apps, Spark AR and Lens Studio are the two most popular choices. Both of them have their strengths and weaknesses, but both are great tools for creating AR experiences.
The most common issue reported by AR creators is that while both tools are great for making content, it feels like Lens Studio was developed in tandem with creators, while Spark AR was built by engineers first. This means that Lens Studio (Snapchat) allows creation more detailed and immersive experiences, as it supports 2K textures that result in better visualization. In contrast with Spark AR, it can also render shadows and apply full 3D body effects that help brands create higher quality filters and lenses.
Nevertheless, Facebook and Instagram have bigger audiences than Snapchat, which means you can reach more users. In 2021, Facebook had approximately 3 billion active monthly users, Instagram had approximately 1 billion, while Snapchat passed the mark of above 500 million active users per month. In addition, Spark AR provides more options to share your content than Lens Studio, which means your AR filters can drive lots of engagement.
In terms of measuring the effectiveness of your AR filter campaign, Snapchat tools are probably more attractive for brands, as they offer more insights and options to trace your ad performance. While Spark AR allows you to measure impressions, captures, and shares, Lens Studio is capable of not only showing you how many users have seen and interacted with your content, but also for how long they did so for each of your filters. This opens more possibilities for marketers to set up and monitor ad campaigns, which can also make a difference.
Overall, both Lens Studio and Spark AR are among the best AR tools for creating custom filters for Snapchat and Facebook/Instagram. However, if you need to reach audiences beyond just Facebook and Snapchat, then proprietary tools, such as Banuba Face Filters SDK is the way to go.
Bottom Line
As you can see from this post, custom AR filters are a great way to monetize and boost user engagement. This can be achieved in two ways — either by building your own app with Face AR functionality using proprietary software or by creating AR content with the development toolkits provided by popular social media apps, such as Snapchat, Facebook, or Banuba Face AR SDK. The choice depends on your business goals and needs.
AR filters and lenses are augmented reality effects that users can try on their faces and bodies in real-time. It becomes possible with computer vision face tracking technologies that match objects to users' appearance. For example, Snapchat AR lenses.

Instagram AR filters are augmented reality effects that users can try on in real-time with the face tracking technologies and computer vision neural networks. The most popular IG AR filters in 2022 are Stereoscopy, Not so basic, Big City Life, Red Berries, Cute Baby, etc.
Top