Blog
Video Editor SDK
How to Leverage the Power of User-Generated Video Content for Your Brand
Breakthroughs in mobile video-making tools and camera technologies made user-generated video content what it is today - a massive hit! Gone are the days when brands, especially the big names, controlled the conversation. Now user-generated videos get ten times more views than those uploaded by brands. On top of that, 52% of customers express more confidence in their purchase after watching user-generated product videos. In this article, we'll explore the topicality of user-generated video content, or UGV, and how brands can leverage it to reach customers. We'll also give you tips on implementing user-generated video content in your application.

Banuba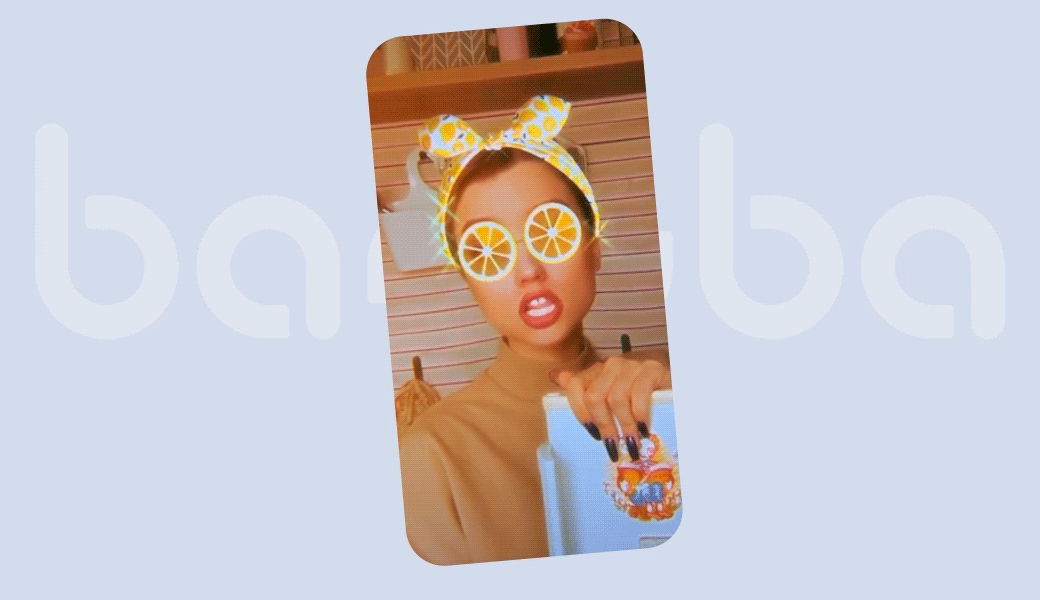 First things first, let's clarify how UGV differs from other forms of user content and how it impacts the landscape of social apps.
Everyday people create and publish their own UGVs.
What is user-generated video content?
User-generated content (UGC) is any content — text, audio, or visual — created by regular users. As for the UGC video, it includes short or long-form videos users record and share on the internet. Specifically, it covers the following types.
Short social videos. These are dynamic and entertaining social videos that run up to 30 seconds. AR effects and filters can often be added to make them visually engaging.
Animated stories. Quick videos created from user images.
Product experiences and reviews. Customers record their unboxing and product usage experience and share their impressions. This is the most widespread form of user-generated video content in e-commerce.
Vlogs. Short for "video log" or "video blog," a vlog is an account on social media or a website where someone regularly posts videos. People often use vlogs to chronicle their lives, share journeys, etc.
Live video streams. Live streams are videos that are simultaneously recorded and broadcast over the internet. Then, other people get to watch them in real-time.
Educational user content. These videos focus on do-it-yourself activities, which can be anything from handmade crafts and applying makeup to interior decors and home repairs.
Influencer content. Long-form videos that involve a brand, product, or service.
Gaming video content (GVC). Players record their gaming sessions or stream them live to share with the community.
If you don't live under a rock, you must have enjoyed some of these user-generated videos. But let's take a look at them from the business perspective.
Why UGVs deserve your attention
Today, user-generated videos are a highly developed form of content on par with that generated by brands. It's only a matter of time before Google includes social video content published on TikTok and Instagram in search results. Videos will become not only the best answer to your query but also the most sought-out form of presenting this answer to you.
For brands, the UGV trend going mainstream means having to rethink their digital touchpoint with the customer. For app creators, it's an opportunity to consider how they can grow their app, service, or platform. And before we jump to it, let's see how each party benefits from user-generated videos.
What are the benefits of UGV for developers?
For developers, UGV is a great way to improve the app viewer counts and user in-app spend time. After all, video is known to be the most effective method of engaging audiences. Videos go viral more easily and do a better job of propelling people to action. Plus, user-generated videos help drive active in-app communities, which attract brands and offer more opportunities for app monetization.
Top social apps prove that. Almost all of them use or are planning to implement video-making tools.
User-generated content on social media is proving to be a massive success. Just look at the veterans: Facebook and Instagram have repositioned themselves from image-sharing to video-first platforms.
Facebook holds space for videos and allows for comments and likes to increase user engagement. Instagram also no longer sees itself as a photo app. According to Adam Mosseri, head of Instagram, video has become its priority, and he considers TikTok and YouTube as the key competitors. As for TikTok and Snapchat, those two have firmly established themselves on top of the AppStore and Play Market thanks to short user videos.
By offering in-app video recording and editing services, you will:
Engage with your audience best
Help users create content
Make users stick: instead of sending them to other apps to create or share videos, you allow them to do that in your app
Attract more users with video effects, texts, and subtitles
Allow users to interact with each other in a more engaging way
Showcase your products and services in action without leaving your platform
Easily create tutorials and how-to videos
Feature interactive product demo videos
Sounds convincing, doesn't it? Let's talk more about how brands can use UGV to their advantage.
How can brands benefit from user-generated video content?
A perfect form of crowdsourced content, UGVs perform spectacularly for brands. They tend to be emotionally charged and are more likely to inspire action and attract attention. Most importantly, UGVs are known for being trustworthy, so consumers pay more attention to them.
For brands, UGV brings the following benefits :
Cuts costs on content production. User-generated video content does not require hiring professional actors, so it's much cheaper to produce than traditional video ads. Combined with accessible video-making software, videos featuring a brand or a product can be made much more quickly and at a larger scale.
Builds trust. Consumers want to know what they're getting before placing an order. They want to see, feel, and try the product — without Photoshop and ideal models selling them on studio photos. Augmented reality has a part in it, too — think virtual makeup try-ons — but user-generated videos do play a huge role in our purchasing decisions.
According to a Stackla survey, 86% of people value the authenticity and sincerity of content when choosing a brand. And for 60% of consumers, user-generated content seems to be the most authentic. As a matter of fact, 79% of shoppers say that user-generated content greatly impacts their buying decision.
The Harris Poll Report further reveals that campaigns with user-generated content appear most effective.
For many brands, there's no question that user-generated videos are a powerful marketing tool for driving purchases and followers. They've long embraced the value of user-generated content. The bigger question is, how to carry out an effective UGV strategy?
User-generated videos rule the social media world
How can you implement a UGV strategy in your app?
If you want to build a successful UGV app, it's important to make video creation quick, entertaining, and accessible for everyone, not just professional video designers. And proper use of video capture and editing tools can help. There are two ways you can get them.
---
1. Develop a custom video editor app.
If you want to launch your own video app for a specific niche and need all the features in one kit, a turnkey video editor is the way to go.
Firstly, it offers an unparalleled level of customization. Everything, from architecture and features to icon colors is built to fit your vision. This also goes for any functionality that makes your product different from the competitors. Whitelabel solutions don't offer this kind of control.
Secondly, it is a more flexible option. If over the course of the product's life cycle you need to pivot, changing a custom app would be easier than a purchased one. It is also much more cost-effective to modify.
The third major benefit is the low cost of ownership compared with licensed products. In the long run, the payments for the latter will add up. This is why the SaaS model has become so popular, after all. However, if you own the app, it will eventually start paying for itself and bring a higher ROI.
The main drawback of this approach is that it is more expensive in the short term. The upfront investment in development could be large. Though it can be mitigated by contracting a company with relevant experience. It will be able to deliver more on the same budget as its inexperienced counterparts.
You might also want to include AI video editing capabilities, as they have proven to improve the core metrics.
---
2. Add a video editor to your existing app.
A video editor integrated into your app will make it easier to create content from within your platform. In turn, this will allow you to attract and keep more users. For instance, an app featuring recipes will be much more powerful if users can also take videos of their cooking process. Dating apps can amp up engagement by allowing users to take and send videos.
You may use white-label video editor apps to add a video editor to your platform, or you can go down the SDK route.
Software development kits (SDKs) offer feature-rich solutions that let you easily integrate video capture and editing tools into your existing app. Just like their white-label counterparts, they accelerate development and cut down costs. The new features will be up and running in your app in no time. But if white-label apps only let you customize the user interface, SDKs offer more freedom to tweak the code and implementation scenarios.
Social sharing platforms are not the only way for brands to leverage user-generated video content. The ubiquitous spread of UGV has pioneered new use cases and trends. Live shopping apps let users stream their purchasing process. E-commerce platforms integrate web-based and mobile video creation tools that allow users to record and edit video right within the platform, helping brands build trust and brand loyalty.
According to Oberlo, 54% of customers want more video content from a brand, person, or business they support. Responding to the rising demand, industry influencers are racing to produce many different types of videos. Collecting product usage analytics helps to track the impact of current creative posts and choose the right strategy. Keeping up with the growth of user-generated content, app developers are quick to craft features that make their platform stand out.
What else can help you boost your UGV strategy?
It's one thing to have video capabilities in your app and another to motivate users to create and share UGVs. You'll have to equip your UGV strategy with some winning marketing tactics and campaigns.
---
1. Custom AR filters
Augmented reality (AR) helps your video stand out by superimposing digital objects into real-world settings. AR filters have become particularly popular, starting off on Snapchat, where users added virtual elements like giant eyes and cat ears to their faces. Facebook and Instagram later launched Spark AR, making it easy to create custom AR filters.
Big businesses, of course, are joining in the fun with their own branded AR filters. A recent case and a great example would be the Daniel Wellington watch brand.
The brand created an AR filter to support its new watch collection and partnered with influencers to promote it. What's interesting is that the effect itself doesn't sell the product but rather amplifies the advertising campaign, making it more memorable and recognizable.
---
2. Video challenges
Video challenges have helped boost the popularity of up-and-coming content creators. They're often easy to follow, and anyone interested can join in the fun. The challenges tend to attract tons of attention, pushing even top personalities to participate.
Case in point — practically everyone, from high school teachers and suburban moms to Oprah and LeBron James, participated in the ice bucket challenge, which aimed to raise awareness for amyotrophic lateral sclerosis. It's no surprise that the movement ended up raising more than $5.5 million.
---
3. Hashtag Contests
Start a hashtag campaign and offer giveaways to entice users to create relevant content. The participants can help make your hashtag go trending, boost the popularity of your brand, and improve engagement with your target customers.
Marc Jacobs started his own hashtag campaign called the #CastMeMarc. He invited people to send videos, promising to select a number of them as models for his company's advertising campaign. The hashtag got 15,000 entries in just 24 hours.
---
4. Influencer marketing
Instead of trying to send your message to millions of people, you can simply reach out to social media personalities with a huge following. Influencer marketing lets you leverage product mentions and endorsements from people celebrated in their area of expertise. Customers who, say, look to a certain YouTuber for makeup tips, are more likely to buy products endorsed by that person.
FIJI Water partnered with Danielle Bernstein of @weworewhat to showcase their water bottles. Featured in Bernstein's at-home workout videos, the product got plenty of eyeballs from customers who may not even be following the actual brand.
The future of UGV?
We are just stepping into the age of the creator's economy where brands are taking user content seriously. They learn to work with it and creators in their turn, learn to monetize it. In this emerging world, following the Facebook metaverse bet, Isn't it exciting to imagine the future holds for us? How will we interact with brands? what content we'll share and what digital trace will leave?
One can only guess but trends help us make predictions. Immersive technologies like augmented reality, virtual and mixed realities will never stop evolving. It means more types of user-generated content and more engaging video possibilities will be possible in the future. The more video-making tools we have, the more ubiquitous video content will get. The more powerful the technology gets, the more varied possibilities users have to create and share their experience with a brand or product.
AI video editing will automate routine tasks and give even more filters that enhance and autocorrect the image quality.
Video content will be more clickable with things like live shopping.
User-generated content may not actually involve the real user. Virtual talents, human 3D avatars, will help brands to grow audiences in the metaverse.
The latter in turn will unlock more options for user-generated content distribution, new forms and formats which now are limited only by imagination.
The bottom line
At some point, you'll have to include UGVs in your business strategy to keep up with the times. Whether you'll have to incorporate it into your app or simply use it as a marketing tool will depend on your unique needs. But if you're leaning toward incorporating, be sure to check out Banuba AI video editor SDK.
One thing is for sure: you'll be missing out on huge growth and outreach opportunities if you fail to leverage user-generated video content. So jump on that bandwagon — it's going to wait forever.
Top