Blog
Video Editing
White Label Video Editor: What It Is And When You Need One
If you want to build a video app, you'd have to hire a development team, QA and designers, research tons of information about video software, and then spend months iterating, testing, bug fixing, and optimizing... That's a long way to go. With a white label video editor, you can create your fully-branded video app in days and without any hassle.

Alena Arsenova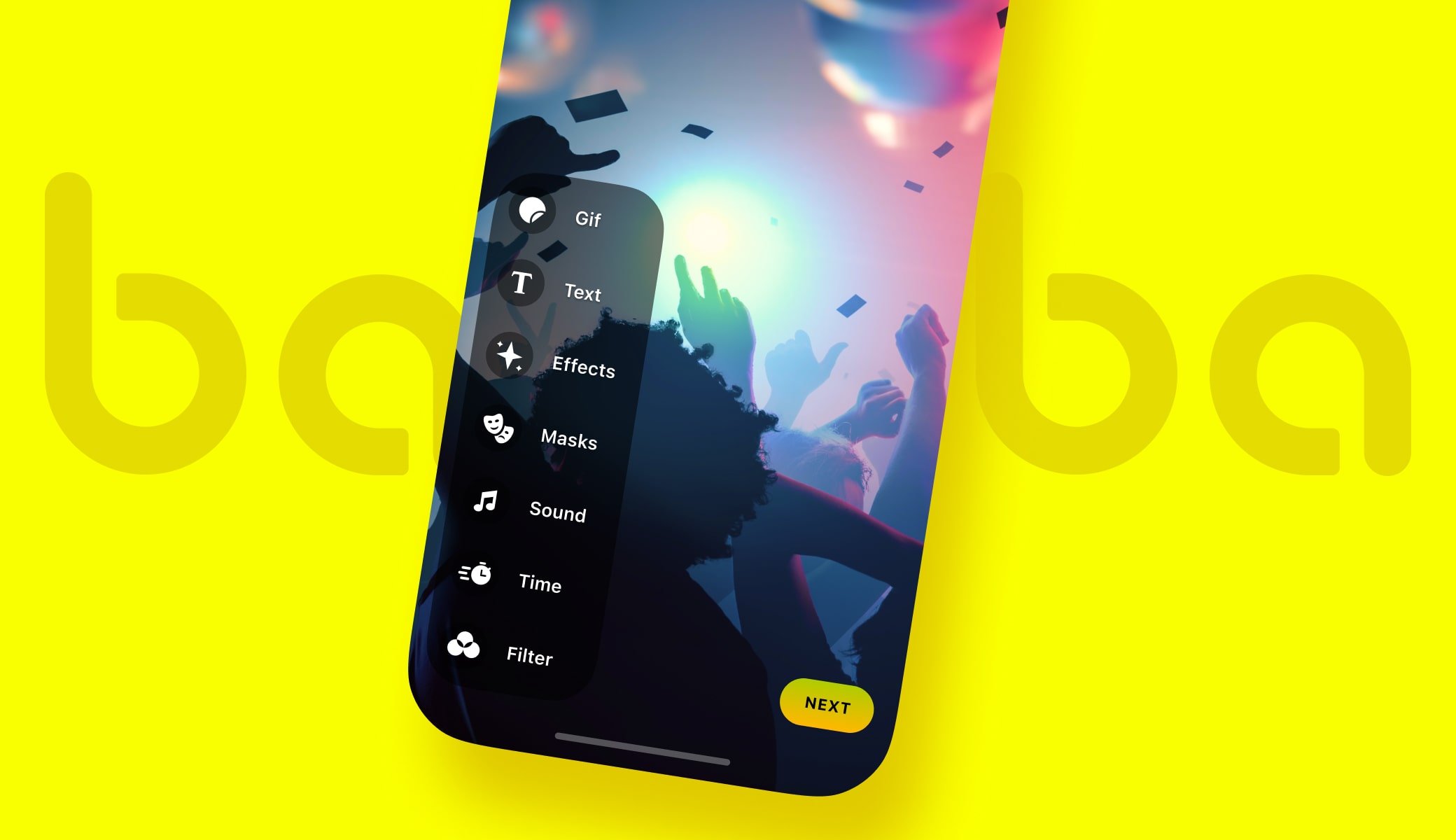 What is white label video editor
A white label app is a turnkey solution that you can license from a developer vendor. Such an application includes functionality, infrastructure and even a user interface, so you do not need to code or design anything yourself. All you need is to customize the interface and content so in the outcome, the app looks like your unique product.
Generally, under the white label model, vendors provide complex solutions like Snapchat or TikTok. Those apps are time and resource consuming and built with vendor's unique technologies. Video apps are exactly the case.
The white label video editor is a ready-made and functional video editing software fit for immediate use. You can integrate it into an existing iOS or Android app or build your own video service for a specific niche.
White label video editor interface
Case in point
Imagine you run a dating app, and you want to increase user engagement allowing them to record video profiles. Or you'd like to create a video platform for cooking fans where everyone can exchange their recipes.
So you need an editor that makes the process easy and fun for your users. A TikTok editor, just without TikTok. Searching for resources and developing such functionality from scratch would take you months and even years. But you can't wait that long as you definitely want to win competition and users.
The white label editor fulfils the technology part immediately while you can focus on marketing and promotion. So, let's see what exactly it includes.
What's included in a white label video editor
---
Functionality
The video editor includes all must-have features for video capture, editing, music, overlaying effects, file export and shares. Features are packed in modules and tweaked for non-professional content makers. It's an ideal fit for you if you look for a TikTok-style editor.
---
User experience (UX)
User experience means the user flow over the app. In a white label video app, the features are not randomly scattered but organized logically. The user experience with video creation is smooth and painless. And you save time on planning your app UX design and researching for the industry's best practices.
---
User interface (UI)
User interface means a convenient placement of icons and elements on the screen. Your video app needs to be intuitive and mindlessly easy to use. If it's not, you are misaligning your product with user needs which is a sure waste of time and money. The white label editor sees to it offering you ready UI, so you don't have to draw screens yourself. Each element is placed with the user in mind.
White Label Video Editor UI Layout
---
Filters
Whether you need basic video functionality or something advanced with AR, having a pack of filters can make all the difference. Filters let users create studio-like content without being professional designers. The white label editor includes a variety of video effects - from simple LUTs to complex ones like animated backgrounds and facial tracking masks. You can choose the content to fit your concept, use case or audience.
Video editing filters (LUT) example
---
Infrastructure
Video apps are complex solutions with their own infrastructure. For mobile editors, it's important to optimize and load content from the AR cloud to keep the app lightweight. Creating a proper infrastructure requires expertise and experience, but the white label solution already includes it. This way, you get not just coded features but a working solution.
When and why choose white label video editor
Let's start first with the when. Here are major business scenarios when a white label is your go-to choice.
---
You need a fast launch
If time to market is crucial for you and you need a fully functional video editor in your app right away, the white label one is your best choice. It implies easy customization of the visual elements like adding your fonts, icons and colors. And thanks to the white label fast setup, your app can go live in days.
---
You want cost saving
Purchasing ready software usually comes out more affordable than investing in custom or in-house development. White label video editor is not an exception. The cost for a video editing app can achieve hundreds of thousands of dollars, while the white label cuts that down by times.
---
You want a predictable, controllable budget
If you're a startup pitching your project or already run an app but seek to extend its features with video, you want to know the final cost of the endeavour. When you purchase a white label video app, you pay a license for its usage - monthly, quarterly or yearly. Pricing is clear and fixed, so you keep the budget under control and can plan ahead. You can easily predict the cost of video extension, pitch your idea to investors, calculate and plan investments.
---
Lack of resources and expertise
The video app team includes developers (iOS, Android), QA, UX designers and 3D graphic designers for effect creation. Add project management and rare technical expertise of working with video solutions. Assembling and onboarding such a team is neither easy nor quick, nor cheap. If video editing apps are not your key focus, trusting in other vendors (who has already done that) is a wise choice. And if you decide to put the video editor on hold or stop using it, you just cancel the license. No pains with team restructuring.
Summing up, you get the following pro's when choosing a white label solution.
White label pros
Rich production app without coding hassle

Cost savings

Predictable budget

Launch in days

Fast and easy setup
Cons
If video apps are your prime focus or you need flexibility with features, white label might not be your best choice. It implies no easy customization apart from UI elements. And you or your development team won't have access to the source code, which makes you dependent on the vendor.
Limited flexibility with feature customization

No source code access

Dependency on the vendor
Video editing software: SDK or White Label?
As a final thought, we'd like to make some clearance on the terms. You might have come across some like video SDK, API, library and framework. In case you wonder what's the difference, let us again put it simply. In video software, two terms - SDK and White Label - can often be used interchangeably, but they mean different approaches.
SDK (software development kit) generally refers to feature-rich solutions with a pack of features for any use case. It provides more freedom to play with the code, user experience and implementation scenarios.
White label video editor is more of an app rather than software. It implies no feature customization by third parties, only UI. If you need changes on a deeper level, you discuss them with a vendor, and such technical customization involves additional payment.
Our Video Editor is available in both models and supports a variety of platforms like iOS, Android, React Native, Flutter and NativeScript.
Want to create your fully-branded video app with ease? Drop us a line!
Top