Blog
Photo booths
10 Best Photo Booth Software in 2024
Photo booth software is an application that lets users take, edit, and print photos in an interactive way.
It helps drive user engagement, boost sessions, and increase sales in your app.
In this post, you'll get a detailed guide featuring:
- 10 best photo booth software in 2024
- 10 must-have features of your mirror photo booth app
- A detailed feature-by-feature comparison matrix.

Banuba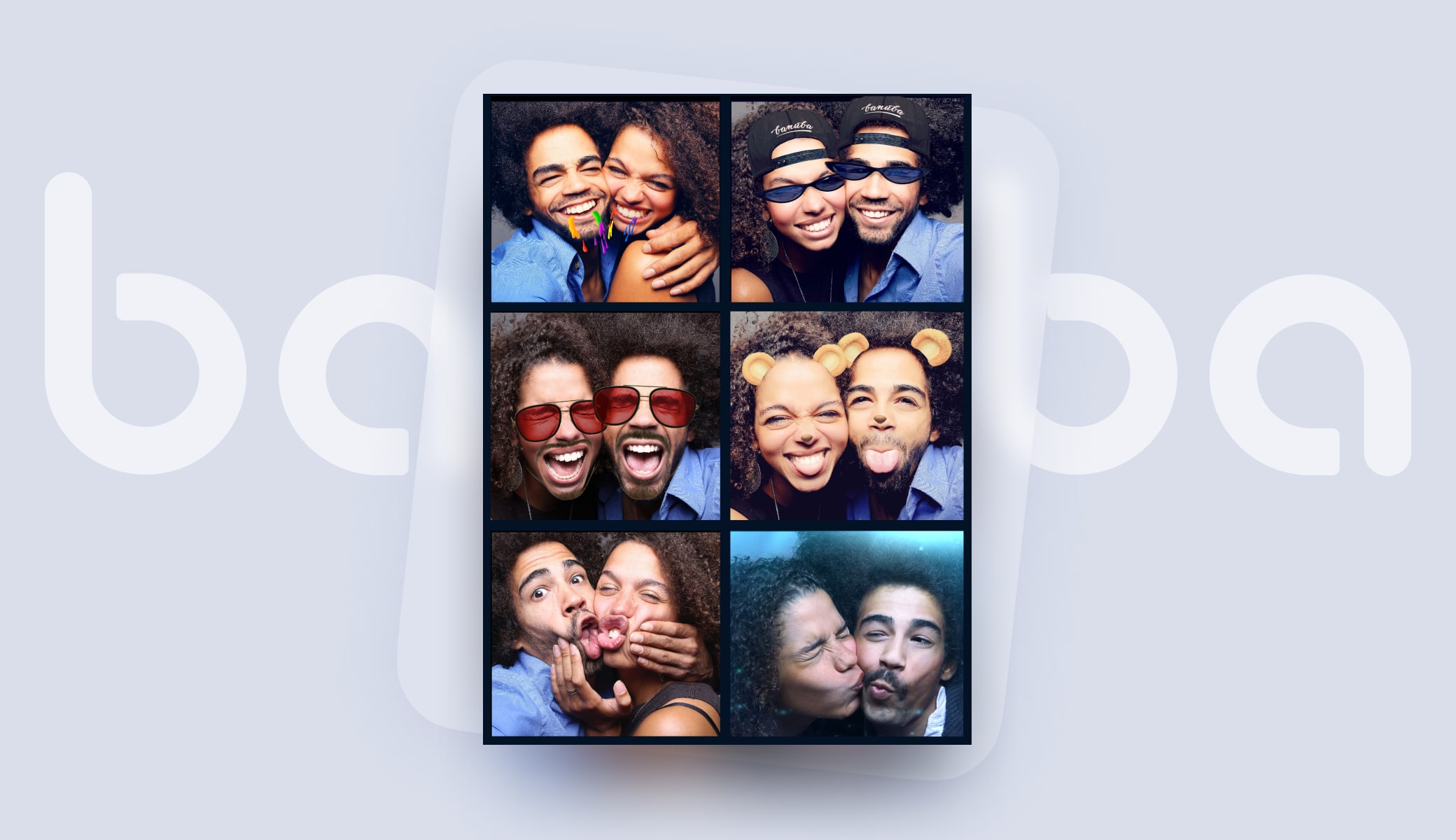 What is Photo Booth Software?
Photo booth software is an application that gives you complete control over hardware (cameras, screens) and automates taking, editing, and printing photos.
Simply put, it helps you set up a digital photo booth with features like:
Configuring a timer and intervals to trigger the camera
Choosing templates for image borders
Picking filters
Customizing overlays
Setting up printing, sharing, or uploading options
Once you install the software on your laptop or tablet and connect a camera to it, you're free to enjoy the many features mirror photo booth software offers.
AR photo booth. Source
10 Best Photo Booth Software in 2024
Photo booths do light up events, whether it's a big conference or a small wedding. But you need to know what software to pick for everything to run smoothly.
---
Banuba provides immersive photo booth software with an interactive experience of custom AR filters, multi-face tracking, live emojis, and engaging games you can play with your face gestures.
Banuba can also boast touchless interfaces powered by their proprietary hand tracking and gesture recognition technology.
Real-time background clearing and instant social media sharing make Banuba a perfect choice for photo booths at parties, exhibitions, stores, and fairs.
---
This piece of software has a super extensive feature-set with morphs, light paints, dozens of filters, multi-frame photos, and boomerangs.
On top of that, the tool inserts guests into a 3D, 360 photo booth software environment.
And the cherry on top: a free trial with subsequent free updates for the duration of the license purchased.
---
As the name suggests, Social Booth offers social sharing plus the ability to run contests and giveaways. The software has its own set of user interface graphics, but you can customize them using personalized backgrounds, buttons, and audio prompts. It keeps up with the trends and also offers built-in Mirror Booth features now.
---
This one is an easy-to-use photo booth solution that offers basic customization like changing the layouts and backgrounds (premium feature) or applying your company's branding and logos to the shots. If your internet lags, Sparkbooth has your back by queueing shots for uploading or emailing when the connection is stable again.
---
Booth.Events lets you have multiple iPad stations running at your event and manage them from a web browser. You can create and customize your event template, add hashtags, and upload branding features using the website. What's more, Booth.Events offers three free events to try before choosing a subscription type.
---
Photoboof gives you complete control over the printed layouts, adding photo codes, QR codes, or dynamic editable text. Though the software runs on Windows, it also has a matching iPad app to let users view and share images outside the photo booth.
---
The app has all the tools you need to run a beautiful event with a photo booth, including photo templates, dozens of filters, and overlay editors. Salsa also offers a slideshow of the photos and videos people took at the event, streaming on any device with a web browser.
---
This software lets you have a completely automated workflow—from capturing to printing photos. Compatible with professional Nikon, Sony, and Canon cameras, dslrBooth will dazzle your guests with high-quality shots they can easily customize and upload to Instagram or Facebook.
---
Breeze helps you create branded prints, GIFs, slow-motion clips, and videos. Your guests can design strips and print layouts with an intuitive photo drag and drop builder. Breeze offers an iOS app for managing events and a Windows-based app (also known as DSLR Remote Pro) for photo booth setup.
---
This virtual photo booth software is great for interactive competitions, creative video and photo effects, custom surveys, and analytics wrapped into a user-friendly interface. Snappic also offers extensive customization, so your web portal, emails, and photo templates can be designed using your brand identity.
And here's a recap of all the photo booth applications we've analyzed.
Feature-by-feature comparison matrix of the 10 best photo booth software

10 Must-Have Mirror Photo Booth Software Features
What makes a great photo booth experience? Is it filters, frames, or maybe how your booth interacts with visitors?
Modern photo booths go far beyond snapping and printing photos. Let's look at the features that will amaze your booth users.
---
Videos
Mirror photo booth software in use. Source
If a picture is worth a thousand words, a video must be worth a lot more. In the social media era, videos tend to be more engaging and help grow shares and audiences.
The right sort of photo booth software allows your guests to take shots and create boomerangs, slow-mos, zooms, and even use video or audio overlays with their snaps.
---
Face tracking and creative effects
Snapchat was a hit that made AR lenses all the rage. And AR photo booth software doesn't lag far behind.
But it should have built-in face recognition technology to let your event guests use augmented reality filters, digital props, or custom overlays in their photos.
---
Animations
Combined with face tracking or used separately, animations bring memories from your event to life. What would you like them to be?
A vibrant background? Animated GIFs from a bunch of photos? Looping GIF boomerangs? Experimenting with the format makes it even more fun.
---
Gesture tracking
Gesture tracking example. Source
This feature lets you have a contactless photo booth experience by recognizing visitors' gestures and allowing them to control the process without ever touching the screen.
It's a more hygienic and safe option, which is especially handy while Covid-19 is still around.
---
Green screens and backgrounds
Background replacement example. Source
This feature lets you replace the usual background with a customizable one. When your guests enter the booth, they can choose the background from predefined options before the camera starts snapping pictures.
The booth can then show the same backdrop image on all pictures or have different backgrounds for each camera shot.
---
Social sharing
In 2024, people expect to share their photo booth masterpieces with friends and upload them to social media accounts, showing everyone that they're having a good time.
Most photo booth software vendors offer sharing photos via email or popular social networks.
Some may even provide a contactless sharing option when your guests only need to scan a QR code to get their photos.
---
Watermarking
It's also called while-labeling and is used to place your brand or event logo on videos and pictures. Custom photo and video labeling also let you add personalized stickers for guests to choose from.
---
Platform support
Want to use an iPad to manage your photo booth? Not a problem. Today's software like photo booths isn't limited to one platform only. The market offers various options running on macOS, Windows, iOS, or Android. Just choose the device that will feel most comfortable in your event's setting and snap away.
Analytics
AR photo booth software is a great way to breathe new life into advertising campaigns. What's more, they can analyze the booth's performance and user engagement. Once it gathers enough data, the organizers and sponsors of the event will have insights and statistics about:
The number of photos taken and posted
Emails shared
Survey results collected.
This data can help generate new leads and get an unbiased opinion on how the event went.
---
Offline mode
Poor internet connection won't be an issue if your photo booth software has an offline mode. Yes, the photos won't upload to the online gallery, and sharing functions won't work offline. But the software will internally save all captures and guests' contact details to process as soon as the connection renews.
Those were the functions software like a photo booth is expected to have. Now, let's see what market players deliver on that promise.
Connecting the dots
Photo booth software is becoming a sign of a thriving party, just like great music and signature drinks.
Setting it up at your event will let your guests participate in something more memorable than just mixing and mingling. Thanks to funny looping videos, vibrant animations, and creative effects, they're sure to remember the wonderful time they had.
Most photo booth software available on the market runs either on Windows or iOS, though vendors like Banuba, Sparkbooth, and dslrBooth also offer macOS applications.
If you want to use an Android device, your choice will likely narrow down to Banuba.
It is available on all four most popular platforms, can be easily customized to fit any event, and is full of engaging experiences your guests will love. Contact us to find out more about Banuba's Photo Booth Kit today.
Top