Blog
Video Editing
12 Trending Video Editing Apps of 2024
Video content is king, as evidenced by TikTok and other social media platforms desperate to overtake it. In 2023, 83% of the entire Internet traffic was comprised of videos, with most people watching them on their smartphones, and the trend is bound to continue. This metaphorical gold rush is widely supported by companies making tools for the content creators, primarily video editing apps.

Simple trimming and merging isn't cutting it anymore. Augmented reality features (virtual backgrounds, AR masks, etc.) are also a must-have if you are looking to compete on this market.

In this article, we will list the top 20 trending video editing apps of 2023 and show how you can quickly integrate video editing features into your own mobile app.

Alex Krasko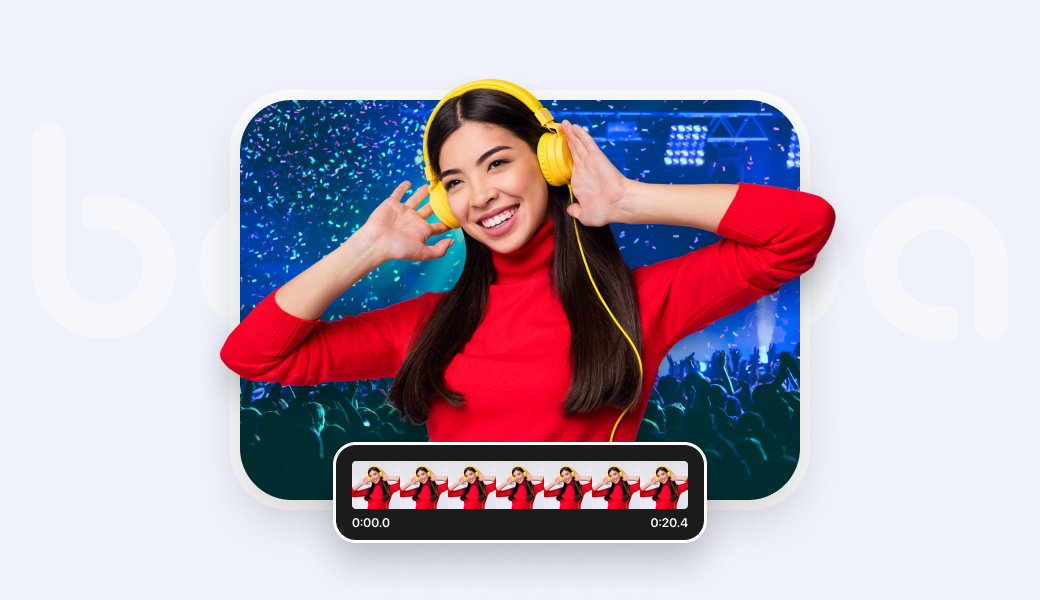 1. Videoshop
Videoshop is one of the most popular video editing apps for iOS and Android, with more than 20 million downloads and great reviews – its ratings are 4.9/5 on App Store and 4.6/5 on PlayMarket.
Videoshop boasts an impressive array of features:
Trimming/merging
Music
Sound effects
Slo-mo/rapid
Text overlays
Filters
Transition effects
Slideshows
Stop Motion
Lip Sync
And much more.
Virtual backgrounds are among the top video editing trends of 2023, and Videoshop boasts an especially effective version of this feature. We have dedicated an entire article to it, so feel free to read it to learn more.
If you want a few of these features for your own app, check out our video editor SDK/API. It is a ready-made module that will get you a ton of functionality in just a few days of integration.
2. Splice
This trending video editing app is hugely popular, with tens of millions of people using it every month. It is straightforward and easy to use, which is why it is often used by amateur editors to make social media content.
Splice boasts the following features:
Trimming/merging
Tweaking exposure, contrast, saturation, etc.
Slo-mo/rapid
Color filters
3D masks
Video effects
Transition effects
Chroma key
Etc.
The users especially enjoy the huge number of music tracks available and the ability to time the video to the beat.
3. Adobe Premiere Rush
Adobe Premiere Pro is a well-known brand in video editing circles. Rush is its lighter version, intended for casual users. It is adapted to mobile devices, although it has desktop apps as well.
Rush might be a simpler version of its Pro counterpart, but it is still very feature-rich:
Templates
Trimming/merging
Text/picture overlays
Royalty-free music
Multitrack timeline
Resizing
Etc.
And that's without premium features available to paying users. Though, some people don't like that Rush is tied to Creative Cloud (Adobe's umbrella project for all its media editing apps).
4. Lumen5
Lumen5 devs fully embraced AI assistance as being at the top of the video editing trends. It is designed to let algorithms do a lot of work and thus save the users time and effort.
This app uses a very different approach from its competitors, that's why its feature set is also distinct:
Converting blog posts to videos
Text-to-video
Watermark
Color correction
Reformatting
Text overlays
Auto-generated captions
Etc.
As Lumen is web-based, it is accessible from almost any device with a screen and an Internet connection.
5. Quik
Quik was made by GoPro with the intention to simplify video editing, and it shows. Reviewers praise it for being very user-friendly and intuitive. Moreover, it isn't limited to footage taken with GoPro cameras, and can process videos made with other devices.
Quik has a lot of useful features going for it:
Screen grab
Environment-specific filters
Rapid/slo-mo
Themes
Live streaming
Etc.
Premium users get extra benefits, of course.
6. Filmora
Formerly known as Filmora Go, this is a mobile version of a renowned video editor. It is easy to use and optimized for social media content, which automatically makes it a trending video editing app.
Filmora's feature set includes both core video editing features and useful add-ons:
Trimming/merging
Sound editing
Reverse playback
Speed control
AI smart cutout
Chroma key
Picture-in-picture
Etc.
As with many other apps, it uses a freemium model, which means most functionality is free, while advanced features cost extra.
7. iMovie
iMovie is a free Apple app that comes pre-installed on many devices of the same company. It isn't the most feature-rich on the market, but it's simple and free, which helps it keep up with any latest video editing app out there.
iMovie has a lot of features, mostly intended for casual and amateur users:
Magic movies
Templates
Themes
Video filters
Animated titles
Background replacement
Keyboard/mouse/trackpad support for mobile
If you want to quickly create simple videos for your family and friends or to post on social media, iMovie works well. For more advanced purposes, however, it lacks things like trimming and high-end effects.
8. WeVideo
WeVideo has over 30 million registered users, making it one of the most popular video editing apps on the market. It is available in mobile and desktop versions, which is very convenient.
The feature set of WeVideo is at least on par with its competitors:
Trimming
Captions
Royalty-free videos, photos, and music
Photo animations
Green screen
Rapid/slo-mo
Social media sharing
Etc.
WeVideo enables collaboration via its cloud-based platform. This cloud version also lets users back-up their work, which is always a useful feature.
9. Loom
Loom is a versatile and trending video editing app, available in mobile and desktop versions, as well as a Chrome extension. This flexibility allows it to reach a large target audience and give users a lot of freedom in how they create their content.
Loom started out as a screen capture app but then expanded its functionality. Now it contains the following features:
Screen recording
Trimming
Comments
Emoji reactions
Video access control
Speed control
Notifications
Etc.
This app has a large number of business users because it works well for instructional videos and similar content.
10. Vimeo Create
Vimeo Create comes as a complementary app to the Vimeo video sharing platform. Following the video editing trends, it is designed to have a low entry barrier, which is why lots of people praise it online.
Here's what Vimeo Create allows you to do:
Trimming/merging
Cropping
Audio editing
Stickers
Text overlays
Animation
Etc.
This app uses a freemium model as well, but many people complain that accessing its free version has intentionally been made hard to entice users to choose a paid plan.
11. KineMaster
Your average trending video editing app is oriented towards casual users. KineMaster, on the other hand, has a steeper learning curve but is also more advanced overall. It is intended for people who have some understanding of mobile video editing.
KineMaster has a lot of features even in its free version:
Trimming/merging
Zoom
Cropping
Voice effects
Transition effects
Background removal
Speed control
Etc.
The app is getting regular updates that enhance its functionality even further. While it's powerful, the subscription can be a bit pricey for some users, according to the reviews.
12. PowerDirector
PowerDirector is among the most popular video editing apps for several reasons. Firstly, it is relatively accessible. Secondly, it is feature-rich. Thirdly, it is one of the fastest in terms of rendering.
This app offers its users lots of options:
Multi-timeline editing.
Voiceover recording
Video effects, including unique ones
Picture-in-picture
Templates
Royalty-free content
Etc.
PowerDirector has certain unique features and effects. It is also quite intuitive, though the sheer number of options can be overwhelming to a new user.
How To Get Trending Video Editing App Features
As you can see, many features, both core and add-ons, are present in almost all items on this list. For example, trimming/merging, sound editing, and 3D masks are something the users expect from popular video editing apps.
So how do you implement all of this?
There are two ways. The first is to do everything from scratch. This will require a team, whether in-house or outsourced, and enough money to fund the development efforts for a few months. This likely won't come cheap: even companies in Eastern Europe or Southeast Asia can charge rates of $50/hr or more.
The second option is to integrate a video editor SDK and get all of this and more in one package. For example, Banuba Video Editor SDK has:
Trimming/merging
Picture-in-picture mode
Face touch-up
Color filters
Transition effects
AR masks
Sound editing
etc.
It is designed to be integrated in under a week, and is also compatible with Flutter and React Native for even faster app release.
Conclusion
There are plenty of popular video editing apps, including mobile, web, desktop, and even browser extensions. Most offer similar core features: trimming/merging, audio editing, basic video and transition effects, and so on. However, there are plenty of differences between them, both in terms of functionality and UI. If you are specifically looking for the best AI video maker, there are several options available in the market that utilize artificial intelligence technology to enhance the video editing process. These AI video makers offer advanced features such as automated editing, smart video effects, and even AI-powered storytelling.
The situation will undoubtedly change in the future, now that the brain-computer interface design has arrived along with other cutting-edge functionalities.
Your app can gain most of basic and advanced features in about a day just by installing a video editor SDK/API, so if you are interested, just shoot us a message.
Top