Blog
Video Editing
5 Current Trends Explain Why AI-assisted Video Editing Is The Future of Social App Development
Consumption of video content has seen a dramatic increase over the last few years. Social apps must adapt toward the shift of video being front and center. Getting the most out of this medium, though, means creators and dev teams will need extensive yet easy-to-use tools for video editing. That's where AI comes in. Check out this article to learn more about the power of AI-assisted video editing, and see how it's become a must based on the latest video adoption trends from Facebook, LinkedIn, and other platforms.

Banuba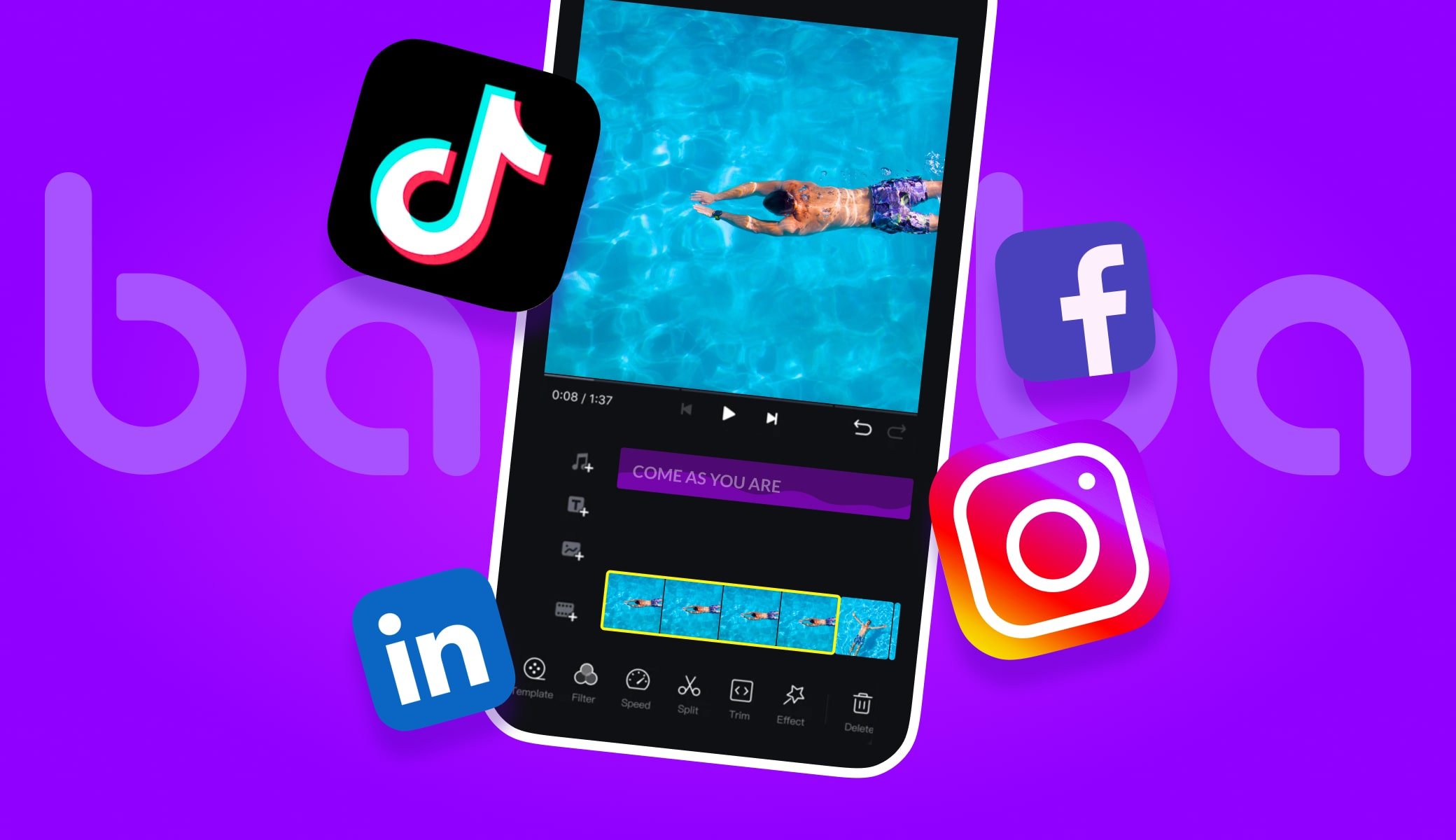 With social apps rolling out more and more video features, it's now critical for developers to provide content creators with best-in-class tools for hassle-free video making. Introducing AI-video editing is a powerful way to automate or assist with edits using artificial intelligence. It enables beginners to create cool, high-quality content without a learning curve of special skills and allows advanced users to significantly cut the time spent on routine tasks.
Tools like Banuba's AI Video Editor SDK (software development kit) use intelligent algorithms to analyze videos and suggest transformations that can instantly make these videos look outstanding. These transformations include color correction, beauty filters, visual effects, and more.
Such SDKs are becoming indispensable tools for social app developers who find themselves in an extremely competitive market and have to address the increasing shift to video consumption in order to strive. In other words, just launching a video on a platform may not cut it.
Developers need to provide an optimal number of video editing features, just so ease of use remains unaffected. It is also important to make sure that the app is technically optimized for smooth performance across all mobile devices and makes the most of camera capabilities. And it simply must offer users a great variety of effects for making extraordinary videos.
Finally, there's one more thing: the tech must support delivering your product to users fast enough to secure a competitive advantage over other apps — no easy task if you don't have the right tool that can be quickly integrated into your platform.
Still, thinking about introducing AI video editing into your project? Read on to learn how the world's largest social apps are unlocking video for global audiences as we speak.
Trend 1. Facebook gains muscle as a global video platform
In recent years, Facebook has taken the growing popularity of video very seriously.
First, it continuously tweaks the news feed algorithms to prioritize video over other types of content. This, for example, results in videos directly uploaded to the platform going ten times more viral than YouTube links.
Second, Facebook has introduced a number of services designed to make videos more accessible to users and more attractive to brands.
Launched in 2018, Facebook Watch, its would-be rival to YouTube, has become a destination for over 1.25 billion viewers each month, which is nearly half of the platform's overall monthly user base. According to Facebook officials, what makes Watch different from YouTube and similar platforms is its focus on content that drives conversation.
Facebook has also implemented video ads, an effective tool for marketers to fully capitalize on the growing video trend. The new advertising capabilities are truly extensive: video ads can be featured in the news feed, in other videos, on Facebook Marketplace, in Stories, or in the general video feed itself.
The Stories and Paid Online Events features are yet another indicator of Facebook's strong inclination toward favoring original video content.
Banuba Video Editor - Slow Motion
Trend 2. LinkedIn deepens its focus on video
Not long after its launch of the video, LinkedIn boasted 225 million users (out of 756 million overall) already engaging with that feature monthly. And that was in 2018. Now, it could be double that figure.
This makes perfect sense. According to LinkedIn, videos posted on a Company Page is five times more likely to start a conversation than other types of content. And 87% of marketers using LinkedIn consider video to be an effective tool. One of LinkedIn's surveys also showed that about 80% of recruiters say video can significantly improve a candidate's chances of success.
Today, video is all over the place on LinkedIn. There's native video, which can be directly uploaded or streamed on the platform. There's embedded video when you share a link to other video-hosting platforms such as YouTube (though that's proven less effective than native video). There are also video ads, which get three times more viewer time than static Sponsored Content. And there's the Cover Story, a tool that enables users to introduce themselves and show their skills in short videos published on their profiles.
LI candidates aren't the only ones benefiting from video. It's also influencers and experts who want to get more exposure for their content. It's recruiters who want to highlight the attractiveness of their companies. It's sales reps and lead generators who do a lot of social selling. And it's those startups always on the lookout for investors and team members. The potential user base for LinkedIn videos is tremendous.
For now, LinkedIn's news feed might still be text-heavy, but it's just a matter of time before users get comfortable with the idea of showing themselves on video. This is where AI-assisted video editing tools such as Banuba's SDK come in handy, providing an arsenal of beautification filters, animated backgrounds, and avatars to help users overcome camera anxiety.
Banuba Video Editor - LUTs
Trend 3. Short video gains momentum with more TikTok alternatives to come
Although TikTok's monopoly in the short video market seems indisputable, other large platforms are trying to challenge that dominance and take their own share of the pie.
Adam Mosseri, head of Instagram, has just announced that Instagram is no longer a photo-sharing app. Until now, the platform has been primarily focused on images, but it has also gone to great lengths to enable video for its users, through Stories, IGTV, and Reels. Now, said Mosseri, Instagram will take steps to "embrace video more broadly — full screen, immersive, entertaining, mobile-first video."
YouTube Shorts is another potentially massive rival to TikTok. Launched in September 2020, it has already surpassed 6.5 billion daily views across the globe. YouTube is planning to deliver additional features on Shorts that empower both creators and viewers.
The rise of TikTok alternatives may also be driven by attempts to ban TikTok in several countries. Currently, the app is forbidden in India, Pakistan, Bangladesh, and Indonesia. The previous US administration tried but failed, to ban TikTok over national security concerns. That said, these concerns are still on the current administration's agenda.
Banuba Video Editor - Beautification
Trend 4. Messaging apps are becoming fully-fledged video platforms
In January 2020, WeChat, China's number one messaging app, launched WeChat Channels, a TikTok-like short video tool. In just six months, the number of its users reached 818 million, close to the entire audience of WeChat itself (1.24 billion people).
Telegram recently launched group video calls, enabling business conferences, online classes, and more. This brings the platform to a whole new level; just like WeChat, it's no longer just a messenger — Telegram has become a multi-purpose social app.
It won't be long before other messengers also jump on the video trend. Failure to do so means falling behind the competition. Just think of how many people use Instagram Direct as their messenger of choice to chat with friends and family. Keep in mind that the platform was designed as a photo-sharing app, not as a messenger. Should traditional messaging apps fail to keep up, they might end up having nothing compelling to offer their audiences.
Trend 5. Social commerce will continue to grow
Brands have long been using social media platforms to connect with their audiences and generate new business. This, however, mostly boils down to building a brand online and managing reputation. But now, platforms are increasingly becoming new retail avenues, giving brands the functionality to showcase and actually sell their products, just like any other online shop.
Instagram, Facebook, Pinterest, and TikTok have all introduced shopping features so consumers could make purchases online without having to leave the app. This means brands will be leveraging high-quality, creative video content to capitalize on boosting those sought-after KPIs — to better drive traffic, improve engagement and increase conversions.
AI-assisted video editing
is the better option
The trends detailed above clearly demonstrate that — one way or another — all the major social apps have shifted toward video to reflect the rapidly changing patterns of how we consume content. Developers must reconsider their overall approach and prioritize automated video editing to ensure users have all they need to create stunning videos quickly and easily.
One simple, elegant answer is to implement a ready-made video editor with effects, a problem-solving solution that removes having to spend money and time developing functionality on your own.
If you'd like to take Banuba's AI Video Editor SDK for a test drive, drop us a line.
Top