Blog
Face AR
5 Best Facial Animation Software in 2024 (and how to integrate one)
Facial animation software has become not only a must-have entertainment attribute for comics, films, and games but also a growth accelerator for communication, education, marketing, and other business domains. For example, Snapchat animation-based AR lenses engage users and let the brand generate over 200M of filter triggers daily which grows organic traffic and drives sales.
Whether you're starting an e-learning platform, social media app, or a live streaming solution, or you already have one, 3D facial animation software is what makes a difference for your product without costing you a fortune. High user engagement leads to increased user-generated content, which promotes your product organically and way more efficiently, attracting new users and growing your sales.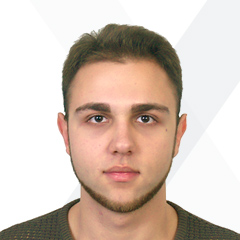 Daniil Torkut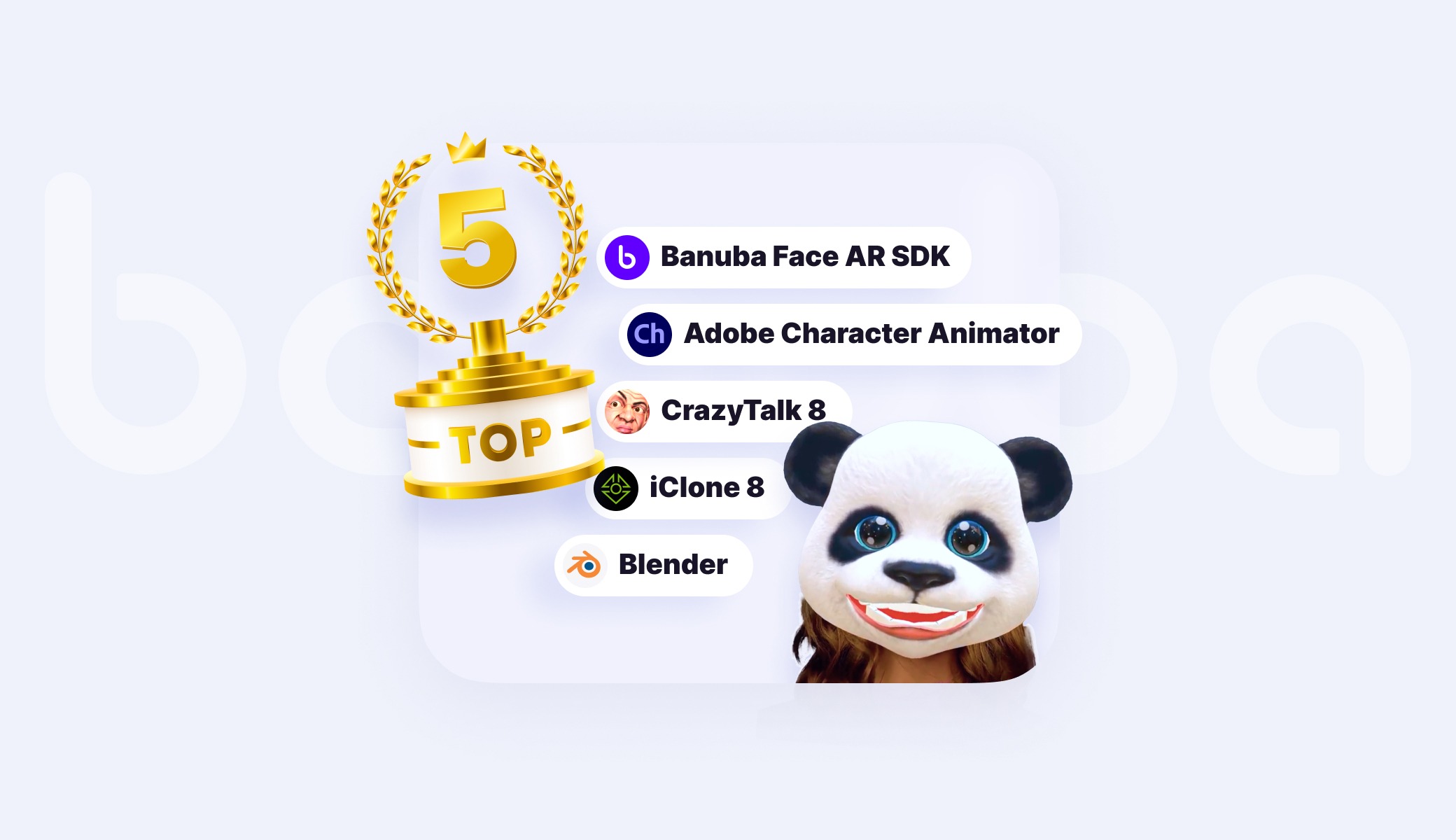 [navigation]
What is Facial Animation Software and How It Works
Face animation software is a technology solution adopting computer vision algorithms and methods, be it image- or model-based, often called blend shapes. They are a set of example shapes that are linearly combined using GPU capabilities. The more example poses are scanned and modeled, the more accurately software can animate users' faces in a post-processed way or real-time.
Processing of face transitions is handled with shape interpolation - a technique that allows for creating of shapes within several key-frame models. Simply put, interpolation transforms a set of input points into a specific function for further key-frame processing.
For accurate animation and 3D character overlays, the computer vision model carefully recognizes face geometric surfaces using a polygonal mesh - a collection of vertices, edges, and faces. Next, the system constructs a 3D facial mesh by using 3D photogrammetry or scanners to analyze a user's facial geometry.
All in all, here comes facial animation by moving vertices of the polygonal mesh.
The technology became popular when Snapchat introduced a game-changing trend to detect and recognize facial features for applying animated effects. Disney-style and Pixar-like animations made a difference across the AR-powered social media market with over 1.7B triggers since the release date (Snap Inc).
Since then, Speech Graphics, Origins, Rapport, and other companies have implemented animation facial technologies, which made it a bread-and-butter initiative for them to engage users and drive sales.
3 Must-Try Use Cases
Facial animation is highly popular among multiple brands and domains like education, streaming, marketing, and vlogging. Content creators, product owners, and marketing specialists successfully empower their projects with game-changing features to drive brand awareness, boost user engagement, and increase user-generated content.
Here's an overview of how facial animation software is applied within multiple domains so that you can stop racking the brains whether your business matches with animation technologies.
Education
Simplifying complex algorithms and subjects by creating engaging tutorials, how-to videos, and animated video presentations is how facial animation benefits the education industry. 3D animations and cartoon characters are popular options for multiple education brands to explain both nuts and bolts and mature data structures.
Here's an example of animated explainer videos by Chatclass, an e-learning peer-to-peer platform for teachers, learners, and native speakers.
Streaming
Real-time facial animation software opened broad opportunities for YouTubers and streamers to broadcast their live experiences in an engaging and visually-appealing manner. Content creators can utilize facial self-animation to increase privacy and grow engagement and embed built-in cartoon-powered ads that attract more viewers' attention and boost the click-through rate.
Here's a real-time FaceMotion Plugin overview by Maya which empowers YouTube, Twitch, Mixer, UStream, and other channel-specific streamers with new capabilities.
Communication
Digital communications are a catch-all phrase for virtual conferences, sync-ups, meetings, and calls that benefit from using innovative technologies. Most of them mitigate Zoom fatigue, increase productivity, and, the best part, grows user privacy. Along with background replacement and voice changers, Zoom-like vendors can integrate real-time face virtual avatars.
Zoom's avatar-based live animation feature is undoubtedly a nice example of how virtual communication providers can jazz up their functionality.
Vlogging
Vlogging content creators can also leverage animation facial features that add engagement and allow to create interactive thumbnails for videos and display data graphically. For example, A. I. Kizuna, a Japanese YouTube celebrity with over 3M subscribers, published dozens of animated videos to rack up thousands of views. Here's an example of Kizuna playing an FPS game Superhot with VR and animations.
5 Must-Try Facial Animation Software in 2024
Face AR SDK - 1,000+ AR-Based 3D Effects
Banuba Face AR SDK is a software development kit that provides real-time 3D masks, and AR face filters using industry-leading face tracking technology. Designed to build custom Snapchat-like filters and embed real-time face animation solution, the product helps brands decrease the time-to-market period and save up to 50% of development costs.
Instead of building custom animation tool, Face AR SDK provides pre-made modules with ready-to-use features and over 1,000 AR face filters on Asset Store, saving months of project development time.
More than that, the software utilizes an accuracy-centric face tracking technology that offers:
Up to 3,308 vertices
Real-time multi-face tracker
7-meter camera distance
Wide detection angles from -90* to +90*
70-percent facial occlusion
360-degree camera rotation support
97% iOS and 80% Android device support.
Banuba's Face AR SDK provides multiple features along with facial animation that includes:
Face filters (3D animation, morphing, triggers, face touch-up, LUTs, voice changers, etc)
Facewear try-on (glasses, jewelry, hats)
AR makeup for combined looks, multiple textures (matt, gloss, metallic), lightning-adjusted colors and shades, real-time post-processing capabilities
Makeup try-on for foundations, lipsticks, highlighters, eyelashes, eyeshadows, contouring
Hair and eye color changing.
Banuba offers a 14-day free trial so that you can test the full-featured functionality inside-out and decide whether you want to bring facial animation software to your app without limits.
Adobe Character Animator - Non-Professional Animation Tool
Adobe released motion capture software as a part of its Adobe Creative Cloud. The product helps non-tech-savvy users create animated video content using a 2D cartoon character called a puppet. Creators just need to choose a preferred puppet, use a camera and mic for video and audio recording, and the software will bring facial animation based on users' expressions.
Apart from predesigned avatars, Character Animator allows creating custom models from scratch or by mixing several puppets' features. Built-in tutorials guide users through the custom avatar creation process, which allows non-professionals to go all-pro with in-app features. The platform also offers multiple pre-made templates for using or adjusting custom puppets in a matter of minutes.
The core features of Adobe Character Animator are:
Create custom characters or use pre-built puppets for faster video production
Create your own triggers for further time-saving expressions and gestures
Leverage auto-swap functionality for a more realistic look using frame-by-frame animation capturing
Bring real-time facial animation to live broadcasting experiences.
The vendor offers a Starter mode with basic features for free and a Creative Cloud App plan for $54.99/mo for advanced functionality like real-time face and body tracking and multiple puppet creation with Puppet Maker.
CrazyTalk 8 - Go-Pro Audio-Centric Facial Animation
CrazyTalk 8 is a world-famous audio-centric facial animation software tool designed for professionals to create 2D and 3D-based animations. The product utilizes smooth lip-syncing algorithms for audio post-processing and a 3D Head Creation tool for accurate tailor-made character experiences. The platform provides image-based-only animation capabilities so they transform images into talking and moving characters without video format support.
The main functionality modules by CrazyTalk are:
Realistic 2D and 3D Image-to-character transformation for animations
Front/Side photo profiles support for creating accurate 3D heads and looks
3D Vivid Eyes and multi-layer editing options
Multiple dress-up and accessory design customization options
Soft-cloth physics and dynamic spring FX.
Auto audio lip-sync for lightning-fast converting of texts, audio, and voice records
3D motion key editing with muscle control, expression templates, and modified sliders
4K image and video quality support
Alpha channel support for exporting image sequences and further video composition.
Currently, the vendor offers a free bonus for registered users that includes 24 character styles, 10 dress-up bodies, and 30 stylish hair options. In order to use the facial animation software by CrazyTalk, users need to purchase Pipeline ($199), Pro ($149), or Standard ($49) pricing plans.
iClone 8 - One-Stop Character Animation
iClone 8 is a live 3D animation product designed for professionals to design high-quality animations for movies, video games, content development, educational, and art content. Using Facial Expression, Lipsync Animation, and Facial Mocap tools, iClone allows the creation of true-to-life facial animations based on users' expressions.
The groundbreaking features of iClone include:
Accurate voice lip-sync for transforming raw audio recordings into a character's speech
11 functional puppet profiles allow to create, blend, or overwrite specific features and create full-featured animations
Curve-based editing for studio-level character animation and alembic baked simulation for creation
Muscle-based face key editing for designing fine-tune facial expressions
Real-time smoother, tracking data multiplier, and live retargeting tools for iPhone facial mocap capturing.
iClone 8 starts from $599 as a one-time payment to leverage the unlimited features.
Blender – Professional-Centric Wide-Purpose Facial Animation
Blender is an entirely free and open-source software for designing 2D/3D graphics and creating full-featured animations. The platform utilizes modeling, sculpting, simulation, rendering, and postprocessing algorithms to provide wide-purpose capabilities for creating professional and Pixar-level animations.
Blender's core functionality provides:
Character animation pose editor
Non-Linear Animation (NLA) for independent movements
Forward/inverse kinematics for fast poses
Sound synchronization
Envelope, skeleton and automatic skinning
Easy weight painting
Mirror functionality
Bone layers and colored groups for organization
B-spline interpolated bones.
Blender, as a vendor, offers 10 more video editing software modules like cycles render engine, 2D and 3D drawing, VFX, and others that make it an all-in-one solution for both professionals and non-technical users to create studio-level animations.
Why Banuba Face AR SDK for Animations
With a 6-year experience in leading the AR-powered face animation software market, Banuba created Face AR SDK - an industry-leading solution trusted by Gucci, MNFST, Chingari, and SkyEng. The software development kit helps save up to 50% of development costs and accelerate the time-to-market period.
Apart from evolving our face tracking technology, Banuba has created 1,000+ AR-enabled face filters, both real-time and post-processed available on our Asset Store. They help bring content-full animation to your platform or app way more quickly as you can avoid designing custom 2D/3D filters and masks.
Here are the core features of Face AR SDK by Banuba:
Face filters (3D animation, morphing, triggers, face touch-up, LUTs, voice changers, etc)
1,000+ real-time and post-processing AR face filters created
Facewear try-on (glasses, jewelry, hats)
AR makeup for combined looks, multiple textures (matt, gloss, metallic), lightning-adjusted colors and shades, real-time of post-processing capabilities
Makeup try-on for foundations, lipsticks, highlighters, eyelashes, eyeshadows, contouring
Hair and eye color changing
97% iOS and 80% Android device support.
Integration
This is how you can quickly integrate facial animation functionality in your app.
1. Trial
The first step is the same for all platforms. Send us a message through a contact form and receive an archive with the SDK and the trial token.
2. Integration
Banuba Face AR SDK is available for native Android and iOS, as well as Flutter, React Native, Web, Unity, Windows, and Mac. Follow the instructions below to integrate the module into the app on the platform of your choice:
The SDK is distributed as CocoaPods/Maven/npm packages, so integration only takes a few lines of code.
Wrap Up
Facial animation software is a way to empower your product with a value-added feature that increases user-generated content and drives sales without costing you a fortune. Whether you're starting e-learning, social media, virtual communication, or a live streaming app, the animation is what makes your product stand out from the crowd.
Face AR SDK, Adobe Character Animator, CrazyTalk, 8, iClone 8, and Blender are the market-leading solutions for real-time or post-processing 2D/3D facial animation. They all utilize similar face detection and tracking algorithms but may serve your needs differently.
Banuba's SDK helps integrate pre-made AR-driven modules into your existing or launching app, while other solutions are B2C products for end-users.
So, if integrating ready-made face animation software resonates with your needs and plans, Banuba offers a 14-day free trial to test the unlimited features inside out.
Adobe Character Animator, CrazyTalk 8, iClone 8, Blender, and Banuba's Face AR SDK are the market-leading software solutions for facial animation.

You can animate a face using Adobe Character Animator, CrazyTalk 8, iClone 8, and Blender as customer-centric tools, and Banuba's Face AR SDK for integrating the technology into your existing solution.
Top