Blog
Video Editing
10 Best Video Editing Effects To Integrate Into Your App
Video editing effects help your business app drive user engagement, increase in-app sessions, and boost revenue.
Building effects for video editing from scratch may become a flourishing yet time- and cost-consuming initiative.
Here comes a Video Editor SDK which helps save much on video editing app development and integrates ready-made filters in a matter of hours. But what editing effects are essential for your app?
This post will guide you on:
- 10 top video editing effects
- 7 types of effects for video editing
- Core ways to add video editor effects to your apps.

Alena Arsenova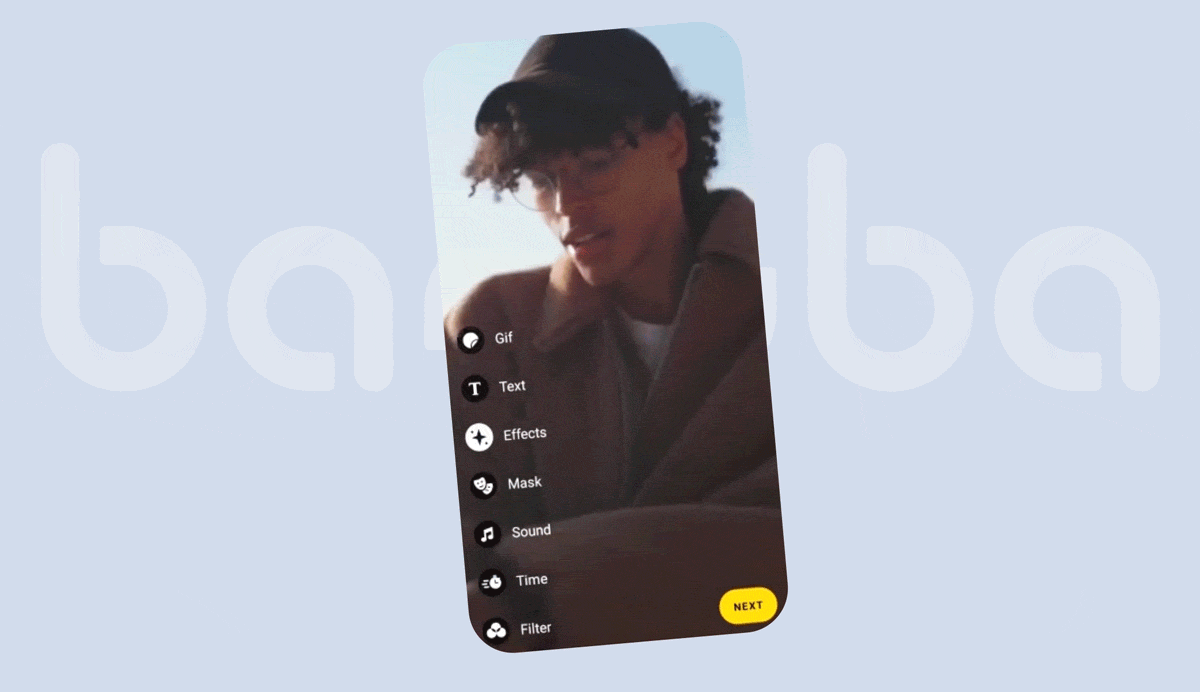 What Are Effects for Video Editing?
Video editing effects are special filters that visually improve the shot. They target the new generation of content makers who can be anyone with a phone camera. With filters, unseasoned creators can instantly turn their hastily taken videos into catchy clips with thousands of likes.
Engagement is the key. With a tap, you can enhance the video giving it a cinematic look and feel. The video-making process is creative, simplified, and automated. And that's why video editor effects allow developers to spark interest, boost engagement, and increase user-generated content exponentially.
Banuba Video Editing Effects
7 Key Types of Video Editing Effects
By usage, mobile video filters can be applied for:
real-time capturing
post-processing
With real-time video capture, the user turns on a filter and starts recording. Example: beautification or AR lens. With video processing, the user overlays filters onto the recorded video, e.g. change backgrounds in a video.
By type, mobile video editing filters include:
Speed modification (time filters)

Color modification

Visual effects

Face AR effects

Transitional filters

Mirroring and split-screen

Artistic effects.
The technology has advanced so far that today you can modify and augment almost any aspect of the image and the person. Beyond the visual part, you can even change the voice using the voice modification filters. These filters make you sound like a robot or an elf in a video.
So, how to choose? Which filters will become a user's top choice, and which one will eat up your app size in vain? Here are the ten tried and tested types of video editor effects you may safely add to your app.
Top 10 Video Editing Effects You Can Add To Your App
---
1. TikTok-like effects
As social videos evolve, new filters come out daily on TikTok, Snapchat, and Instagram. They are unique to the mobile format and adapted to the new generation of content makers. If you want your app to keep up with the trends, make sure to check what is being posted by today's users.
With our video SDK, you can add the most popular TikTok-like effects. In the latest release, we developed theTime Warp Filter which has been going viral on social networks recently. Our art team can design custom video effects within a short period of time.
Video Editor SDK: Time Warp Filter Demo
---
2. Video face filters
Face filters are immensely popular. Today it's the number one type of must-have effect for any social app. With our Face AR SDK component integrated into the video editor, you can create fun morphing effects, animal filters, beauty overlays, or famous characters.
The AR masks open up unlimited use cases for video editors beyond social media but in dating, e-commerce, marketing, and e-learning domains.
Video Editor SDK: Face Filters Demo
---
3. Time filters
The slow-mo filter is one of the first and most popular speed modifying effects. Users can slow down their videos to half of their original speed. Even though it was released years ago on all social apps, the world hasn't gotten bored of it so far. Users love to emphasize the moment.
Pretty self-explanatory, the fast-forward filter is the opposite of the previous one. The filter can be a good helper for speeding up some routine parts in user videos, e.g. cooking, exercising, or crafting.
Speed modifying video effects fit into a range of video apps being the most common for fun short videos, social apps, how-tos, and travel apps. If you're developing one, you may want to add other effects like Reverse Video or Timelapse.
Video Editor SDK: Slow-mo Filter Demo
---
4. LUT filters
The color modification filters (LUTs) change the entire image. They are a great example of the filter design concept where less is more. With just a tap, users can set a mood and atmosphere for their video (drama for 'black & white' or joy for 'summer') to keep their videos with the best traditions of Instagram.
Video Editor SDK: LUT Filters Demo
---
5. Zoom effects
Like many other video filters, the Zoom effect, also known as the Ken Burns effect, originated from image editing. It adds movement to your video with rhythmic panning and zooming. Users can make their videos more dynamic.
Video Editor SDK: Zoom Filter Demo
---
6. Noise effects
A VHS effect is a textured, distorted effect that mimics video recording on a tape cassette. The other filters as Glitch, TV-Foam, or Acid-whip do almost the same job.
These filters create an effect of flaws in the original image, making it glitchy. Initially being the privilege to Photoshop, Adobe, and other image editors, they have gone to the masses and can be fully used with mobile videos.
Video Editor SDK: Noise Effects Demo
---
7. Transition effects
The video transition effects can be applied with video merging and as an overlay for the entire image. An example, the Soul filter creates an effect of transition between shots as if breathing in life into them. The filter is no less sophisticated yet as simple to use as all the rest.
Video Editor SDK: Soul Filter Demo
---
8. Custom video backgrounds
The past 2020 and the new 2021 years are all things background. The background video effects are no longer the privilege of professional movie-making software. You can integrate the video background remover feature in your iOS, Android, and even Unity app.
The filter uses a background subtraction (green screen) technology that recognizes the human part in the image. With it, users can remove the background in the video or replace it with an image from the camera roll.
Custom Video Backgrounds
---
9. Colorful gradients
The gradients are not new but still a fun way to animate videos. Color transitions gradually blend one color with another. An example, the Rave video filter overlays the rainbow play of color flowing over an image.
Video Editor SDK: Rave Filter Demo
---
10. Screen splitting effects
The split-screen video effects can be represented with many options. They can separate one part of an image from the other, mirror them or break into many pieces like in the example below. You can run video in all of the parts simultaneously or create a time-lapse effect.
Video Editor SDK: Split-screen Effect Demo
How to Add Effects to Videos: Banuba AR SDK
Effects come as part of the video capture and editing SDK (or API). Using AI video editing, developers can create short video apps with TikTok-like functionality. The SDK itself is represented as a set of modules that include a specific set of functionality, i.e. recording, editing, audio, and Face AR. Developers integrate the ready features, customize the UI, and set their app up and running.
As for effects' integration and storage, there are two ways you can handle it.
Built in the app
Ship effects using an AR cloud
With an in-app approach, the effect is hardcoded into the application code. They can be used without an Internet connection. However, since each video effect is about 2,5MB on average, the number of effects allowed is limited because of the app size issues.
To save app space and let developers easily curate effects in their apps, we've created an AR cloud. It stores masks on a server instead of the Face AR SDK code. When the user opens the app, effects are downloaded and saved in the device memory. With our AR cloud, you can easily update masks in your app without having to resubmit the app to the store.
Implement Diverse Filters, Try & Test
With video editing effects, the best ones are those that not just improve reality but change it. Filters are magic. They are the most novel way how video apps are inspiring users to generate and share content. And the more active community you have, the more organic traffic will it drive to the app.
Want your app to benefit from video editor and filters? Check our SDK to find out what's possible.
Top