Blog
Augmented Reality
How To Engage Mobile Users: 5 Creative Strategies
In a highly competitive mobile app market, winning user attention is not an easy task. Here we share five creative app engagement ideas. Augmented reality, user-generated content, UI personalization, gamification and social communities — pick what suits you best to increase user engagement in your app.

Alena Arsenova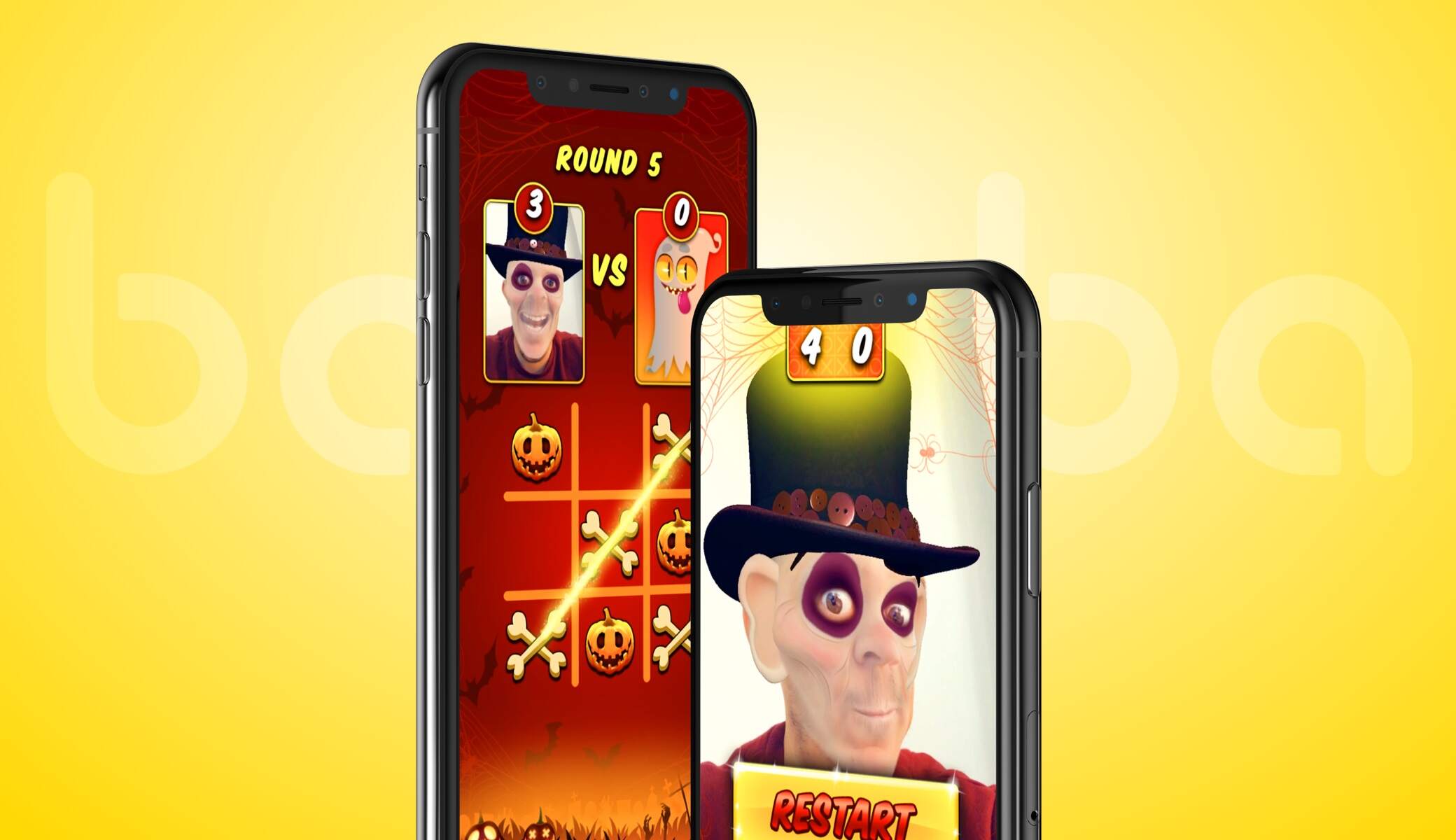 Why user engagement is important
You needn't be a marketing guru to understand this general truth. Better user engagement means more effective app marketing, low-cost user acquisition and retention.
Engaged users return to your app, interact with your content and take the right actions at every point of their journey. They are more active and stay with your app longer, which results in overall mobile app engagement metrics like
Higher DAU, MAU

Easier upsells and monetization

Longer user app sessions

More user-generated content

Increase in organic traffic
All these metrics show how valuable and healthy your app is. And if so, you have better chances to convert users into paid members or your app advocates who recommend it to other peers.
So, how to keep users engaged and make them stick to your app? The following strategies and ideas can help.
5 app engagement strategies that never get boring
Push notifications, deep linking, clear UI, frictionless onboarding — all are well-known practices. Today, they may not be enough. Here we focus on innovative mobile app engagement strategies that can help you win user attention from the very first session and keep them coming back in the long run.
Strategy #1. Engage users with augmented reality
Nowadays, people, especially younger generations, have the shortest attention span ever known. Augmented reality beats all records in capturing attention at an instant. Combined with the face, it adds emotion, making the app experience personalized, catchy and memorable.
Video AR filters can help you improve user involvement and retention at scale. All can be easily added to your app with our Face Filter SDK which lets you engage users with the best traditions of Snapchat and Instagram on a platform of your choice.
Build mobile and web AR experiences where users can animate themselves, replace backgrounds, try on makeup virtually and much more. One SDK covers it all empowering your app with the most immersive features that keep users entertained.
Here are a couple of inspirational app examples built with AR face tracking.
---
Example #1. Educate with AR
If your app educates users on something, don't miss the chance to visualize it in AR. Colgate Magic AR toothbrush app engages its young users with augmented reality helping them to learn how to brush their teeth. AR filters turn the tedious process into a fun game.
Colgate Magic app screenshots. Source: App Store
Cosmetic brands like L'Oreal, Maybelline and Gucci engage consumers with AR try ons and guidelines to apply makeup. Face filters can visualize any skin and face care process to teach users about the regimen.
---
Example #2. Immerse users into your brand
Your brand can engage users with augmented reality filters that reflect your brand identity. Let users snap a photo and share it on social networks or in-app communities to maximize your brand outreach. As an example, Turkish Airlines created a virtual travel filter to support users during the pandemic. It takes users to the most popular destinations, placing the backgrounds and letting them share a selfie with an AR mask.
Virtual travel filter by Turkish Airlines. Source: Lenslist - Turkish Airlines Filters
---
Example #3. Motivate and inspire
If you develop a video communication app, you can engage users into live conversion letting them augment or beautify their appearance. AR helps users to overcome physiological barriers and fear of a camera.
In health care and lifestyle apps filters, can motivate users showing how good habits can improve their appearance and how bad ones affect it negatively. For example, Smokerface and Sunface apps use Face AR to get people more mindful about their lifestyles.
Smokerface App screenshots. Source: App Store
In productivity apps, you can augment achievements and badges. Placed on a face, they inspire users to share on social networks giving your organic traffic at a zero cost.
Strategy #2. UGC:
Let users create their content
User engagement needn't be a one-sided relationship where you rely solely on your app content. Let users create their visual content by adding a video editor to your app. User-generated content (UGC) rules social apps. It beats ad format resulting in a more effective marketing campaign and easier organic user acquisition.
If you want to hit both goals — increase user-generated video content in your app and build an active social platform — consider our Video Editor SDK. It lets you add a Tiktok-like video editor to your app with almost zero codings. All features are ready-coded and you just need to customize UI elements with a custom logo and icons. And we included engaging AR video overlays and filters that let anyone become a professional video maker.
Best-fit for
Social video apps to drive content makers with creative video tools
E-learning to create immersively lessons and educational materials
Ecommerce platforms to let users create unboxing videos, product guides
Productivity apps where users can record a training session, visualize progress.
---
Example #1. TikTok-like social app Chingari
Chingari has started as an entertainment platform, but they were looking to engage users making them more active. They rethought their positioning, making it more of a TikTok, and integrated our AI Video Editing SDK to let users record and share short video clips. As a result, they've become one of the most popular video-sharing social networking app in India.
Chingari App screenshots. Source: Chingari App
After the update, they reached 550,000 downloads in just ten days and over 30 million downloads in three months. The top 20 per cent of its most active users are spending 1.5 hours daily on the app and the average daily engagement time for its users is 7.5 minutes.
---
Example #2. AR Social fashion platform Sloy
Sloy, a social fashion platform, leveraged AR masks and a video editor to engage users in their app and help young people explore the world of fashion. Users can easily make short videos in any genre and express their vision of fashion.
Strategy #3. Grow in-app communities
This strategy for user engagement is closely related to the above ones. A strong app community helps you attract new users and monetize existing ones. In such a way, TikTok managed to build an enormous community of content makers due to its creative video tools.

So, how do you get one?

In-app social communities work like a snowball. Once you set it in the right direction, it'll roll, growing bigger and bigger. Users will communicate if it's easy for them to create content in the app. Augmented reality and video editing can help you build active communities of content makers, create a buzz around your app and drive organic users.
Help users create content in your app with photo and video editing tools
Create groups on social networks where your audience rests
Make sharing easy by adding social features
Ask for feedback and give rewards for referrals
Strategy #4. Personalization
Personalization has been rooted in the e-commerce sector, allowing brands to engage consumers on their websites. Now, it has become a must-have strategy for driving in-app engagement too. Users are people, and people now choose experiences tailored to their own, be it a product discovery, shopping online, browsing content on social networks or experiencing your app. Think about how you can incorporate personalization in your app:
AI-based feed that delivers content based on the user behaviour like in Instagram, Pinterest or Youtube
AR camera that puts a user at the centre of an app like in virtual try-on apps
Personalized UI and effective onboarding
Example: Spotify uses its Wrapped feature to show users their stats on app usage like songs, artists and listening time. This way, users feel one-to-one with the app rather than being served by a faceless corporation.
Strategy #5. Gamification
Gamification has proven to increase app adoption by 600%, improve user engagement and retention. The major advantage of gamification is in its strong appeal to human's phycological patterns. We strive for achievements, fulfilment, rewards and discovery - no matter how big or small a particular action may be. Gamified experiences are successfully integrated with e-learning, healthcare and productivity apps, not to mention the games.
Using gamification and augmented reality, you can double the effect. An example, in AR games users have fun with visualization that places objects and animation around their face as they progress.
Banuba face filter game mechanics
Summing up
Sooner or later, people declutter their phones from apps they don't use. In fact, it's the number one reason why people uninstall apps. Why does it happen that after download, users leave indifferent? Poor user engagement can be the answer. Use creative app engagement strategies like augmented reality, user-generated content, gamification, social communities and personalization to make your app grow.
Check how our AR SDK can help you drive growth
Top