Blog
Face Filter SDK
Why Go With Banuba Face AR SDK
In social media and casual video conferencing, face filters are an expected feature now. In other apps, e.g. virtual makeovers, they are an absolute necessity. And there are applications for it in eCommerce, gaming, and entertainment. However, developing augmented reality masks from scratch is expensive, so many startups choose to use a Face AR SDK to save time and money. In this article, we will explain what to focus on when considering Banuba SDK for your project.

Alex Krasko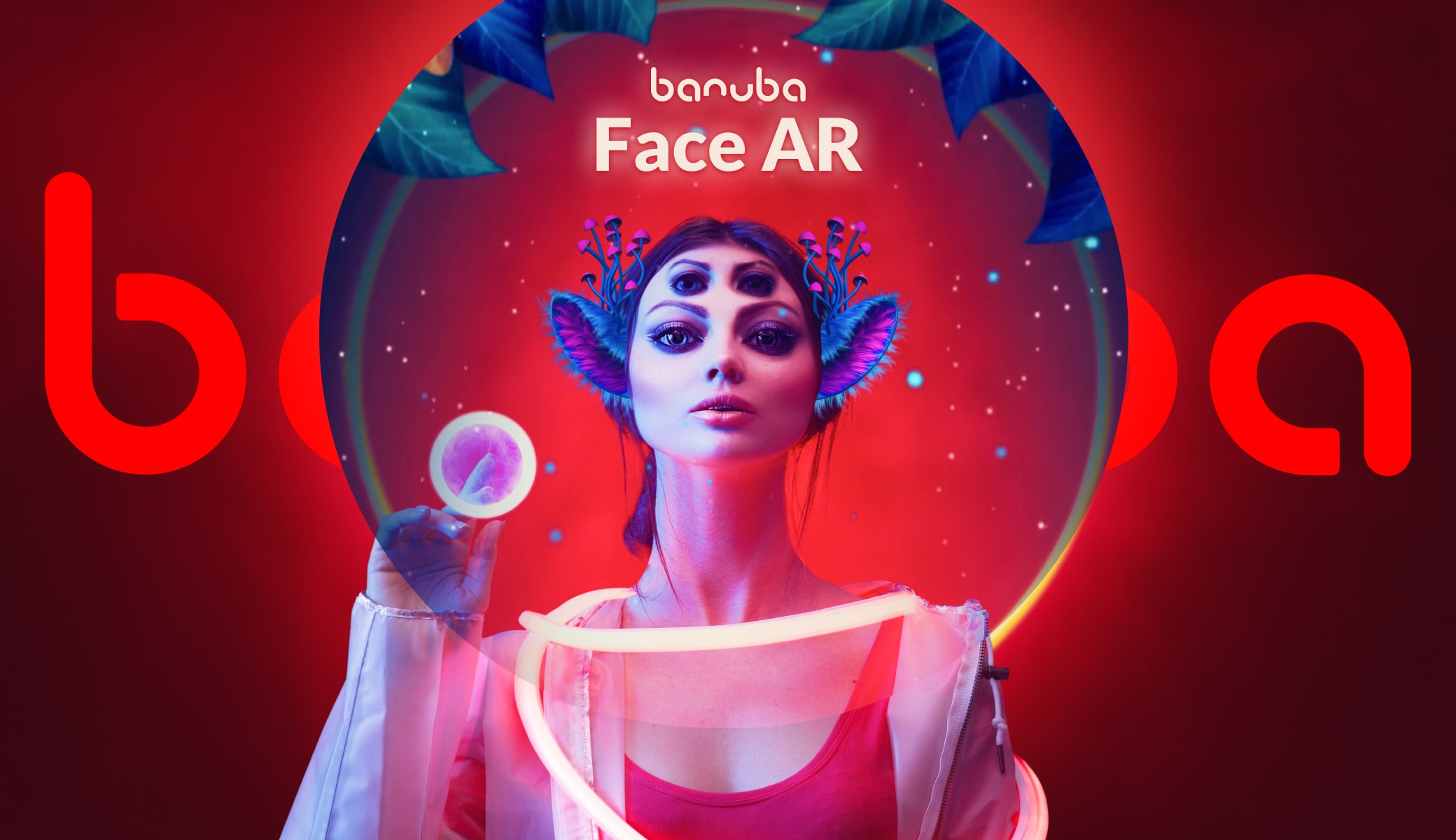 In our previous article, we explained what to focus on when choosing an AR SDK. Now we will describe the benefits you can expect from integrating Banuba Face AR SDK and how to get them.
Unique features
The first thing to consider when selecting a Face AR SDK is whether it performs the necessary AR functions: AR filters, background replacement, etc.
However, there are two caveats.
The first one is that certain functionality can only be found in a single SDK on the market.
For example, only Google and Zoom have the technology to replace backgrounds in Unity and Web. However, they don't sell it, which leaves Banuba as the only company where you can get such capabilities.
Another example is gesture recognition. Banuba Face AR SDK can reliably see when the user makes certain hand signs (e.g. thumbs-up or metal horns) and use them to control an app or AR objects attached to the hand. Few others, if any, can help you with this.
Background subtraction examples
The second caveat is best-in-class implementations of certain functionality. Take our face tracking, for example. It prevents jitter in real time, works on people of all races and genders, and puts little strain on the battery. Moreover, it can run on Apple devices starting from iPhone 6S and about 80% of Android smartphones.
Another example is our lips segmentation and nail recognition. They are likely the most precise and detailed you can currently get.
Banuba SDK
supports Web, mobile, and desktop
The SDKs differ in the number of platforms they support. Some (e.g. Pixel SDK) work only on one, while others can work on multiple ones. Banuba Face AR SDK, for example, supports iOS, Android, Mac, Windows, and Web. Moreover, in the case of mobile platforms, it supports not only native apps but also hybrid ones made with Flutter and React Native.
Each option has its pros and cons: mobile and desktop have better performance, Web is the most accessible one, etc. Having access to all of them gives you more options in reaching your target audience and scaling your presence.
Quality content
One of the reasons people need an AR SDK is content for their users. Since TikTok exploded, so did the demand for filters and effects. This means that besides the technology you need the masks themselves.
Making them is art and science. To succeed, you should thoroughly research your target audience, including user behavior, cultural context, web surfing habits, as well as trends and best market practices.
Ideally, you want to be able to quickly get a bunch of effects and an option to expand that list as needed. This means either having an in-house design team or licensing the filters from the SDK vendor.
In the case of Banuba SDK, there are many options. Firstly, there is an asset store with hundreds of filters that clients can license. Secondly, we can develop custom masks. For example, this is what we did for Chingari - an Indian TikTok competitor with millions of users.
In the case of custom effect creation, our rendering engine allows for the most realistic and high-quality effect implementation. We can help you realize your Face AR ideas and deliver them to your users.
However, the most value is not in the filters but in the expertise we will share with you. Over the years, we have made over 1000 masks and filters and tested them in live apps. The knowledge we've gained is part of the package we offer.
AR cloud
AR cloud allows storing filters and effects from the AR SDK on the web and lets users download them on-demand. This feature is very important for scalability.
In the beginning, your company might use 10-20 effects. But as time passes, the users will inevitably want more, and the number of filters will rise. Each of them takes about 2-3 Mb of space so this could potentially bloat the app to an obscene size.
Now imagine you want to roll out an update. The users will have to download the entire package which would take some time and be a nuisance at least. Storing effects in the cloud lets the users of our SDK AR features avoid this issue. And the costs of it are negligible compared to the benefits it provides.
Support and attention
The point of Face AR SDK is to save time and money. However, they all are technically complex products. When paired with your unique app there can be difficulties, especially if you use several different SDKs for various purposes (e.g. Agora for videoconferencing + Banuba Face AR SDK for background replacement).
In such cases, it always helps to have support from the vendor. They might already know what to do with the problem you are trying to solve. They might offer a service to handle the integration for you. At the very least, they can share their expertise and help you complete the job faster.
We at Banuba provide advice and guidance throughout the entire working process. This doesn't just include recommendations on how to install and use our SDK. We as a company have a lot of experience in promoting B2C products as well, so we can share the knowledge with our customers. Each client is assigned an account manager who remains as their main point of contact and advocate inside the company.
For example, if there are discrepancies between the performance of our SDK in the tests and its performance in the client's application, we help even them out. If some UI customization is needed, we can help with that. If the customer needs advice on competitor research or the direction of expansion, we can provide it.
In short, your success is our success. So we help you in business and technical matters so we can get ahead together.
Predictable pricing
Different products have different pricing models. Some charge depending on the number of monthly active users (MAU), others - per month or per processed photo, for example.
Banuba charges a flat fee per platform per month, quarter, or year depending on the needed features. This is especially beneficial for larger companies that have many active users. Not only do they have a predictable licensing expense, but they also spend less than they would have when using our competitors' products.
Note that this doesn't mean that smaller businesses can't benefit from our product. Besides the giants like Gucci, Henkel, and Yandex, our success stories include companies like Looke - a niche cosmetics brand that used our SDK to launch the first virtual makeup try-on app in Indonesia.
Custom development
Sometimes you need features that aren't on the market yet, even though the technology for them is already there. We can develop them, working together with our clients to ensure they get exactly what they need.
Such features can include pretty much anything. In one case, we helped a client (they licensed Banuba SDK for filters and lipstick try-on) to improve their anti-jitter algorithms. For another, a major chemical products brand, we developed virtual hair coloring tech.
Our smaller competitors can't do this because they simply don't have the manpower. We are about 300 people-strong, most of the staff being engineers, and have major software development shops as partners we can rely on in the most labor-intensive cases.
Conclusion

Banuba Face AR SDK has many things going for it: unique or best-in-class features, support for many platforms, quality customer service, and many content options. With predictable pricing it is affordable even for mid-sized companies. And if you just want to try it out first, sign up for a free 14-days trial.
Top