Blog
Many brands and cosmetics businesses are moving to sustainable alternatives for manufacturing, packaging, selling, and delivering their goods. It's not just the environmental cost pressure from eco-activists and organizations. Consumers became more environmentally conscious, choosing sustainable brands over old-fashioned producers with no social, ecological, or cruelty-free values.
The global cosmetics industry is one of the leading polluters when it comes to plastic packaging. Recycling, eco-packaging, zero waste, virtual try-on, and sustainability are not just buzzwords for beauty brands. They became the beauty industry's drivers for success and development in the right direction. Let's review how cosmetics companies deal with waste and what can be done to eliminate the negative impact on the environment.

Banuba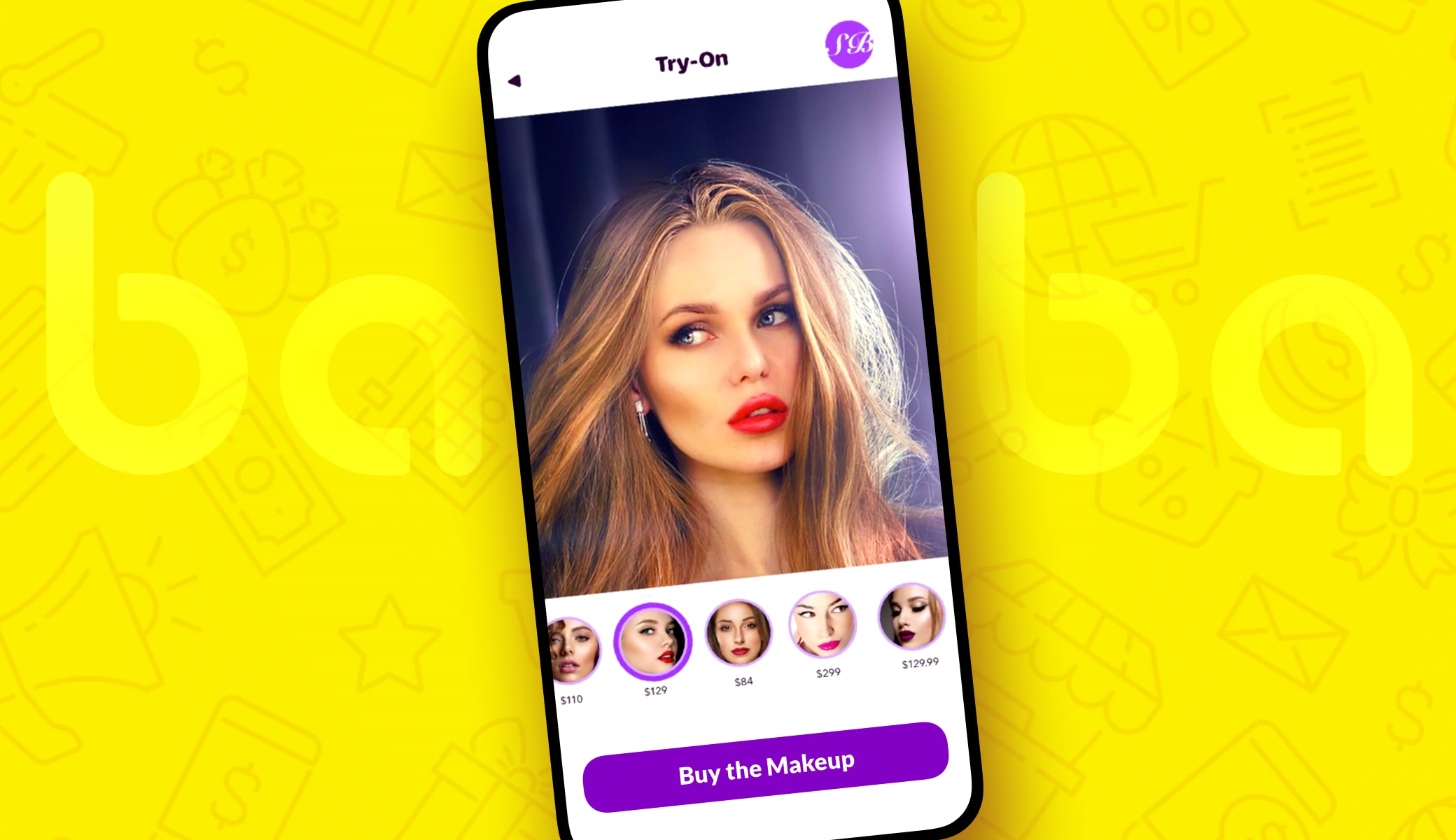 The Ugly Side of Beauty Products
Beauty routine is one of the most popular content categories on social media, with about 2 million mentions through a hashtag on Instagram alone. In South Korea, on average, women own at least ten bottles of various beauty products for skincare. Simultaneously, the number of synthetic chemicals we put daily on our skin in beautifying goods reaches 515. It's obvious that beauty products have an ugly environmental impact.
According to statistics from the Zero Waste Week research, plastic packaging waste from the beauty industry reaches over 120 billion units of packaging annually. Climate change is inevitable if brands don't reconsider their approaches and shift to ecological and sustainable standards.
The occurring landfills destroy over 72.843 square meters of forests every year. And it's not hard to guess that these figures multiply. Unfortunately, the beauty waste decided to conquer all elements. The Great Pacific Garbage Patch reaches 1.6 million square kilometers, floating just in the middle of the ocean, gradually killing sea life and resulting in microplastics in human bodies through the fish we consume.
Unfortunately, it's not just plastic pollution when it comes to marine creatures. The chemical and toxic ingredients destroy coral reefs, decrease fish populations, and negatively affect photosynthesis in algae.
And while more brands are beginning to give preference to eco-friendly packaging and reduce their impact on the planet, the majority of beauty companies still stick to the use of non-recyclable plastic. The fact is that, according to a Greenpeace report, only two types of plastic can be considered recyclable. And unfortunately, they are the least used in packaging. And the trend for recycling programs is often a false impression called greenwashing.
However, the situation slowly breaks the deadlock. Let's review what percentage of cosmetics businesses recycle waste and what methods they use to reduce the negative environmental impact.
How Does Disposal in Beauty Industry Work?
Plastic packaging is still one of the top options for beauty products. And although the beauty industry is already on the path of sustainability and recycling, unfortunately, the percentage of plastic-free packaging in the cosmetics industry is still quite low.
According to statistics, only 9% of plastic containers are recycled, while the rest results in landfills. However, many cosmetics companies have already introduced recycling and waste disposal practices.
Big brands like eos, Garnier, and L'Occitane find recycling contractors like TerraCycle and partner up with them to dispose of their packaging and offer drop-off points for their consumers. The Lush beauty brand and Kiehl's accept empty bottles of their products at stores. If customers bring more than five items, they will receive gifts. Other brands like Origins, MAC Cosmetics, and bareMinerals accept packaging from any cosmetic brands, exchanging them for rewards.
How to Reduce Cosmetic and Plastic Waste?
Brands and their product and marketing teams brainstorm on effective solutions to reduce and eliminate their waste and impact on nature. Some companies focus mainly on introducing new materials and ingredients, while others implement a coherent, sustainable approach to become less polluting and have competitive advantages among industry players. We have prepared a list of the best practices and ideas to help brands develop suitable eco-friendly solutions.
Zero-Waste Cosmetics
While some companies do not even develop strategies to reduce the use or recycling of plastic, others are actively transforming their products and manufacturing cosmetics that do not leave a mark. Big beauty brands like Lush have long offered customers solid shampoo bars, bath bombs, and soap wrapped in biodegradable packaging. Even manufacturers of disposable sheet masks found a solution and created fully-compostable face masks without any plastic polymers and microplastics in their components.
Whether in the makeup or personal care industry, you can find solutions to use mixed materials in your packaging to produce no-waste cosmetics. Dirty Hippie Cosmetics, Elate, Axiology, River Organics, and Izzy is just a few makeup brands that use organic ingredients and recycled cardboard, paper, wood, glass, and metal in their packaging. Most of them also offer refill options.
Avoid Plastic Packaging
According to the British Beauty Council's report, 91% of respondents want brands to use less packaging. And we can't blame them. Plastic, cellophane, single-use cardboard, and fillers take up half the bin after a successful shopping. It might be challenging for brands to refuse to use plastic overnight. However, you can make it work in milestones.
Pai Skincare gradually transitioned from plastic packaging to glass, using it in 50% of its products. The transition from virgin to recycled or bioplastics and laminate-free boxes has allowed the brand to reduce plastic use by 35% in a year. Plastic pollution will significantly reduce if companies gradually transition to alternative methods and materials.
If you can't give up virgin plastic, switch to a recyclable one. Single-use plastic is the main enemy of the environment, annually increasing the size of the Great Pacific Garbage Patch. Moreover, you can use this as an advantage for your marketing and offer consumers recycling instructions or even rewards for returning used bottles.
Virtual Try-On vs. Traditional Fitting
In-shop testers, travel-size products, and samples are not only a marketing trick and a comfortable way to offer customers new products or choose the right shade. It is also a headache for recycling companies and an additional source of waste.
And the point is not only that stores have to dispose of expired testers and their empty containers. According to Mark Falinski, a sustainability scientist, the size of the testers' bottles makes them completely non-recyclable. Machines at recycling plants simply cannot cope with them and will sort them directly to the landfill. And you are aware of what happens next — it ends up either in the ocean or kills a tree in the forest.
Moreover, after each swatch of foundation, lipstick, or nail polish, consumers will use wipes that also contain plastic or cotton pads to remove the stains from their hands, which is an additional source of pollution.
Using advanced technologies makes it possible to reduce plastic waste. Virtual fitting with the help of smart mirrors in physical stores, apps, or on the website will help reduce your costs for disposal and the production of testers. For example, the Guided Virtual Try-On from Banuba, powered by AI, will help to choose not only the best-matching makeup but also skincare, analyzing the skin condition and other characteristics of the buyer. MAC Cosmetics, Sephora, Ulta, Fenty Beauty, and other giants are already actively using this technology in their online and offline stores.
Moreover, virtual try-on can boost not only your sustainability but also sales, increasing the conversion rate by 90%. Customers satisfied with beauty and personal care products selected for them by artificial intelligence will immediately buy a full-size product.
Introduce Refillable Containers
On average, a person buys 11 bottles of shampoo per year. At the same time, 56% of Brits said that they do not sort or recycle them. Add to this list other personal care products such as shower gel, conditioner, and lotion, and the figure of bottles used annually will multiply by four at least.
The refill option can become a key driver on the way to reducing plastic waste's negative impact on the environment. Refuse single-use packaging and offer the opportunity to get customers' favorite products without harming nature in reusable bottles.
Kiehl's, L'Occitane, and Fenty Beauty offer refill options for some of their top-selling products. This approach can relate to makeup beauty products as well. Izzy introduced a no-waste refilled mascara and brow gel, while Hermes, Chanel, and Dior also sell refills for their all-time favorites.
Reinvent Samples and Testers
Consumers ask for testers that usually come in non-ecological packaging to try products that may not suit their skin or color type. The same happens when you send new samples as gifts.
The fact is that up to 50% of testers that stores put in shopping bags as gifts remain unused and simply go directly to the landfill. Why? Because customers are skeptical or even suspicious of testing new products, especially when it comes to skincare. As a result, even this tester will go to waste; you will spend money on its production but will not get a profit.
When presenting new collections or before the holidays, cosmetics manufacturers like to throw marketing campaigns by sending their products to influencers and beauty bloggers. But what if we told you that you could give your new products a chance to try them out to a wider audience with just an eco-friendly email?
Digital testers are not an invention from the Fifth Element. They are virtual copies of your products that anyone can try. Their use will reduce air pollution and beauty waste due to the absence of physical delivery. Moreover, digital innovations will reduce the cost of producing promotional materials and allow you to reach a wider audience to present new collections and beauty products. For example, we at Banuba need only 48 hours to digitalize your new collection of beauty products.
It is not only a more engaging method of communication with a brand that can enhance your sales. It's also a cruelty-free and environmentally-friendly way to advertise beauty and avert climate change.
Stick to Sustainable Practices in Manufacturing
We have already written about sustainability trends in the beauty industry. Many companies start their way to an ecological lifestyle with changes in the production process.
Of course, it is easier to do this at the stage of forming a new business, but even the world giants are taking huge steps to adapt their factories to new environmental standards.
The first thing you can start with is to change your work algorithms. Take sustainability into account during the design stage to create eco-friendly packaging. Switch to alternative materials such as iron, glass, recycled cardboard and paper, and wood in beauty packaging, or replace them with recycled plastics.
Renewable energy sources such as solar panels can save your budget, and building logistics and more efficient delivery routes for ingredients and materials will help reduce air pollution.
Make a sorting station or composting department for recycling materials used during production. If you can't handle this yourself, partner up with recycling companies.
Organic Ingredients over Chemical Waste
You must keep up with trends to win the market and save the planet. Consumers tend to choose nature over chemistry. Studies by Statista show that nearly 50% of buyers became more conscious and excited about using clean cosmetics. They become more concerned about the ingredients, avoiding toxic and rough chemicals.
As the information becomes more available, people are aware of the environmental impact of palm oil on deforestation and soil. They would rather stick to a coconut oil scrub with coffee grounds than an advertised skin exfoliator with microplastic beads.
Considering these tendencies, you can adapt your products' formulae to accepted standards and introduce more natural ingredients. According to research, over 80k components used in personal care products are industrial chemicals. Eliminating them from your goods is a must. It is better to use only ingredients allowed by the FDA regulations.
As the industry continues to grow and is expected to reach $663 billion by 2027, it will produce even more plastic, increasing the size of the floating dump in the Pacific Ocean and causing more deforestation. As it's not the most polluting sphere, the critical environmental state will raise people's awareness, and sustainable and clean beauty trends will skyrocket. It's time to introduce advanced tech solutions and approaches not only to win a market share and customers' hearts but also the fight for our planet.
Top