Blog
Virtual Try-on
Beauty Sustainability
Beauty brands don't want to leave carbon footprint, packaging material, and microplastics in the waters of the world's oceans anymore. Consumer demand also shifted from fast beauty to conscious use and in-depth product ingredients analysis. Labels like "eco", "green", "cruelty-free", and "organic" draw customers like magnets. Let's see what's all the fuss about and how advanced technologies help beauty companies adopt sustainability.

Banuba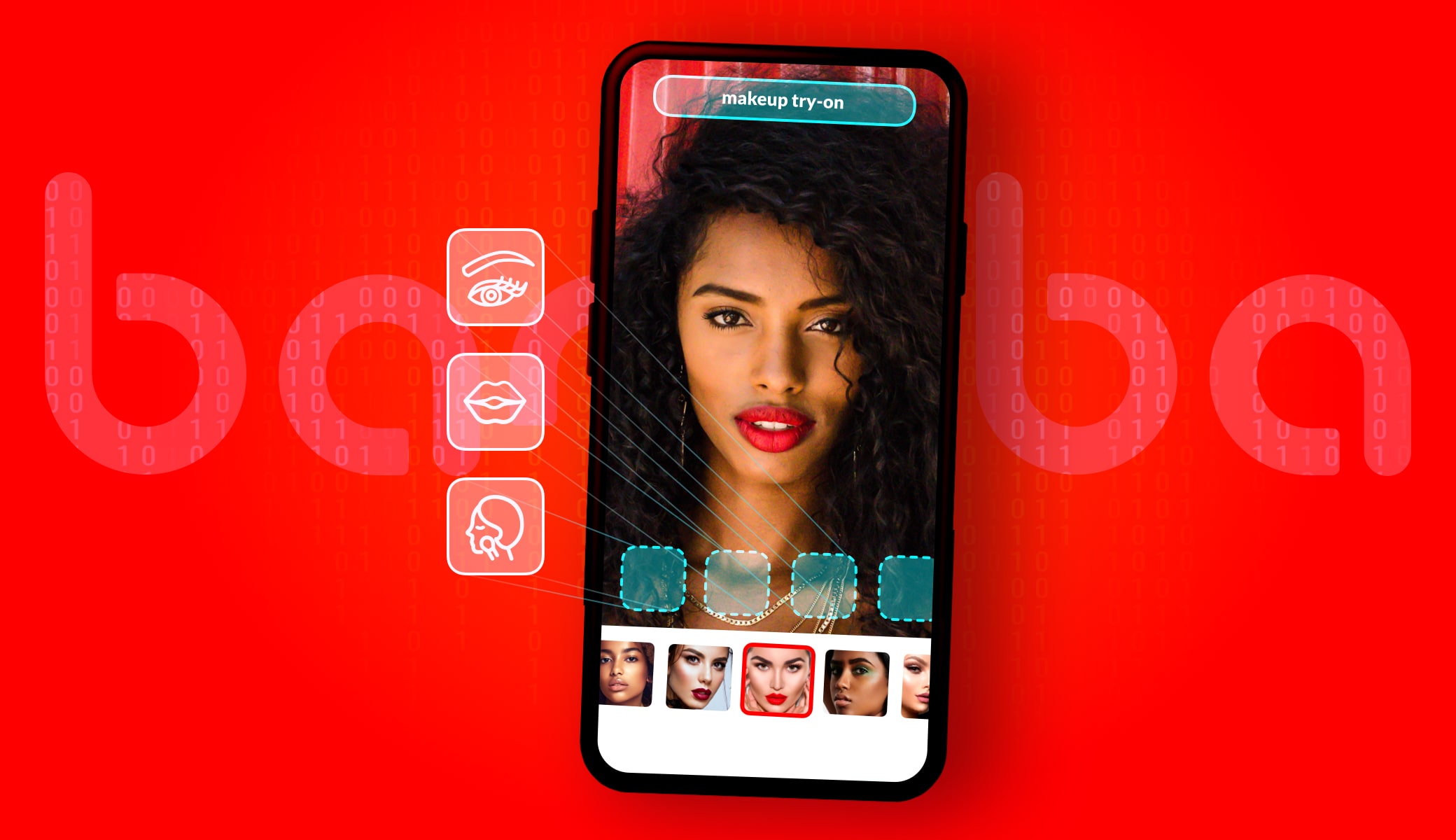 Why Did Sustainability Become Trendy in the Beauty Industry?
To sustain or not to sustain? This question should concern every manufacturer of beauty products. Do not nurture the hope that this trend will pass by your life as easily as the hyaluronic acid skincare fad. Sustainability came here to stay and help increase the time we have left on this beautiful planet.
The beauty industry is one of the most polluting in the world. The United States Environmental Protection Agency data is frustrating: the cosmetics industry generates over 120 billion packaging items, with 70% heading straight to the dump. However, not only plastic containers have an environmental impact.
Beauty brands use microbeads and microplastic units in skin cleansing products (such as scrubs or exfoliators). Consumers don't hesitate to flush them directly into the world's oceans and then buy fish that eat it. Should we be surprised scientists first found traces of plastic in human blood in 17 out of 20 people tested? Beauty products with toxic ingredients also end up in the water and products we consume, not to mention the direct impact on the body and skin when we use them.
As brands become more aware of sustainability and environmental protection, they switch to natural ingredients and try to eliminate plastic waste, reinventing the whole manufacturing approach. However, natural doesn't mean sustainable. For example, plantations used for growing plants to produce coconut or palm oil destroy forests and the natural habitat of thousands of fauna species.
According to 2021 research, around 60% of consumers are ready to pay 35% more for their favorite skincare products and makeup if the sustainable version is available. The increased demand for harmless and organic cosmetic products, their production, and packaging led to the emergence of greenwashing. It is a marketing hype with donations to environmental organizations and buzzing words added to new package designs, and product formulations are diluted with natural ingredients so that synthetic ones are not so conspicuous. Yet, green activists leave such brands no chance, publishing critical reviews and exposing their manipulative strategies.
However, genuine sustainable beauty brands can behold the fruits of their efforts. The natural cosmetics industry grows at a pace of 6-7% annually, expecting to reach 54 billion by 2027.
Trends for Sustainable Beauty Products
Let's review how the beauty industry adapts to new challenges and what sustainability initiatives companies launch to save the planet and become highly customer-centric brands.
Personal Care Products Sustainability
Buyers have become more careful in choosing personal care products and active ingredients. They are studying and parsing formulations, сhecking on reviews, and are no longer fooled by the pretty picture. Moreover, no packaging or one that can be recycled or refilled seems more appealing to them. More than 50% of users prefer natural and organic ingredients in their care routine, and 92% would opt for sustainable cosmetic products. We can assume that this behavior change has been caused, among other things, by the global pandemic, which has forced people to take more care of their bodies and by easy access to information.
The green cosmetics movement implies the idea of manufacturing beauty products using only natural products and non-toxic ingredients. The FDA publishes a list of components the cosmetic industry can't use; however, the organization doesn't label and check the product quality; the manufacturer does.
How do all these changes affect the beauty industry? While it is more difficult for the giants to reconfigure all their processes to introduce sustainability innovations, there are more indie brands that immediately build the production and sales format in a sustainable mode. Natural oils in hair shampoos with shorter shelf life or even natural shampoo products without water to reduce its use. UpCircle uses food waste to create coffee-based scrubs, while Wildland Organics works on packaging innovation for shipping. The brand delivers its green products packed in a biodegradable tape that is 100% plant-based, post-consumer paper, and biodegradable GreenWrap wrapping.
Other brands introduce sustainability through digital marketing and smart technologies, becoming more consumer-centric. They offer AI and AR-based skin analyzers and quizzes, helping to choose the ideal match to satisfy clients' needs.
Makeup Sustainability
Makeup products are keeping up with the trend. Brands are trying to adopt their formulae to be 100% organic, vegan, and cruelty-free. They also use sustainable packaging made of metal, paper, or glass, and offer their customers a refill option.
All-in-one makeup products have also become trendy. Axiology, for example, created a multi-use stick working as blush, lip gloss, and eye shadow. It's wrapped in paper and is all-vegan, without palm oil or alcohol.
How Can Beauty Brands Implement Sustainability?
Let's explore the steps for producing sustainable products in the beauty industry.
Improve The Supply Chain
The supply chain is a complex system, yet it's the number one element where beauty brands should introduce sustainable practices.
The first thing to do is calculate the carbon emissions at different stages of the product life cycle. Thus, you can find the pain points and think of solutions to improve them.
Transportation is a vital element in the supply chain and a producer of 30% of greenhouse gas emissions. Switching to electric vehicles, packing the truck till it's 101% full, and changing the route are some of the initial steps to take.
Unless you produce all the ingredients and materials yourself, you must find a reliable and sustainable supplier. Ask for ESG reports and do some testing if necessary if you have some doubts.
Plants, warehouses, and production offices consume lots of energy, resulting in emissions. Finding renewable resources and optimizing the workflow can help reduce waste. Large companies can use big data and machine learning algorithms to analyze their energy consumption.
Your sustainability efforts will be in vain if you don't switch to recyclable packaging materials. As only 1% of plastic is biodegradable, it's worth considering alternatives: glass, metal, wood, and textiles. If you still stick to plastic, ensure your customers can recycle it.
Eliminate Plastic Waste
The average American throws away about 50 kilos of plastic from packaging each year, and the beauty industry generates the lion's share of this waste. It is the corporate responsibility of the company to try to minimize plastic waste. The best packaging is the lack of it. Brands like Lush and Ethique produce shampoos and hair care products in bars wrapped in biodegradable paper and cardboard packaging.
Reducing waste is not only about eliminating plastic but also about reinventing some conventional processes. The vast majority of beauty companies are already actively using virtual try-on technology. While this increases customer engagement, it also reduces the amount of plastic consumed. How? The buyer will not order ten samples on a website but will choose the best-matching lipstick or foundation shade at once.
Use Recyclable Packaging
Reconsider your packaging materials and stick to the ones that can be recycled. Glass and metal are more expensive; however, using these materials as your packaging can increase your income. About 75% of consumers claimed they were ready to pay more for sustainable products sold in recyclable packaging.
In addition, you can offer your clients a guide on how to get rid of wasteful packaging. Many people don't know about the types of plastic they can recycle and where to bring it. Make an instruction and spread it on your social media, send via email after the purchase is made, or add it to the label.
Launch Recycling Programs
Only 8.7% of plastic waste is recycled. If you want your environmental impact to be positive, consider launching a recycling program or partnering up with companies utilizing various materials, like TerraCycle. Brands like Credo Beauty and Farmacy already cooperate with them. In addition to full recycling, you can offer your customers return and refill options or give them discounts for empty bottles. Kiehl's accepts used containers and offers points that can be exchanged for new products or services.
Stick to Natural Ingredients and Bio-Based Components
About 60% of people believe that personal care products are harmful. Not surprisingly, 24% of shoppers already use clean cosmetics with organic ingredients, and 34% plan to start. Try to include naturally-derived and raw components, essential oils, vitamins, antioxidants, minerals, and coloring in your formulae.
Introduce Sustainable Development and Manufacturing Processes
Optimizing your manufacturing process should be a critical step in your sustainability efforts. Try to reduce your energy costs, consult with engineers to maximize engine performance, install solar panels, or look for other energy sources.
Before investing money in high-end energy-saving equipment, analyze your facility's waste and how you can reduce it. Rubber, paper, plastic, food waste, water, metal — inspect each source and find ways to reduce or recycle.
Minimize your manufacturing time. The less time you spend, the less electricity and water you use.
Reinvent Product Sampling
Testers are another source of unnecessary trash. When launching a new collection, brands send them out to attract new customers. Using the virtual try-on feature can not only reduce the cost of producing testers but also help you become a sustainable beauty brand.
GVTO from Banuba can digitize new products in just 48 hours. All you have to do is email them to all your customers, cut your promotional budget and leave no carbon footprint from delivery m nor plastic or foil waste behind.
Digital sampling and trying on can bring products to the customers when the new collection is not on the shelves yet. It can replace a visit to the physical store, which also results in gas emissions from a ride.
Cruelty-Free
The cosmetics industry still remains quite cruel, but more brands are switching to the light side and choosing the cruelty-free approach. With over 100 million animals being killed or abused during beauty products testing per year, 32% of consumers stated they would stop buying their favorite beauty brands if they tested on animals. So, just stop it.
Communicate with Customers
Offline and digital marketing are the perfect channels for broadcasting your sustainability goals. Launching campaigns on social media via email can draw attention to your brand and encourage customers to recycle together or send bottles for a refill. Besides, an informational war for environmental protection can also be part of your sustainability initiatives.
A guided virtual try-on can become an additional communication channel and a perfect solution to demonstrate a simple and advanced way to test and purchase beauty products without waste and carbon production during a drive to a store. Banuba offers a smart solution that can help match not only makeup but also skincare. It's AI analyses individual characteristics and offers a personalized solution.
Becoming a sustainable cosmetics brand is a challenging task and requires a well-thought-out strategy. Whether you're a young beauty startup or a well-respected company, following this trend will not only help you attract more clients but also make an investment in preserving our home. Cutting-edge technologies just simplify the whole implementation process and find innovative ways to sustain.
Top