Blog
Augmented Reality
AR NFT: How Augmented Reality NFTs Help Brands Increase Revenue
NFT retains the title of the loudest novelty of the year. The NFT turnover in the first six months of 2021 amounted to more than $ 2.4 billion.
In two years, the NFT market grew almost by 10 times.

Still, the story of the NFT development is just beginning.

This post will guide you through the emerging phenomenon of AR NFT and hint you how your brand can jump into the opportunity. You will learn:

- The specifics of AR NFT
- 3 examples of top NFT AR projects
- 4 key benefits of NFT augmented reality for business
- How Face AR can power your NFT project
- How you can promote your NFT with AR filters
- 5 ways NFT AR shapes industries.

Alena Arsenova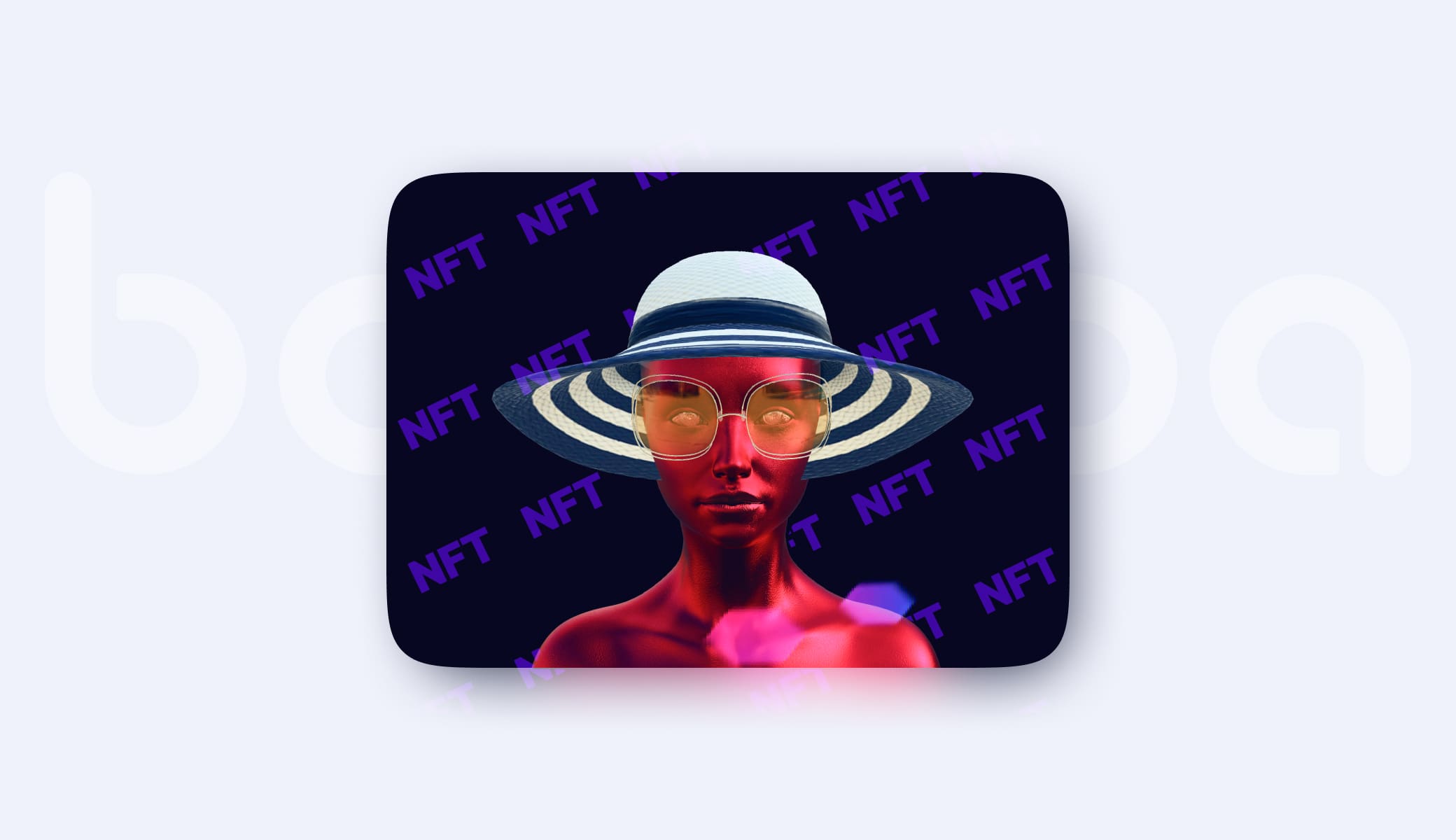 Understanding NFT and How It Works
NFT stands for non-fungible token. Non-fungible means that you can not duplicate, copy or replace it.
In the material world, NFT is a piece of code recorded on the blockchain and attached to an asset. But it's not the asset itself.
When you purchase an NFT item, you pay for the very fact of owning a digital asset. A unique identifier makes it easy to verify the authenticity and impossible to falsify. In fact, you invest in design and aesthetics.
If you create and sell NFT, the copyright still belongs to you. You associate your name or brand with an NFT. It's how you back its value.
So what can be turned into NFT?
Anything you can imagine. Photos, images, music, paintings, videos, digital content, and, of course, augmented reality content - all qualify for NFT.
The last one is the most lucrative space for brands and a subject of our interest. But before we explore how your brand can benefit from AR NFTs, let's state what differentiates it from the other types of NFTs.
What Exactly is Augmented Reality NFT?
Augmented reality NFT is a piece of 3D content uploaded on the NFT marketplace, where it gets its unique digital identifier.
This way, you can create and mint almost any type of augmented reality content.
Here are the key facts and terms related to AR NFTs:
AR NFT can be a simple 3D object or a complex AR experience with sound and dynamic visual effects
It can represent a digital substitute for a physical thing or can be a natively virtual experience. Example: You may launch a new collection of dresses and sell them with NFT virtual copies. Or you may sell virtual-only dresses for the metaverse
It can be experienced anytime and anywhere via a mobile device (Mobile AR) or browser (Web AR).
AR technology lets you visualize and augment any product or even your brand. And backed by NFT, virtual experiences and objects sold through marketplaces become a new revenue stream for brands, creators, and collectors.
For the years to come, augmented reality NFTs are promised to go mainstream, but the time to join is now.
NFT and Augmented Reality: Time Is Now
The NFT technology has been around for some time. Still, the real hype in the market happened only in 2020 with the first way of NFTs known as "drops".
Creators dropped pictures, files, and art, posting them on marketplaces and drawing attention to them on social networks.
The news feed was booming with mind-blowing NFT purchases. Take a digital artist Pak, for example, who sold his works at Sotheby's for $17 million. Just one of them, a grey monochrome pixel, was purchased for $1.4 million.
Brands approached the matter consciously and shifted the NFT market to the next level of "campaigns". Much of that owes to augmented reality.
Augmented reality NFTs are not just a publication of beautiful art on the marketplace.
They are solid promotional campaigns with storytelling, complex technology, and stunning visual implementation. All three are crucial for success since only this way does AR NFT from hype moves to utility.
Here are the most impressive augmented reality NFT projects.
Asics
A sneakers brand Asics created its virtual sneaker NFT collection to encourage physical activity.
Asics Sneakers | AR NFT Project
Charity Kiss
The NFT project Charity Kiss helps people with rare diseases. Leading multimedia artists have reimagined The Gustav Klimt's Kiss to create AR animations and artworks that support people living with such illnesses and their families.
Louis Vuitton
Louis Vuitton partnered with Riot Games League of Legends to design the skin, True Damage Qiyana Prestige Edition. It features the weapon covered in the iconic Louis Vuitton pattern.
Louis Vuitton feat. Riot Games | NFT AR Project
Brands and influencers use AR NFTs to showcase their products interactively, create engaging advertising campaigns and reach younger consumers on social platforms.
The NFT concept creates value around the idea of ownership and belonging, while augmented reality allows for the engaging experiences to be experienced by anyone with a smartphone.
So, how exactly do brands benefit from AR NFTs?
Why Brands Create Augmented Reality NFTs
Only now do brands consider augmented reality as an informed marketing tool. And only now consumers are getting more accustomed to AR technology and using it mindfully, not just because it exists. In this state, the AR NFT market is highly profitable to join.
Bring Attention Through Hype
The attention economy forces brands to constantly follow the trends. Your campaigns must provoke a response, the stronger the better, right? AR NFT campaigns are just the one. They let you boost your brand awareness and attract followers through new PR channels.
An example, a virtual influencer Lil Miquela raised over $82,000 through NFT to support the Black Girls Code project. NFT drives attention and attention inspires action.
Boost Sales
AR is a sufficiently developed technology and has proved its investment viability. AR marketing campaigns attract customers like a magnet, while virtual try-on and Web AR tools raise sales.
An example, Dolce and Gabbana sold at auction a nine-piece collection of digital NFTs alongside actual couture for a total of 1,885.719 ETH or the equivalent of nearly $5.7 million.
Get a New Revenue Source
AR NFT market is not yet oversaturated, making it a golden time for brands, creators, and collectors to join. AR NFTs can go at a relatively low price with the prospect of growing in value over time. The price for an AR NFT item can increase as an artist gains recognition.
As Vintage Chanel bags rise in price in the real world, it will be equally cool to own a first NFT virtual one in the metaverse. But unlike physical things, digital assets won't lose their quality over time. For collectors, it's a timeless investment.
Drive Customer Loyalty & Engagement
AR NFTs are a technological, emotionally engaging type of campaign for brands. They are easy to understand and pleasant to deal with.
While some may find it hard to pay thousands of dollars for a non-existing thing, others are not considering acquiring an actual thing. They purchase a right to call it theirs. In most cases, this intent is purely emotional.
Emotional NFT purchases are about collecting things that reflect our inner world.
Or civic position, attitude to the problems, stickiness to a brand - people define their social status. For that, nothing more than a visually catching AR-powered image on social networks is needed.
How Banuba SDK Can Power Your NFT AR Project
Banuba provides Augmented Reality SDK which you can use to create augmented reality NFT projects.
You can design face filters and add them to your app, let customers try on products, and test makeup virtually. With the development of NFT, these AR experiences become truly revolutionary.
AR NFT Filters
Snapchat filters are meant for the public. Their strong point for brands is their virality and accessibility to everyone. But it can also be a weakness, as people got tired of the same filter everyone can wear.
NFT face filters are a different matter.
In the oversaturated market of AR effects, brands and creators are pressed with competition and have to constantly work out new creative ideas to catch the audience's attention.
AR NFT filters, on the other hand, pledge to the sense of owning something unique, that no one else will be able to have or copy.
Case In Point: Filta
Filta is the first NFT filter marketplace.
You can shop for limited-edition NFT Snapchat filters for your next stream or use them on social networks.
This is beneficial both for creators and content makers.
AR creators can trade their work outside Snapchat and Instagram. And influencers or celebs can invest in unique filters to stand out in the digital space.
NFT Virtual Try-On
What could be the future for virtual try-on? Initially, we've seen AR as a tool that helps us bring real items to the digital space.
But with the growth of the metaverse apps, the virtual try-on experience is not limited to the physical world anymore.
With our virtual try on software, you can create digital AR NFT jewelry, glasses, hats, and rings.
NFT virtual try on opens huge possibilities for brands to step into ultimately new markets like metaverse and virtual runway shows.
AR NFT Makeup
Our SDK lets you create AR wearables and makeup filters to sell them as NFTs. You can share your vision of the future and design creative AR marketing campaigns.
An example, the Amalgama AR jewelry effect embodies the idea of a luxury accessory that directly interacts with the human face.
Gold and liquid glass form lines floating over the skin in an endless cycle. With nanotechnology and ferromagnetic fluids, this future is possible to come into reality one day.
Now, it is a powerful tool to increase brand recognition.
NFT Filters vs Face Filters to Promote NFT?
The above examples are the most promising applications of AR NFT, meaning you mint AR face filters as an NFT. But how about going vice versa and using face filters to promote NFT? AR solutions companies have already shown it as an actual use case.
Jevels
The company supplies its virtual jewelry with NFT Snapchat filters. Those who purchase a piece of jewelry from this brand, get a link to wear it in augmented reality on Snapchat.
By sharing it on social networks or during a video call, customers promote the brand and its NFT collection bringing organic traffic and, eventually, more followers.
Jevels | AR NFT Filter
Shiba Social Club
Shiba Social Club is a brand that creates collectible NFTs. To raise awareness on social networks and build a community around their NFT collection, they use AR Instagram filters.
The filters feature cute 3D characters which you can use as avatars.
Shiba Social Club | AR NFT Filters
RTFKT
RTFKT studio creates virtual clothes and sneakers collections. You can try their NFT Snapchat filters before purchasing.
RTFKT | NFT Snapchat Filters
Face filters are a powerful driver for user-generated content. Stories, photos and short videos bring views, engagement and quality traffic. The NFT technology can give them a second life in a completely new concept.
You can use Banuba Face Filter SDK to add custom filters to your app or website to promote your NFT augmented reality projects.
For brands, it is a great opportunity to build effective AR companies around their NFTs and engage with young people on social networks.
How NFT Augmented Reality Shapes Industries
The NFT hype precedes the real growth of the market and AR NFT helps to bring brands, creators, and users together across many industries. The most dynamic of them are as follows.
Metaverse
According to Gartner, by 2026, 25% of the world's population will spend at least one hour a day in the metaverse. It includes all common digital activities: shopping, collaboration, playing games, education and social networking. Each of them may use AR NFTs.
Now, you can collect, create and trade your NFTs in most metaverses like Decentraland. Lands, avatars, skins, virtual clothes - the sky's the limit.
Tokens can become a form of identification or replace tickets for virtual events. The first trial took place in a 2019 NFT.NYC event where NFTs replaced entry tickets.
Crypto art
The NFT art market is developing explosively. In 2020 its sales increased by 2,800%, with no sight to stop there.
Crypto art is more effective than traditional art. When exhibiting your collection locally, you can count on only a small number of viewers who are physically able to attend it.
But merge your art with AR, and you have endless opportunities for demonstrating it in the online space, opening access to millions of people.
Need proof? Photoshop adds a "Prepare as NFT" option (beta), citing the need for such a step with a desire to protect digital art creators. Sketch AR app lets you draw AR and convert it to NFT to sell on marketplaces. And the market has just started to adapt.
Fashion
The fashion industry has long been considered a slow technology adopter due to its sickness to physical things.
Augmented reality NFT can change that. Brands are not limited anymore in their creativity as the digital space lets you design the most futuristic and complex fashion items.

With AR NFTs, brands can create digital collections, and organize metaverse events, runways and parties where consumers can wear their fashion picks. Same as in real life.
Games
Immersive technologies like AR, XR, and VR have found their way to mass market out of gaming. No surprise.
Games are the most suitable environment to test and experience these innovative technologies. NFTs are no exception, if not to say a catalyst set to reignite the growth of the gaming industry.
AR NFTs attached to physical objects, location-based AR NFTs, NFT skins, and artifacts are all on the horizon for the gaming industry.
One thing is for sure, while item ownership matters even in 2D games, the "documented reality" created by the collaboration of AR and NFTs will strengthen the bond that players establish with the game.
Retail
The NFT market is projected to increase to $240B by 2030, so the brands that operate in the retail sector can capitalize on digital assets. According to a survey, 42% of millennials responded that they collect or are going to collect NFTs. For brands, it's an opportunity to engage their key target audience with NFT offerings.
From virtual shops, deluxe pre-sales, and limited collections to private member communities and events, AR NFTs let retailer brands represent themselves in the Metaverse and stay forward-thinking.
Summing up
AR connects the digital and the real world, providing a smooth interface that we can use already now to engage with both. If your brand is represented online, a natural step would be to use NFTs.
Combined with augmented reality, NFTs open new markets, new revenue streams, and new audiences to engage. From crypto art, games, and digital self-expression through NFT face filters to virtual clothes, accessories, or a million other goods, all can add value through AR NFTs.
NFT Augmented Reality is more than a hype. It is a phenomenon that reshapes the established level of digital commerce and creators' economies.
FAQ
What is augmented reality NFT?
Augmented reality NFT is a unique, non-transferrable 3D object or virtual experience that people can collect through an NFT marketplace.
How do I display NFT in AR?
To display NFT AR, you can offer your customers a mobile or web AR experience. This way, it'll be available as the usual AR experience but on a unique code or link that shows the path to the filter to an NFT owner.
How do I create an NFT AR?
To create NFT augmented reality, you need to design it using any 3D graphical tool like Blender or Maya and then 'mint' it. This happens on NFT platforms. The most popular ones are Rarible, Mintable and OpenSea.
The latter is the largest. All of them are NFT marketplaces and NFT workshops where you can create, sell and purchase NFT AR assets. Once an AR asset is uploaded to the platform, it gets a unique token which means it becomes NFT.
Top