Blog
Face Filters
How Augmented Reality Filters Empower Dating Apps
AR is drastically changing how people interact online. The same is true for virtual dating, which is now powered by animated emojis, 3D avatars, and augmented reality face filters. These features give users more options for self-expression and building meaningful connections. Be it the distance, the pandemic, or busy schedules, there are many reasons why people go on video dates, and why virt ("virtual hanging") can be part of a healthy and fulfilling relationship. This article discusses how AR can enhance the online dating experience to make it more appealing and engaging for users.

Banuba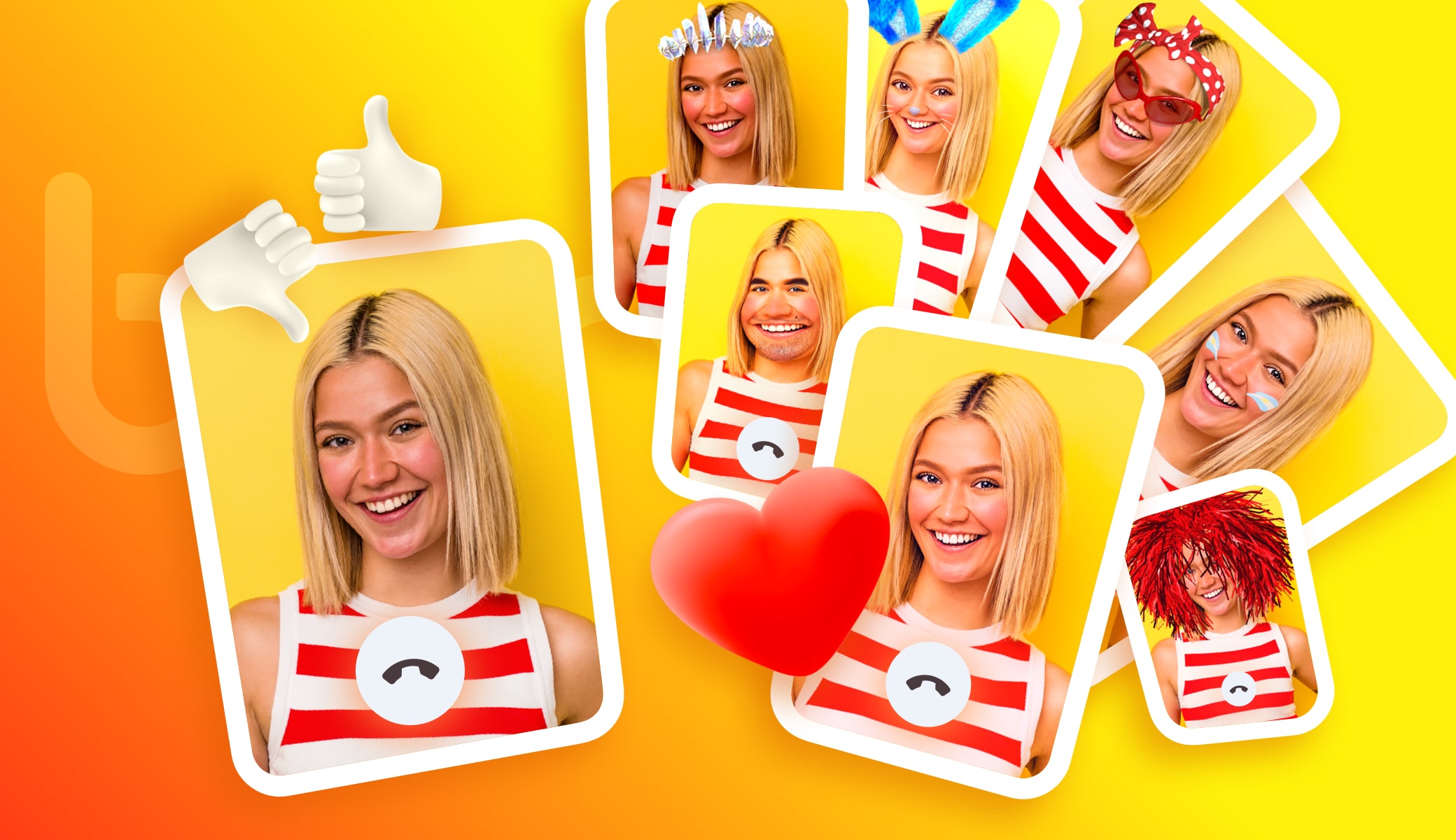 The dating culture has changed significantly
Augmented reality dating apps have transformed the way we look for partners. Some critics say that Tinder, Bumble, Grindr, and similar services have led to a "dating apocalypse", with romantic relationships downgraded to hookups and sexting. Others argue that such apps are simply a reflection of the evolving nature of dating and one which is now universally accepted.
New things frequently trigger criticism, but the numbers indicate a big change in dating culture. According to The Atlantic, 93 out of 1000 couples profiled in the Times' wedding announcements section met on dating apps. The Financial Times reported that up to 75 percent of heterosexual couples met online in 2019, while eharmony claims that 50 percent of all UK couples will have met on dating apps by 2031.
Banuba Masks
These apps have also brought along the "swipe culture", which significantly shortens the time needed to find a match. The common swiping interface with pictures and text messages is also being gradually enhanced with video and augmented reality face filters, beautification, and other effects.
Video reflects the next big trend in online dating. Bumble reported an 85% increase in in-app voice calls and video chats during the first two weeks of the pandemic. While video dating has become a way to connect with someone during self-isolation, 65% of Hinge users who tried video dating intend to continue with this format after the pandemic is over.
Augmented reality face filters are making virtual dates more fun
Once a person knows what their match looks like, AR video filters can be a great icebreaker. They allow people to feel "present" as they e-meet strangers and chat casually while maintaining personality and privacy. Users can wear AR masks or apply filters to partially cover their faces, which feels less impersonal compared to an avatar.
On top of that, face filters facilitate user engagement and increase memory response. People tend to remember things that are extraordinary. And face AR is a good source of such experiences because users can get extremely creative when presenting themselves and interacting with others.
Banuba Masks
Augmented reality started to gain popularity around 2015. Since then, the number of AR users worldwide has risen from 200 million to approximately 2.4 billion. Dating apps can also benefit from introducing AR face filters: increase user engagement, reduce stress, and create positive memories. Technically, face AR editors enable the application of customized effects to a face regardless of skin color, age, or gender, even when dealing with poor lighting and complex haircuts or glasses.
By now, developers have come up with a variety of AR solutions that can enhance dating apps, such as Banuba Face Filter SDK. Using this SDK powered by neural networks, you can integrate the most stylish and fun effects and masks into your augmented reality dating app. You can also update them regularly to keep users engaged.
Beautification reduces anxiety during video dates
One of the challenges with video communication is to help people overcome their unwillingness to show their faces. Research shows that people are insecure about the way they look while on video or social media. With poor lighting and camera distortion, we might appear older than we are in reality.
Not being able to correspond to the established beauty standards may lower daters' self-esteem. But, integrated with video calls, natural beautification filters can solve that by covering tiredness, eye bags, acne, and other conditions that we do not have full control of.
Banuba Beautification Effects
Dating app developers can introduce natural beautification tools to help users deal with their fear of looking imperfect, which might be especially important during the first video date, when anxiety is sky-high. These tools include skin smoothing, tone enhancement, teeth whitening, "expressive eyes" effect, face morphing, eye makeup, and color improvement.
Banuba Face Filter SDK has all these features already built in and ready to be smoothly integrated into any dating app. It enables both looks and backgrounds to be edited in real-time, be it a selfie or full-body mode, thus making video dating less stressful and more fun. You can check it out at no charge.
3D avatars and emojis help daters connect
With the help of AR and face tracking tech, dating app users can turn their photos into realistic 3D avatars and control their characters using their own facial expressions. In a live chat, these images preserve users' anonymity and take interaction to a new level.
For example, users of the Hyper Online app, targeted at gamers and anime fans, can turn into animojis and join rooms to meet people. Other fun features of this service include a drawing tool and games.
Banuba Avatars
A study by Gesselman, Ta & Garcia (2019) suggests that emojis help build connections with potential partners beyond the first date. Emojis give users additional options for conveying affective cues. The possibility of expressing and following these cues is potentially associated with a more successful intimate connection leading to more face-to-face interactions in the future.
Our Face Filter SDK has a built-in component that animates 3D emojis, avatars, and full-face AR masks, which users can then control with their own facial expressions in real-time. This component can be seamlessly integrated into a dating app, offering skeletal animation and mouth and head tracking for both full-body and selfie modes, as well as embedded avatar samples, which can be used during a video chat.
Video is about to replace text and photo in dating profiles
The pandemic has made face-to-face meetings unsafe and, as a result, changed the way people use dating apps. Users now invest more time in building deeper connections, talking and getting to know each other without the pressure of a quick hook-up.
In this regard, video has become a medium that can make these connections even deeper by giving dating app users tools for creative self-expression. They can now present themselves and tell stories in ways unimagined before, when text and photos were all they had. On top of that, AR tools like filters, effects, and gif overlays make video communication even more fun.
Banuba Video Editor
By enabling video editors, developers of dating apps can give users the opportunity to easily create video profiles and record short, TikTok-like videos using their mobile phones. It is important to make the process of augmented reality video recording and editing intuitive, though, so that it doesn't require any special skills.
Our AI-powered Video Editor SDK allows you to do just that. It has ready-made modules for developers to quickly integrate them into their mobile dating apps and unlock video for their users, along with extra features like AR filters, sound editing, and more. Try it for free!
How dating apps implement AR video effects to engage users
The current turn toward more interactive formats of online dating opens up new opportunities for users, who can now express themselves creatively through video profiles and use filters for beautification and stress reduction during video chats.
Now, have a look at how dating app developers are embarking on these new trends:
The three most popular apps, Tinder, Hinge, and Bumble, have quickly added built-in video chats after the pandemic spurred the growth of online dating.
A recent newcomer, the video-based social networking app Graze, allows users to communicate via 5-minute video chats rather than texting.
In the Loko app, people can upload 15-second video self-presentations and go on video chat when they find a match.
The Lolly app, pitched as "TikTok meets Tinder", connects users based on their video "claps" (Lolly's equivalent to a "like") and enables them to create video profiles.
MeetMe introduced a format of live video vlogging for virtual dates, which lets users stream their video date live, while others can join to watch and comment.
All these video dating trends suggest that more personalized and gamified experiences are likely to follow, opening up new opportunities for users to engage and connect with others.
Banuba Video Editing Effects
Conclusion: augmented reality filters and videos are a big win for the online dating industry
New dating formats, be it one-on-one video dates or public live streaming, have created new ways of self-expression and self-representation. Dating apps increasingly attain the features of social media, as many people are using video dates to get a closer connection with others instead of connecting via the popular social networks during the pandemic.
Considering the trends toward interactivity and the shifting ideas about the whole dating culture, it seems that video dates will most likely persist, even after the pandemic is over. Adding face AR to dating apps could make them even more competitive and valuable for users worldwide, creating tremendous engagement and in-app spending opportunities for app developers. Go ahead and try our SDK for free to see how it can benefit your project.
Top