Blog
Augmented Commerce
Cosmetics Marketing — New Approaches to Overcome Challenges
Covid-19 gripped the beauty industry by its throat, and many brands started to suffocate. Closing brick-and-mortar stores, going online, abandoning bright lipsticks in favor of care cosmetics with a deep interest in ingredients and a demand for a personal approach — beauty marketers have a tough time attracting new audiences and retaining existing customers. How do cosmetic manufacturers stay afloat and become successful businesses with market share? Check out the best marketing strategies and approaches to help cosmetic brands prosper in 2023.

Banuba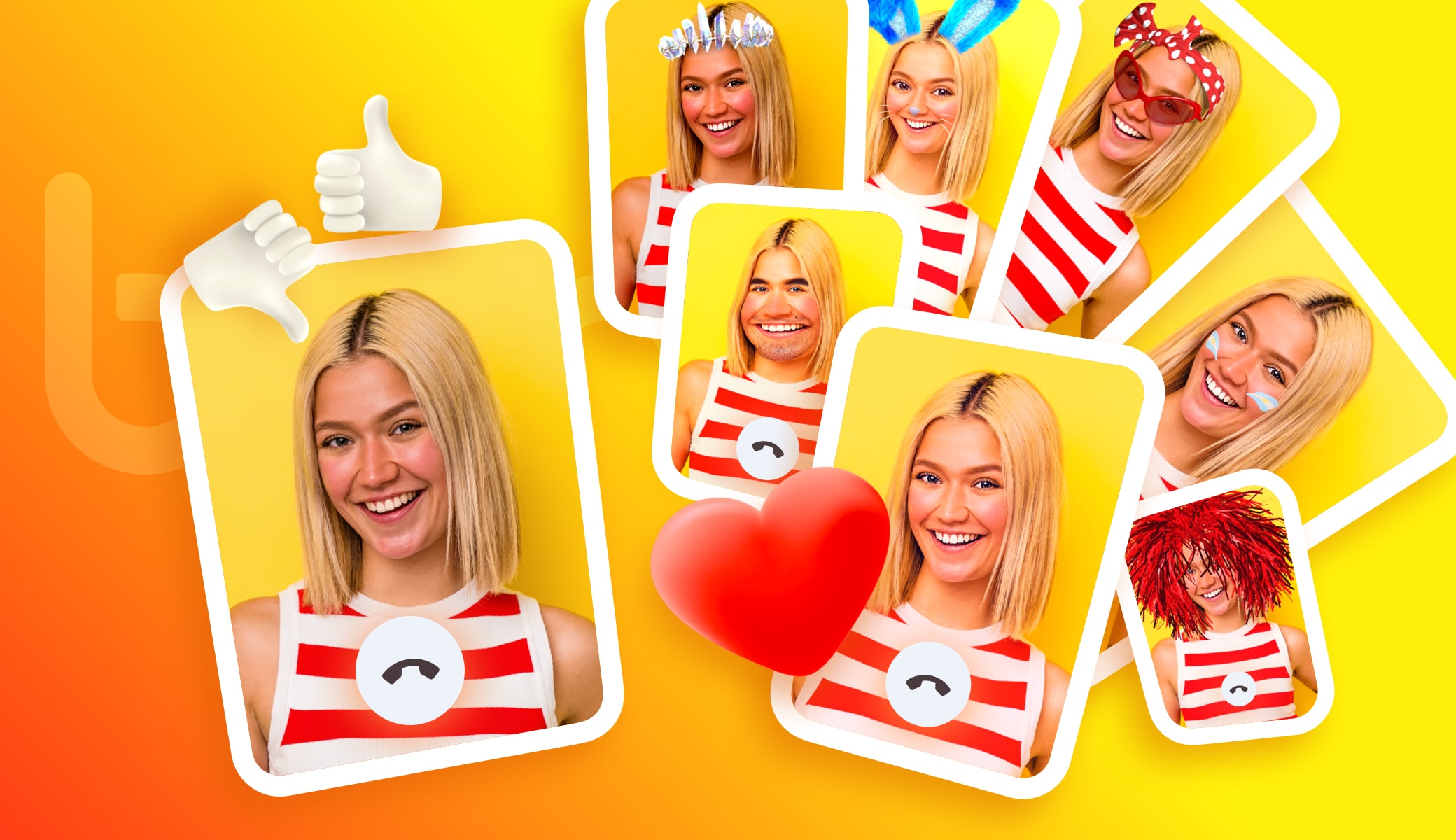 Challenges Beauty Brands Face in Marketing
Cosmetics beauty companies seemed to have just become accustomed to the new game rules and tendencies after the pandemic. Not only had the mask regime decreased makeup usage drastically (up to 90% of women stated they haven't been using makeup since remote work started) and switched attention to skincare and hair care, but it also transferred everything online.
Marketing beauty products turned into playing tag with obstacles — every brand tries to outrun its competitors, come up with innovative solutions and not fall or smash their faces against the wall as they run. Beauty and cosmetic brands still have similar challenges to overcome, no matter how fast they run.
Competitive Market
The cosmetics segment is no longer limited to global giants like Loreal, Estee Lauder, Maybelline, etc. Anyone can start producing and selling natural cosmetics on Etsy, social media platforms, or beauty retailers. Often, the unique and smart marketing strategy and leveraging modern technology and off-the-shelf solutions allow brands to stand out among competitors and fight for their customers. However, the price for acquiring repeat customers is higher and requires extra efforts.
Low Customer Lifetime Value and Average Order Value
The variety of brands and online stores leads to shoppers' scattered behavior. Loyalty rates in the beauty industry are as low as 42%. Clients are constantly trying new cosmetic products, yet, are very demanding regarding their customer experience. Thus, the acquisition cost is way too high, and beauty brands can't retain consumers in the competitive and curiosity-driven environment.
As people have become more conscious about their purchases and have unlimited access to information, the buyer decision-making process has become longer and more complex. This leads to higher add-to-cart rates and lower average order value. For example, a shopper may add lipstick to their cart but still hesitate. By the time they make up their minds, the product can be out of stock, and they leave the online store dissatisfied. However, guided virtual try-on (GVTO) by Banuba can analyze customer behavior and preferences and offer tailored products to replace the desired makeup.
Process Of Decision Making
Today's beauty shoppers are spoiled with attention, offers, and freedom of choice. They prefer informed purchases, and the trend for researching online and purchasing offline (ROPO) is at its peak. About 88% of buyers read reviews before deciding, and 56% still visit offline stores to swatch and test the desired beauty products. That said, the online research people conduct influences 56% of sales made in physical stores.
Marketers in the beauty industry should consider this and offer their potential customers an omnichannel approach. According to statistics, approximately 73% of people prefer having a choice of shopping channels. Thus, introducing a virtual try-on for makeup brands delivers a convenient tool to shorten the time and effort required to make a purchase.
Personalization in Everything
A personalized experience is a necessity for marketing in the beauty industry. Forget about mass mailing and uniform offers. Personalized marketing campaigns increase ROI by 89%, and revenue can grow by 40%! AI-powered solutions can help generate personalized offers in the beauty industry, gathering data and analyzing customer habits and behavior.
Successful Marketing Strategies in Beauty Industry
Every beauty and cosmetics brand has an interesting marketing campaign to showcase. We have chosen recent beauty brands that skyrocketed and impressed everyone with their success and high-quality marketing strategies.
Fenty Beauty by Rihanna
Rihanna blew up the cosmetics industry with its beauty products. It's not only about their advanced formulae, high pigmentation, and 40 shades of foundation matching any skin tone.
The brand's success significantly depends on its excellent marketing strategy and positioning. When everyone expected Fenty to be another mass-market company labeled with Rihanna's personal brand, Fenty Beauty outran all its competitors and became a confident game-changer.
The brand used almost all marketing channels and laid a bet on inclusivity. Customers became the core of their positioning and vision. It was an innovative win-win combination targeting broad audiences on all sources possible. They launched simultaneously online and offline regardless of the timezone. Cosmetic products were displayed on shelves, social media platforms, YouTube, and every beauty influencer reviewed them. Fenty became a global beauty brand with the leading 26% of the market share of voice. Nowadays, its website is a digital salon with a virtual try-on feature, an AI-powered shade finder, and online consultations with experts.
Rare Beauty Brands by Selena Gomez
Another celebrity beauty brand? Yes and no. People didn't anticipate much of Rare; however, thanks to its outstanding marketing, ingredients, and properties, it generated a revenue of $60 million throughout its first year.
How was it different from other celebrity beauty products? Rare uses storytelling and conveys a message through its vision, positioning, naming, and even makeup items' shades' titles. Selena Gomez is displayed not as a pop star but as a human being with vulnerabilities such as depression, anxiety, and diseases.
Rare sticks to this ideology of inclusivity, human vulnerability, and natural beauty. While Selena promotes her products on TikTok, getting 19 million views, the company's Instagram leverages user-generated content using a special hashtag. Rare Beauty built a community of women who value liberty, simplicity, inclusivity, and self-expression combined with cruelty-free and organic products.
Digital Marketing Strategies for A Cosmetics Brand
Digitalization influenced all processes in the beauty industry — from production to sales and delivery. Although word-of-mouth marketing is still the king, it has also migrated online and transformed its appearance. Let's review the ultimate digital marketing tips, trends, and strategies cosmetics brands can't miss.
Content Marketing Still Rules The World
According to statistics, content marketing is the best format for personalization. You can implement it in all digital channels — any visual or textual content in any format created to attract, entertain, retain, inform, or call to action the target audience refers to it.
Glossier, for example, slays content marketing in every blog post, social media publication, and even email. Engaging content attracts more organic traffic to your brand, increasing the flow of quality leads and eventually bringing higher conversion rates, brand awareness, trust, and loyalty.
Search Engine Optimization — Free Source of Organic Traffic
SEO boosts content and makes your website stand out and glow on top of Google Search results. Though many marketers have already buried it and consider it old-fashioned, they will bite their fingers.
Search Engine Optimization is not only about quality texts with the right keywords. It also implies optimizing web pages to conquer the top positions. It often doesn't require a website blog section to leverage SEO. You will be surprised, but it even includes video content. Fenty uses makeup tutorials and tips on applying their products. The secret to SEO is in properly-written titles, headers, descriptions, and even product reviews. Optimizing the data brand posts on its web page enhances its awareness and boosts online sales.
Social Media Marketing
#beauty covers over 505 billion entries on Instagram alone. Social media became an inspiration hub, with up to 45% of adults aged 18 to 24 looking for tutorials and beauty tips there. About 85% of marketers recognize Instagram as the best-performing channel for the beauty industry (including for paid promotions and advertising). TikTok and YouTube don't stand aside, altogether creating awesome opportunities for setting beauty trends, hyping, promoting products with hashtags, and leveraging UGC.
Although direct sales are still in pilot or beta versions, social media brings lots of quality leads and introduces cosmetic companies to new audiences. Thus, ColourPop remains on top of Instagram, generating around 40 posts per week, bringing over 67 million engagements!
Build A Community for Your Beauty Brand
A digital community is a gem for every marketer. It's a place to conduct surveys, get data, learn your audience and their pains better, leverage UGC, and communicate the brand's message. According to statistics, having a devoted community can boost the conversion rate by 60%!
Sephora has its Sephora Squad, but many brands stick to social media channels. Consumers can engage in dialogue with each other and contribute to content or product development. They become brand advocates, producing free content companies repost and share to increase reach.
Leverage Paid Ads
Google ads are becoming more and more in demand after the pandemic. Prior to 2019, shoppers made up to 85% of their purchases in person after consulting with a seller. They could swatch, read the ingredients, and ask for advice. Covid left them one-on-one with Google, which found all the answers to their questions.
With the development of smart assistants and speakers, voice search is becoming increasingly popular, displacing text-based inquiries, and 27% of all searches are made by voice. It alters the wording that marketing professionals should consider.
Neither should marketers ignore social media ads. However, the promotional content shared on various channels differs. Instagram focuses on aesthetic visuals; TikTok sticks to authenticity; Facebook users want the sponsored posts to be relevant and look organic.
Product demonstrations, unboxing, tutorials, and UGC (like reviews and testimonials) are great for beauty brands to use in their ads.
Collaborate with Social Media Influencers
Influencer marketing thrives in the beauty industry. TikTok is a leader in engagement rates compared to Instagram and YouTube. It's funny how TikTok often brings fame and increased sales to brands without a collab agreement. For example, Ordinary's facial toner sales went up 426% after the user's video review went viral and received 377.9 million views.
TooFaced had an unexpected increase in demand for a lip product released in 2013. Marketers took this approach and collaborated with beauty influencers to promote their new mascara. Mission was completed with 821 million views.
The modern marketing trend is shifting to micro-influencers. These are bloggers with fewer subscribers but a more trustworthy and loyal audience who regard them as friends or neighbors. They have the highest engagement rate of 3.35% on Instagram.
Micro-influencers help cosmetic companies reach audiences they could have never targeted alone.
AR and VR for an Unforgettable Customer Journey
L'Oreal, e.l.f. Cosmetics, Gucci, MAC, Estee Lauder, Fenty, and other giants have already introduced augmented reality into customers' shopping experiences. According to surveys, 60% of consumers claim to be more encouraged to purchase from brands offering a virtual try-on. Makeup brands leverage the technology to the top with 40% higher conversion rates.
AR and VR can turn the marketing strategy to the next level. These technologies create a separate communication and interaction channel, simplifying the decision-making process, cutting the churn rates, and boosting engagement.
Banuba's GVTO is also AI-powered, allowing in-depth user face analysis to find the perfect match for skin tone, eyes, and hair colors. Based on customer preferences and behavior, the smart product offers guarantee high AOV and loyalty.
Leverage User Generated Content to Tell Stories
Consumers are tired of perfect glass skin, professional lighting, and impeccable winged eyeliner. They appreciate the experience of similar, so to say, common beauty users with skin imperfections and flaws. You can call it social proof.
It impacts the purchase decision and is 6.6x more effective than the perfectly Photoshopped and edited visuals. For example, Cult Beauty regularly shares UGC featuring its products. When Glossier released its Body Hero, it shared over 3.000 pictures of UGC over Instagram, using the particular hashtag. The income reached $33 thousand within the first week of sales, with social media being the primary sales channel.
Some brands create AR masks and filters on Instagram and TikTok to boost UGC production. Nars, MAC, and TooFaced often promote their new products with corresponding filters and use the content received to engage more customers.
Create Lots of Video Content
Video content is crucial for beauty marketing. It developed from YouTube videos in the 2010s to shorts, reels, and TikTok sketches. This format boosts user engagement — from writing comments and sharing to creating UGC.
On average, people spend astonishing 19 hours per week watching videos. About 73% of users prefer getting acquainted with a new product through a short video. It's a crime not to leverage their preferences. The abundance of YouTube tutorials on makeup, TikTok reviews, and Instagram beauty makeovers proves that short videos have come to stay for a while.
Don't Underestimate Email Marketing
Marketers consider email marketing one of the most effective channels, winning even over social media. This is not surprising, as nearly 50% of shoppers prefer to receive emails from their favorite brands, and 59% say it influences their buying decisions.
Emails in the beauty industry are more than just pretty text and visuals with a call to action. Using AR, brands can send their customers new items and a product catalog to try on makeup online with the option to order. This eco-friendly method allows customers to get new products before they are even on store shelves.
What's more, email newsletters with quizzes and questionnaires in return for personalized offers help brands get to know their audience even better for more detailed segmentation.
The secret to a successful marketing strategy for cosmetics in 2023 is in the omnichannel approach and putting your consumers first, offering them an unforgettable shopping experience, and teaching them how to love your brand.
Top