Blog
News
Mobile World Congress 2019: How We Immersed People Into Augmented Reality

Alena Arsenova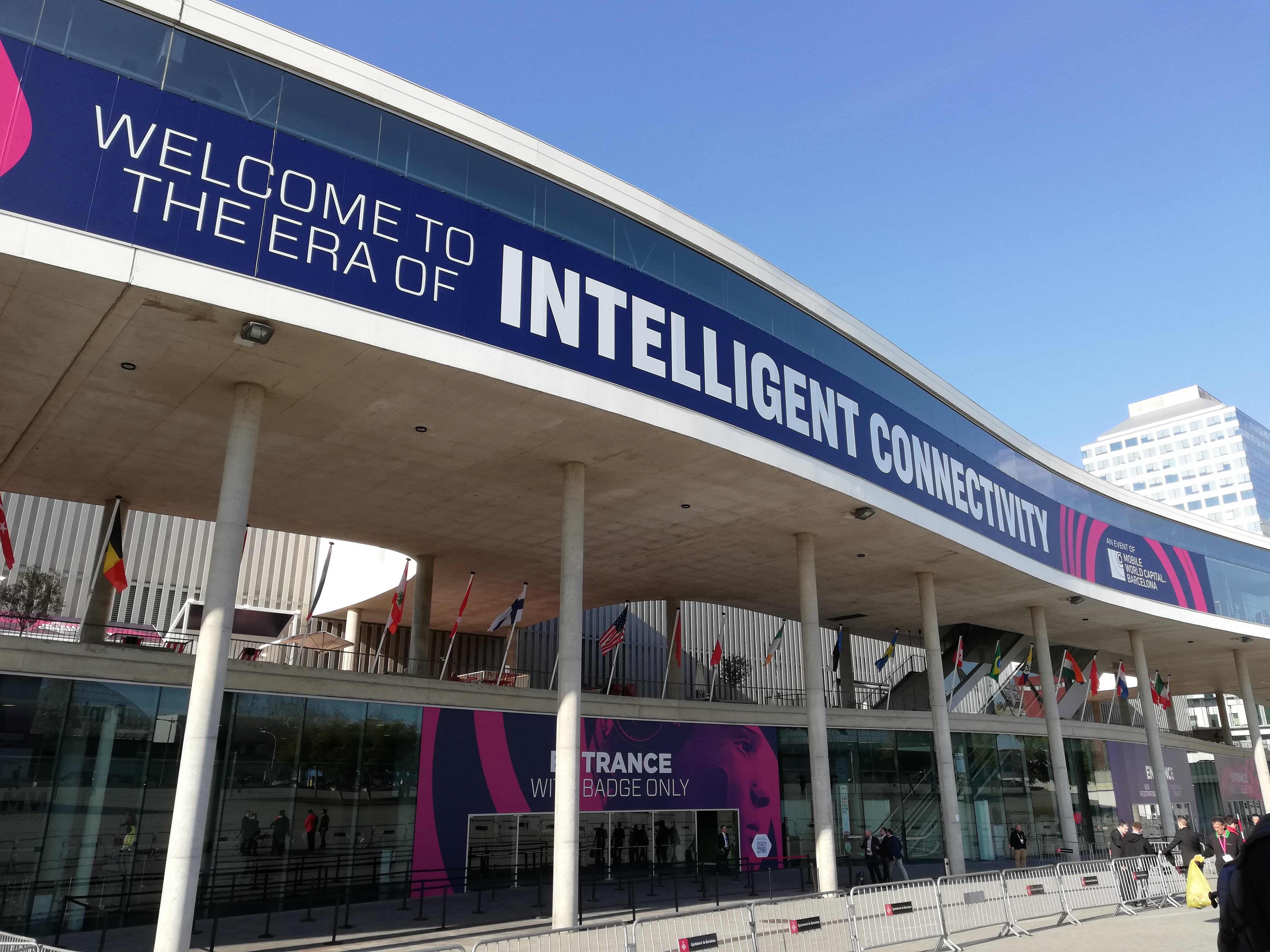 A dream or reality? Mobile World Congress 2019 was both. The largest fair of innovation, technology, and breakthroughs leaves unforgettable impressions.
Our team attended the fair for the first time where we showed our
, the most immpersive face augmented reality platform for brands and developers.
How does it feel? It's huge! Read our 4-day diary to learn insights, useful tips and trick for exhibiting on Mobile World Congress 2019.

Mobile World Congress 2019 _ Day 0
Before the grand opening, all exhibitors may enter the halls and check their stands. 12 hours prior to the launch, everything looks in a mess. The stands that tomorrow will welcome thousands of people with shine, lights and innovation, now are covered with dust. I had a small talk with one guy from Microsoft's stand who told me that there are over a hundred (!) workers hired to set it up.
ME: How are you gonna make it till tomorrow? It's unbelievable!
HE: But we have the entire night ahead. Plenty of time.
Finding our stand 8.1J9 and it looks... Just as agreed with organizers. Sunny yellow booth cover? Got it. Tables and chairs? Got it. TV to run promo video? Also here. 15 min to check everything and we're leaving to chill in the Barcelona sun.
Mobile World Congress 2019 _ Day 1
9.30 and we're on the station. Meet the first hero of the story. Yury Hushchyn, our CTO and the guy who stands behind all Banuba's augmented reality magic. If you've been lucky to meet Yury before, you know him as an extraordinary person. As all gifted guys who assembled years of experience, he knows how to make things right.
The guy who has organized dozens of exhibitions and attended even more. The guy whom we, the freshmen, have forgotten to ask. And so here the fun starts.
YURY: Who made these crappy visit cards? Why they are black!? HOW WILL PEOPLE TAKE NOTES ON THEM?... (Face palm)
YURY

: Next, who put this octopus face filter here? Why octopus? Can anybody tell me why the octopus is here?
WE: It's a cute effect and sits well.
YURY

: Wrong! You need a policemen face filter here so that people would see straight away that we can change faces fully!
WE: Ok, sure, no problem. (Playing The Beatles in my head "Help, I need somebody, Help").
7 min express master class from Yury on do's and don'ts on the conference is over, and here we start.
First visitors jump into our stand, and we start chatting about our augmented reality platform. Explain to people how it helps brands and developers advertise products via virtual try on and engage better with the clients.
Yury is telling and demoing our technology on very low-end device Nokia 1 powered by Android Go. The thing we're proud of.
Tip for newcomers:
Prepare your pitch! Surprisingly, but no matter how well you know your product, you may be at a loss when it comes to explaining its idea and value in 2-3 sentences. To the person you know nothing about.
Mobile World Congress 2019 _ Day 2
Everyone loves having fun at the demo area where we placed devices with some of our cool face filters. We place the demo tablet and devices so that all three instantly overlay the effect when a visitor comes. Neat!
Face morph filters, Game of Thrones one where the dragon lands on your head, funny and beauty effects, virtual try-on AND the Octopus (face it, Yury) performs best of all. People laugh, smile, and take shots.
The serious guys who came for a reason jump straight away to business. We've mastered our sales talks, and the conversation gets smother and to-the-point.
THEY: What do you do?
WE: We're the face augmented reality platform for brands and developers. As a developer, you can use our face AR SDK and analytics technologies. As a brand, you can create super realistic virtual try-on apps for eyeglasses, headwear, jewellery, makeup and soon — the body.
THEY: Is it an app or you provide SDK?
WE: It's an SDK that you can use in your mobile apps, tablets, interactive screens and on the website.
THEY: How do you, guys, differ from other AR companies?
WE: Quality and performance. Our powerful renderer allows for creating literally any (ANY!) kind of face augmented reality experience — super fun, realistic, gamified, with triggers, you name it. And we optimize our technology for low-end devices, specifically Android. Let me show you.
WE: (demoing our virtual try on and face filters on Xiaomi Redmi Go).
THEY: Indeed, it looks nice. / You're the best from what I've seen! / Tell me prices.
WE:
What's interesting today:
Anna Serchenya, our amazing Business Development Manager, runs out of her visit cards.
Meeting with a couple of large smartphone vendors.
After-party! Vadim Nekhai, our Managing Director, and Yury attend the Samsung NEXT Founder Drinks, make dozen of prospect connects and share the impressions on intense networking session in the most CEO-dense place in Europe.
Mobile World Congress 2019 _ Day 3
The first two-day excitement in people has passed. Everyone is wondering slowly not hurrying to jump into your stand. Now, it's time to hook people up. We're trying to create the buzz around. Because the crowd attracts the crowd.
We invite pass-buyers to visit our demo area, promise them fun and magic, give our hand-outs and offer to read about our company and come back if they're interested. And it works!
It's 5 pm and all brans open bars and evening programs at their stands. The louder is the music, the harder it's to explain our SDK's value. More and more people checks in our stand with a glass of wine or beer in their hands. We don't mind and ask where to get one. They don't mind sharing directions. The atmosphere gets informal.
The first rule of a sales specialist? Speak your audience's language. From "innovative technology" and "disruptive AR experience" we move to "all that awesome sh*t" and "youngsters go crazy over that crap". And it works!
What's interesting today:
Meeting with Oral-B, owned by the Procter & Gamble Company, who showcased this year the AI-powered toothbrush that tracks how you brush and provides personalized feedback.
Meeting with existing clients
RPMAnetworks visits our stand and we're having an hour-length discussion on gaze tracking and other face analytics technologies for automotive.
Catching up with Visage Technologies and Seerslab, the two companies doing face analytics and face augmented reality experience. Friendly talks about the future of AR, where we're all going and checking each other demos.
Mobile World Congress 2019 _ Day 4
Half of attendees are carrying luggage bags in their hands. Most of them will fly away even before the day ends. We not gonna give up. Let's make the most of the final day we say.
So we're wondering slowly over the conference. Watching robot playing the piano and testing smartphone providers' cameras. You do know we're all about the selfie camera, right? We've discovered some new smartphone brands like Wico and Konrow.
Reaching out or finding executives to show our demo is a challenge. They're probably doing the same or meeting others.
What's interesting today:
Meeting with Everywoah. Amazing guys who are partner developers to Facebook Inc. and work with AR effects.
A guy from Pornhub (website link missing here) visits our stand and shows interest in our AR face filters and Avatar technologies. YES, you read it right. Pornhub. No visit card left. (Sigh with relief).
4pm. It's time to wrap up and go celebrate!
See you next year, Mobile World Congress in Barcelona.
NEXT READ: Best AR / VR Techs For Retail At Mobile World Congress 2019
Top