Blog
Video Editing
How Video Editing Helps Apps Succeed (Use Cases Included)
Video content comprises over 80% of all internet traffic. However, it doesn't just come from YouTube or other video hosting platforms. All kinds of apps use audiovisual content to attract users, increase session time, boost sales, or gain other benefits. In this article, we will cover the types of software that use videos, describe what exactly they gain from such clips, and show how to save a ton of time and money when developing one.

Alex Krasko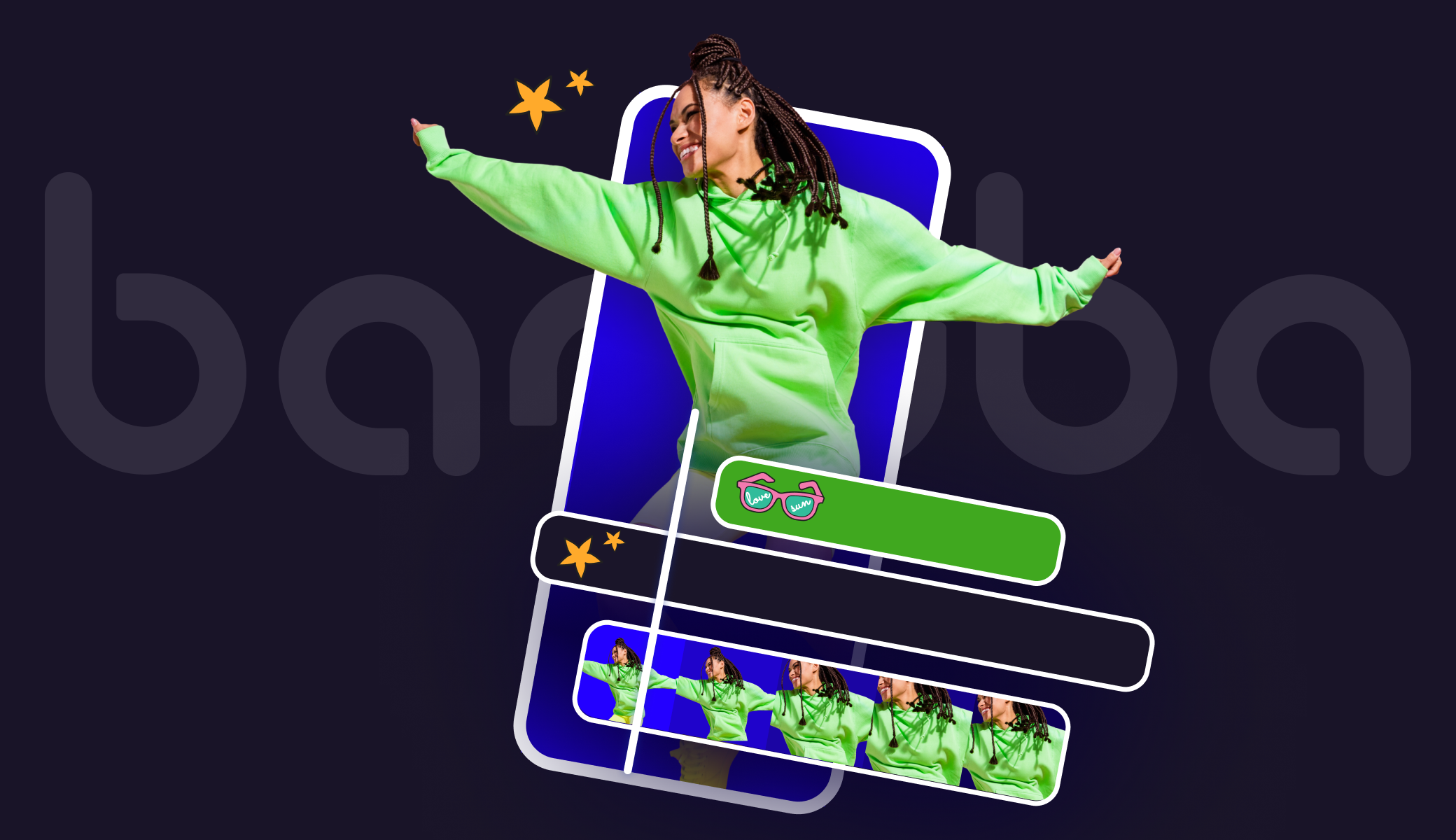 There are many types of apps with video editing features. Some build them from scratch, others integrate a video editor SDK. However, they are all worth mentioning, so we'll start with the most popular ones.
Social media
Video-based social media platforms have taken the world by storm, with millions of users creating and sharing short-form videos on a daily basis. TikTok has become the most popular app, with over 1 billion active users worldwide.
Video-based social media platforms are only set to grow in the coming years. According to a report by DemandSage, the number of social media users is expected to reach almost 6 billion by 2027, with video-based platforms like TikTok and Chingari leading the way. This means that there is still a place on the market for new companies and the social media app features for video will still be in demand.
One of the key aspects of video-based social networks is user-generated content. According to a report by Hootsuite, 86% of TikTok users have created and shared their own videos – a testament to how easy it is to make videos. Other social media, like Instagram and Reddit, have also released their own TikTok-like features but weren't able to reach the same success.
Picture-in-picture mode in Banuba Video Editor SDK
The core social media app features for video editing are:
Trimming/merging
Text/picture/gif overlays
AR masks
Color filters
Picture-in-picture mode
The dominance of the Chinese social network is under threat, though. In India, TikTok was banned in June 2020, leading to the rise of homegrown apps. For example, Chingari, one of its main competitors, has gained immense popularity, with over 50 million downloads since its launch in 2018. In 2023, US Congress began working on several bills that could ban TikTok and recreate the same situation.
Should the ban happen, companies looking to fill the void would be able to get to market faster if they use a video editing SDK – a premade module with the features already included. It can be integrated in a few lines of code and replicate the necessary functionality, thus decreasing the time-to-market. For example, Weat, a social network for foodies, saved 50% of development time with Banuba Video Editor SDK.
Video editing apps
Third-party AI video maker apps have also become increasingly popular in recent years, as people often find them more convenient or feature-rich than the video editors built into social media platofms. Such apps allow users to easily edit and enhance their videos on-the-go, without the need for expensive software or equipment. Some of the most important features of video editing mobile apps include:
Basic editing tools. Most video editing apps offer basic editing tools like trimming, cropping, and adding text or music to videos. These tools allow users to quickly and easily edit their videos without the need for advanced editing skills.
Filters. Many video editing apps also offer a range of filters and effects that can be applied to videos to enhance their visual appeal. These features can help videos stand out on social media platforms and attract more views and engagement.
Slideshows. Making a video out of photos is a very popular tool, especially for showing off vacations or love stories.
Sharing options. Video editing apps also typically offer easy sharing options, allowing users to quickly share their edited videos on social media platforms or via messaging apps.
A good example of a successful video editing app is Videoshop. It has tens of millions of downloads on Android and iOS, and is rated 4.6/5 and 4.9/5 on PlayMarket and AppStore.
Videoshop
Education apps
Video editing features are becoming increasingly popular in education apps as they provide a creative and engaging way for educators to present information to their students. With video editing, instructors can create interactive and visually appealing content that can help students better understand complex concepts from volcanic activity to advanced maths.
Video content especially fits microlearning – a popular approach to education that involves breaking down complex topics into smaller, bite-sized pieces of information. Such videos can be used to reinforce key concepts, provide additional context, or introduce new ideas. By using video editing in microlearning, educators can create a more engaging and effective learning experience for their students.
The most popular video editing functionalities for educational apps are:
Overlays. Captions, pictures, and gifs placed over the video help with the explanation.
Picture-in-picture. The demonstration is in one window, the teacher explaining it – in another.
Autocaptions. Automated caption generation saves educators a lot of time on content creation.
There are several educational apps that use video editing features to enhance the learning experience. For example, Edpuzzle is an app that allows educators to create interactive video lessons that include quizzes and other interactive elements. Another app, Explain Everything, allows educators to create whiteboard-style videos that can be used to explain complex concepts. Finally, Flipgrid is an app that allows educators to create video-based discussions that can be used to facilitate class discussions and encourage collaboration among students.
In addition, there is an entire class of education apps – authoring tools, that is purpose-built for making learning content. Video editors are a must-have part of them.
Health and Fitness Apps
With the rise of social media, fitness influencers and trainers have turned to video editing to create workout tutorials, nutrition advice, and lifestyle tips. Such content allows fitness professionals to showcase their expertise and present their message in a clear and concise manner. And the special effects, animations, and music make their content more appealing to their audience.
Video editors also fit the growing trend of gamification – adding game elements to non-game situations to increase engagement. Animated characters and AR effects are in line with this approach, helping people achieve their fitness goals.
The most popular video editing features for health and fitness apps are:
AR effects. Masks can help engage users, especially the younger ones.
Timer/Hands-free recording. If a person doesn't have anyone to record their exercise, this feature can alleviate the issue.
Picture-in-picture mode. A coach explaining the correct form and/or highlighting mistakes is a popular form of content and a useful one.
eCommerce
Using video in eCommerce has long become industry standard. Now even the dedicated shopping apps have inbuilt video editors. They are mostly used by the professionals, as they allow making explainer videos, unboxings, reviews, and similar content. The end goal is the same – boost sales and decrease returns.
When it comes to shopping apps, most wanted features for video editing are:
Overlays. Captions can be useful not just for deaf people, but also for those who can't/don't want to watch videos with sound on.
Time effects. When showing something complex, a slo-mo feature is invaluable to help the viewers understand everything.
Face touch-up. This feature saves time on makeup and eliminates camera distortions.
How to get video editing features fast
Video editors can be time-consuming and expensive to make. An MVP editor similar to what TikTok has would take over 2000 man-hours, and each of these hours would cost a lot – qualified developers don't come cheap.
This would make a serious dent in any budget. However, there is a quicker and cheaper way to get such features – integrating an SDK, for example, Banuba Video Editor SDK. It is is distributed as Cocoa pods, Maven and npm packages (depending on the platform), so it is easy to install. And its array of features is impressive:
Video/audio recording
Hands-free mode
Sound editing
Royalty-free music provider integration
AR masks
Color filters
Transition effects
Rapid/slo-mo
Text/picture/GIF overlays
Picture-in-picture mode
Etc.
Banuba Video Editor SDK is compatible with native Android and iOS, as well as Flutter and React Native for even faster time-to-market. This makes the developers' job easier, as well as clear enough for the management to give their approval.
And if you need more flexibility in developing UI, the Video Editor SDK has an API version.
Check out the installation guides:
Top