Blog
Beauty AR SDK
Marketing for the Beauty Industry
The highly competitive environment and the mushrooming of the new trends and innovations spur the beauty industry to evolve at the fastest pace ever. According to Statista, the market will grow from 507.8 billion dollars in 2022 to 758.4 in 2025. A properly aligned marketing strategy and plan will help you melt the hearts of beauty shoppers and turn them into a dedicated fan community.
What should marketers consider in 2023 to create a mind-blowing strategy that will increase all business performance, and what do artificial intelligence, augmented reality, and omnichannel have to do with it? Let's do a marketing makeover together.

Banuba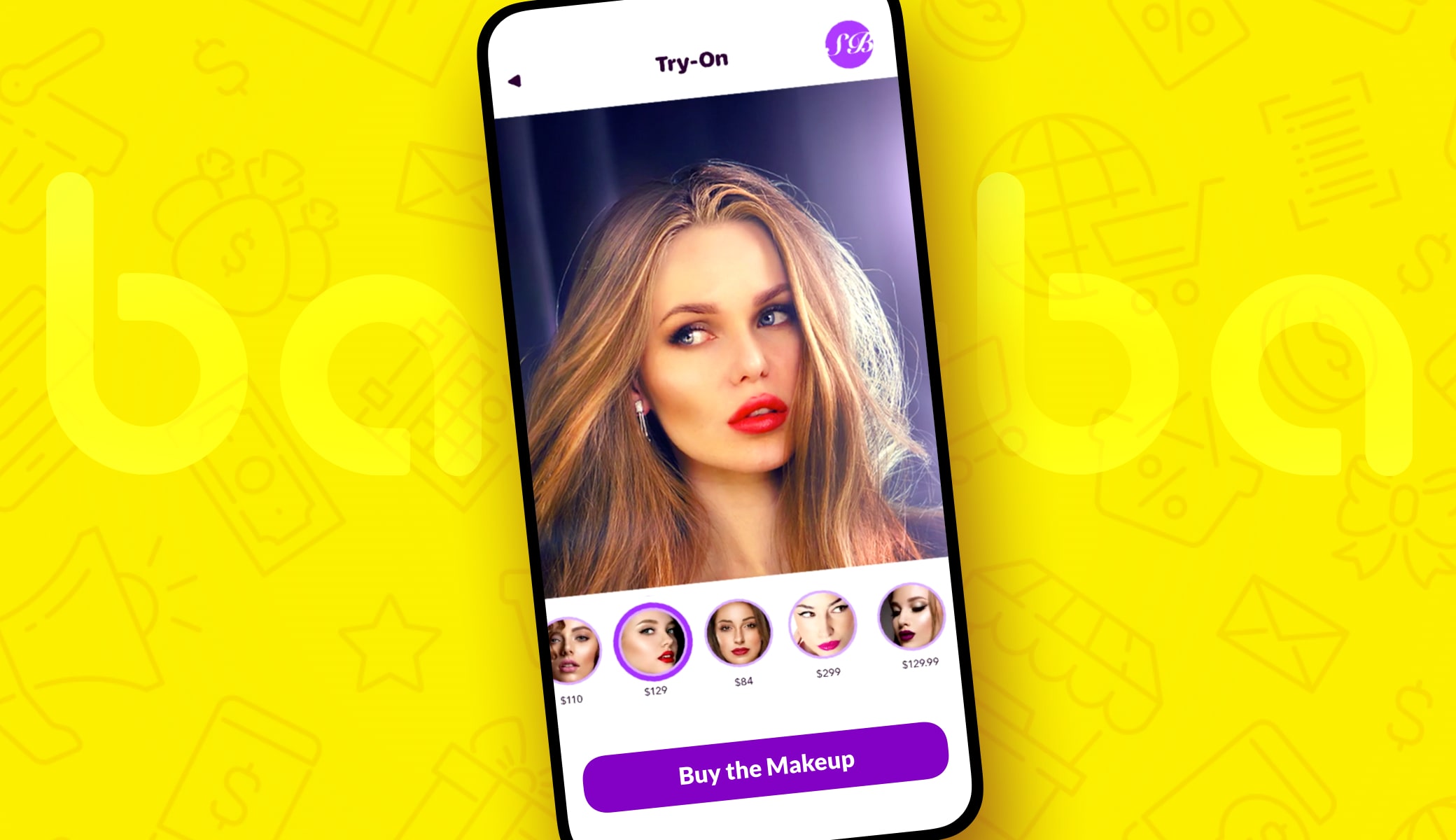 Marketing Strategies in Beauty Industry
Wars, natural disasters, pandemics, or global economic crises have never been able to knock out the beauty industry. Covid-19 managed to shake its firm standing, shutting down stores and changing customer behavior. Total lockdown and brick-and-mortar locations closures? Ecommerce bursts into our lives, reaching nearly 26% of sales, and beauty brands offer a virtual try-on option to find the perfect foundation for all skin tones, increasing the conversion rate by 90%. Marketers learned to adapt businesses to changes, and the most successful become trendsetters.
The beauty industry isn't just changing its products and marketing strategies to reach the sophisticated consumers' hearts. Marketers face the challenge of teaching clients to love their beauty products. With the right strategy in place, they can create a unique customer journey that buyers will want to repeat and recommend to others.
It's safe to say that the beauty industry marketers are at constant war with each other. Everyone wants to outdo competitors and create marketing campaigns that will be featured on the front covers, showcased at conferences, but most importantly — bring revenue.
The ideal strategy for promoting beauty products and services always involves a combination of offline and online marketing. However, with the growing demand for online shopping (more than 2.14 billion buyers shop digitally), beauty brands are paying more and more attention to digital marketing.
Digital Marketing for the Beauty Industry
Digital marketing is a generic name for marketing products and services that use various digital channels to attract and retain audience.
Online content is becoming more accessible every year. And consumers more and more often study information about beauty products, services, or brands on the web before buying or ordering something.
The company's presence in the digital environment and active promotion guarantee to attract a new audience and increase its loyalty. In addition, unlike traditional marketing, digital marketing allows to collect and analyze success metrics and data on the promotion results to adjust the marketing strategy, increasing its effectiveness.
Colourpop achieved astonishing results through digital marketing, leveraging collaboration with influencers and giveaways. Their marketing strategy allowed them to beat the engagement rate of Fenty Beauty by 40%!
Benefit Cosmetics created the BrowMobile and launched an online competition, resulting in winning 60% of the eyebrow product market in the United Kingdom.
Beauty companies leveraging digital presence and marketing campaigns have more chances of winning a market share.
Digital Marketing Trends for Beauty Products in 2023
Marketing is a combination of traditions mixed with creativity and spiced with the latest trends and innovations. Let's review the ones waiting for us in marketing in the beauty industry.
Omnichannel Marketing
Omnichannel marketing involves the seamless use of multiple communication channels to interact with the consumer. It includes:
websites;
digital ads;
mobile applications;
offline stores;
outdoor advertising;
social media;
e-mail newsletters;
push notifications, etc.
Because of the diversity of services and products, beauty and cosmetic brands must develop multiple channels and provide a quality and holistic shopping experience — whether it is a mobile app, offline retail, or social media. Consumers became more picky and demanding, expecting the buyer's journey to be highly convenient and engaging. The service matter to them as much as product quality. Omnichannel marketing can cover their needs and offer what they expect in any preferred communication channel.
When beauty brands combine traditional and digital marketing to spread the same offer and positioning through three or more channels, their purchases tend to grow to almost 290%, and customer engagement reaches 18% compared to the 5% for single-sided marketing campaigns.
Beauty industry giants like Sephora, MAC cosmetics, NARS, and L'Oréal are leaders in implementing omnichannel marketing. Sephora has successfully combined offline and online stores, introduced a strong online presence, and invested in AR technology to offer a more personalized shopping experience with virtual try-ons.
Micro-Influencers
According to Rakuten research, more than 60% of consumers interact with an influencer at least once a day, 35% — several times a day, and 41% use it as a source of information about new brands and products. Social media influencer help increase brand loyalty and often become ambassadors.
Until now, brands have been actively using the standard form of marketing influence with the help of big influencers. These were mainly famous opinion leaders and celebrities with an audience of millions of subscribers, such as Nikkie De Jager and James Charles.
In 2022, the trend extended to micro-influencers who can bring more potential to businesses. These include bloggers with a smaller number of subscribers: from 1 to 40 thousand. Despite the small audience, a micro-influencer has a high level of trust and engagement and a lower cost of services. And the audience of millionaires is often more passive. According to statistics, micro-influencers increase conversion by 20%.
Personalized Experience
Basic information about the customer, such as gender, marital status, place of residence, work, education, or hobbies, help marketers develop personalized offers that stand out from similar ones. Nowadays, consumers are bombarded with general advertising messages that merge and cannot be distinguished at first glance. According to statistics, 80% of people are more likely to buy from brands offering personalized offers and experiences.
As challenging as it may sound, AI and Big Data simplify the process of producing tailored offers. Marketers can leverage the analytical data they obtain to segment consumers into tiny audiences and customize promotions to their needs. Besides, introducing a personalized shopping experience can also increase the average order value and cut the return rates. Thus, implementing the GVTO powered by AI allows analyzing customers' individual characteristics, behavior, and preferences to offer products tailored to their needs and help find that perfect match. Beauty industry giants have already become trendsetters using this technology to offer a one-of-a-kind customer experience.
User Generated Content
UGC (user-generated content) is any content (videos, photos, GIFs, memes, blog posts, and audio) created and distributed by your beauty brand consumers on the Internet. Such content is especially effective when you need to attract the attention of Generation Z. Trying to connect with this audience is a major pain point for many beauty companies, so they turn to UGC as a powerful marketing tool.
Users do not trust brands; users trust people. Social media posts, feature articles by bloggers and journalists, reviews by opinion leaders, and Instagram unboxings are examples of communication channels.
User generated content provides you with branded content that you can repost and that can go viral. However, marketers have to come up with instructions and call-to-action to inspire consumers to produce and post relevant data on their social media. For example, MAC Cosmetics launched a marketing campaign called #MoodFlip, offering their customers to post video makeovers using their cosmetics. Testimonials, unboxing, beauty tips, and product reviews can be excellent ideas.
Augmented and Virtual Reality
Covid 19 shifted shopping habits and behavior. People don't necessarily want to go to the store to try something before buying it. Many renowned cosmetic brands are using augmented reality technology to show consumers what makeup looks like before they buy it.
This trend is already deeply penetrating the beauty industry, which is estimated to be worth more than half a trillion dollars. Famous brands, including Rihanna's Fenty Beauty, Glossier, Gucci, NYX, Maybelline, and Makeup Revolution, are experimenting with different technologies. In 2018, cosmetics giant L'Oréal bought an entire augmented reality development studio to help create its offerings in this area.
The beauty industry requires a level of accuracy that users don't necessarily expect from an Instagram filter that adds rabbit ears or a flower crown. But out-of-the-box solutions like Guided Virtual Try-On from Banuba offer beauty brands an AI-powered presentation and try-on tool that considers each customer's facial features.
This technology is especially popular with Generation Z, 92% of whom are interested in using AR while shopping. Such interest and usability lead to more than double conversions!
Short Video Content
The video format is one of the most powerful SMM tools. The trend is gaining more and more fans every year. In 2022, video content is becoming one of the most effective marketing strategies for promotion on social networks. Short videos were brought to the leaders by such social media platforms as TikTok, which now has about 850 million users, Instagram with Reels, and YouTube with Shorts.
According to statistics, about 66% of clients prefer short videos to discover new products and services. Hubspot claims that 84% of users make a purchasing decision after watching the content. Makeup By Mario introduced its lip product on TikTok. Within 24 hours, videos became viral, resulting in sold-out of its lip serum's five shades.
Beauty Industry Marketing Channels
We mentioned the most widespread digital marketing channels in the beauty industry briefly. Now, let's focus on the must-use ones you must include in your marketing plan in more detail.
Search Engine Optimization (SEO)
Search engine optimization is a free way to get to the first ranking on Google searches and get organic traffic.
It is a great channel for beauty companies with websites and blogs. Manufacturers, e-commerce, and service providers can create useful beauty content occupying the first page without Google ads.
Investments in search engine optimization do not just pay off. After a while, the website receives an increasing flow of targeted organic traffic. These are ready-made potential customers in this region looking for these services. And you do not need to pay for each click and each ad impression!
E-mail Marketing
E-mail marketing is one of the most profitable channels of promotion in e-commerce. A hair care brand Lunata Beauty spent only 5% of its advertising budget on a campaign tailored to gather a mailing list before Black Friday. According to research, each dollar spent on e-mail marketing gets an ROI of 4200%. Quite a lucrative deal, isn't it?
The beauty industry is expected to offer more personalized and engaging content using artificial intelligence. And with the help of GVTO, cosmetics brands can even send out virtual makeup samples, thus decreasing their expenses and promoting eco-friendliness.
Social Media Marketing
The beauty industry seems to be created for social networks — beautiful content, the ability to create a community, and sharing beauty trends conveniently for everyone. According to statistics, the average time people spend on social media daily is almost two and a half hours.
They are not only convenient platforms for presenting brands and new products through content but also a place where cosmetics companies can organize collaborations with other brands and work with social media influencers, organize promotions, and leverage UGC. Moreover, consumers can shop directly on Instagram thanks to the Instagram Shopping feature.
TikTok has become a real beauty space in the competitive market. What's more, marketers don't always need to invest in advertising. For example, the hair care brand Marc Anthony presented its Strictly Curls lotion without expecting much hype. However, the video went viral, and Marc Anthony's team saw a 60% increase in profits without investing in advertising.
Influencer Marketing
The beauty and cosmetic industry has tight collaboration with opinion leaders. Social media influencers, celebrities, or YouTube bloggers can attract new customers and increase brand recognition.
The niche is expected to grow from $1.7 billion in 2016 to $16.4 billion in 2022. And it's not surprising. The interaction with influencers does include not only advertising and product reviews but also collaborations. Makeup brands tend to launch new products with beauty influencers. The most successful include Patrick Starrr and MAC and Anastasia Beverly Hills with Jackie Aina.
Video Marketing
Video content is not limited to YouTube videos only. Reviews, unboxings, life hacks, testimonials, tutorials, interviews with experts, get ready with me, look creation, and cosmetic brands can use many more categories of beauty content to promote their products and services. Today, 99% of consumers look for reviews on beauty and personal care products before buying, and videos remain the most informative source.
Sephora can be considered the queen of video. The brand actively uses social platforms to create and publish its content, and video has become one of the strongest marketing channels that helped Sephora reach $37.2 billion.
Content Marketing
Content marketing is a tactic to promote your business through content actively. At the same time, it should fully meet the needs and interests of potential customers. It attracts the audience and leads to further cooperation. You need to give people what they like, and then they will become subscribers and new customers who will need to be retained.
We can say that successful marketing strategies in the beauty industry are impossible without content marketing because even the thread of messages you use in e-mail marketing is already the task of the content manager.
Brand Marketing
Brand marketing aims entirely to develop brand and product awareness, build brand credibility, increase market reach, and establish a reputation. Marketers look for unique ways to promote products to set a company apart from its competitors and demonstrate its special value to customers. As a result, the importance of the brand and its advantages in the marketplace increase significantly.
Brand marketing seeks to build long-term relationships with consumers. It promotes brand value in the eyes of potential consumers to create an ever-growing base of loyal customers. Thus, an effective brand marketing strategy helps a company stand out from the crowd, take the business to the next level, attract new customers and increase sales. It is best to use the omnichannel approach to implement brand marketing in the beauty industry.
Paid Ads
There are several types of paid advertising, and sometimes you must try all formats before finding the most effective one for your niche. First, track competitors' actions, find out their ads' placement and make test advertising campaigns.
Use various tools — set up contextual advertising, add products to Google Shopping, use dynamic remarketing, and engage in social media ads. Monitor the results of advertising campaigns and optimize them to get a deep understanding of their effectiveness.
How to Build a Successful Marketing Strategy for Beauty Brands?
Plan vs. Strategy
The plan answers the question of how to achieve the goals, and the marketing strategy describes these goals and answers the question of what the beauty brand should achieve. Thus, first, you need to develop a strategy and only then continue with a plan.
Many entrepreneurs believe creating a strategy is time-consuming, so they refuse it altogether. But business cannot exist without a strategy because the formula for success looks like this:
Strategy (what) — Plan (how) — Actions Taken — Profit.
In addition, creating a strategy can be divided into only six stages.
Steps for Developing a Marketing Strategy
Industry Analysis
Before choosing which product to offer the audience, determine whether there is a demand for it. Google Keyword Planner will help you with this. This tool allows you to define how often people search for information about the products or services you plan to sell.
With Google Keyword Planner, you can also analyze the geography of search results. You need to specify the city, region, or country where the potential audience of the beauty brand lives.
Target Audience Research
Audience research will show who is interested in your products and determine the main ways of promotion. Some entrepreneurs believe they can make most people interested in their product or service. In fact, it is a delusion. Not everyone needs paid makeup tutorials, natural cosmetics, or smart eyebrow tweezers. You need to answer several questions to identify your audience and methods of creating advertising adapted to its needs:
location;
gender and age of customers;
average income;
their interests;
problems of the audience;
their dreams;
A broad audience often needs to be segmented to offer a more personalized approach to targeting and communication channels.
Сompetition Analysis
Entering the market without understanding the competitive environment is business suicide. Before you offer your product to customers, you need to understand why they love or despise other companies already operating in the market. The more you know about your competitors, the easier it is to understand your advantages and create a unique offer. Study beauty brands with similar services and products and even try to place an order with them. You will understand how convenient their website is, what payment and delivery options are offered, and how quickly managers respond. Moreover, you will be able to study their product and packaging and draw conclusions on how to improve your beauty business.
Positioning
Proper positioning allows you to gain the buyer's trust and helps build long-term relationships. An online store with a well-thought-out positioning offers an easier opportunity to stand out among competitors. You should create unique selling proposals and make a list of customer pains. Loyalty programs or bonuses encourage customers to make recurring purchases.
Here are some tips:
Create clear associations with the brand: beauty influencers, symbols, colors, slogans, or music. If the brand is easy to remember, customers will definitely never forget about it.
Show that you are an expert in your field and that people will believe in your product's quality. Share useful articles on your social media page or blog, post reviews of your products and services, and discuss interesting innovations in the beauty industry.
Actively interact with your audience. It will help you build a loyal community.
Setting Goals
An entrepreneur should clearly imagine the future of their beauty business in a year, two, or five. Their vision directly affects goal setting and the choice of metrics to track. Together with the marketing team, they must prescribe a step-by-step action plan for each week and set intermediate goals, the achievement or non-achievement of which will indicate the need to adjust the plan.
It should be understood that the marketing strategy is a blueprint, but adjusting the goals and updating the plans in the development course is essential.
Financial Plan
At this stage, future financial costs should be considered. A financial plan is a financial scheme of the strategy. With its help, marketers can communicate the calculated marketing budget for each channel to the founder and determine the expected profit.
Marketing in the beauty industry requires an integrated approach, constant monitoring of trends and trends, and creative solutions to find a way into the hearts of spoiled customers.
Top