Blog
Video Conferencing
10 Video Conferencing Trends Enhanced By Face AR Technology
Last week Banuba attended the RTE2020 virtual event to discuss how brands can adopt technology for user engagement and creative video communication. Here are the key takeaways on how Face AR impacts the future of teleconferencing, its business opportunities and market forecasts.
Alexei Kovalev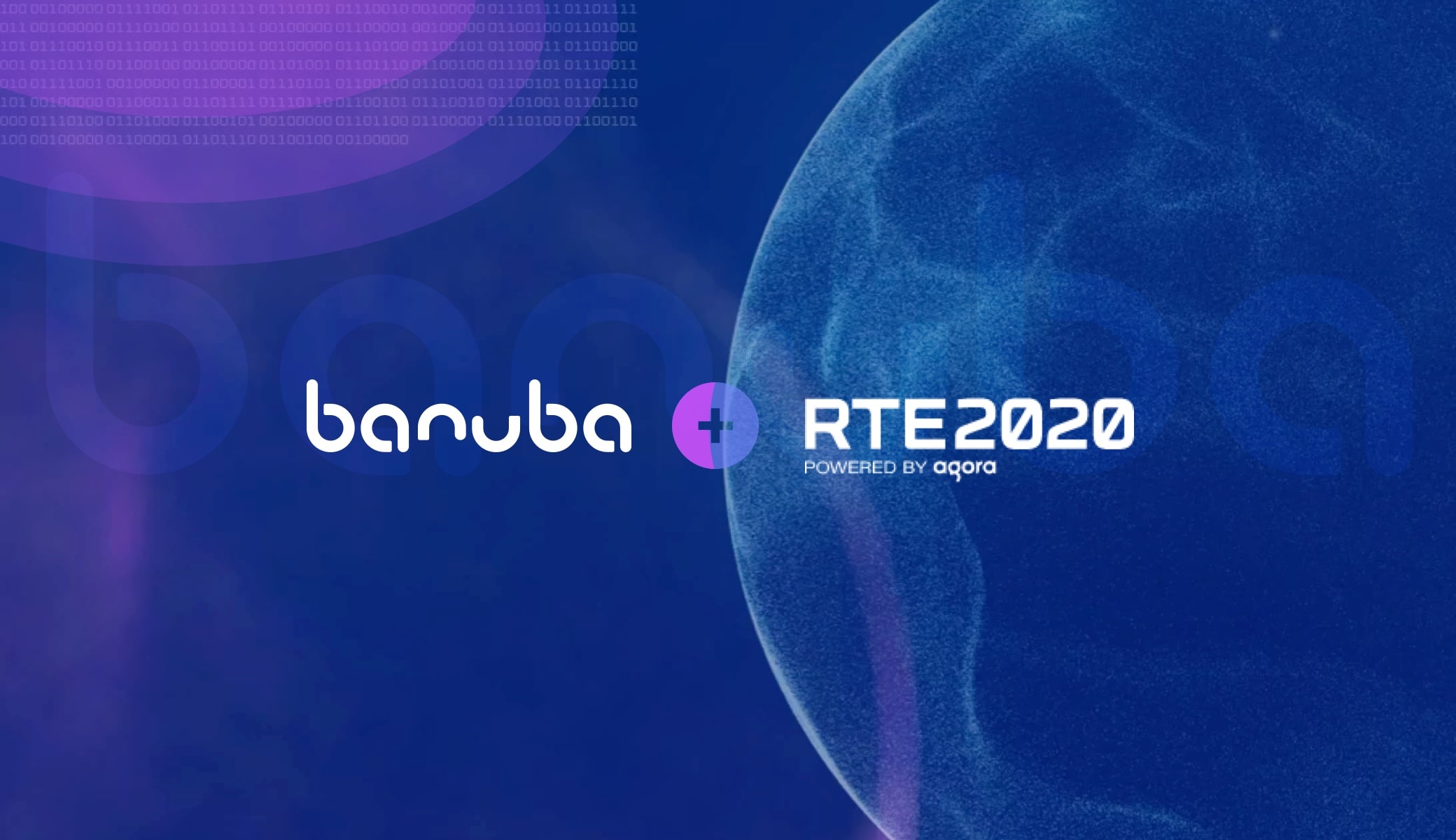 The pandemic forced us to change our communication habits. Video conferencing apps like Zoom, Microsoft Teams and Google Meet enabled humans to interact, learn and work remotely, while augmented reality, specifically Face AR, empowered new possibilities, making online communication easy and engaging. Discover the top 10 video conferencing trends which will affect the future of video communication.
About RTE2020: The Largest Real-Time Engagement Event
RTE2020 is a Real-Time Engagement Event organized by Agora, our strategic technology partner, so you can integrate Banuba Face AR features with Agora video calling products.
The event joined hundreds of company leaders, product owners and developers to discuss and share the technical know-how in video communication. Yuliya Andreyuk, our company's Product Marketing Manager, was one of the speakers.
We shared our insights about how Face AR can benefit today's video calling apps and discussed the latest video conferencing trends inspired by augmented reality. Here are 10 things businesses need to keep an eye on in the next years when building video communication and live-streaming apps.
Top 10 Video Conferencing Trends
---
1. The market will see more video apps over the next years
The pandemic stimulated the adoption of video technology on a large scale. What could have taken two or three years happened in two or three months. Business meetings, friend's chatting, social parties, education, and even events - everything is now held on video calls.

Many large companies shut down their physical offices and adopted the WFH model. Google, Amazon and Microsoft have allowed their employees to work from home, either indefinitely or until the end of 2020.
The need for people to stay in touch with their friends and colleagues has resulted in a record growth of business conferencing apps which enjoyed their biggest popularity ever in March of this year, when they topped 62 million downloads during the week of March 14-21.
Source: appannie.com
With the second wave of pandemic already hitting our planet, the big popularity of Zoom, Google Meet and Microsoft Teams and the desire of many companies to work from home for an indefinite period of time, we are likely to see more video conferencing apps released over the next years.
---
2. Video communication apps are adopting Face AR at large scale
The rapid growth of video conferencing led to an increased demand for high quality and personalization in video communication. But has the video conferencing software reached its full potential to become a fully functional alternative to real-life communication?
According to the psychotherapist Aaron Balick, people face the following issues which prevent them from enjoying the video calling experience:
a lack of body language, social clues and unnatural face angles;
home backgrounds resonating with our inner need for privacy;
low-resolution cameras making us look older;
uneven

lighting which decreases the quality of video presenting

.
---
"Zoom meeting is not the functional equivalent of a face-to-face meeting. You can't just translate one thing to the other. You do it differently." - Dr. Aaron Balick, a psychotherapist and director of Stillpoint Spaces.
---
Still, consumers want to get an engaging and safe video chatting experience. For this case video conferencing software companies are implementing Face AR technologies to win competitive advantage and inspire better video communication.
Zoom and Google have started to quickly adopt Face AR for their video conferencing apps. Without the negative effects of the pandemic, this process would have taken a couple of years to get started. But the WFH working model and social distancing measures have significantly quicken this process. Other video calling apps are likely to pick up this trend in the near future.
---
3. Background changer will be a must-have feature
Virtual background was one of the first Face AR features implemented in Zoom back in March of this year. It enjoyed a huge wow-effect among the users who've used this tool for creative self-expression and additional personal privacy. Other technology firms such as Microsoft and Google have adopted this feature for their apps as well.
The advantages of using virtual backgrounds include:
Improved level of comfort and privacy due to the ability to hide, blur or replace real-world backgrounds with static or animated images, virtual 3D backgrounds and other effects.
Possibility of making video calling experience more effective and personalized thanks to animated backgrounds.
Example of a Microsoft Team's virtual background called "Together Mode" where users are virtually placed in different table rows. Source: news.microsoft.com
With the obvious advantages of virtual backgrounds presented above, more and more companies are likely to consider it to be a must-have feature for their video calling applications.
---
4. Beauty filters will put the priority on a natural look
Beauty filters were firstly introduced by Snapchat in September 2015 to let users achieve better-looking selfies. The technology has undergone some criticism for being too intrusive.
However, in video conferencing, beauty filters have a more meaningful purpose. Rather than selfie tweaking, the face touch up tools for video conferencing are becoming more intelligent. They improve lightening, fix camera distortion, blur skin and apply realistic make-up allowing users to achieve a natural beautification effect and feel comfortable in morning meetings.
People's increased need to be confident about their appearance before the video call and the existence of the entertainment-oriented Face AR effects means that beauty filters will put the priority on the person's natural look without the significant transformation of his or her appearance.
Example of how modern beauty filters work in practice.
---
5. Face AR will find more use cases in live streaming
Social distancing measures mentioned above have also stimulated demand for live streaming videos which grew a full 45% between March and April of 2020. The average screen time per person has increased by 76% with sites like Netflix seen over 16 million new sign-ups.
Live stream creators are often faced with the following challenges:
Producing unique, high-quality content;
Engaging more audience;
Optimizing their video content for social media and mobile short formats;
Generating creative topic ideas.
Face AR will enjoy even more presence in live streaming applications. The technology is offering new and interesting possibilities of creating unique and engaging content with different AR effects. Augmented reality live streaming c new monetization and self-expression opportunities.
There is a clear trend for live streaming to gain further popularity in the near future. According to the results of the study by ResearchAndMarkets.com, the online streaming services market is poised to grow by $149.96 billion during 2020-2024, progressing at a CAGR of 18% during the forecasted period. It is driven by the growing popularity of online video streaming in the education sector, increasing the launch of new content and the renewal of additional seasons. Also, the rising penetration of smartphones is anticipated to boost the growth of the market as well.
---
6. E-learning will get more immersive
In April of this year, more than 1.2 billion children in 186 countries have been affected by school closures due to the pandemic. This reality led to an increase in the popularity of distance learning.
As demonstrated by one of our customer use cases, it has become even more important for the teachers to make their online courses both interesting and engaging during the pandemic. This is because kids tend to have a short attention span, often feeling bored from learning and have difficulties visualizing and memorizing important information from their lessons.
Face AR used for virtual learning can help lecturers increase the attendance at online classes, make children have fun, and most importantly, learn. It provides tools for immersive learning where augmented reality brings lessons to life and helps learners better visualize and understand the topic. E-learning platforms can integrate different Face AR elements to allow teachers and students to experience subjects enhanced by augmented reality. This all will lead to e-learning becoming more immersive which will bring advantages to both students and their teachers.
Example of how Face AR can immerse students into E-Learning.
---
7. Cosmetic brands will engage consumers with Beauty AR streaming
The social distancing measures made it impossible for cosmetic brands to use physical make-up testers for demonstrating their product's unique features. The closure of many beauty-product outlets due to COVID-19 led to approximately 30 per cent decline of the beauty-industry market. This has forced companies to search for new ways of interacting with their audience.
Augmented reality live streaming can be considered a solution to this problem, allowing customers to virtually try a particular product online. Brands can use Beauty AR streaming to showcase beauty products in 3D format, provide customers with guidance on the makeup application process, reaching far more consumers via web and mobile streaming platforms.
With the COVID-19 pandemic set to continue affecting the lives of both companies and their consumers, the former is likely to continue engaging their customers with beauty AR streaming to sell more products online.
---
8. Mobile games are going social with AR video chats
Apart from the corresponding effects of COVID-19 highlighted in the previous examples, social distancing has also caused significant problems in social communication. This has led to an increased demand for social games where users have an opportunity to talk with one another using AR video chats while playing games.
Face AR masks can improve the gameplay of the corresponding apps, making the game experience more unique and personalized. They will also improve social communication. Players can 'dress-up' their face with visual effects, associate themselves with their favourite character or even become a character themselves.
An example of a game with improving communication using AR.
---
9. "Zoom for", the rise of new apps and startups
Zoom has become the most popular video calling apps at the beginning of the pandemic. It was used by different user groups such as food lovers, travelers, teachers and students, artists, partiers and so on. This fact has demonstrated the trend for the users to be willing to have personalized video calling experiences, focused on their specific interests which could be fulfilled by the emergence of new technology startups and the corresponding video calling apps.
Face AR can help video communication companies provide this unique user experience with the corresponding AR effects, making video calling safer, more fun and personalized.
---
10. Video as a creative platform, with more freedom and control to look the way you want
Nowadays, video calling apps are not only being used for communication purposes. After all, a standard Zoom app cannot replace the classical face-to-face communication we all got used to.
The use of creative tools presented by Face AR can help video conferencing apps make a transition from recreating physical world experiences using video communication to creating new creative experiences for self-expression purposes.
Conclusion
We've enjoyed our participation at RTE2020 where Banuba had an opportunity to learn more about the latest video conferencing trends from some of the leading experts in the video conferencing industry.
Explore the benefits of Face AR for your video conferencing apps.
Top