Blog
Augmented Reality Face Filters To Growth Hack User Acquisition

Alena Arsenova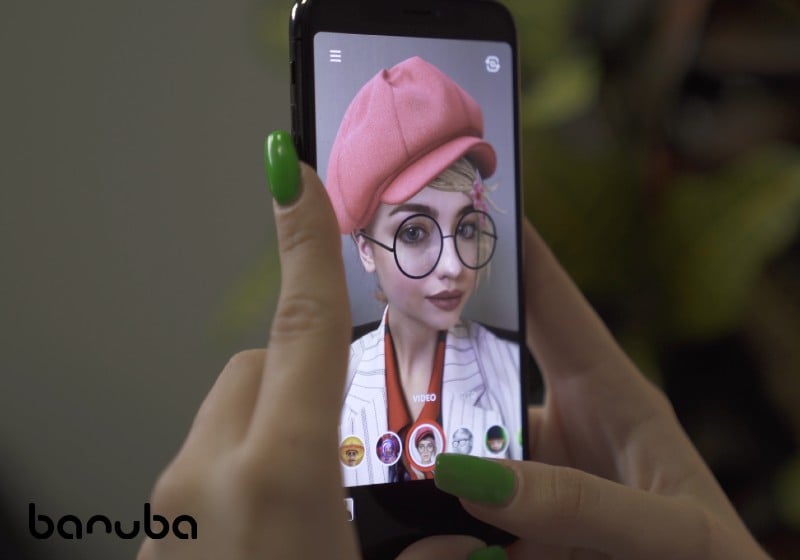 Augmented reality face filters can be an effective growth hacking tool for driving new users to your app. The best part? It won't cost you a dime.
Learn how to make your app go viral with face filters. We share our hands-on tips on designing the most engaging AR filters that will skyrocket your user-generated content and the time spent within the app.
Need face filters in your app?
How do Augmented Reality face filters attract users organically?
The best marketing channel to bring clients organically is by word of mouth. And the best way to leverage word of mouth is to make your app go viral through the content. The major problem? Few businesses succeed in crafting viral ads and content marketing campaigns. Those who do — use face filters.
Augmented reality face filters allowed developers to step aside from the traditional app's content marketing strategies.
Being inherently visual and intuitively easy to use, AR experiences impact user-generated content creation, increase the sharing ratio and the time spent within the app giving your app new growth points.
Augmented Reality face filters to inspire user generated content
Rather than fighting for paid users — the game forced by Facebook and Google where the higher CPC takes it all — apps empowered with Augmented Reality face filters attract users organically leveraging the power of user-generated content.
The research states, almost half of millennials (47%) and 36% of baby boomers trust user-generated content whereas only 25% of both demographics say they trust branded content.
User-generated content provides social proof, raises credibility for your app and converts observers into clients most effectively. The best part? This content flows organically saving on your marketing costs.
Augmented Reality face filters are engaging, and the one-click recording experience requires neither explanation no onboarding. Just open your camera and tap the filter icon. Can you imagine it even simpler? Only if the mind-controlled UI would call a filter with your thought.
Visual content tailored to social networks
Social video content generates 1200% more shares than text and images. Our brains are historically programmed to perceive and retain visual content better than written words.
With the traditional content formats like text, users perceive your message on the contextual level, which requires significant efforts. Augmented Reality face filters are all about the camera, selfies and visual perception — a perfect blend for social networks.
Case in point #1: TikTok, a video social network, uses camera face filters as part of its video editor giving users intuitive tools to generate content and share their creativity. Being keen on self-expression, TikTok users produce and share content way more willingly while the old-school social networks like Facebook have been seeing 29.49% decrease in user original content.
Inspire shares thought self-expression
AR face filters are centered around the user but not the brand or app. They call for our natural desire for self-expression as a motive for sharing the content rather than seeking for a reward.
Since the first Snapchat filters were introduced back in 2011, the Face AR experiences were becoming more and more sophisticated. But one thing has not changed - we still love playing with our appearance. Change gender, try on beards and funny stuff, swipe faces, beautify and share their selfies on social networks.
If you nail down your killer filter concept, the masses will pick up the trend, making your app go viral within days.
Case in point #2: FaceApp went viral with its just one 'old' filter. The idea is not new, yet only in 2019, FaceApp managed to achieve the ultimate realism of the user experience that made people invade the social networks with their old-selves.
FaceApp got 12.7 million new user downloads in a single week in July 2019 as the 'old' filter trend went viral on social networks.

Many celebrities have picked up the trend and shared their old-aged selfies with #faceapp.

FaceApp's position in the App Store took off reaching top 10 within several days.

Extensive media attention with publications on TechCrunch, Forbes, TheVerges, CNET, Washington Post (even though the attention been drawn by concerns with user data privacy).
Case in point #3: The research team behind aiportraits.com trained the generative adversarial network with 45,000 portraits from the Early Renaissance to Contemporary Art, allowing now anyone to turn selfies into art masterpieces. The result is different and a total surprise for the users, which adds fun and inspires shares.
Steps to come up with the right AR face filter concept
As Face AR experiences evolve, users are getting more fastidious and hard-to surprise. Before you build a face filter app, think about how your filters will differ or bring value to your users.
Research the market and competitors. The basic step that can't be ignored. Check the most popular face filter apps are Snapchat, TikTok, Instagram, YoucamFun and see face filter best practices.

Define your audience. While American users love the dramatic face filters, most of the Chinese users love the cute and fancy ones. Define your target audience — its age, gender, location, lifestyle and social networking habits and tailor your filters to your audience.

Dig user reviews and gather feedback. Pay attention to people's likes and dislikes. Keep an eye on face filter trends on Instagram, tags and comments.

Plan your filter concept. Augmented Reality face filters can be of different scenarios — with 3D objects, animation and modification applied either to the face or around the face. Why will people go to your face filter app over the others? Why would they want to share? What tags and comment will they write when sharing?

Launch an MVP with a limited number of masks. It should be something interesting and unique. E.g. face game filters (where users can play with your face) are gaining popularity now. ASMR filters are also trending giving people a new way to relax.

Iterate and improve. Done? Repeat.
Face filter concepts that engage users best
The entertainment value of face filters, their user-centered experience can convert observers into active users and provide an element of virality to your app. And if you can enhance the message by making it unique, creative or valuable you will have a higher sharing-to-install rate and thus win more users.
People naturally want to look beautiful on social networks, therefore masks with face retouch and beautification are your safe choice.
Users to try on lipstick, eyeshadows, foundation or wear pre-set makeup looks, recolor hair. Users can wear jewelry, glasses, headwear, makeup, piercing virtually.
Change face proportions e.g. enlarge eyes in fun masks.
Users won't come back to your filter to experience stress over and over again. Besides, you may suffer bad reviews and user complaints. Crappy face filters are risky, however, they are potentially viral.
Case in point: Many users complained of the Spider Effect because of arachnophobia, but the risk paid off. The spider effect has become the most recognizable Banuba's effect.
Masks of popular characters are hit or miss unless you're 100% sure your audience will recognize the celeb and will want to wear his or her look.
Case in point #1: Amy Winehouse's mask failed to resonate with the audience since many users haven't recognized the character and perceived the mask as just another wig-like look. (Failure).
Case in point #2: MSQRD before being purchased by Facebook rolled out DiCaprio's mask right before he got his Oscar. The mask went viral on Instagram with multiple celebrity fans posting videos including Leo himself. (Success).
Features that increase time-spent with AR filters
Gamification - Face AR games where users control or call AR effects with triggers, taps or head turns.

Interactive taps. Face filters can react to user's taps on the screen that adds engagement and makes users spend more time with a filter.

Triggers - interactive filters with small AR scenarios enabled through user facial expressions e.g. smile to make the sunshine.

Dynamic background changes - Hide or replace the user background, add animations, blur, or studio lighting.
Summing up. Augmented Reality face filters as important element of user
acquisition

Organic mobile user acquisition is seen as a complex science. Most of its efforts are focused on catchy ads, creative marketing campaigns and ASO optimization. Their common goal is to drive users into your app and make them spread the word to attract more users.

By leveraging AR face filters in your app, you can inspire users for creating content with your brand or app, share it on social networks and attract millions of organic users.
Top